Ditch the frozen pie crust and boxed pudding mixes. You can make a Homemade Chocolate Cream Pie without breaking the bank.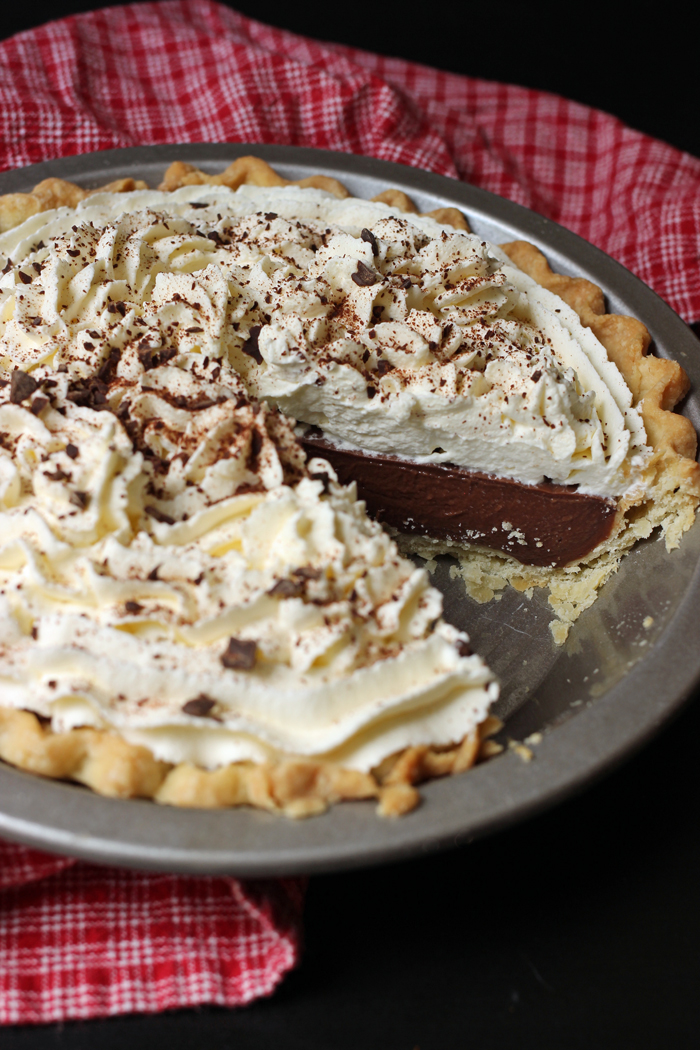 OK, who's ready for dessert? I am a big believer in homemade pies. Homemade pie crust. Homemade filling. Homemade whipped cream.
Sure, it's easy enough to buy a few cans and boxes of stuff from the store and throw together an "almost homemade" pie, but that really can't compete with the real thing.
The beauty of homemade pies is that they are not terribly difficult to make and they taste SO much better than anything store bought.
Don't even get me started on the pies in the grocery store bakery. You deserve better, baby.
Make your own pies!
There are a few basic categories of pies: fruit, custard, ice cream, and pudding. Fruit pies are basically fresh fruit combined with sugar and spices tumbled into an unbaked pie shell. Typically you might use berries, cherries, apples, or peaches.
Custard pies, like pumpkin, involve a creamy mixture baked into a pie shell. This Streusel-Topped Pumpkin Pie is the bomb.
An ice cream pie involves softened ice cream and/or sorbet piled into a baked pie shell.
And lastly, a pudding pie is a pudding, like chocolate, vanilla, or lemon cooked in a pan on the stove and spooned into a baked pie shell. It's usually topped with whipped cream or meringue.
This is my homemade version of Chocolate Cream Pie or Chocolate Pudding Pie, depending on what you want to call it. It's one of my people's favorites! The crust is flaky; the filling rich and chocolatey, and the whipped cream sweet and light.
You may be familiar with the refrigerated or frozen pie crust, Jell-O chocolate pudding, and Cool Whip version. And that's fine. But this takes little more work than using those convenience items and it tastes loads better!
Plus, it doesn't have all those funky ingredients that you can't pronounce. So, ready to make a pie?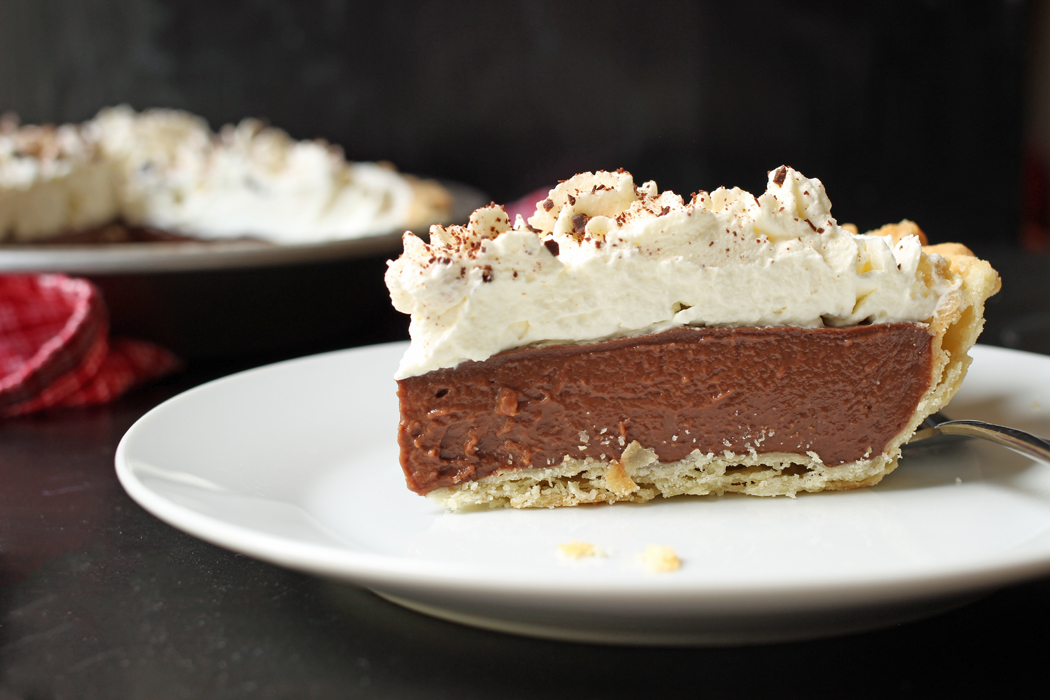 What do you need to make chocolate cream pie?
Lucky for you, the ingredients are pretty minimal. You'll need
pie crust (butter, flour, salt)
chocolate filling (sugar, cornstarch, cocoa powder, milk, salt, vanilla, and semisweet chocolate)
whipped cream (whipping cream, sugar, vanilla)
Added together, you're looking at a total of ten ingredients. Boom. Much fewer than would be listed on a commercial pie crust, boxed pudding, and can of whipped topping.
How do you make a chocolate cream pie?
First you're going to whip up a batch of Gramma John's Pie Crust. This is practically foolproof since you don't have to roll out the dough. Just pat it in the pan.
You're going to blind bake the crust. This means that you're going to bake it empty. Since the filling is cooked on the stovetop, you won't be baking the filling, so the crust needs to be baked prior to filling.
Baking the crust empty-empty will risk the dough sliding down the pan or puckering in spots, so you're gonna get tricked out and blind bake it.
To blind bake the crust, line the pan with the dough and then place a piece of foil or parchment paper over the crust and fill it with beans or pie weights. Bake as directed. When the crust starts to color around the edges, you'll remove the foil and continue baking until the crust is light brown. Cool it completely on a rack.
Meanwhile, cook up the filling in a saucepan. It takes less than ten minutes! Let that cool a little and pour it into the cooled pie crust. Cool it to room temp and then chill the whole thing for several hours. Top with whipped cream.
And voila! Your own Homemade Chocolate Cream Pie!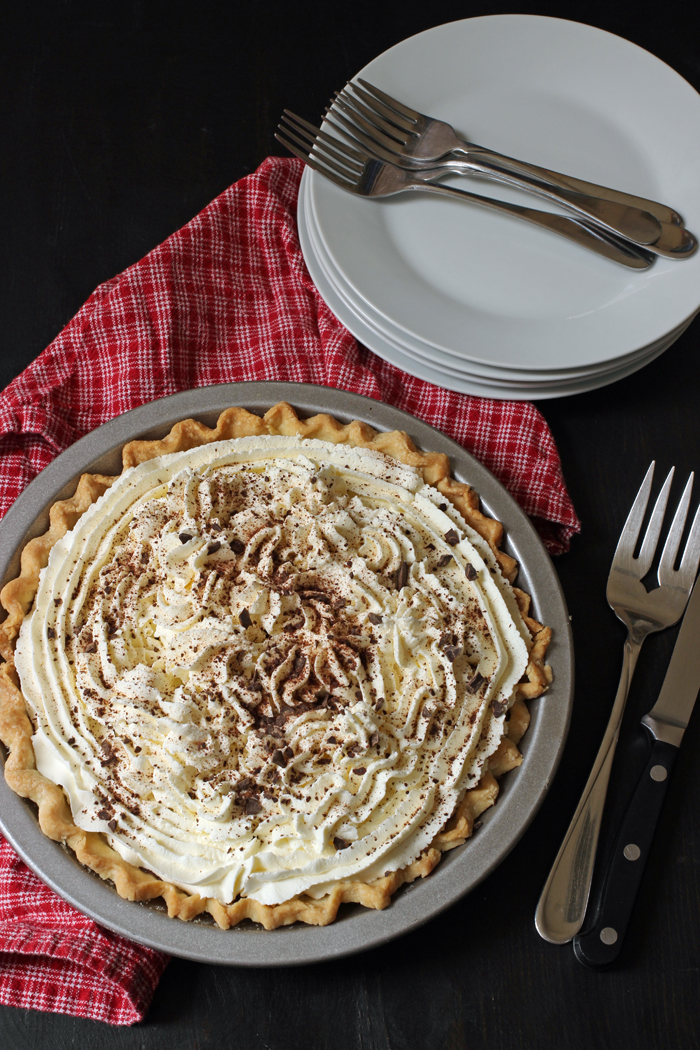 How to make this good and cheap:
Here are some of the strategies you can use to make this recipe more economical:
Stock up on ingredients when they are on sale. When you see a good price on butter, flour, sugar, and baking chocolates, buy a few extra packages to stash for later. You know you'll use them.
Shop the stores that have the best prices. When I did my big grocery store showdown, I learned that ALDI and Costco have the best prices for a lot of the things I buy. You will naturally save money if you shop the best store for the items YOU buy. This may not be ALDI or Costco, so you'll need to do your own price comparisons. The time investment as your research it is super valuable!
How I make this recipe easy:
This recipe really couldn't be easier than it is, but having the right kitchen tools can really make your time in the kitchen more enjoyable. Over time, I've honed my collection so that they are perfect for my needs.
Here are the tools that I use for this recipe: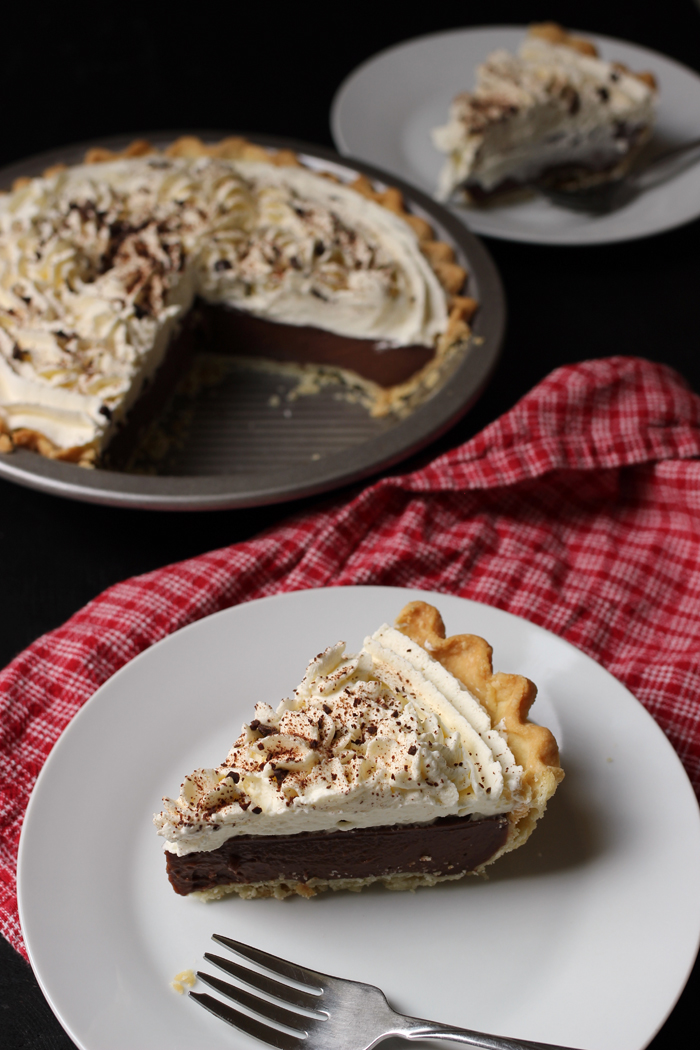 If you prepare this recipe, be sure to take a picture and hashtag it
#GOODCHEAPEATS
. I can't wait to see what you cook up!
Homemade Chocolate Cream Pie
Ditch the frozen pie crust and boxed pudding mixes. You can make a Homemade Chocolate Cream Pie without breaking the bank.
Ingredients
1

batch

single pie crust

12

tbsp

granulated sugar

1/4

cup

cornstarch

1/4

cup

unsweetened cocoa powder

1/4

tsp

salt

2 1/2

cup

milk

1/2

cup

chocolate chips

or chopped semisweet chocolate

1

tsp

vanilla extract

1

cup

whipping cream

1

square

baking chocolate (semisweet)

shaved
Instructions
Preheat the oven to 375 ° Prepare the pie crust according to recipe directions. Pat into the pan. Line the crust with parchment paper and fill with beans. Bake until edges begin to color, about 15 minutes. Remove paper and weights and continue baking until golden brown.

Cool completely on a wire rack.

In a medium saucepan, whisk together the 2/3 cup sugar, cornstarch, cocoa powder, and salt.

Whisk in the milk, stirring well. Cook over medium-high heat, whisking constantly until mixture begins to thicken, about 5 to 7 minutes.

Whisk in the chocolate chips and vanilla until well blended. Allow mixture to cool slightly.

Pour cooled mixture into baked and cooled pie shell. Cool to room temperature and then chill for several hours.

Prior to serving, whip the cream and the remaining tablespoon of sugar in a medium bowl until soft peaks are formed. Serve with pie.
Notes
Cover leftovers and refrigerate. Leftovers will keep for 3 days.
Nutrition
Calories:
390
kcal
|
Carbohydrates:
44
g
|
Protein:
5
g
|
Fat:
22
g
|
Saturated Fat:
12
g
|
Cholesterol:
50
mg
|
Sodium:
212
mg
|
Potassium:
185
mg
|
Fiber:
2
g
|
Sugar:
28
g
|
Vitamin A:
586
IU
|
Vitamin C:
1
mg
|
Calcium:
126
mg
|
Iron:
1
mg