Ditch the frozen pie crust and boxed pudding mixes. You can make a Homemade Chocolate Cream Pie without breaking the bank! With sugar, cocoa powder, milk, chocolate chips, and a few other baking staples, you can easily pull off this tasty treat.
One of our favorite Homemade Pies, this chocolate cream concoction is delicious alongside a cup of tea or French Press Cold Brew Coffee for a delicious dessert. It's a delicious recipe for using a lot of milk.
Jump to:
OK, who's ready for dessert? I am a big believer in homemade pies. Homemade pie crust. Homemade filling. Homemade whipped cream. Chocolate whipped cream if you want to be a little extra.
Sure, it's easy enough to buy a few cans and boxes of stuff from the store and throw together an "almost homemade" pie, but that really can't compete with the real thing.
The beauty of homemade pies is that they are not terribly difficult to make and they taste SO much better than anything store bought.
Don't even get me started on the pies in the grocery store bakery. You deserve better, baby.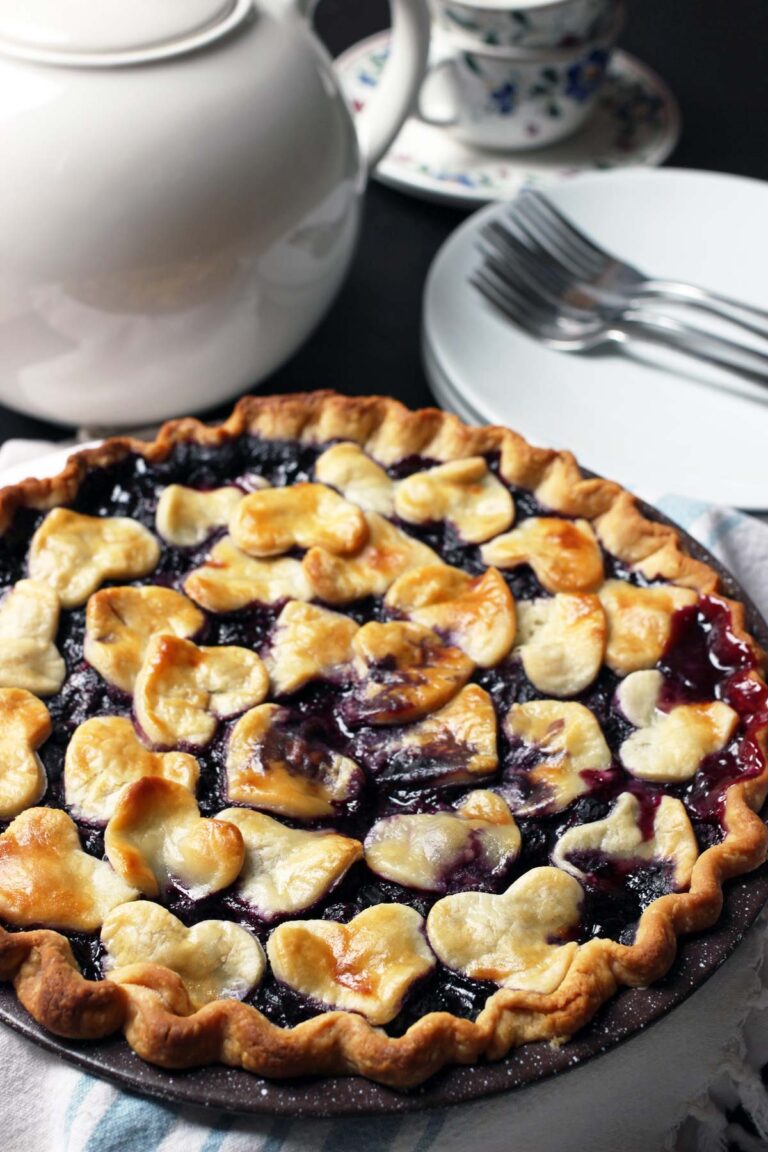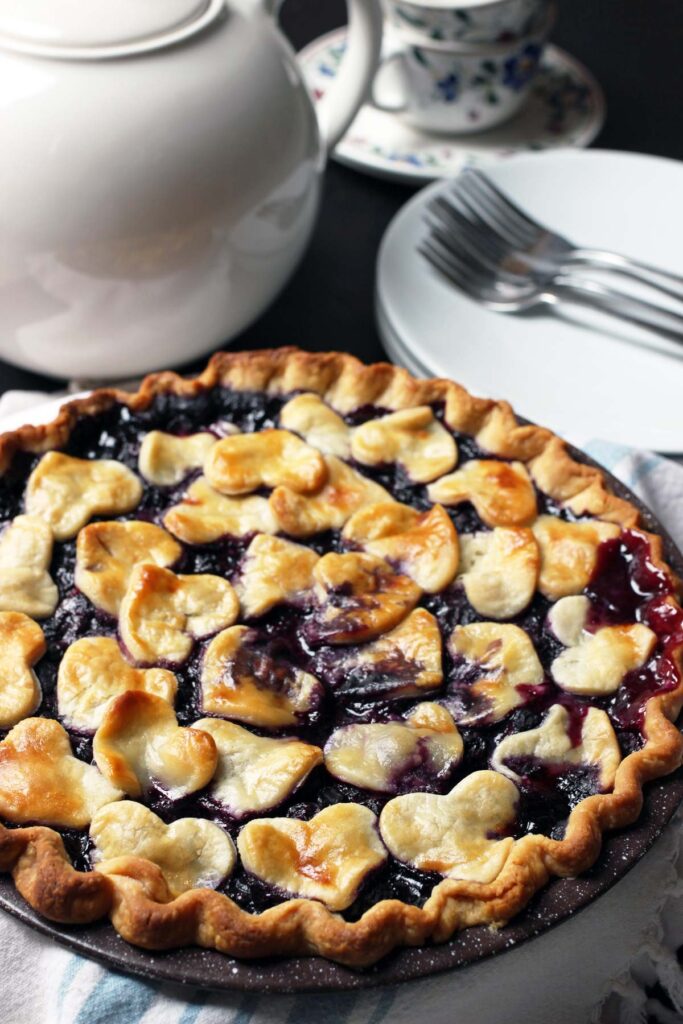 Different kinds of pie
There are a few basic categories of pies: fruit, custard, ice cream, and pudding. All of them as delicious as they are easy to make.
Fruit pies are basically fresh (or frozen or canned) fruit combined with sugar and spices tumbled into an unbaked pie shell. Typically you might use berries, cherries, apples, or peaches. You can top with another layer of pie dough or a streusel topping.
Custard pies, like pumpkin or buttermilk chess, involve a creamy mixture baked into a pie shell. This Streusel-Topped Pumpkin Pie is the bomb.
An ice cream pie involves softened ice cream and/or sorbet piled into a baked pie shell.
And lastly, a pudding pie is a pudding, like vanilla or chocolate pudding, cooked in a pan on the stove and spooned into a prebaked pie shell. It's usually topped with whipped cream.
Today we're talking about my homemade version of Chocolate Cream Pie. It's one of my people's favorites!
What is Chocolate Cream Pie?
Chocolate Cream Pie is one of those pudding pies I mentioned. It can be made with a standard pie crust, a Graham Cracker Crust, or a crumb crust made with chocolate cookies. This is prebaked as the assembled pie does not go in the oven.
Instead, a cooked, rich and chocolatey filling like pudding is poured into the cooled crust and topped with whipped cream.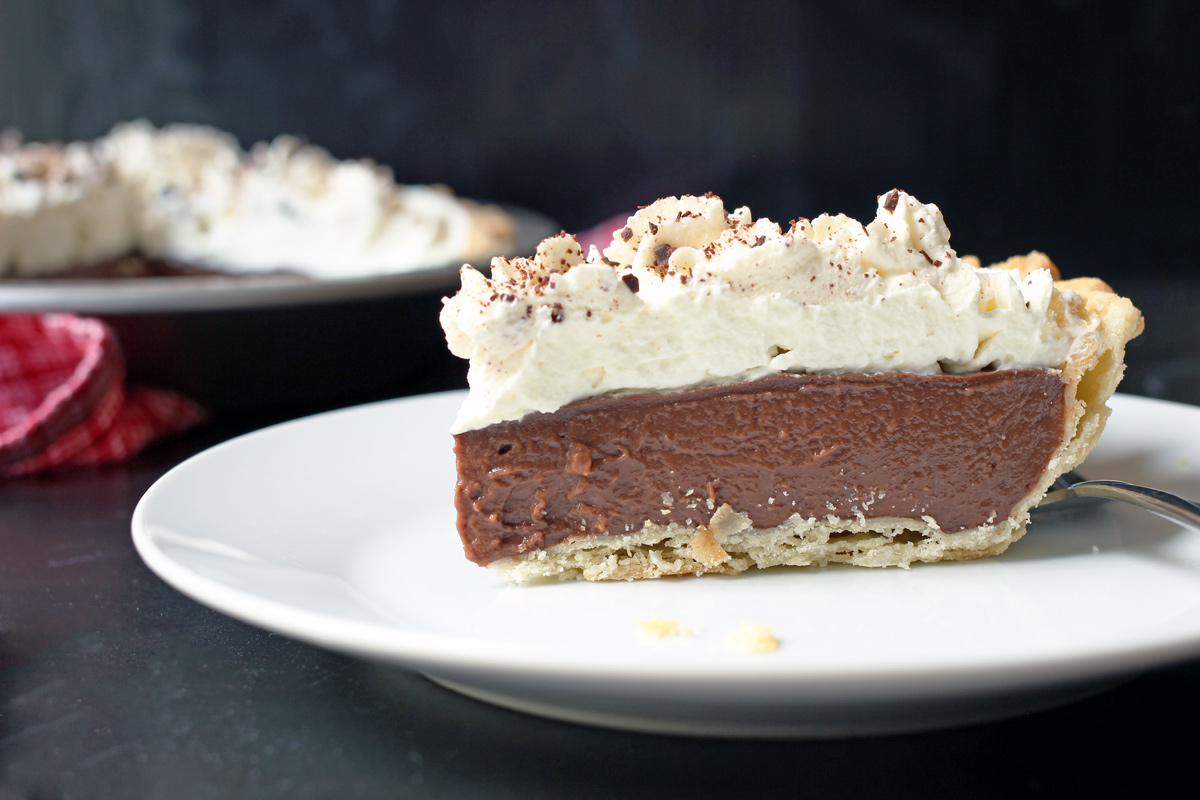 Serving suggestions
Chocolate Cream Pie is best served cold as a dessert alongside tea, coffee, or espresso.
Ingredients
You may be familiar with the refrigerated or frozen pie crust, Jell-O chocolate pudding, and Cool Whip version of Chocolate Cream Pie. And that's fine. But this takes little more work than using those convenience items—and it tastes loads better!
Plus, it doesn't have all those funky ingredients that you can't pronounce. So, ready to make a pie?
Lucky for you, the ingredients are pretty minimal. You'll need
pie crust (butter, flour, salt) or a prepared crumb crust of graham crackers or chocolate cookies
chocolate filling (sugar, cornstarch, cocoa powder, milk, salt, vanilla, and semisweet chocolate)
whipped cream (whipping cream, sugar, vanilla)
Added together, you're looking at a total of ten ingredients. Boom. Much fewer than would be listed on a commercial pie crust, boxed pudding, and can of whipped topping.
Some chocolate fillings call for eggs; this one does not, making it super versatile where food allergies and preferences are concerned.
Can you make this vegan or dairy-free then?
Yes! I have one child who prefers to eat vegan, so we have made this pie dairy-free. Simply make sure your crust has plant-based butter and that you use a plant-based milk in the filling.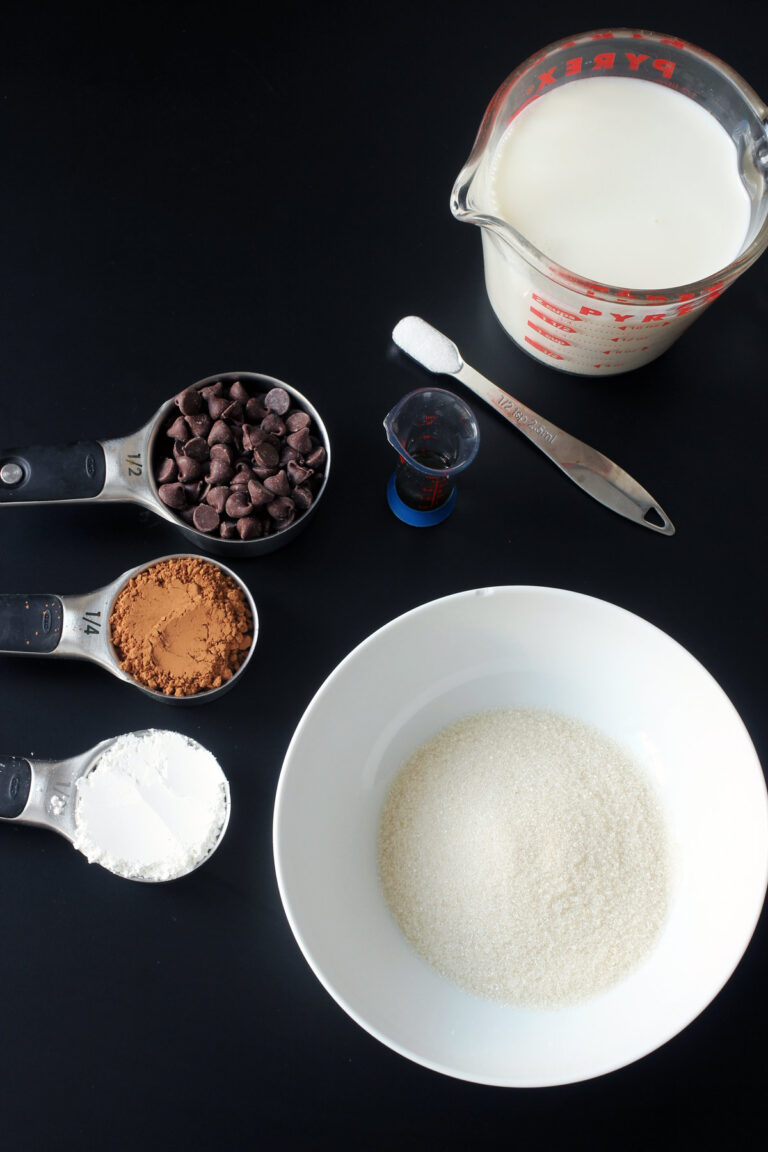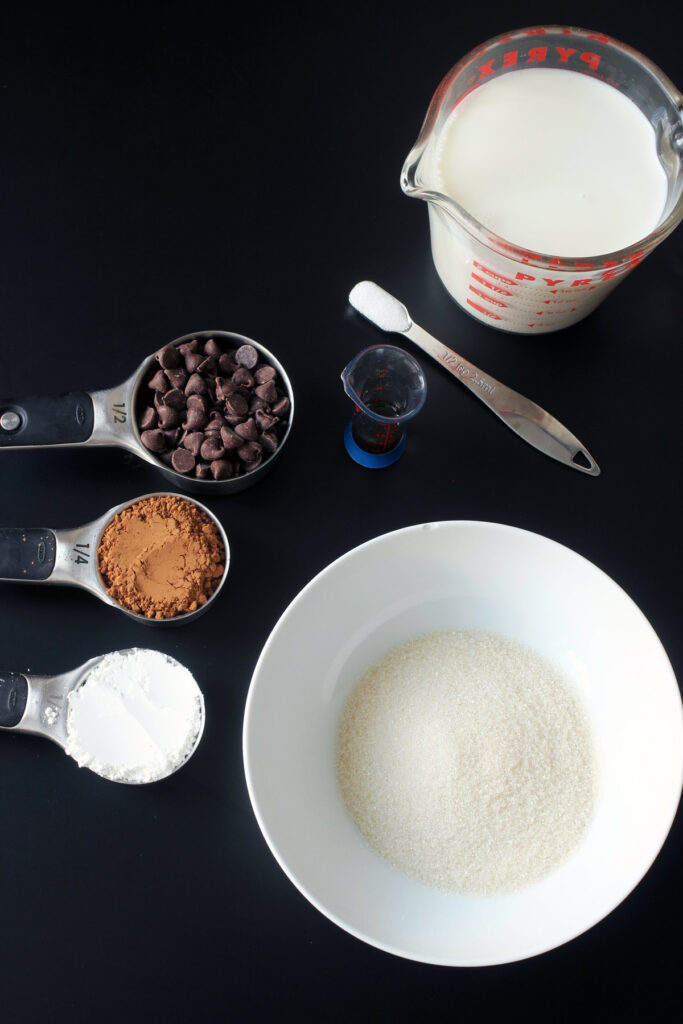 Instructions
There are three basic components to this pie: the crust, the filling, and the whipped cream top. You can make these in stages if you need to, prepping the crust well in advance of the filling.
Prepare the pie crust. You'll see a traditional pastry crust in the photos here, but remember you can make a crumb crust if you prefer. If using pastry, prepare the crust, blind bake it, and allow it to cool completely.
Next, cook up the filling in a saucepan. It takes less than ten minutes! Assemble the ingredients and whisk together the sugar, cocoa powder, cornstarch, and salt in a saucepan.
Whisk in the milk, stirring to get all the dry bits from the corners of the pan.
Whisking constantly, bring the mixture to a boil. Allow this to simmer before adding the chocolate chips and vanilla extract.
Let the filling cool just a little and pour it into the cooled pie crust. If you let it cool too long, it will start to thicken before you get it in the pie crust and might get lumpy-bumpy.
Cool it to room temp and then chill the whole thing for several hours. Top with whipped cream.
And voila! Your own Homemade Chocolate Cream Pie!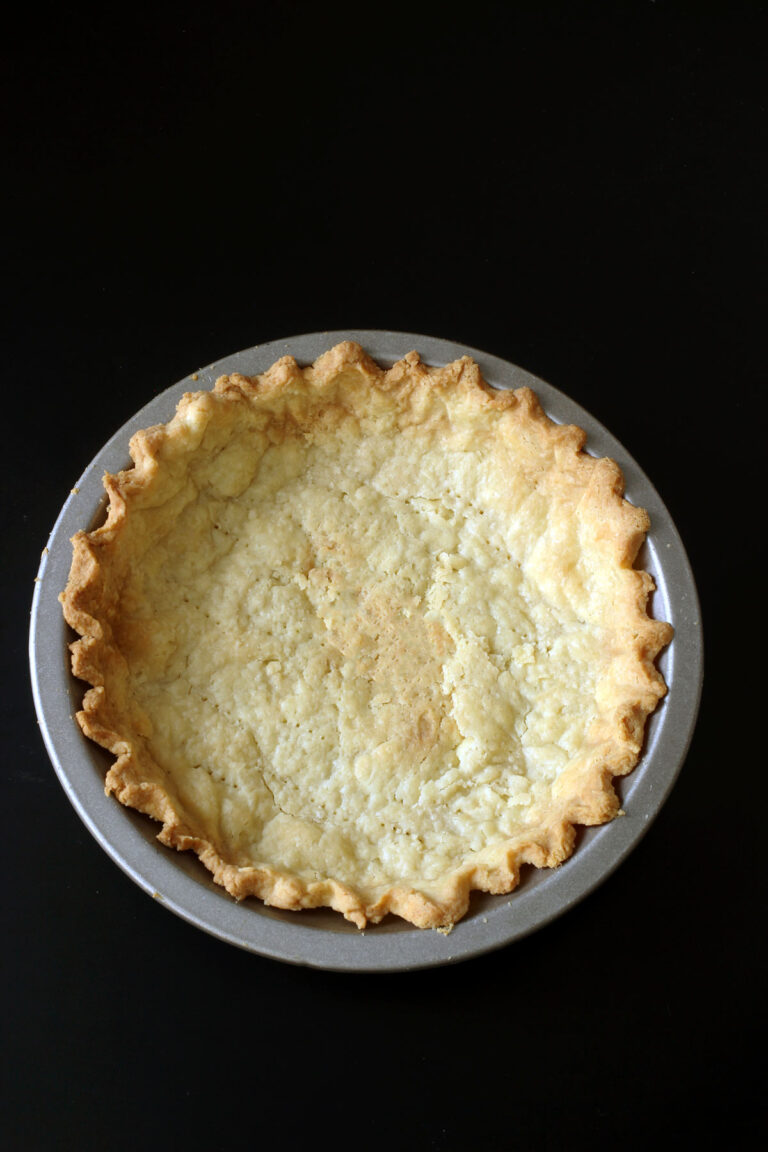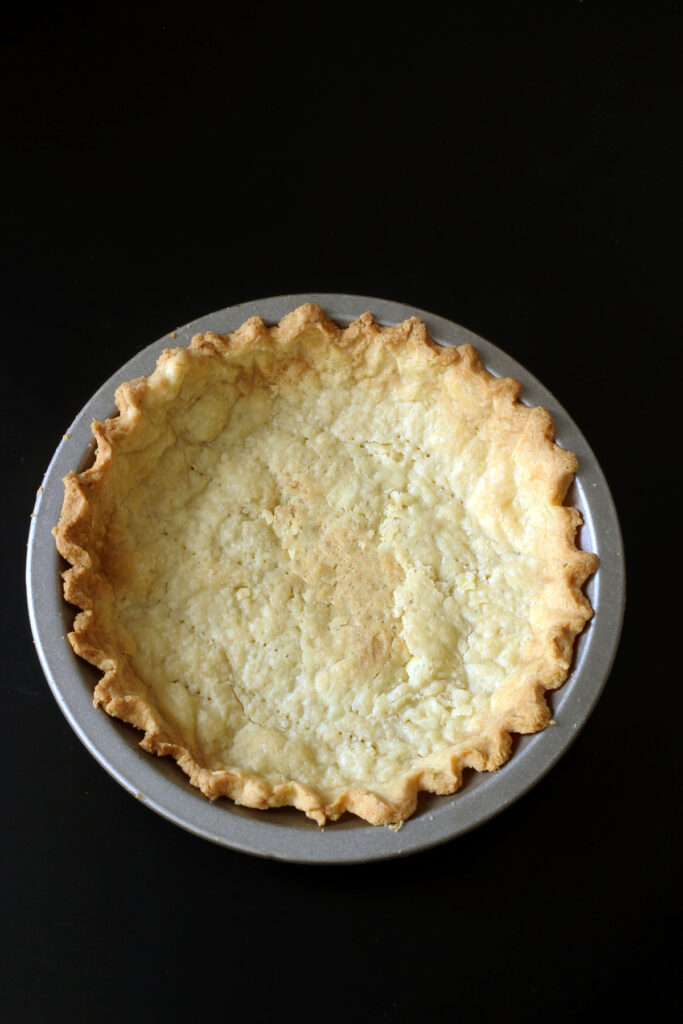 Recipe costs
Knowing how much it costs you to prepare a recipe can help you decide if it's the type of recipe to make regularly or one you might want to save for special occasions. Let's crunch some numbers and see how this recipe pencils out.
pie shell – $1.69
sugar – $0.11
cornstarch – $0.16
cocoa powder – $0.16
vanilla extract – $0.13
salt – $0.02
chocolate chips – $1.00
milk – $0.42
whipping cream – $1.37
powdered sugar – $0.01
Made with non-sale prices at a midrange grocery store, this Chocolate Cream Pie costs $5.07 or 63 cents/serving!
How to save even more:
Here are some of the strategies you can use to make this recipe more economical:
Stock up on ingredients when they are on sale. When you see a good price on butter, flour, sugar, and baking chocolates, buy a few extra packages to stash for later. You know you'll use them.
Shop the stores that have the best prices. When I did my big grocery store showdown, I learned that ALDI and Costco have the best prices for a lot of the things I buy. You will naturally save money if you shop the best store for the items YOU buy. This may not be ALDI or Costco, so you'll need to do your own price comparisons. The time investment as your research it is super valuable!
Kitchen equipment
This recipe really couldn't be easier than it is, but having the right kitchen tools can really make your time in the kitchen more enjoyable. Over time, I've honed my collection so that they are perfect for my needs.
Here are the tools that I use for this recipe: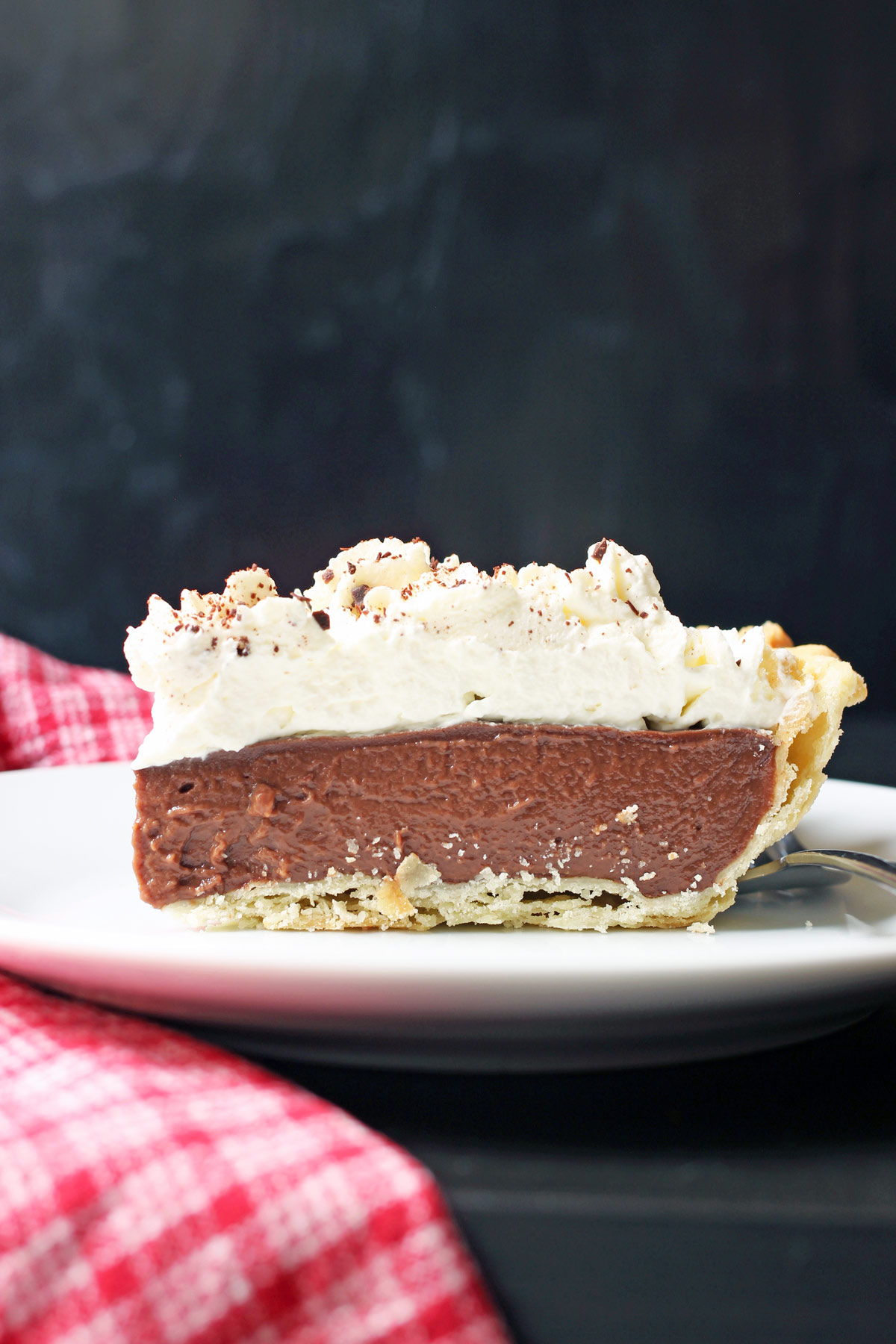 If you prepare this recipe, be sure to share a picture on social media and hashtag it
#GOODCHEAPEATS
. I can't wait to see what you cook up!
Homemade Chocolate Cream Pie
Ditch the frozen pie crust and boxed pudding mixes. You can make a Homemade Chocolate Cream Pie without breaking the bank.
Ingredients
1

batch

single pie crust

⅔

cup

granulated sugar

¼

cup

cornstarch

¼

cup

unsweetened cocoa powder

¼

teaspoon

salt

2 ½

cup

milk

½

cup

chocolate chips

or chopped semisweet chocolate

2

teaspoon

vanilla extract

1

cup

whipping cream

1

tablespoon

powdered sugar

1

square

baking chocolate (semisweet)

shaved
Instructions
Preheat the oven to 375 ° Prepare the pie crust according to recipe directions. Pat into the pan. Line the crust with parchment paper and fill with beans. Bake until edges begin to color, about 15 minutes. Remove paper and weights and continue baking until golden brown.

Cool completely on a wire rack.

In a medium saucepan, whisk together the ⅔ cup sugar, cornstarch, cocoa powder, and salt.

Whisk in the milk, stirring well. Cook over medium-high heat, whisking constantly until mixture begins to thicken, about 5 to 7 minutes.

Whisk in the chocolate chips and 1 teaspoon vanilla until well blended. Allow mixture to cool slightly.

Pour cooled mixture into baked and cooled pie shell. Cool to room temperature and then chill for several hours.

Prior to serving, whip the cream, remaining teaspoon of vanilla, and the powdered sugar in a medium bowl until soft peaks are formed. If you know you are going to consume the pie in the next 24 hours, go ahead and top the pie with the whipped cream. Otherwise, serve the whipped cream alongside the pie.
Notes
Cover leftovers and refrigerate. Leftovers will keep for 3 days.
Nutritional values are approximate and based on ⅛ pie.
Nutrition
Calories:
390
kcal
|
Carbohydrates:
44
g
|
Protein:
5
g
|
Fat:
22
g
|
Saturated Fat:
12
g
|
Cholesterol:
50
mg
|
Sodium:
212
mg
|
Potassium:
185
mg
|
Fiber:
2
g
|
Sugar:
28
g
|
Vitamin A:
586
IU
|
Vitamin C:
1
mg
|
Calcium:
126
mg
|
Iron:
1
mg
Tried this Recipe? Tell us what you think!
Your reviews help us develop better recipes and give newcomers the confidence to try your favorites. Scroll down to leave a starred comment.
This post was originally published on October 13, 2017. It has been updated for content and clarity.