Homemade chocolate pudding comes together in just a few minutes. Rich in chocolatey flavor, it makes a deliciously elegant dessert to serve to friends and family.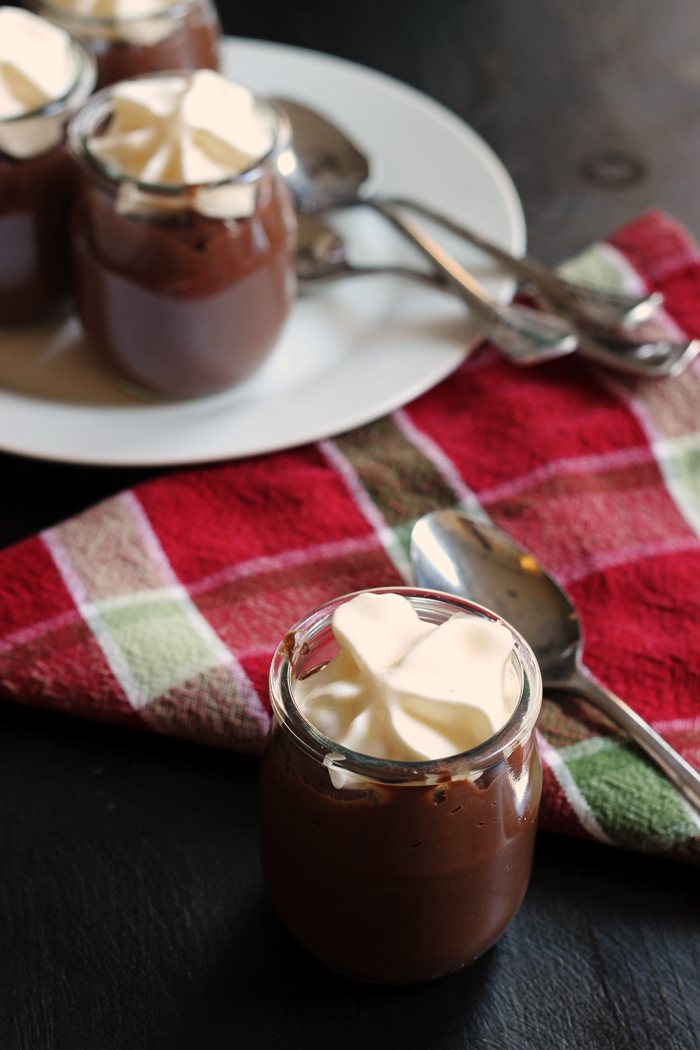 When I was a kid, pudding came in a box. Or a plastic cup. But usually a box that I added milk to and whipped with the mixer. In five minutes, I had a sweet chocolately treat.
For my husband, nine years my senior, pudding also came in boxes and plastic cups, but if you were to mix up a box you did so on the stove. And had to wait hours for it to cool. And risk its forming a skin, which he actually liked. Ew.
Clearly, we had different childhoods. 😉
Nowadays, our pudding is homemade. I taught FishBoy15 to make it today. Super easy. You do have to measure instead of opening a box. And we do cook it over the stove. And you can let it form a skin if you want. (Not that I recommend that.)
But, the little extra work to make homemade chocolate pudding is totally worth it. And it's really not much work at all. Takes about 90 seconds to measure those ingredients, and you'll know that your pudding is all real food. Amen. Hallelujah.
Many recipes for homemade chocolate pudding call for egg yolks mixed into it, creating a custard. This recipe is egg-free, making it a little bit cheaper and easier to make.
What is the difference between chocolate pudding and chocolate mousse?
Mousse is a lighter, airier version of chocolate pudding. Air is whipped into chocolate mousse, unlike chocolate pudding. It is accomplished by either adding whipped egg whites, or whipped cream, into the mixture.
What is chocolate pudding made of?
Some chocolate puddings are made with eggs, but this one is made without. It's thickened with cornstarch instead.
This recipe is made with:
sugar
cornstarch
cocoa powder
salt
milk
chocolate chips
vanilla extract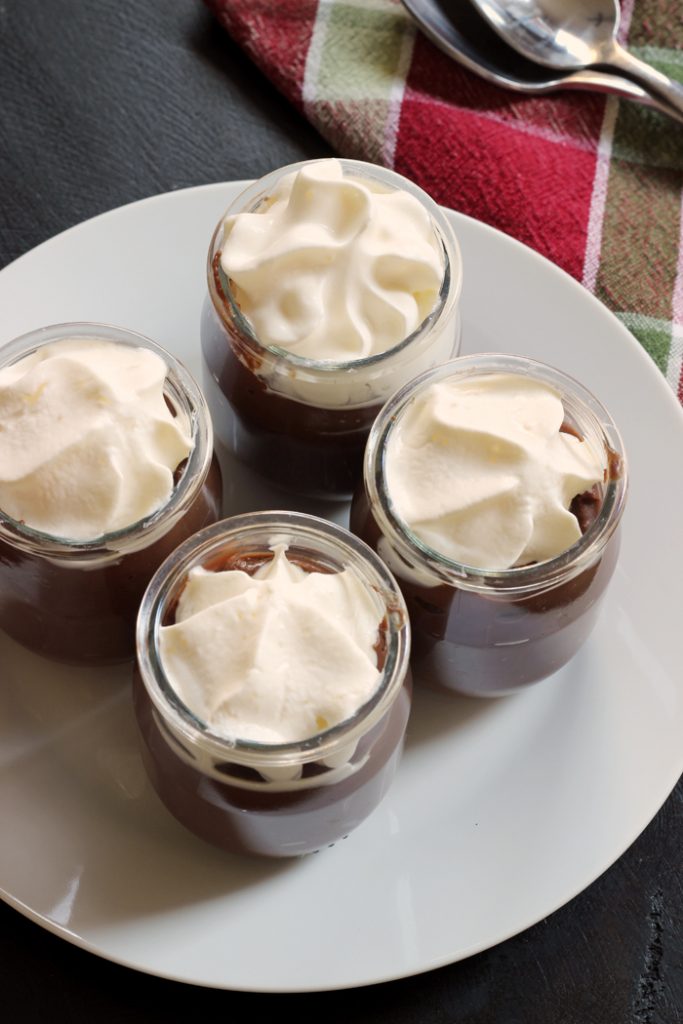 How long does homemade pudding good for?
The best part of making homemade chocolate pudding is that it can last for a week, covered in the refrigerator, in the fridge. So this makes a great make ahead dessert to entertain with.
I love this dessert for many reasons. Chocolate, of course. It also lends itself to a pretty presentation. Homemade chocolate pudding topped with whipped cream makes a beautiful and elegant dessert to serve to company at the holidays or to make a regular day just a little more special.
It's nice to have some small ramekins or pots for serving. The ones I have are actually glass yogurt containers from France. Yes, commercial yogurt comes in real glass containers. They are perfect for homemade chocolate pudding. I only wish I had hoarded a few more from our trip last year.
Homemade chocolate pudding takes about ten minutes to prepare and then an hour or two to chill. It's delicious and easy, so there's no reason not to make some today!
Print Recipe
Homemade Chocolate Pudding
Homemade chocolate pudding comes together in just a few minutes. Rich in chocolatey flavor, it makes a deliciously elegant dessert to serve to friends and family.
Ingredients
2/3

cup

granulated sugar

1/4

cup

cornstarch

1/4

cup

unsweetened cocoa powder

1/4

tsp

salt

2 1/2

cup

milk

1/2

cup

chocolate chips

1

tsp

vanilla extract
Instructions
In a large saucepan, whisk together the sugar, cornstarch, cocoa powder, and salt until well combined. Whisk in the milk. Heat the mixture over medium-high heat, stirring constantly until it thickens and starts to bubble lightly, about 6 to 8 minutes. Remove from heat. Stir in the chocolate chips and vanilla extract.

Divide the pudding into six 4-ounce ramekins. Place a bit of plastic wrap or waxed paper ON the surface of the pudding to prevent a skin from developing. Refrigerate for several hours until cold. Serve with whipped cream if desired.
Notes
Promptly store leftovers in an airtight container in the refrigerator, for up to 3 days.
Nutritional values are approximate and based on 1

 serving.
Nutrition
Calories:
254
kcal
|
Carbohydrates:
44
g
|
Protein:
5
g
|
Fat:
7
g
|
Saturated Fat:
4
g
|
Cholesterol:
12
mg
|
Sodium:
152
mg
|
Potassium:
189
mg
|
Fiber:
2
g
|
Sugar:
37
g
|
Vitamin A:
198
IU
|
Calcium:
137
mg
|
Iron:
1
mg