Making French press cold brew coffee is an easy way to enjoy a good brew. All you need are ground coffee beans, cold water, and a french press.
Enjoy your favorite Iced Coffee or Iced Mocha in minutes with this simple French press coffee cold brew recipe. It produces a concentrate that is perfect for a homemade instant hot coffee as well as all your coffee recipes like Salted Caramel Affogatos or even Coffee Cubes.
Iced coffee drinks are a regular occurrence at our house during the summer months. They're cool, refreshing, and can even extend your life!
Making cold brew coffee in a French press coffee maker is simple, hands-free, and requires washing fewer dishes than the traditional method of brewing coffee concentrate. It's a must-make this summer!
Why Make This
It's easy. If you love coffee French press style, then you're going to love making cold brewed coffee this way. The only equipment you need is a press and a storage container, as opposed to needing a coffee filter and other contraptions.
It's delicious. Coffee lovers, make it easy to enjoy your favorite cuppa with this simple method.
It's cheaper than Starbies! Why pay a high price for coffee when you don't have to? Enjoy a glass of this cold brew with a square of Cinnamon Coffee Cake Recipe. Better than the cafe!
Ingredients
You only need two things to make this: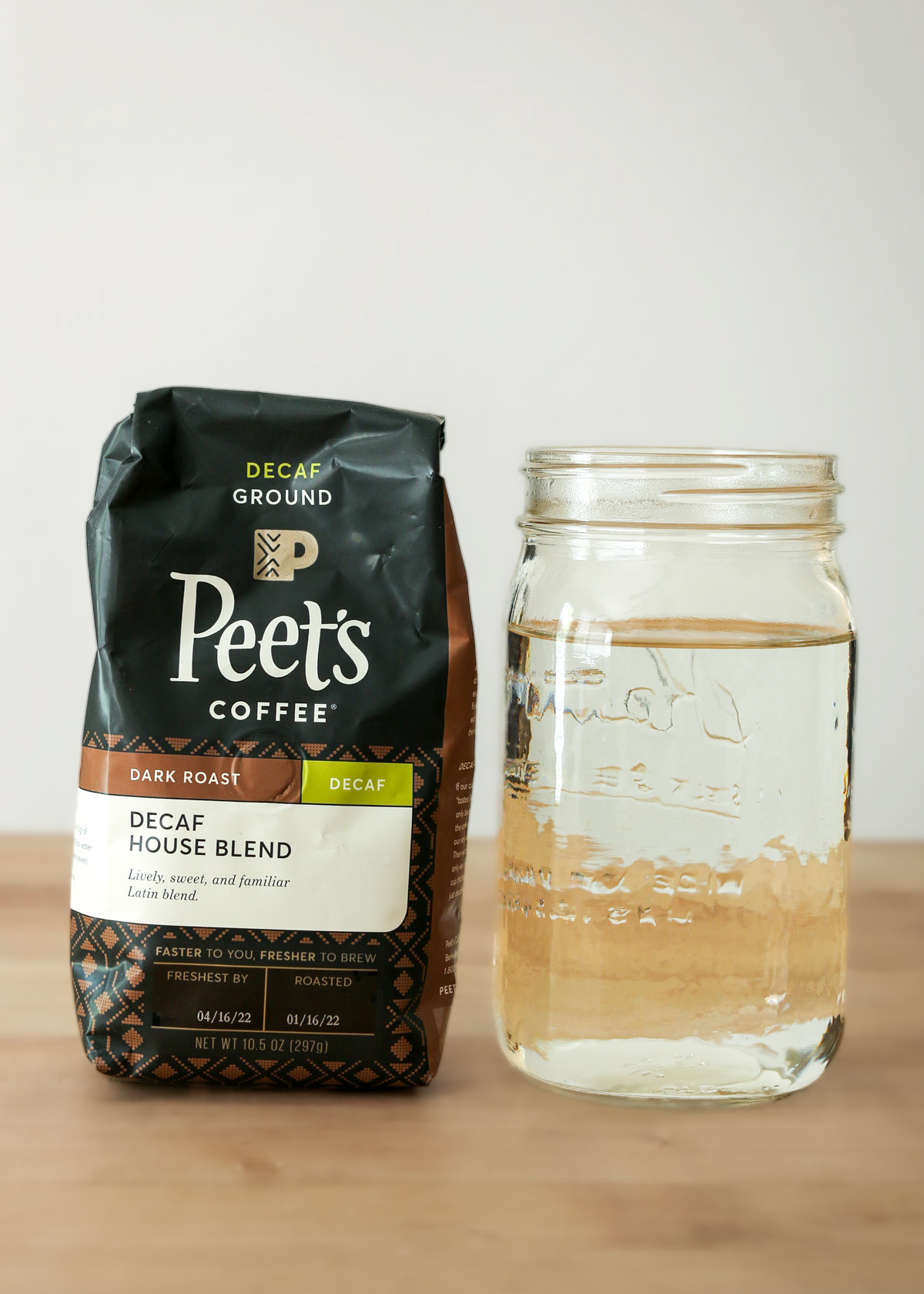 coffee – Choose coarsely ground coffee as it won't seep through the holes of the plunger. It can be decaf or regular, just be sure it's a roast of coarse ground coffee that you typically enjoy. For best results choose a roast with low acidity and strong base notes like an Indonesian coffee variety.
water – It can be cold or room temperature water. I've used both with fine results.
Note: The ratio of coffee to water will be 1 to 3.5.
Step-by-Step Instructions
Here's how to make this easy recipe:
Place the coarse grind coffee grounds in the bottom of the press.
Fill it up with water.
Stir gently to combine and make sure all the grounds are submerged in the water. Allow this to rest for 12 hours or overnight.
When the time is up, press the plunger down. Serve according to your tastes.
Store the concentrate in an airtight container in the fridge.
To use: dilute 1 part Concentrate with 2 parts hot or cold water. Add milk, cream, sugar, or flavored syrups to taste. Leftover evaporated milk is also a good addition. Serve hot or over ice, depending on your preferences.
Pro Tip: Use frozen milk cubes, frozen almond milk cubes, or frozen coffee cubes to keep it cold without diluting the flavor.
FAQs
What is the French Press Cold Brew Coffee ratio?
The ratio of coffee to water will be 1 to 3.5 to brew the coffee. Once the concentrate is prepped, you can dilute the brew, 1 part concentrate to 2 parts water.
Can you cold brew with French press?
Yes! It's super simple. Since the press filters the coffee for you, this is one of the simplest ways to make cold brew concentrate.
How long does it take to cold brew coffee in the French press?
Twelve hours or overnight is sufficient.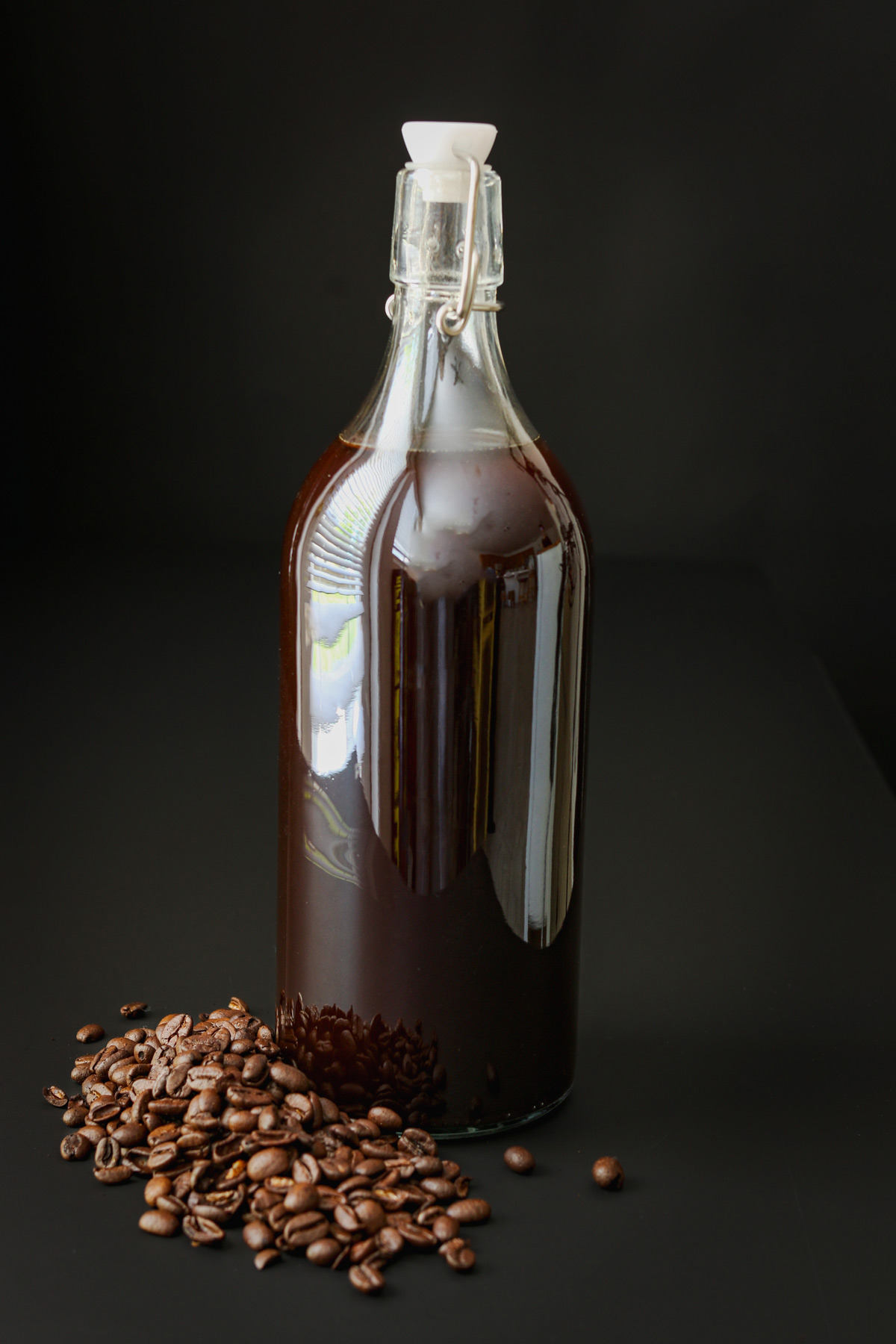 Coffee Drinks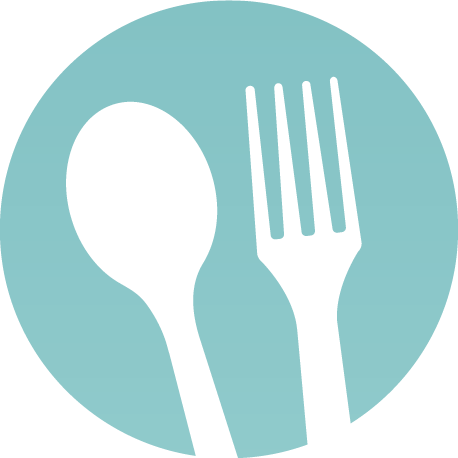 Tell us what you think!
We love to hear your experiences with Good Cheap Eats. Click the STARS on the recipe card or leave a STARRED comment to let us know what you think of the recipe.
French Press Cold Brew Coffee
Making French press cold brew coffee is an easy way to enjoy a cold brew concentrate. All you need are ground coffee beans and cold water.
Ingredients
1

cup

coffee grounds

3 ½

cups

cold water
Instructions
Place the coffee grounds in the French press. Fill the press with cold water and stir. Cover and let sit at room temperature for 12 hours.

1 cup coffee grounds,

3 ½ cups cold water

Press the plunger and pour the concentrate into a serving vessel. Discard the grounds.

Serve the cold brewed coffee, diluted to taste with hot or cold water or over ice, if desired. Store the cold brew in the fridge for a week or two.
Notes
Note: If you want to make more or less, keep in mind the ratio of 1 part ground coffee to 3.5 to 4 parts water.
This concentrate can be used as a substitute for espresso in recipes.
To serve: dilute to taste with cold or hot water, starting with 1 part concentrate and 2 parts water. Add milk, almond milk, cream, or sugar according to your preferences.
Nutrition
Calories:
1
kcal
|
Sodium:
116
mg
|
Potassium:
1
mg
|
Calcium:
1
mg
Tried this Recipe? Tell us what you think!
Your reviews help us develop better recipes and give newcomers the confidence to try your favorites. Scroll down to leave a starred comment.