Get a free printed card of the Good Cheap Eats System to remind you of the next best steps to saving money on food costs.
You find that you've been spending too much on groceries…
You learn that income will be down in the coming months, but, alas, you still gotta eat…
You realize that if you don't make some spending changes, you won't hit your financial goal of replacing the car, retiring, sending the kid to college, etc…
So what do you do?
Well, when we found ourselves in that situation back in 2007, we worked the Good Cheap Eats System. I didn't call it that then, of course, but it is exactly what we did.
Shop the kitchen – that first month, we ate the pantry to the bare bones. I truly felt like Old Mother Hubbard.
Plan your meals – I was very careful with my meal plan, especially since I was stretching things as far as they could go.
Make a plan for leftovers – I got really good at making Stone Soup and planning meals with like ingredients.
Visit the store with the best prices – I learned quickly that not all grocery stores are created equal, even though their products might be exactly the same.
Check the sales and clearance – What treasure you can find for pennies if you keep your eyes open!
Cook from scratch – When practical, cooking from scratch tastes better, is healthier for you, and saves you money. Go figure!
Freeze extra for later – Save time, money, and effort when you make extra to freeze. Not only do you bypass pricier convenience foods and restaurant fare, but you'll eat incredibly well.
This is the system that got us out of debt and continues to help us reach our financial goals. Currently, we rent but carry no debt. All our cars are paid for. We have a 6-month emergency fund banked as well as college funds completed for two kids so far and four more in the works.
We don't make big bucks. Trust me.
But, we do well with what we do make. You can, too.
Since food is one of your most malleable expenses, working the GCE System is in your best interests. You can trim down your grocery spending so that you can reallocate the funds elsewhere OR stretch your grocery dollar to allow for better nutrition and tastier meals.
Wherever you're at in your grocery spending, I promise you, the System will help you do better.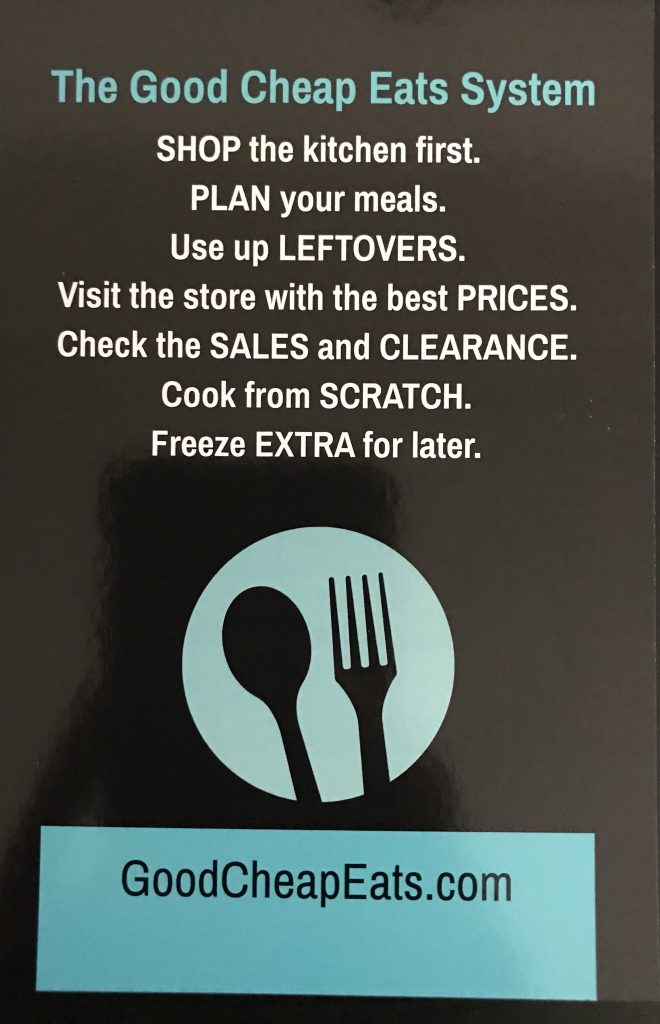 Get a free printed card of the System
This month, I'm sending out printed postcards of the Good Cheap Eats System to whoever would like one. These are just fun little postcards that you can put on the fridge or in your meal planning station to remind you of the things you can do today to save money on food so you can do bigger and better things with your money.
Click here to get the free printed card.
What's your favorite part of the GCE System?