Creating your own marinades at home is not difficult. In fact, you can pull it off without a recipe even.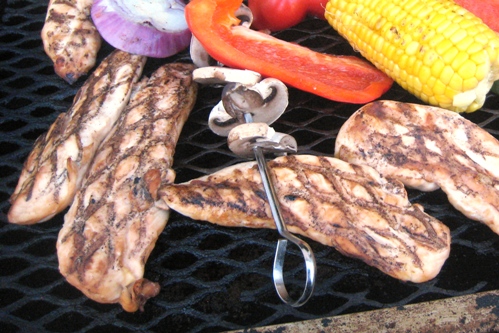 We're big on grilling around here. Lazy, sunny weekends just scream, "Fire up the barby." But, since they are lazy, sunny weekends, I'd rather not do too much work. That's when I just throw together a marinade.
Without measuring.
Gasp. Yes, it's true. A marinade is really a flavor-packed dressing. You need seasonings that add flavor, a little acid to penetrate the meat, a little oil to keep the meat from sticking to the grill. Pretty simple really. Sometimes I even ditch the oil.
My staple acids for marinades would be things like
rice vinegar (I like Nakano Natural)
soy sauce
red or white wine vinegar
wine or sherry
citrus juice
I just take a small jar and pour in about 1/4 cup of vinegar or other acid. I eyeball it. Hint: it's easy to guess if you use a 1-cup canning jar.
Stir in some flavorings, like a little mustard, some herbs, some garlic, some ginger, or a few shakes of crushed red pepper. Choose whatever flavors you like. Just don't too many. This isn't the Suicide you used to mix up at the Coke machine at the roller rink when you were a kid.
Don't go too heavy at first. With practice you're going to find the right combinations that suit your fancy. Stir in an equal amount of oil, about 1/4 cup, or less, depending on how crazy you feel. Pour this mixture over your chicken pieces and allow it to marinate, covered, in the refrigerator, from 30 minutes to a few hours.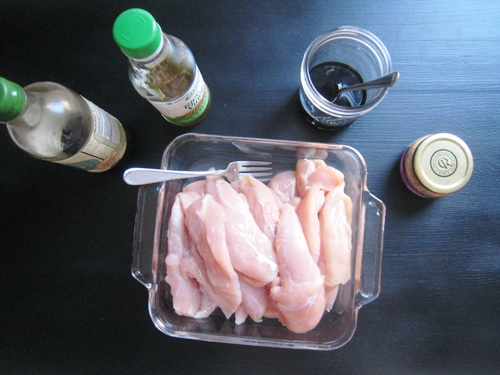 Cook your marinated chicken over a hot grill, turning once, until cooked through. If the chicken is boneless, it will cook in a shorter amount of time, as little as 8 to ten minutes for a chicken tender. Dark meat with the bone in can take much, much longer. The most reliable time gauge is to use an instant read thermometer. Chicken is ready at 165°.
Mixing up marinades without a recipe is super easy to do, especially if you keep some regular staples on hand, like rice vinegar, soy sauce and ginger.
If you really must have a recipe, try this one:
Easy, DIY Chicken Marinade
This is an easy template to help you make a marinade without an exact recipe. Use what you have on hand; it will be delicious!
Ingredients
1/2

cup

vinegar, any kind

salt and pepper

1

tbsp

dried herbs of your choice

such as rosemary, basil, oregano, thyme, or sage

1/2

cup

olive oil

4

boneless skinless chicken pieces
Instructions
In an airtight container or ziptop freezer bag, place the vinegar, salt, pepper, and herbs. Stir or swish to combine.

Add the chicken pieces to the bowl or bag, turning to coat. Seal and store in the refrigerator for at least an hour, up to 12 hours.

About 30 minutes before serving, preheat the outdoor grill.

Remove the chicken pieces from the bag and cook on the hot grill until an internal temperature of 155 degrees is reached.

Remove to a platter and tent with foil. Allow to rest for ten minutes. During this time, the chicken should rise to the optimal internal temperature of 165 degrees. Slice and serve.
Notes
Promptly store leftovers in an airtight container in the refrigerator, for up to 3 days.
The chicken can be frozen uncooked in the marinade or cooked. 
Nutritional values are approximate and based on 1 piece of chicken and do not account for the values in the marinade.
Nutrition
Calories:
258
kcal
|
Protein:
48
g
|
Fat:
6
g
|
Saturated Fat:
1
g
|
Trans Fat:
1
g
|
Cholesterol:
145
mg
|
Sodium:
262
mg
|
Potassium:
836
mg
|
Vitamin A:
68
IU
|
Vitamin C:
3
mg
|
Calcium:
11
mg
|
Iron:
1
mg