This White Bean Chicken Chili, redolent with spices and bursting with chicken and white beans, comes together quickly in 30 minutes or less for an easy, delicious dinner.
Did you graduate from high school in 1990? Cut your adult teeth on the foods of the era like Chicken Caesar Salad? Chinese Chicken Salad? BBQ Chicken Pizza?
No? Just me?
Anyway, this is one of those recipes that got its start in the 90s and has continued on to become a very tasty classic.
White Bean Chicken Chili
White Bean Chicken Chili is very different than traditional Chili. It's got white beans instead of pintos or kidneys, chicken instead of ground beef, and a savory chicken gravy instead of a chile-based sauce.
This particular chicken chili recipe got its start from one my friend Georgina gave me back in, you guessed it, the mid-90s. Her version called for soaking the beans, cooking the chicken in the broth, deboning the chicken, and then bringing it all together.
Delicious, but time intensive, that was.
While cooking dried beans is such an easy, money-saving kitchen task, it's one that gets in the way of my enjoying this dish more often.
Using canned white beans speeds up the process immensely and makes this a quick and easy pantry meal. Except for the cheese and fresh toppings, you could easily keep the dry and canned ingredients for this recipe on hand in the pantry.
What kind of beans do you use in White Bean Chicken Chili?
The recipe calls for Great Northern White Beans, but you can use other kinds of white beans such as navy or cannellini beans. Likewise, you can also use pinto beans without a problem.
Pinto beans (dried or canned) are typically cheaper than white ones, so that's a good cheap cheat to take note of.
Can I still use dried beans in this recipe?
You can absolutely still use dried beans in this recipe. The cost less than canned, but make it convenient and cheap by cooking a few pounds of beans to freeze for later. Package them in 2-cup portions so that it's easy to sub them for canned in this recipe?
What are some good toppings for chili?
This chili recipe is delicious on its own, but you can serve it with sour cream, salsa, cheese, chopped cilantro, or chopped onion to take it over the top.
How do you make white bean chicken chili?
This recipe is super simple to pull together.
Firstly, lay out all your ingredients ahead of time.
Secondly, in a heavy stockpot, heat the oil and sauté the onions.
Stir in the green chiles, garlic, and spices. Let this sauté for a minute.
Add the beans, chicken stock, and lime juice. Simmer for 15 minutes.
Stir in the chicken and heat through.
Gradually add the shredded cheese a handful at a time, stirring and allowing it to melt into the gravy before adding more.
Once the cheese is all incorporated, the chili is ready to serve.
Lastly, serve the chili with the toppings.
Can you freeze chicken chili?
This is a great dish for freezing.
Once the recipe is prepared, allow the steam to blow off.
Divide the chili into labeled containers, either single serve or meal-size.
Chill the containers in the fridge for several hours before storing in the freezer.
When ready to serve, reheat the chili in a pot or in the microwave.
How much does this recipe cost?
We often assume that homemade will always be a good cheap eat, but it's good to verify that by crunching the numbers. How much does it really cost to make this? Here is the price breakdown based on non-sale prices at a mid-range grocery store in Southern California:
olive oil – $0.20 ($6.49/16 oz)
onion – $0.75
diced green chiles $0.60/4-oz can
garlic – $0.12 ($0.48/head)
spices – $0.25
canned beans – $1.92 ($0.48/can)
chicken stock – $0.61 ($1.22/32 oz)
lime juice – $0.28 for one lime
chicken – $0.99 ($1.89/lb for b/s breasts)
jack cheese – $0.84 ($3.36/lb)
The total cost to make this white bean chicken chili is $6.56 or 82 cents per serving!
Your mileage may vary, of course, but unless you live in a drastically more expensive area than California, you can expect to pay about this amount — or less!
How can I save even more money on this recipe?
There are several things you can do to bring the cost down even more for this recipe:
Substitute chopped fresh jalapeño in exchange for the canned green chiles.
Cook a whole chicken which is usually less per pound than boneless, skinless chicken breasts.
Make your own chicken stock with the chicken bones.
Purchase any or all ingredients, but especially the cheese ON SALE.
Shop a low budget grocery store and beat the above named prices.
In this way you could bring the price down even more.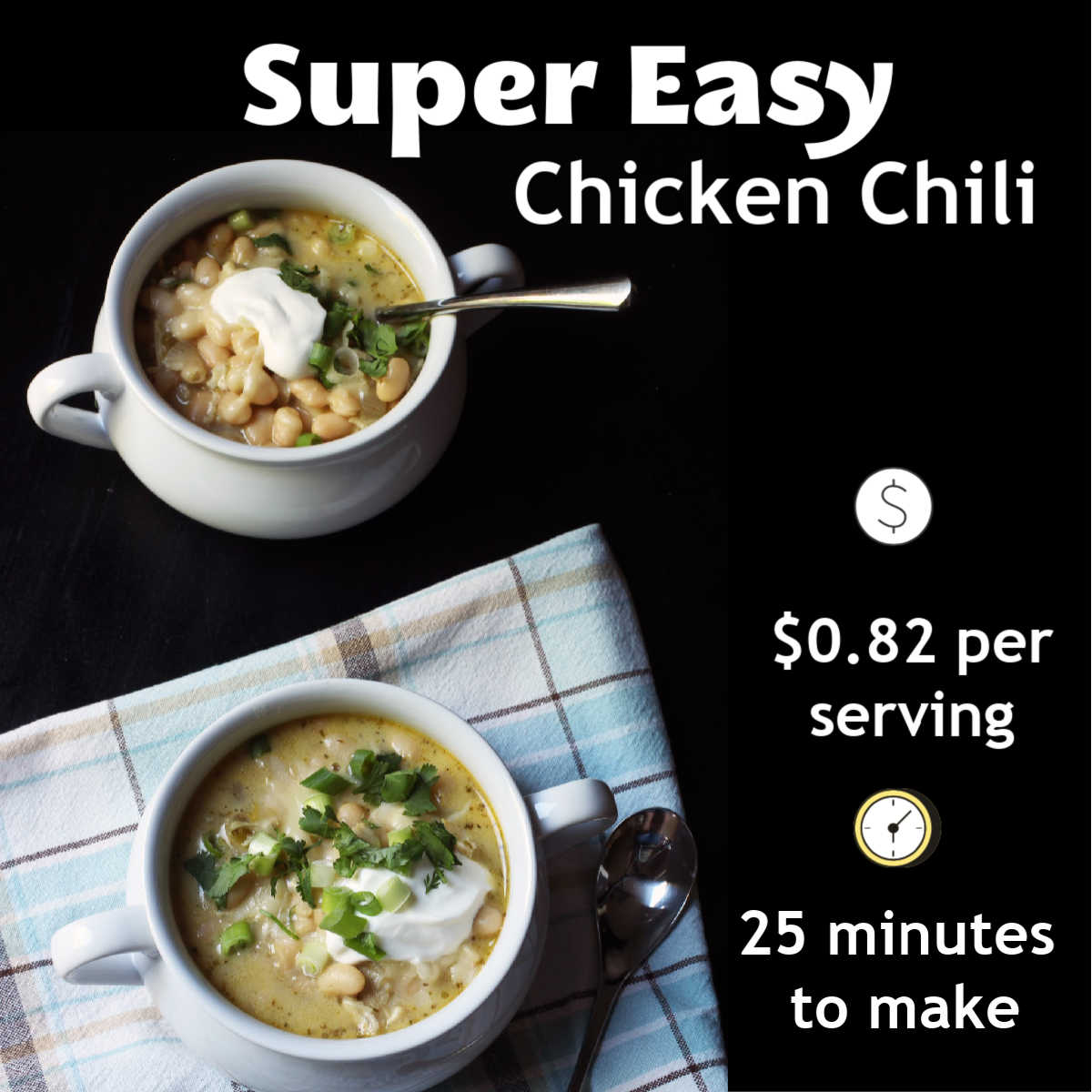 If you prepare this recipe, be sure to take a picture and hashtag it
#GOODCHEAPEATS
. I can't wait to see what you cook up!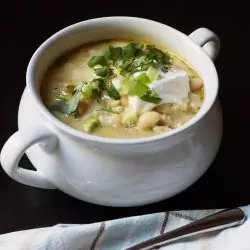 Print Recipe
White Bean Chicken Chili
This easy white bean chicken chili comes together quickly but is packed with flavor.
Ingredients
1

tbsp

olive oil

1

onion

for 1 cup chopped

1

4-ounce can

green chiles (chopped)

3

clove

garlic

minced

2

tsp

ground cumin

1

tsp

dried oregano

1/8

tsp

ground cayenne pepper

1/8

tsp

ground cloves

4

15-ounce cans

Great Northern beans

drained

2

cup

chicken stock

2

tbsp

lime juice

2

cup

chicken (cooked and cubed)

4

oz

jack cheese (shredded)

toppings for chili

: chopped cilantro, salsa, sour cream, additional cheese
Instructions
In a large stockpot, heat the oil until shimmering. Add the onion and sauté until clear, about five minutes over medium-high heat. Add the green chiles, garlic, cumin, oregano, cayenne, and ground cloves. Cook for about a minute until fragrant.

Add the beans, stock, and lime juice. Bring to a boil. Reduce the heat and simmer for 15 minutes.

Stir in the chicken. Add the cheese gradually, stirring to incorporate it.

Once the chicken is heated through and the cheese is completely melted and incorporated, it's ready to serve. Serve with the toppings.
Notes
To freeze: chill the soup completely before storing in airtight containers in the freezer for up to 2 months.
Nutrition
Calories:
428
kcal
|
Carbohydrates:
51
g
|
Protein:
37
g
|
Fat:
9
g
|
Saturated Fat:
4
g
|
Cholesterol:
51
mg
|
Sodium:
256
mg
|
Potassium:
1070
mg
|
Fiber:
16
g
|
Sugar:
2
g
|
Vitamin A:
155
IU
|
Vitamin C:
11
mg
|
Calcium:
278
mg
|
Iron:
6
mg
This post was originally published on November 13, 2014. It has been updated for content and clarity on June 4, 2020.