This chili redolent with spices and bursting with chicken and white beans comes together quickly in 30 minutes or less.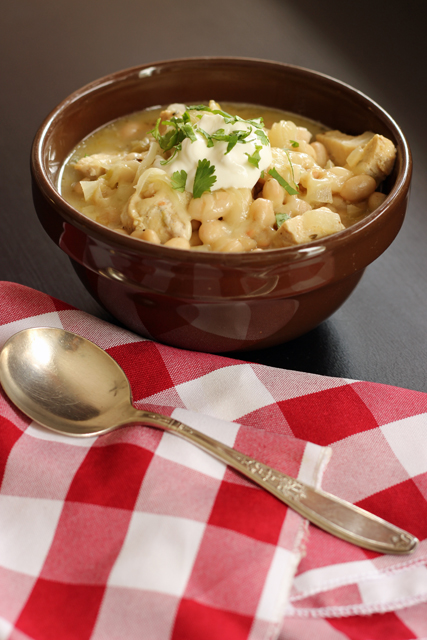 I graduated from high school in 1990. That means that I gained a lot of my culinary education (starving college student, food service worker, waitress, newlywed) in the 90s, the era of the Chicken Caesar Salad, Chinese Chicken Salad, and BBQ Chicken Pizza.
What can I say but that we were into chicken?
I have a very fond affection for those meals that were some of the first that I learned to cook. This "white" chili, made with chicken and white beans is one of them.
In the good old days, everyone I knew had some version of "white chili". And for good reason. It's quite delicious! Each time I make it I wonder why I don't make it more often.
Oh yeah, I know why. Because I usually forget to soak beans.
Next to forgetting to thaw, forgetting to soak is one of my big kitchen misdeeds. Cooking dried beans is such an easy, money-saving kitchen task, but it seems I often drop the ball. See the price comparison here.
So last week when White Chili was on the menu plan and I saw that I had forgotten to soak beans (again), I made this chili with canned beans. Sure, it's a little pricier to use the can, but not as much money as getting take-out that afternoon when my meal plan jumped ship.
In fact, the convenience factor of canned beans totally ratchets this meal up on the "can be served often list".
Make it convenience and cheap and cook a few pounds of beans to freeze for later.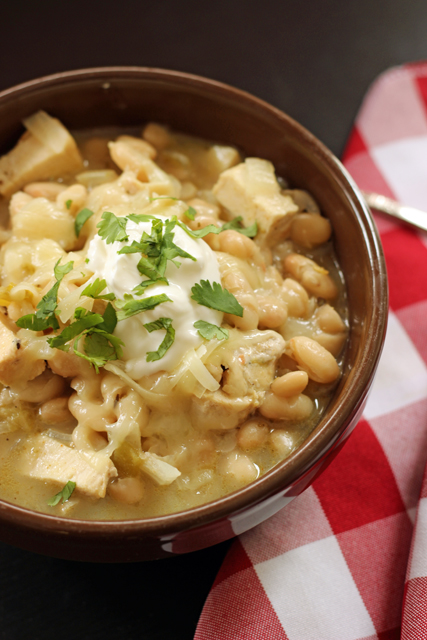 The recipe calls for Great Northern White Beans, but you can use pinto beans without a problem. Pinto beans (dried or canned) are typically cheaper than white ones, so that's a good cheap cheat to take note of. Likewise, you can substitute a finely chopped jalapeño for the chopped green chiles to shave off a little more coin.
If you've got leftover roast chicken or holiday turkey, this is a great recipe for enjoying it with a slight twist. Not the same old leftovers here!
Serve this chili with sour cream, salsa, cheese, and/or a sprinkling of cilantro to take it over the top.
Chicken Chili with White Beans
Adapted from my friend Georgina's adaptation of other white chili recipes. 🙂
Ingredients
1

tablespoon

olive oil

1

cup

chopped white onion

4

ounce

can chopped green chiles

1

tablespoon

crushed garlic

2

teaspoons

ground cumin

1

teaspoon

oregano

1/8

teaspoon

cayenne pepper

1/8

teaspoon

ground cloves

four 15-ounce cans Great Northern beans

drained

2

cups

chicken stock

2

tablespoons

lime juice

2

cooked chicken breasts

chopped

1

cup

shredded jack cheese

toppings: additional jack cheese

chopped cilantro, salsa, sour cream
Instructions
In a large stockpot, heat the oil until shimmering. Add the onion and sauté until clear, about five minutes over medium-high heat. Add the green chiles, garlic, cumin, oregano, cayenne, and ground cloves. Cook for about a minute until fragrant.

Add the beans, stock, and lime juice. Bring to a boil. Reduce the heat and simmer for 15 minutes.

Stir in the chicken. Add the cheese gradually, stirring to incorporate it.

Once the chicken is heated through and the cheese is completely melted and incorporated, it's ready to serve. Serve with the toppings.
Recipe Notes
To freeze: chill the soup completely before storing in airtight containers in the freezer for up to 2 months.
Nutrition Facts
Chicken Chili with White Beans
Amount Per Serving
Calories 428
Calories from Fat 81
% Daily Value*
Fat 9g14%
Cholesterol 51mg17%
Sodium 256mg11%
Potassium 1070mg31%
Carbohydrates 51g17%
Protein 37g74%
Vitamin A 155IU3%
Vitamin C 11mg13%
Calcium 278mg28%
Iron 6mg33%
* Percent Daily Values are based on a 2000 calorie diet.