What are the essential baking ingredients for your holiday baking? Do you know what to stock up on or are you going to be stuck halfway through a recipe, rushing to the store? Download the free printable checklist to help you take inventory and stock up on holiday baking supplies.
Never run out of molasses for Gingerbread with Lemon Sauce & Cream Cheese or sweetened condensed milk to make Hello Dolly Bars. Be prepared for every baking emergency or need with this handy list.
Now's the time to start thinking about holiday baking — and your baking for the next year!
If you haven't checked recently, it's highly likely that your local grocery store has huge displays of baking items that are on sale. Even if you're not ready to head to the kitchen today, you don't want to miss out on the sales.
Stocking up now on essential baking ingredients will help you stretch your grocery dollar over the winter holidays but also for months to come.
Why Do This
You can save money on essential baking supplies. These go cheap this time of year. In fact, buy more than you think you'll need so that you can reap the savings in the months to come. Stocking up comes in super handy.
You can make homemade for less. You know that homemade tastes better than store-bought. Buy essential baking supplies on sale and it's a double win.
Ingredients
When it comes to loading up on Grocery Staples, it's important to be aware of what you use. It doesn't do you any good to buy candied fruit if you never make Fruit Cake.
Since you're going to be doing some holiday baking anyway, think about what goodies you normally make and create a list of essential baking supplies for those recipes.
Not sure? Grab this Holiday Baking Ingredient Checklist when you subscribe to the Good Cheap Eats newsletter. This list will give you an idea of essential baking ingredients that are typically used at the holidays.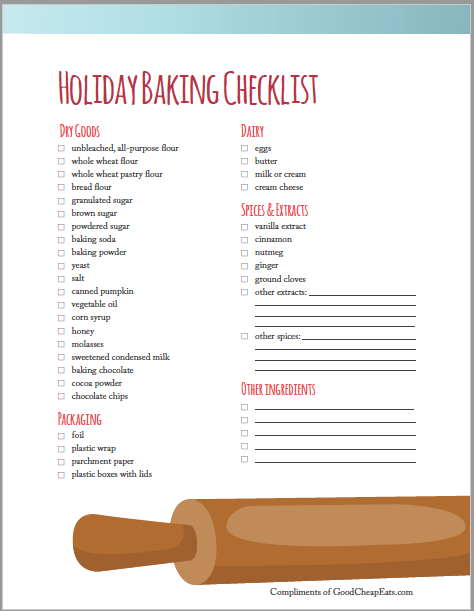 Customize the list to suit your own needs, but make sure you have some of the basics, such as:
flour
sugar (brown, powdered, and granulated)
baking powder
baking soda
yeast
salt
spices
chocolate (chips as well as baking squares)
cocoa powder
honey
molasses
Check your pantry to see what you've got and what you need to stock up on and then get to the store.
You'll be ready for baking at the holidays — and in the months to come when you've stocked up on essential baking ingredients. And if you can shop the sales, you'll save money as well.
Favorite Holiday Baked Goods
Subscribe to the Good Cheap Eats newsletter and get updates on new recipes, updated posts, and sales in our estore. You'll also get access to our free resource library.