Ready to grab a quick snack for the road? As part of the DIY Convenience Foods series, we're making our own nut-free trail mix.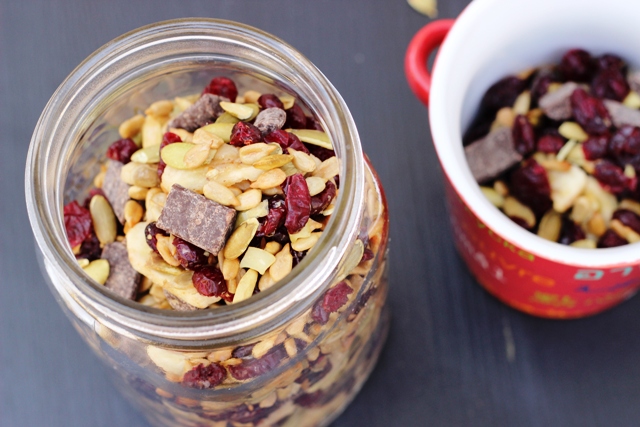 When I was a kid, trail mix was somewhat of a novelty. A hippie novelty. Usually a melange of nuts, seeds, dried fruit, and CAROB chips, it was a fun snack to take camping or on road trips.
Today trail mix has become almost a dessert! I checked out the commercially made versions at the store last week; some are only nuts and chocolate covered candies! I don't see that being all that different than a candy bar. And it was $14.59 for a 44-ounce container. Not necessarily a good cheap eat.
What's so silly is that trail mix is probably the easiest thing under the sun to make!
Since my daughter's nut allergies were reconfirmed this past week, I'm on a mission to make more peanut- and walnut-free foods so that I know that she can enjoy them without negative repercussions. This nut-free Monkey Munch is just the thing!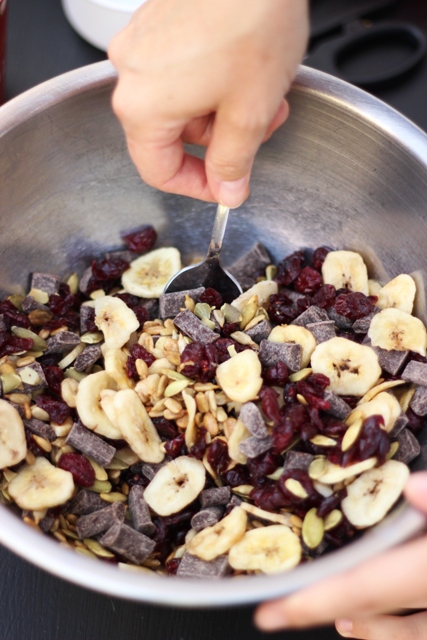 Making trail mix yourself.
Making homemade trail mix is not difficult at all. It's only a matter of throwing a bunch of ingredients in a bowl and giving it a good stir. I did put some thought into my ingredients, though.
We had dried cranberries, banana chips, roasted and salted sunflower seeds, chocolate chunks, and roasted and unsalted pepitas. I worked toward a balanced mixture of salty and sweet. Though my daughter could have other nuts, like almonds or cashews, I chose to make this one nut-free which makes it close to being completely allergen free.
As an experiment I bought a bag of Enjoy Life Chocolate Mega Chunks which are Gluten Free, Wheat Free, Dairy Free, Peanut Free, Tree Nut Free, Egg Free, Soy Free, Fish Free, Shellfish Free. Well, that covers things, doesn't it? I worried that they would be taste-free, but they are quite good!
Obviously, if allergies are not an issue for you, you can use whatever nuts, dried fruit, seeds, and chocolate you'd like.
Making it cheaper.
I bought all my ingredients separately and I bought premium ingredients from Trader Joe's and Sprouts. You don't have to do that. Grab what fits your financial, dietary goals.
Here's how it went for me:
allergen-free chocolate chips $1.27
sunflower seeds $0.60
pepitas $1.50
cranberries $1.00
banana chips $0.50
Total spent for 32 ounces of mix: $4.87. This works out to be 15 cents per ounce. Alternatively, the grocery store "candy mix" turns out to be 33.2 cents per ounce.
My trail mix is about half the price and way better for you! FYI: I'm not a huge fan of banana chips, but I really liked them in this mix. In honor of banana chips cooked in coconut oil, I dub this Nut-Free Monkey Munch Trail Mix.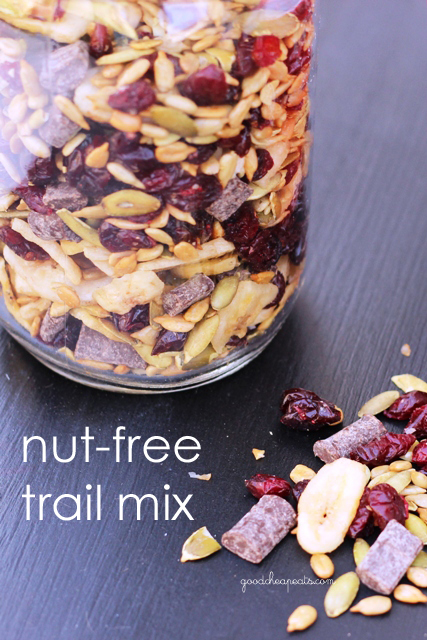 Nut-Free Monkey Munch Trail Mix
Ready to grab a quick snack for the road? This nut-free trail mix is perfect for many food allergies.
Ingredients
1

cup

dried cranberries

1

cup

banana chips

1

cup

chocolate chunks

1/2

cup

sunflower seeds

1/2

cup

pepitas
Instructions
In a large bowl, combine all the ingredients.

Store in an airtight container in a cool place.
Notes
Nutritional values are approximate and are based on 1/8 of the recipe. 
Nutrition
Calories:
296
kcal
|
Carbohydrates:
32
g
|
Protein:
5
g
|
Fat:
18
g
|
Saturated Fat:
8
g
|
Cholesterol:
1
mg
|
Sodium:
4
mg
|
Potassium:
270
mg
|
Fiber:
4
g
|
Sugar:
22
g
|
Vitamin A:
19
IU
|
Vitamin C:
1
mg
|
Calcium:
25
mg
|
Iron:
2
mg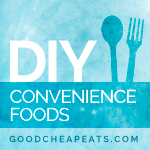 This is part of the DIY Convenience Foods series.
Don't want to miss a post in this series? Subscribe to 31 Days of DIY Convenience food here. Get updates via email here.