Making applesauce at home is a great way to enjoy the fresh fruit of the season. But, can you freeze applesauce?
Yes! When you freeze homemade applesauce you get to enjoy it for a longer amount of time, but you can also extend the life of store bought applesauce by tucking it away in the freezer.
Jump to:
As a mom, applesauce has been a staple in my home for a long time. Whether homemade or store bought, it's a perfect food to serve babies or to comfort older kids after orthodontia work. It's delicious half-thawed as an apple slushy.
My Slow Cooker Applesauce is a favorite with young and old, a perfect fall treat. Whenever I make it, I try to save enough to freeze applesauce for later. It's a welcome comfort food come February when apple season is long over.
Why Do This
There are some great reasons for freezing applesauce for later:
You can avoid waste. Perhaps you purchased or made too much. Freezing it for later allows you to avoid food waste and save money at the same time.
You can benefit from bulk buying or batch cooking. Go ahead and buy that big carton or cook up a big pot of sauce. You can freeze it for later.
You can make it more convenient. Having a tub of applesauce in the freezer makes it easy to make Apple Turnovers whenever you like. Freezing it in ice cube-size portions makes for convenient baby food.
Ingredients
You can use homemade applesauce or the kind you buy at the store.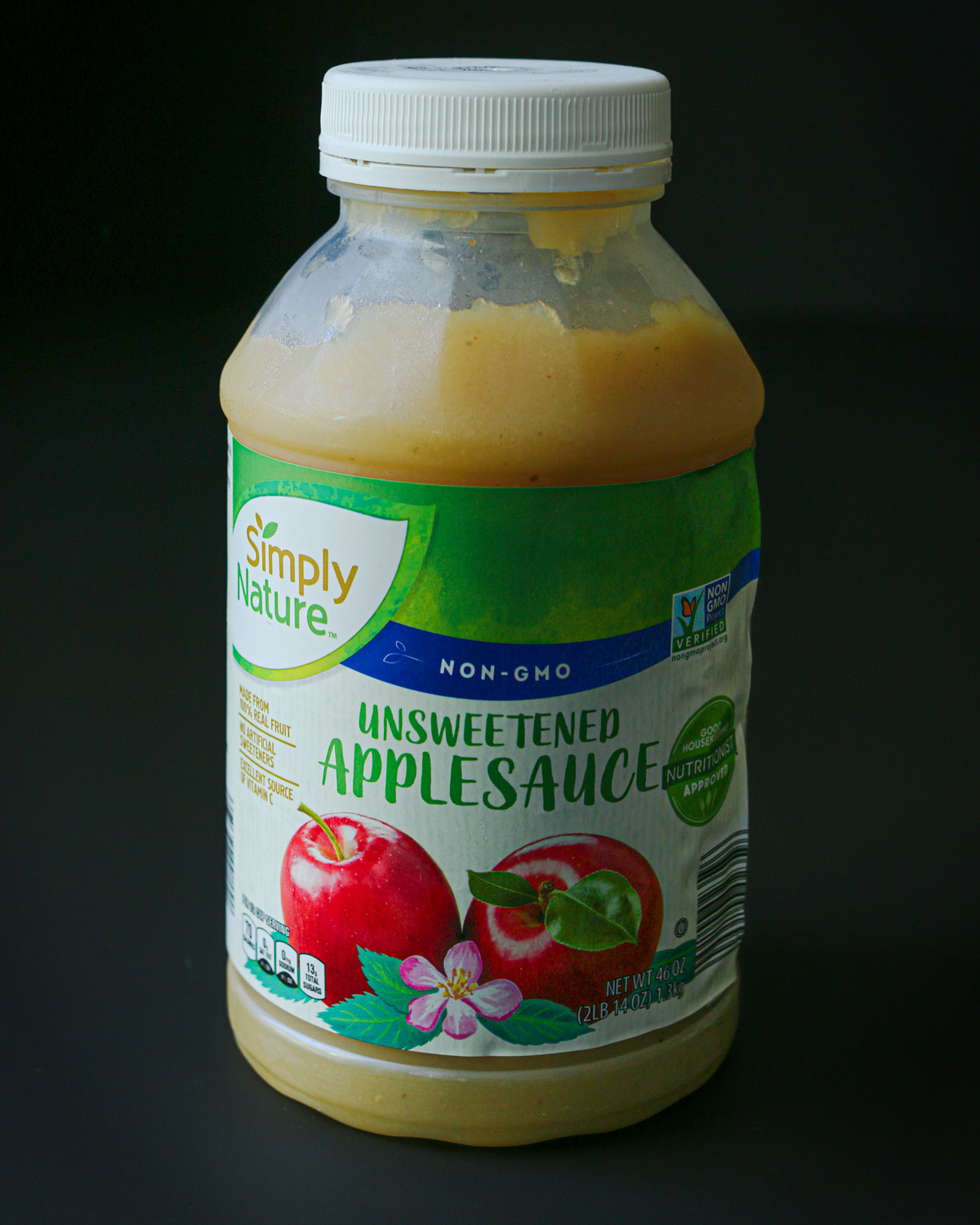 Step-by-Step Instructions
It's best to freeze applesauce in the portions that you will use later. If you've got several kids in the house, freezing the sauce in 2-cup portions may work well, but you might also consider smaller portions, such as 2 tablespoon, ¼ cup and ½ cup portions.
I use ½ cup applesauce in loads of recipes, like Baked Oatmeal Cups or Vegan Muffins with Pear.
You can freeze it in:
ice cube trays (perfect if you use applesauce as baby food!)
small, snack- or sandwich-size plastic freezer bags
half-pint or half-cup mason jars or plastic food containers
small size Souper Cubes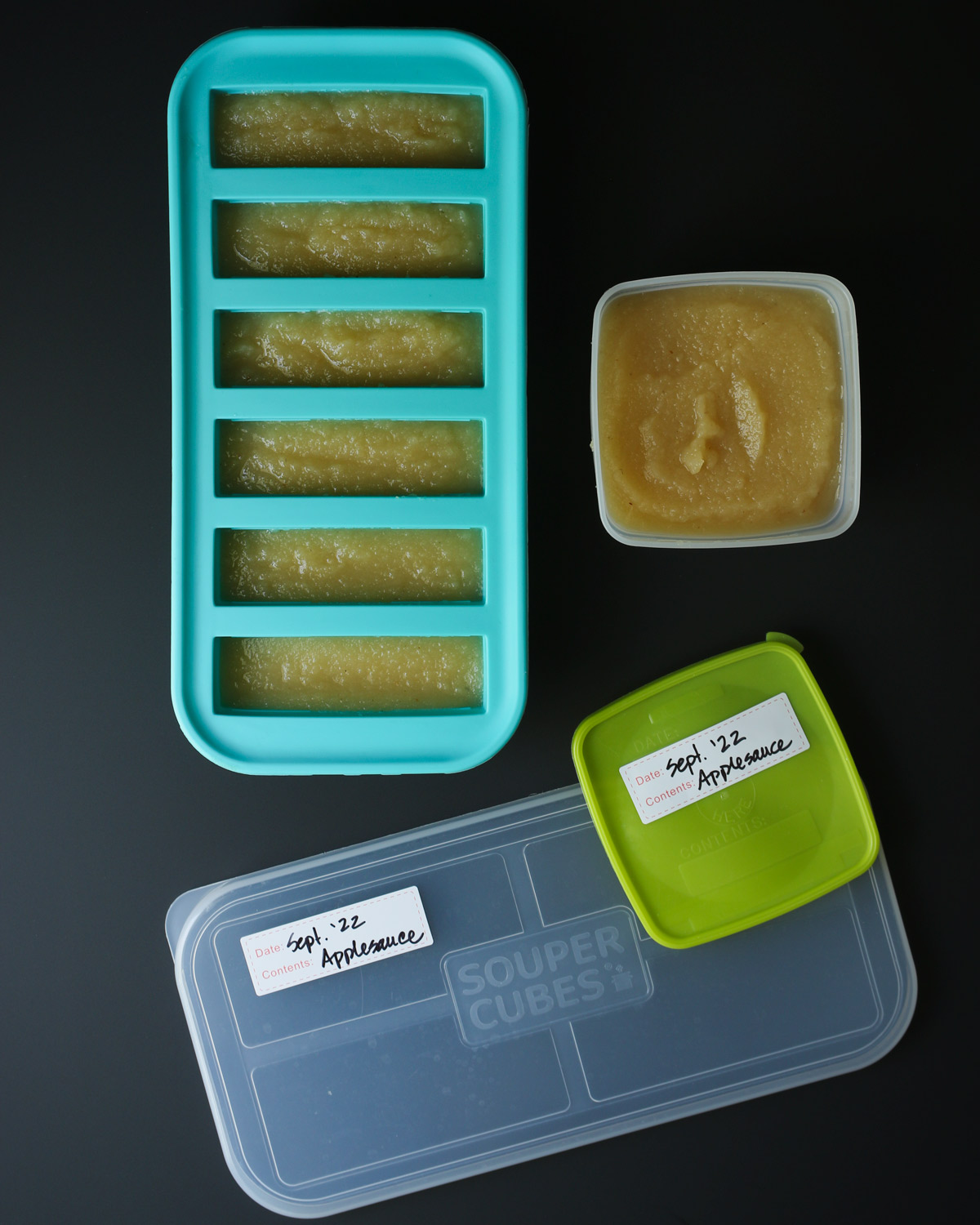 Divide the applesauce into portions you will use later.
Place in the freezer until firm. If using ice cube trays or other silicone trays, you can pop out the cubes and store them in freezer bags until ready to use.
Thawing and Serving Instructions
To serve, remove the frozen applesauce from the freezer and thaw in the fridge until ready to use. It should thaw quickly at room temperature, so if you're serving it soon, you can leave it on the counter.
Frozen applesauce can be added to smoothies for a boost of extra flavor and fiber.
FAQs
What happens when you freeze applesauce?
When you freeze applesauce, it basically turns into an ice cube. It is preserved as long as it's under 0 degrees. Thaw it and it's good to use as you normally do.
Is apple sauce good frozen?
Applesauce is delicious partially frozen, almost like a slushy.
How do you thaw frozen applesauce?
Transfer the container to the fridge and it will thaw. Alternatively, you can thaw it in the microwave or on the countertop. Store thawed applesauce in the refrigerator.
Can you refreeze applesauce?
Technically, you can refreeze applesauce that has been thawed, but it will lose taste and texture. For best results, don't refreeze the applesauce.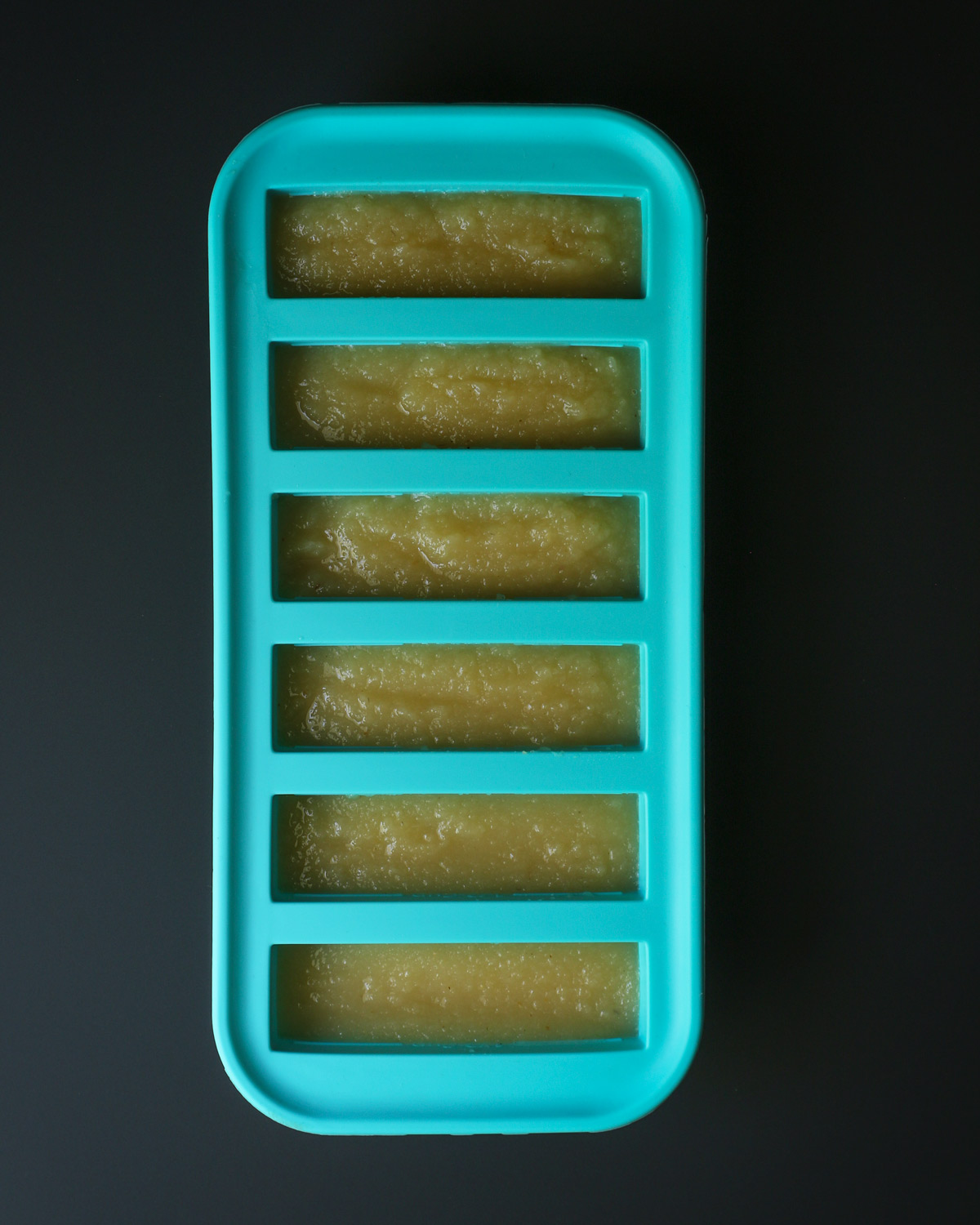 Ways to Use Applesauce
How to Freeze Applesauce
Freezing applesauce is a great way to avoid food waste and extend its shelf life when can't use it all up at one time. Learn how to freeze applesauce so you can use it all up.
Instructions
Divide the applesauce into ice cube trays or other freezer-safe containers and place in the freezer. Once firm, remove the cubes from the trays and store in an airtight container or freezer bag in the freezer.

To use: thaw completely in a dish in the refrigerator before serving or using in your recipes.
Notes
For best results: Freeze applesauce within 3 days of preparing it or as soon after opening the container as possible. Uses: Use applesauce to eat plain or with cinnamon sugar. It can also be used as a topping for ice cream or yogurt. Applesauce is a great substitute for eggs and oil in baking.
Nutrition
Calories:
1831
kcal
|
Carbohydrates:
38
g
|
Protein:
23
g
|
Fat:
175
g
|
Saturated Fat:
30
g
|
Cholesterol:
38
mg
|
Sodium:
4424
mg
|
Fiber:
8
g
|
Sugar:
15
g
|
Vitamin A:
9539
IU
|
Calcium:
762
mg
|
Iron:
3
mg