Enjoy this Tuna Macaroni Salad as a cool main dish this summer or as a substantial side dish at your next barbecue. It packs super well for lunch on the go.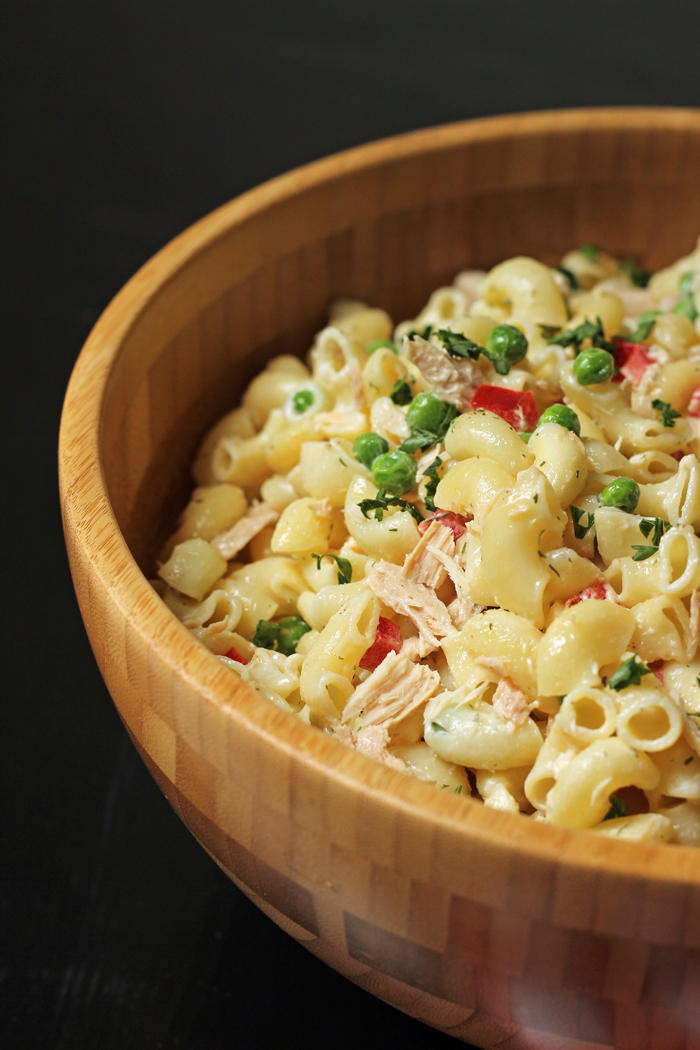 As I type, I'm craving this salad. I took the pictures yesterday. The salad was scarfed down over the last 24 hours and I miss it. I miss it something fierce.
I have a feeling I'll be making this Tuna Macaroni Salad a lot this summer. With hearty macaroni, a tangy lemon dressing, and loads of peas, peppers, and tuna, it just may be my new best friend. I love the crunch of the sweet pepper and the soft bite of the noodles combined with all the other goodies.
It's simple, comes together in minutes and tastes delicious! Even my husband who won't eat peas in most other foods, loves this salad.
How Long Can You Keep Macaroni Salad?
Ok so you just read in our house it barely lasted 24 hours. But if you don't scarf it right down or want to make it ahead this tuna macaroni salad will keep in your fridge for 3 to 5 days. As long as it's properly covered.
If the salad has been left out at room temperature, then it will only be good for 2 hours. If it's left out longer than that, then it's time to toss it.
What Goes With Macaroni Salad?
This tuna macaroni salad can be eaten of course on its own. In fact, it's just one amazing way you can turn a can of tuna into a meal.
But if you want to pair it with something for the perfect summer dinner, then I think this slow cooker pulled pork would go great with it. Or maybe a turkey pesto panini.
You could also lighten it up with a salad like this kale salad. A caesar salad would be another great pairing or maybe an easy fruit salad.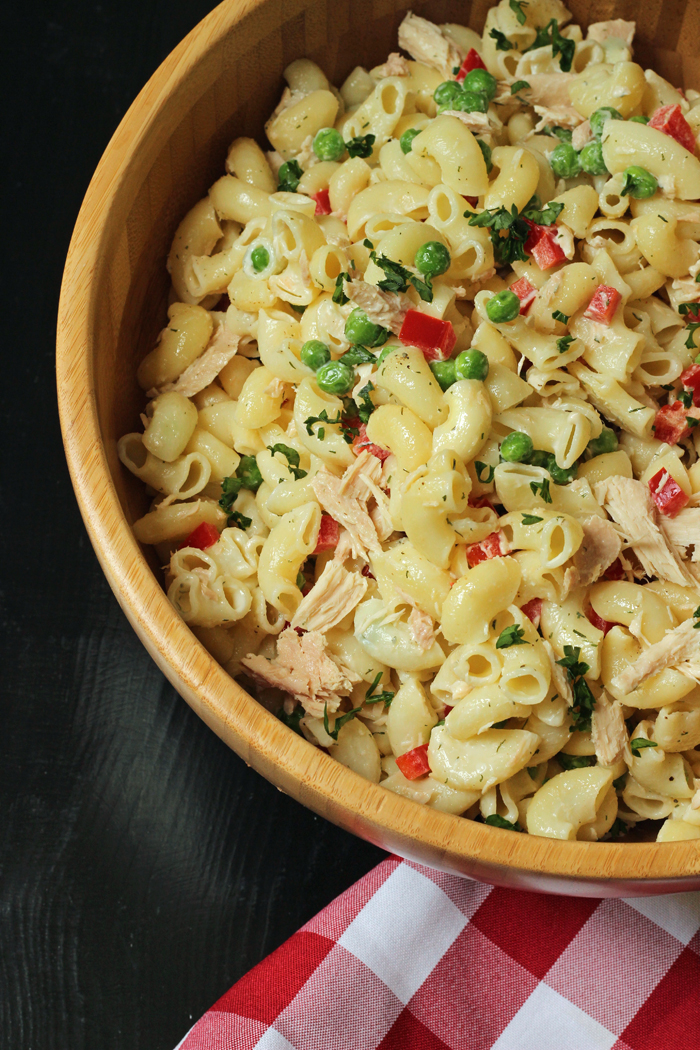 How I make this cheap:
Tuna Macaroni Salad is pretty economical by virtue of its being a simple pasta salad. Here are some of the strategies I use to make this recipe even more affordable:
Stock up on ingredients when they are on sale! When I see a great price on pasta, I buy a lot of it. We almost always have a stockpile of noodles in the pantry. Frozen peas and red peppers go on sale often. My tip is to buy generic when it comes to frozen vegetables. And tuna is easy to stock up on to keep on hand.
Tools I use to make this recipe easy:
This is a pretty straight-forward dish. You don't need any fancy equipment to cook pasta! However, having some good basic kitchen tools can really make your time in the kitchen more enjoyable. Over time, I've honed my collection so that they are perfect for my needs. Here are the tools that I like to use in this recipe.
Tuna Macaroni Salad
Enjoy this Tuna Macaroni Salad as a cool main dish this summer or as a substantial side dish at your next barbecue. It packs super well for lunch on the go.
Ingredients
1

lb

elbow macaroni

1

cup

mayonnaise

2

tbsp

lemon juice

1/2

tsp

dried dill

1/8

tsp

black pepper

1

7-ounce can

albacore tuna

drained

1

cup

frozen green peas

no need to thaw

1

red bell pepper

for 1 cup finely chopped
Instructions
In a large pot of boiling, salted water, cook the noodles according to package directions until al dente. Rinse with cool water and drain.

In a large salad bowl combine the mayonnaise, lemon juice, dill, and pepper. Whisk to blend.

Add the macaroni, tuna, peas, and pepper. Fold gently to combine. Chill until ready to serve.
Nutrition
Calories:
282
kcal
|
Carbohydrates:
28
g
|
Protein:
8
g
|
Fat:
14
g
|
Saturated Fat:
2
g
|
Cholesterol:
13
mg
|
Sodium:
161
mg
|
Potassium:
117
mg
|
Fiber:
1
g
|
Sugar:
1
g
|
Vitamin A:
20
IU
|
Vitamin C:
1
mg
|
Calcium:
12
mg
|
Iron:
0.8
mg