Wondering if Imperfect Produce is a good fit for you? I gave it a try and here's how it worked out for me, my review of Imperfect Produce.
A few months ago I heard about this company called Imperfect Produce. The concept of their business was to help farmers get blemished and surplus produce to the consumer, thereby reducing food waste and helping consumers reduce their budgets.
I love this concept!
I followed them on Instagram and subscribed to their newsletter in anticipation of when they would start delivering to my neighborhood. I never got the email, but I did spy an IP order on a friend's IG feed and followed up with her.
I was so giddy to sign up, I didn't even think to ask her if there was a way to get a discount. There is.
(If you sign up with a friend's referral link, you get a $10 credit. Here's my referral link: http://imprfct.us/mceDR . To be clear, I would receive a credit toward a future order when you do.)
So after getting signed up on a Thursday, I eagerly awaited Monday afternoon when I could view my order and customize it. My girls and I had such fun doing this!
And even more fun unboxing it when the order came on Thursday. The girls remember the last time we belonged to a produce co-op and what fun it was to open the box and sort the produce.
There were some very ugly oranges in there, my 10 yo was quick to point out! Ha! She was hilarious when I posted it on Instagram.
The Scoop on Imperfect Produce
I ended up ordering three different times from Imperfect Produce. Here are my thoughts.
The produce is imperfect.
You will find super big or super small items as well as those with cosmetic blemishes. This doesn't bother me in the slightest as long as the quality and taste are good.
The downside of that, however, is that if you order expecting a certain size butternut squash and a very tiny squash arrives, one about the size of a medium potato, (see above) your meal plan may take a hit.
That happened to me with the above squash. I had a certain recipe in mind when I ordered that didn't really pan out because what arrived was different than I expected.
Even though I could customize my order, there were some things that ended up going to waste, namely pears and green bell peppers. Mostly because I didn't get to choose them and they weren't really to my liking.
The pears didn't ripen well and the peppers were green. Avocados didn't seem to ripen well either.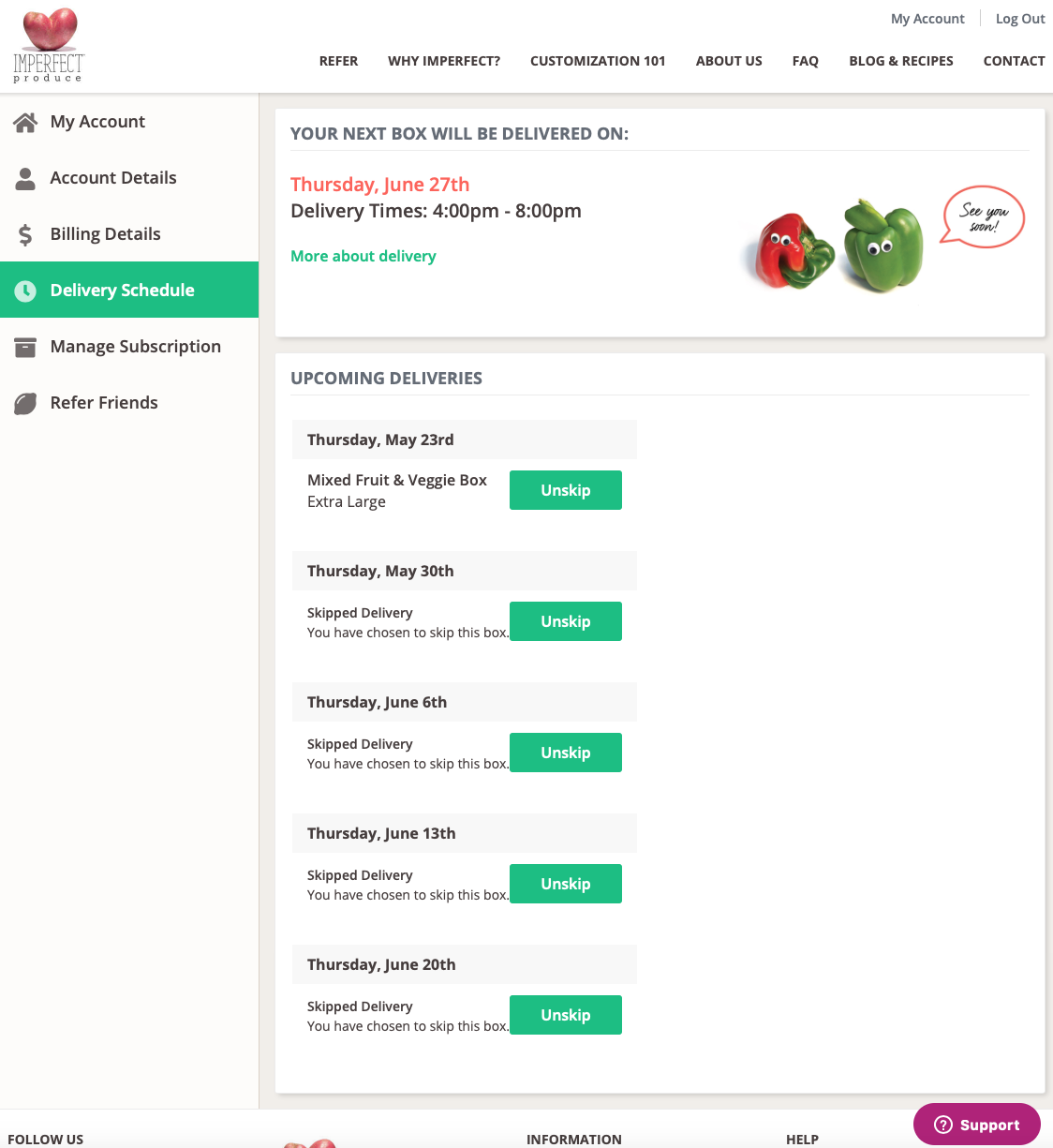 The ordering process is simple.
I really did enjoy the ordering process. I had from Monday afternoon to Tuesday at midnight to customize my order. I could take what they automatically included, subtract what I didn't want, or add extras.
I love the feature of being able to skip a week whenever you want.
The downside was that some item descriptions weren't super specific. Bell peppers were listed as green, red, or yellow, but they always came as green.
The kind we don't like.
So, again, I'd order, hoping for red or yellow, and then get green, another little fastball at my meal plan.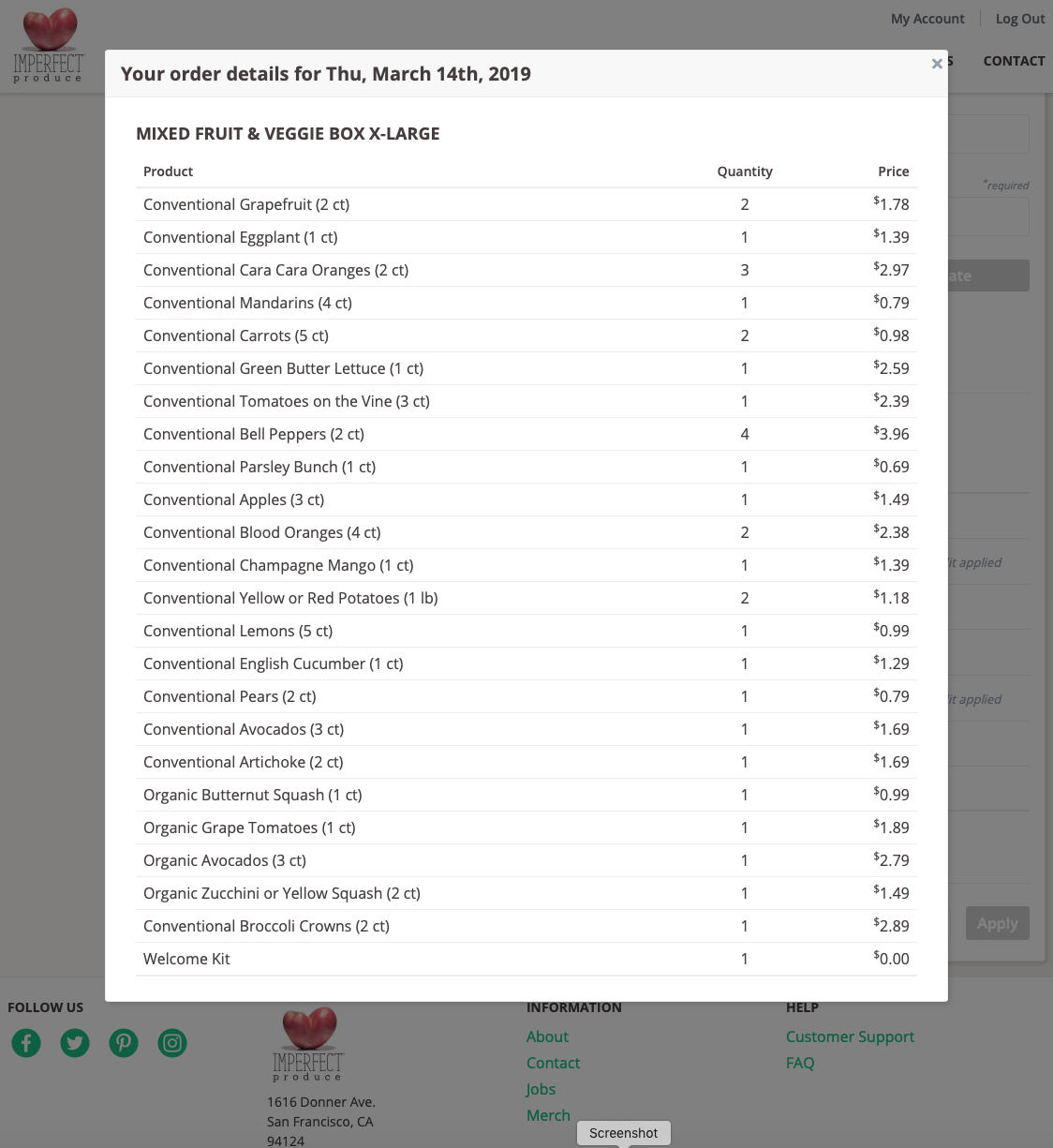 The prices are okay.
You know that I am a grocery geek. You also know that I already get pretty killer prices on fresh fruits and vegetables, thanks to ALDI and Sprouts sales. I admit, this makes it really hard for Imperfect Produce to compete with. For me, the prices were just okay.
Since there's a delivery charge, it really doesn't pencil out for me at this time.
The upside of this is that your mileage may vary. If you don't have ALDI or Sprouts sales to draw from, then Imperfect Produce may be a bargain for you.
For me, price is one of the main factors I buy something. Using it well in my meal plan is a second. Unfortunately, Imperfect Produce didn't score too highly on either count.
While I believe that food waste is an important cause, it isn't as important to me globally as eliminating food waste in my own home.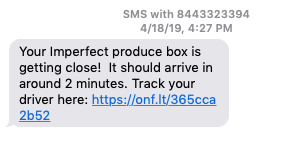 The customer service is fantastic.
When the delivery day arrived, I would get a text when the driver was close as well as one after the box was delivered. This was helpful to make sure that the box didn't sit on our western-facing doorstep in the afternoon sun.
The email system works well to notify you when it's time to customize your order or skip it altogether.
I didn't have any issue that I really needed customer service for, but I did fill out a survey, offering input on the pricing. I received a personalized email in return explaining their pricing structure (they try to be aware of local sales and still give the farmer a decent return) as well as a coupon code for a discount in the future.
Imperfect Produce may be a great fit for you.
I'd say that if Imperfect Produce delivers to your area and you like fresh produce and can be flexible on size and condition, then it very well may be a good fit for you. You should at least give it a try. Especially if you don't like grocery shopping.
I think it comes down to a meal plan personality thing. If you're up for the challenge and surprise, then definitely give it a shot!
Will I ever order again? Probably. For the novelty of it and to support a good cause, I'm all in.
From a practical standpoint, it's just not the best choice for me at this time. I'll likely not do it very often, unless I see some great prices.
Remember, you can get $10 off your first order when you use my referral link to sign up.
Have you tried Imperfect Produce?