Enjoy a quick and easy weeknight dinner that's good enough for guests with this Herbed Lemon Linguine. It's light and flavorful, a perfect meatless main.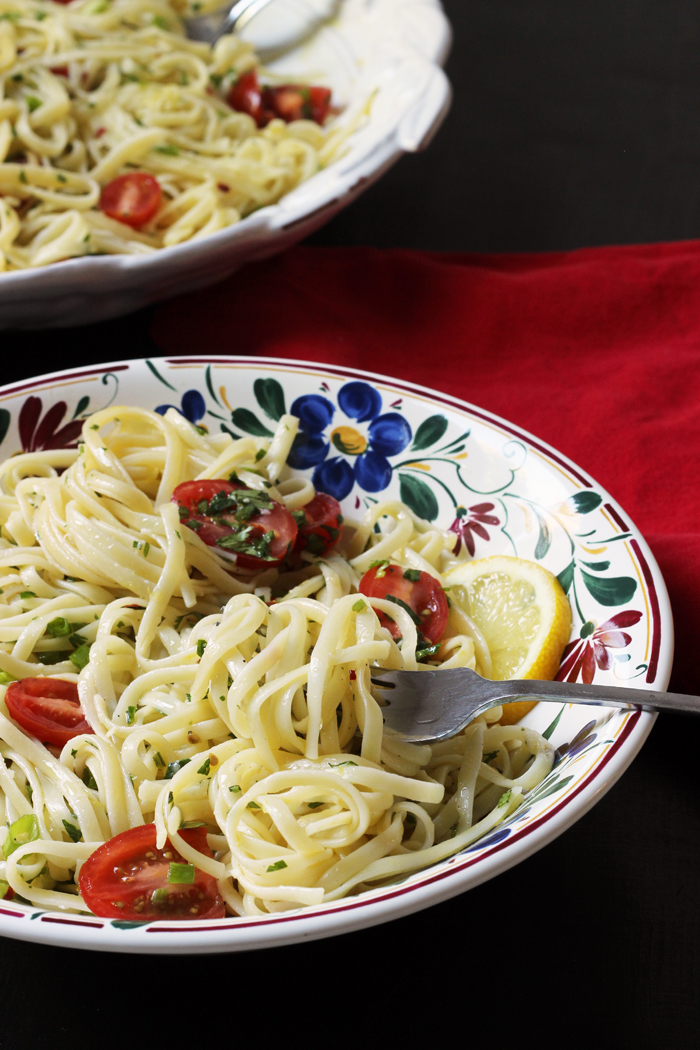 Back in the days when we didn't give a thought to carbs, pasta was a regular, almost daily, feature on my meal plan. It was cheap, filling, and pleasing to anyone who might be sitting at my table.
In recent years it seems that pasta has gotten a bad rap. Which is sad, because: pasta. It's the ultimate comfort food, particularly with a generous coating of parmesan or asiago cheese.
Recently, I decided that I was going to enjoy the occasional pasta dish, without remorse. After all it's cheap and filling — and it tastes so good!
I'm not a starving college student, so I don't need to rely on it for daily sustenance, but a weekly treat? Sign me up!
This particular pasta dish is one of my favorites, since we were newlyweds, crammed in a 200-square foot studio, trying to make ends meet in Santa Barbara. It's adapted from a version I found in Susan Branch's Summer Book.
One of the great parts of this Herbed Lemon Linguine is that it comes together in minutes, is great hot or cold, and it looks fancy enough for guests without costing a fortune.
How I make this good:
Whenever possible I like to cook with plain old ingredients. While the convenience of mixes and canned sauces is nice, I feel better about feeding my family just real food whenever possible. (Go here for some of my reasons on all that.)
Herbed Lemon Linguine is perfect on all counts, including a handful of herbs and chiles, tossed with tomatoes, scallions, lemon juice, and olive oil, over a hearty portion of cooked linguine.
If you don't have fresh in-season tomatoes, use grape tomatoes as an off-season substitute. Generally they have enough flavor to make up for their pint-sized stature.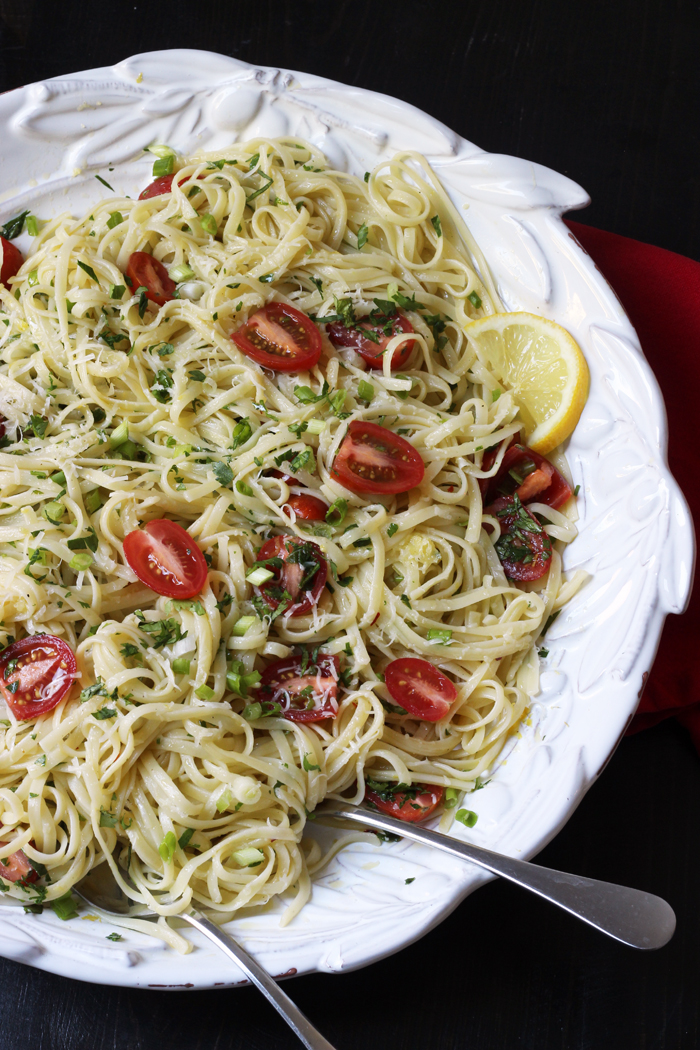 How I make this cheap:
Herbed Lemon Linguine is pretty economical by virtue of its being a meatless pasta dish. Here are some of the strategies I use to make this recipe even more affordable:
Stock up on ingredients when they are on sale!

When I see a great price on pasta, I buy a lot of it. We almost always have a stockpile of noodles in the pantry. The same goes for scallions which often go as low as 3 for $1.

Grow an herb garden. Recently my daughter planted cilantro in the back yard. When we buy cut herbs from the grocery store, I buy the biggest bunch I can find and store it in a glass of water in the fridge. This helps extend the freshness and flavor of both parsley and cilantro.
Take advantage of lemons in season. My parents have a lemon tree in their backyard. I've been the happy recipient of 100s of lemons over the years. I freeze the lemon juice as well as the zest so that we can enjoy the Meyers Lemon all year long.
Tools I use to make this recipe easy:
This is a pretty straight-forward dish. You don't need any fancy equipment to cook pasta! However, having some good basic kitchen tools can really make your time in the kitchen more enjoyable. Over time, I've honed my collection so that they are perfect for my needs. Here are the tools that I like to use in this recipe.
Herbed Lemon Linguine with Tomatoes
Enjoy a quick and easy weeknight dinner that's good enough for guests with this Herbed Lemon Linguine. It's light and flavorful, a perfect meatless main.
Ingredients
1

lb

linguine pasta

cooked and drained according to package directions

1/2

cup

olive oil

1/4 to 1/3

cup

lemon juice

1

lemon, zested

2

cup

grape tomatoes

, cut in half

1/3

cup

chopped green onions

2

tbsp

parsley (chopped)

2

tbsp

fresh cilantro (chopped)

1/4

tsp

red pepper flakes

black pepper

Parmesan cheese (shredded)

asiago, or romano cheese for sprinkling
Instructions
In a large pot of salted, boiling water, cook the linguine until al dente, according to package directions. Drain and transfer to a large pasta bowl.

Pour the olive oil and lemon juice over the pasta and toss to coat. Sprinkle with the lemon zest. Add the tomatoes, scallions, parsley, cilantro, and red pepper flakes, and toss until well distributed.

Season to taste with black pepper and cheese. Serve hot, cold, or at room temperature.
Notes
Store leftovers covered in the fridge for up to 4 days.
Nutrition
Calories:
340
kcal
|
Carbohydrates:
45
g
|
Protein:
8
g
|
Fat:
14
g
|
Saturated Fat:
2
g
|
Sodium:
8
mg
|
Potassium:
240
mg
|
Fiber:
2
g
|
Sugar:
3
g
|
Vitamin A:
461
IU
|
Vitamin C:
10
mg
|
Calcium:
20
mg
|
Iron:
1
mg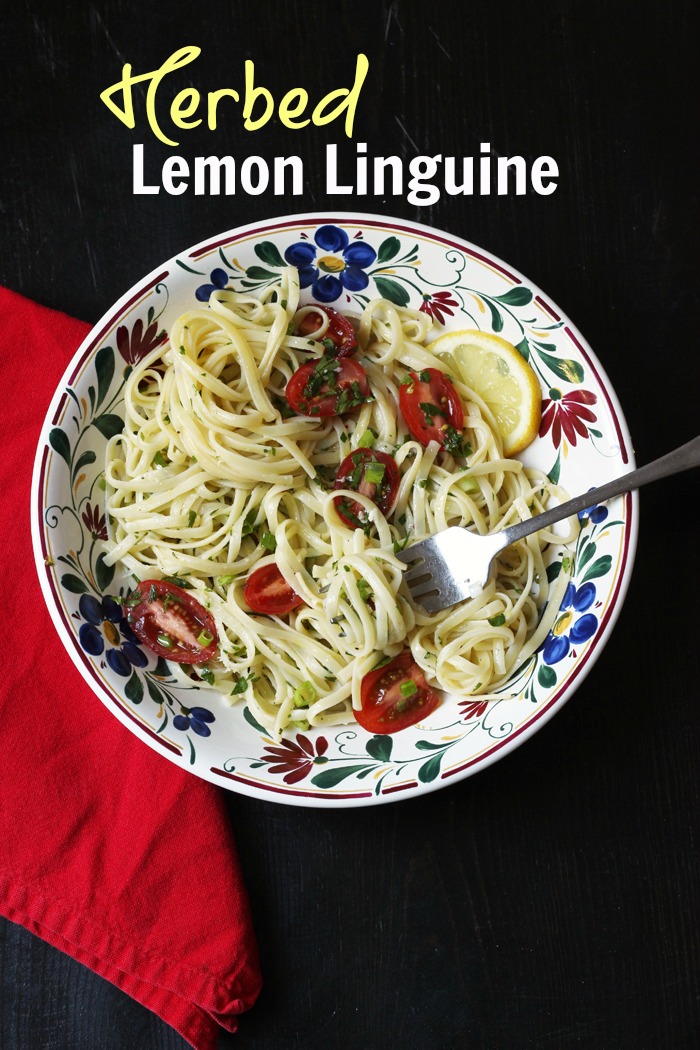 Are you looking for more good cheap eats?