Preserve lemon slices in ice for a deliciously cool addition to water.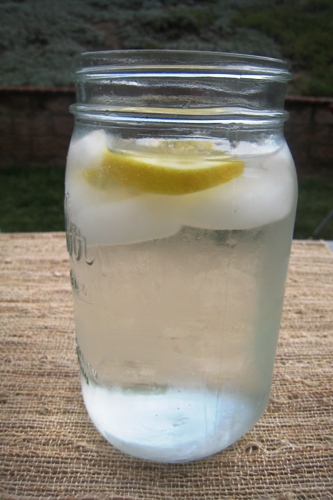 It's a commonly known fact that drinking water instead of other beverages is less expensive and healthier than many other options. Water is essential to life. And too few of us are as hydrated as we could be.
One thing to make water a little more exciting is to add a slice of lemon. Not only does it brighten up the glass, but it also gives a refreshing sparkle to the taste.
If you live in a temperate climate, it can be quite easy to grow a lemon in the backyard. My parents' tree is pushing forty years old and is still producing hundreds of lemons each spring and fall. Love it!
In the past, I have juiced the lemons right away and stored the juice in the freezer. This year thanks to a tip from a friend, I zested the fruit first and then juiced them. I have a nice little stash of lemon zest in my freezer to add to recipes for the coming months.
However, a new tip I learned from my farmer was to make lemon ice cubes. I suppose they aren't really cubes, they are lemon cylinders, but go with me on this.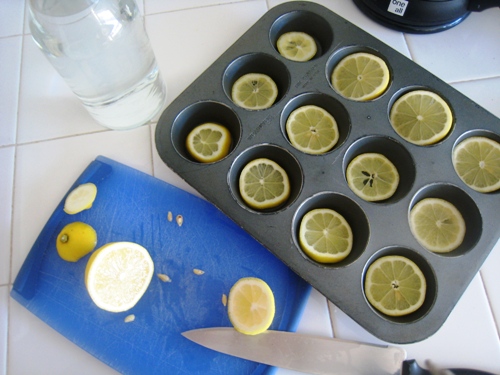 While you might not have a plethora of lemons growing in your backyard, it may be that you come by some on sale, or find yourself with half a lemon that you don't want to waste. Or you or a friend, neighbor or relative have a plethora of lemons growing in your backyard. Any which way, put it on ice!
Slice the lemons and put one slice into each compartment of a muffin tray. Fill the cups with water and freeze. Once they are frozen you can pop them out. Run a little warm water on the bottoms to loosen the "cubes" if you need to and pop them out of the tray. Store the frozen slices in a freezer bag.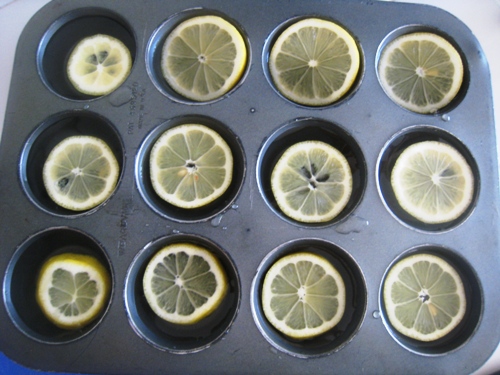 Whenever you want a glass of water with lemon, just add a lemon cube to your glass or pitcher. As the ice melts, the lemon will flavor your water. Easy peasy.
Do YOU have a trick to make water more exciting?