Hosting a crowd? Serve two big pans of homemade chicken enchiladas. No crowd? Stash one pan in the freezer for later.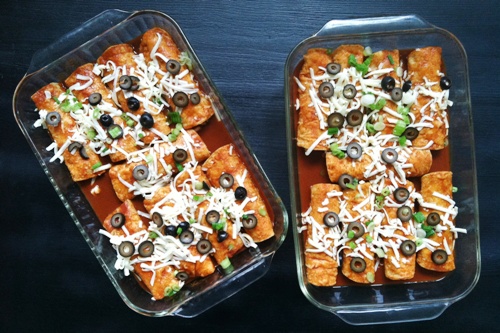 I posted this picture on instagram on Sunday right before I slid the enchiladas into the oven. Many of my people had requested them; so many of my people were quite pleased with Sunday dinner.
Ever since I was a kid, I've been drawn to enchiladas. That combination of rich sauce, melting cheese, and luscious corn tortillas has always been a favorite. This batch was no different.
I combined several different recipes to make these Chicken and Chile Enchiladas for a Crowd. I say "crowd" because most people aren't feeding 8 people every night. Know this makes a bulk batch. Either feed a lot of people or stash one pan in the freezer for dinner on another night.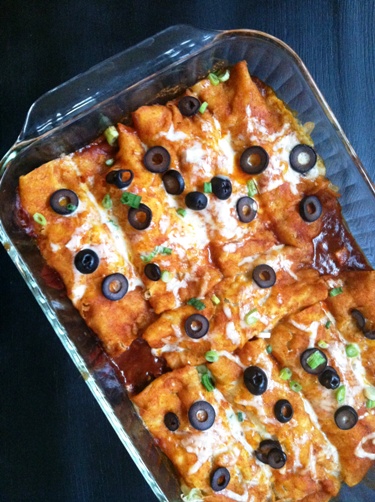 One of the beauties of enchiladas is that you can prep them in the cool of the  morning and stash them in the fridge until dinnertime. They only take about 15 to 20 minutes to heat in the oven, so you don't have to wait long, neither do you need to heat up your kitchen for hours on end.
Believe it or not, my mom always made our enchiladas in the microwave. You can do that, too. Or you can even try them in the slow cooker.
This recipe features cooked chicken and roasted chiles. Both came from my freezer. You can make them fresh the day of. Or you can plan ahead and stash cooked chicken and roasted chiles in your freezer so that this dish comes together super quick. I've timed myself. If all the ingredients are ready to go, I can soften and roll a dozen enchiladas and have it ready in 15 minutes. If I can, you can.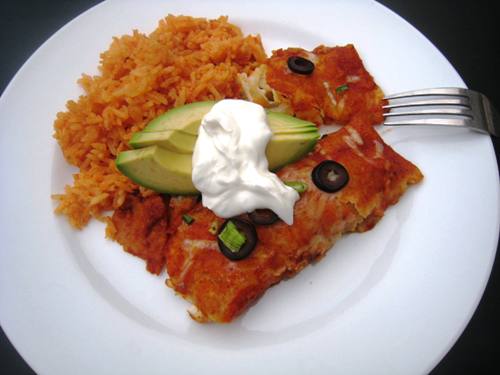 A reader recently asked about how to make enchiladas tomato-free. I have never in my life put tomatoes or any tomato products into enchiladas. I typically buy canned Las Palmas enchilada sauce which is chile-based. There is no tomato sauce in this enchilada sauce. Read your labels to find a brand with ingredients you like. I don't love some of the oils in Las Palmas, so one of my goals this year is to learn how to make it myself.
Also of note, I used home-roasted poblano chiles in this recipe. They add nice body and flavor. You could use roasted bell peppers if you want less heat. Learn how to roast pepper and chiles here.
Recipe: Chicken and Chile Enchiladas for a Crowd
Ingredients
3 cups cooked, chopped chicken
2 cups chopped roasted poblano chiles
3 cups shredded jack cheese
3/4 cup oil for frying
18 corn tortillas
28-ounce can enchilada sauce (I use Las Palmas)
1/2 cup sliced black olives
1/4 cup sliced scallions
Instructions
Grease two 9×13-inch pans. Preheat the oven to 350°.
In a medium mixing bowl, combine the chicken, chiles, and 1 1/2 cups cheese. Set aside.
Heat the oil in a small frying pan. Soften the tortillas in the hot oil, about ten seconds per side, until slightly leathery. Drain on paper toweling.
Spread a thin layer of sauce across the bottom of the prepared pans.
Roll the enchiladas with about 1/4 cup filling in each one. Roll and place seam-side down in the pan. Continue until all are rolled and pans are filled.*
Drizzle sauce over the tops and sides of the enchiladas. Sprinkle the enchiladas with the cheese, olives, and scallions.
Bake for 15 to 20 minutes or until the cheese melts and the sauce bubbles.
* If you would like to freeze one pan, wrap, label and freeze once the enchiladas are filled and rolled. Bake as directed, adding additional cooking time if baking from frozen.
Preparation time: 15 minute(s)
Cooking time: 20 minute(s)
Number of servings (yield): 8
Yay for enchiladas!
Enchiladas are super tasty and can be made with all kinds of fillings. You can go meatless if you like. You can top them with all kinds of yummy goodness like salsa, guacamole, and sour cream. You can make them ahead and freeze. They are perfect for potluck suppers and to deliver a meal.
Other favorite enchilada recipes:
What's YOUR favorite way with enchiladas?