Hosting a crowd? Serve two big pans of homemade chicken enchiladas with freshly roasted chiles. No crowd? No problem. Stash one pan in the freezer for another time.
Got a hankering for something hearty that can feed a large group without a lot of work? Looking for a dish that can be made in advance, even frozen? Want something that's not fussy, but still feels special?
Homemade Chicken Enchiladas are your answer.
I've made a lot of dinners in my time, but it's a pretty sure bet that enchiladas are a winner. Always. And forever.
There's something about enchiladas that just fills the bill, particularly homemade chicken enchiladas with their tender corn tortilla wrapper, succulent chicken filling, and the saucy-cheesy lid that tops it all. Even better are the well-chosen savory touches like roasted green chiles, chopped green onions, and sliced black olives.
Ready to get cooking?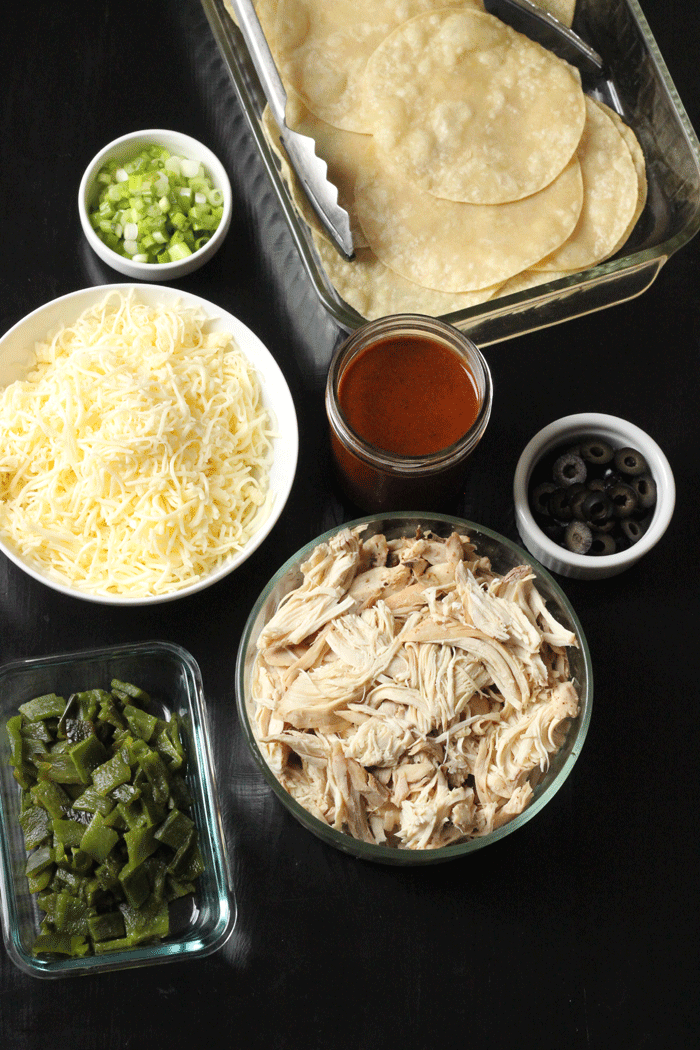 Believe it or not, my mom always made our enchiladas in the microwave. You can do that, too, and avoid a hot oven altogether. I make small single serve dishes of these enchiladas for my husband to cook at work in the break room microwave.
Or you can even make crockpot enchiladas.
However, for our purposes today, we're making traditional oven-baked chicken enchiladas, enough to feed a crowd.
Homemade Chicken Enchiladas with Roasted Chiles
This recipe makes two 9×13-inch pans, perfect for serving a crowd. I recommend making the components in advance and possibly even assembling the enchiladas themselves ahead of time.
How long can you keep chicken enchiladas in the fridge?
A pan of chicken enchiladas, unbaked, is "good" for up to 4 days. However, you'll have best texture if you bake the enchiladas within a day of assembling, lest the tortillas get too soggy.
Once baked, the enchiladas are good for up to 4 days after assembly. Store them in an airtight container.
Can you reheat chicken enchiladas?
Absolutely! These are the kinds of leftovers my kids fight over and hide from each other. Reheat leftover enchiladas in the microwave for 30 to 60 seconds, loosely covered, or in a 350 degree oven until warmed through.
Can chicken enchiladas be frozen?
Yes, assembled chicken enchiladas are best frozen prior to baking. Once you've rolled and sauced the enchiladas, cover the baking dish and store in the freezer for 4 to 6 weeks. Thaw completely before baking for best results.
If you're in a pinch, you can bake from frozen. Just add to the baking time to avoid cold spots.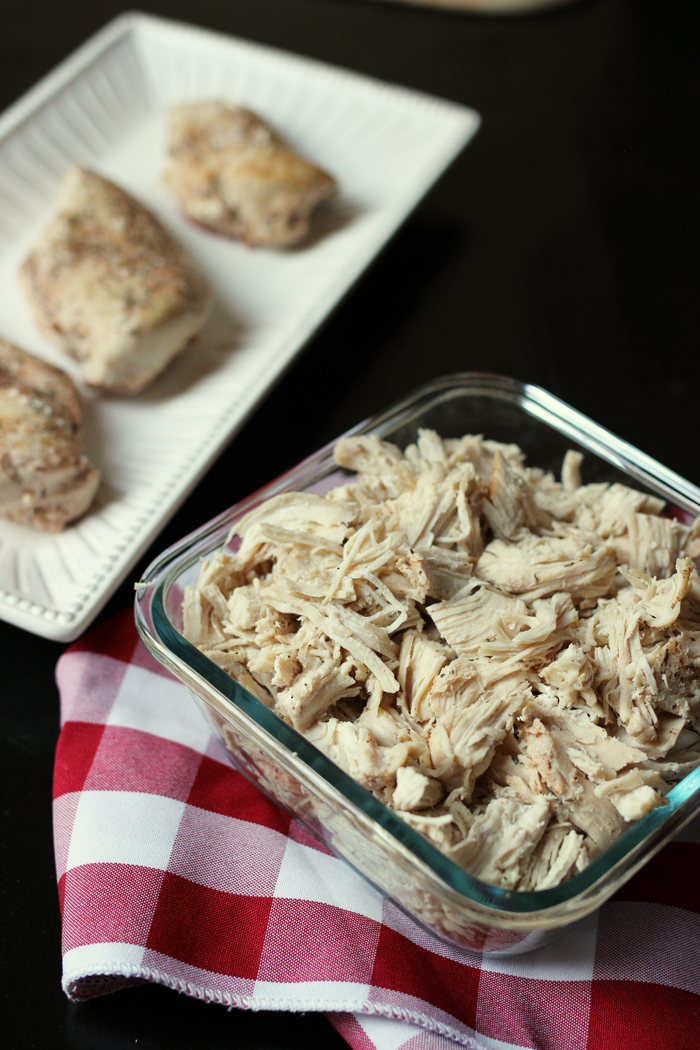 This recipe for homemade chicken enchiladas features cooked, shredded chicken. It's super quick and easy to cook chicken in the instant pot. Another easy hack is to buy a rotisserie chicken.
Either way, if you can keep a few bags of cooked chicken in your freezer, you can whip up a batch of enchiladas very quickly.
I've timed myself. If all the ingredients are ready to go, I can soften and roll a dozen enchiladas and have it ready in 15 minutes. If I can, you can.
Are chicken enchiladas bad for you?
I find this a really interesting question, the answer is fairly subjective, though. Bad for you how?
I believe that no ingredient is inherently bad. It's just a question of how it's prepared, how much you eat of it, and how often you have it.
This chicken enchilada recipe calls for all "real food", just plain old ingredients, without any processed items. That gets an A in my book, especially since chicken has lower calories and less fat than other proteins like beef or pork.
When served with lots of vegetables on the side, like in my Cumin-Scented Cabbage Salad, I think it makes a great meal.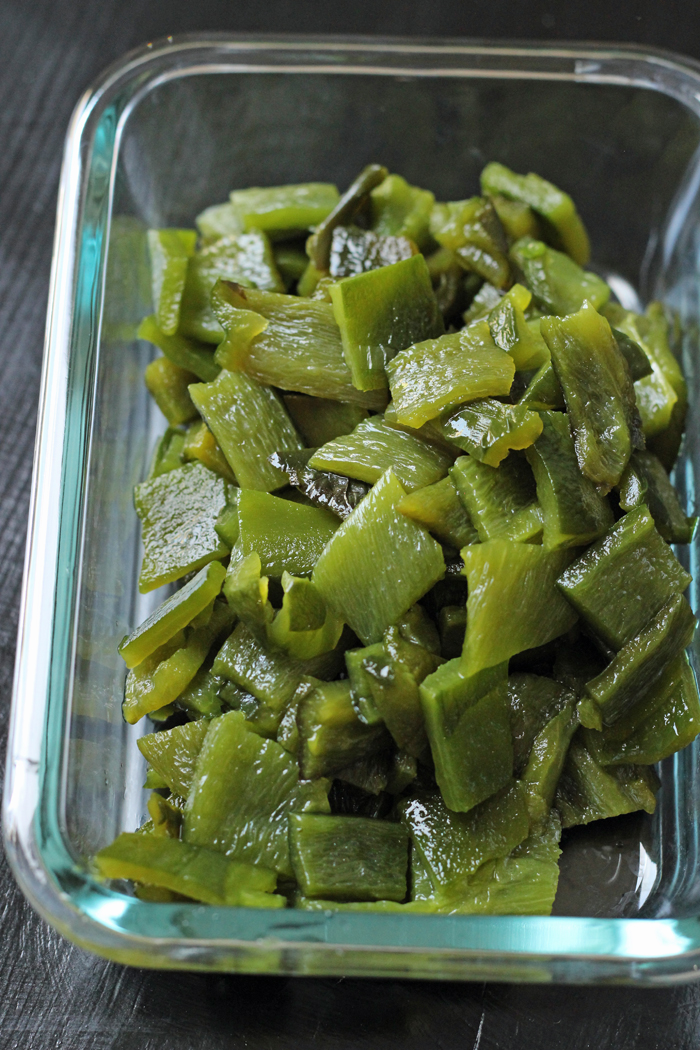 Rather than use canned chopped green chiles, I use home-roasted poblano chiles in this recipe. They add nice body and flavor. You could use roasted bell peppers if you want less heat or canned chiles if you prefer.
Learn how to roast chiles in the oven and see how easy it is!
What is red enchilada sauce made of?
I've always preferred to use a chile-based enchilada sauce, either making my own with flour, oil, spices, and water, or buying canned Las Palmas enchilada sauce.
A reader recently asked about how to make enchiladas tomato-free. I have never in my life put tomatoes or any tomato products into enchiladas. It feels wrong to me. LOL.
Read your labels to find a brand with ingredients you like, and then stick with that style sauce.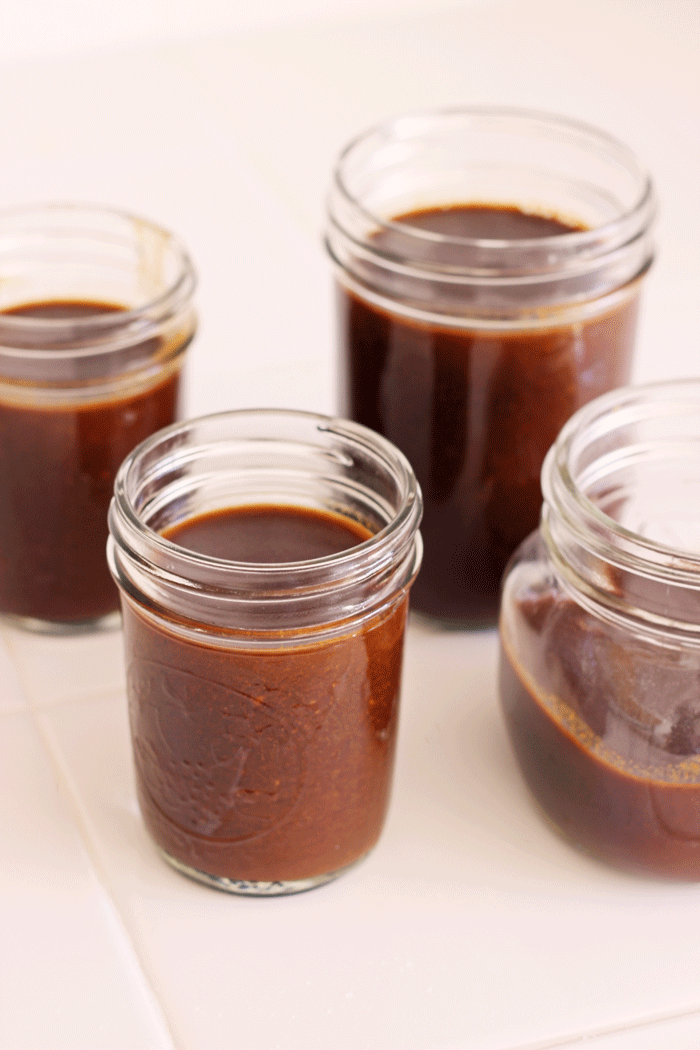 How to make this good and cheap:
Here are some of the strategies you can use to make this recipe more economical:
Tools I use to make it EASY: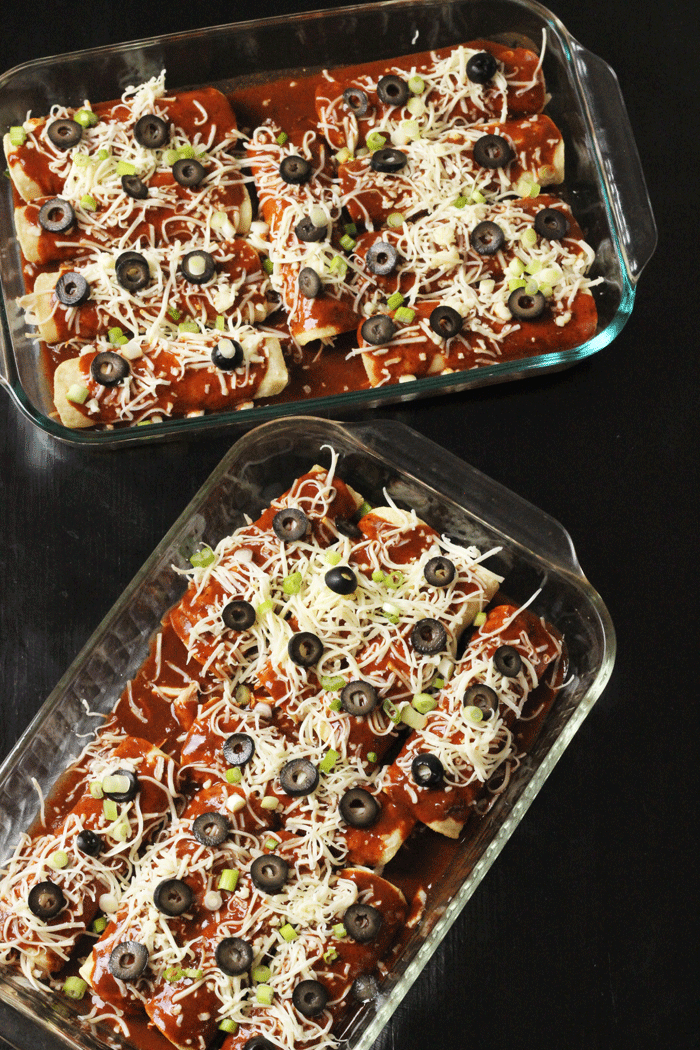 If you prepare this recipe, be sure to share a picture on social media and hashtag it
#GOODCHEAPEATS
. I can't wait to see what you cook up!
Homemade Chicken Enchiladas with Roasted Chiles
Hosting a crowd? Serve two big pans of homemade chicken enchiladas with freshly roasted chiles. No crowd? No problem. Stash one pan in the freezer for another time.
Ingredients
3

cup

chicken (cooked and cubed)

3

poblano chile

, roasted, peeled, seeded, and chopped

12

oz

jack cheese (shredded)

(3 cups)

¾

cup

oil for frying the tortillas

28

oz

red enchilada sauce

½

cup

sliced black olives

¼

cup

green onion (chopped)
Instructions
Grease two 9×13-inch pans. Preheat the oven to 350°.

In a medium mixing bowl, combine the chicken, chiles, and 1 ½ cups cheese. Set aside.

Heat the oil in a small frying pan. Soften the tortillas in the hot oil, about ten seconds per side, until slightly leathery. Drain on paper toweling.

Spread a thin layer of sauce across the bottom of the prepared pans.

Roll the enchiladas with about ¼ cup filling in each one. Roll and place seam-side down in the pan. Continue until all are rolled and pans are filled.*

Drizzle sauce over the tops and sides of the enchiladas. Sprinkle the enchiladas with the cheese, olives, and scallions.

Bake for 15 to 20 minutes or until the cheese melts and the sauce bubbles.
Notes
If you would like to freeze one pan, wrap, label and freeze once the enchiladas are filled and rolled. Later, when ready to serve, bake as directed, adding additional cooking time if baking from frozen. 
Nutrition
Calories:
273
kcal
|
Carbohydrates:
16
g
|
Protein:
12
g
|
Fat:
17
g
|
Saturated Fat:
5
g
|
Cholesterol:
34
mg
|
Sodium:
593
mg
|
Potassium:
149
mg
|
Fiber:
2
g
|
Sugar:
3
g
|
Vitamin A:
555
IU
|
Vitamin C:
14.5
mg
|
Calcium:
169
mg
|
Iron:
1.2
mg