Enjoy in-season berries in this deliciously simple Berry Salad. Topped with coconut flakes and chopped nuts, this easy fruit salad can be made in just minutes. It's the perfect no-bake dessert to serve all spring and summer.
Should you find more berries than you can eat fresh, be sure to bake a Mixed Berry Pie or freeze berries for smoothies and baking later in the year.
Jump to:
Fruit salad is the epitome of summer — and berry salad? Well, that can make you feel like you've struck gold. Sweet tender berries piled in a bowl, full of juicy goodness.
It's true we can enjoy berries year-round nowadays, but they just aren't as good as in-season fruits. Make the most of the season with this simple and delicious berry salad.
Why Make This
It's a crowd-pleaser. I first encountered this Berry Salad when my friend Alison made it for a group luncheon. For ease of serving, she'd brought a tray of clear plastic cups full of berry salad. It was the perfect dessert.
It's simply delicious. You really don't need to get complicated to enjoy good food. Fresh berries topped with just a few simple additions bring enough flavor all on their own.
It's no-bake summer goodness. Get out of the summer heat and enjoy a simple, delicious, no-fuss, oven-free dessert.
Ingredients
Here's what you'll need to whip up this simple berry salad: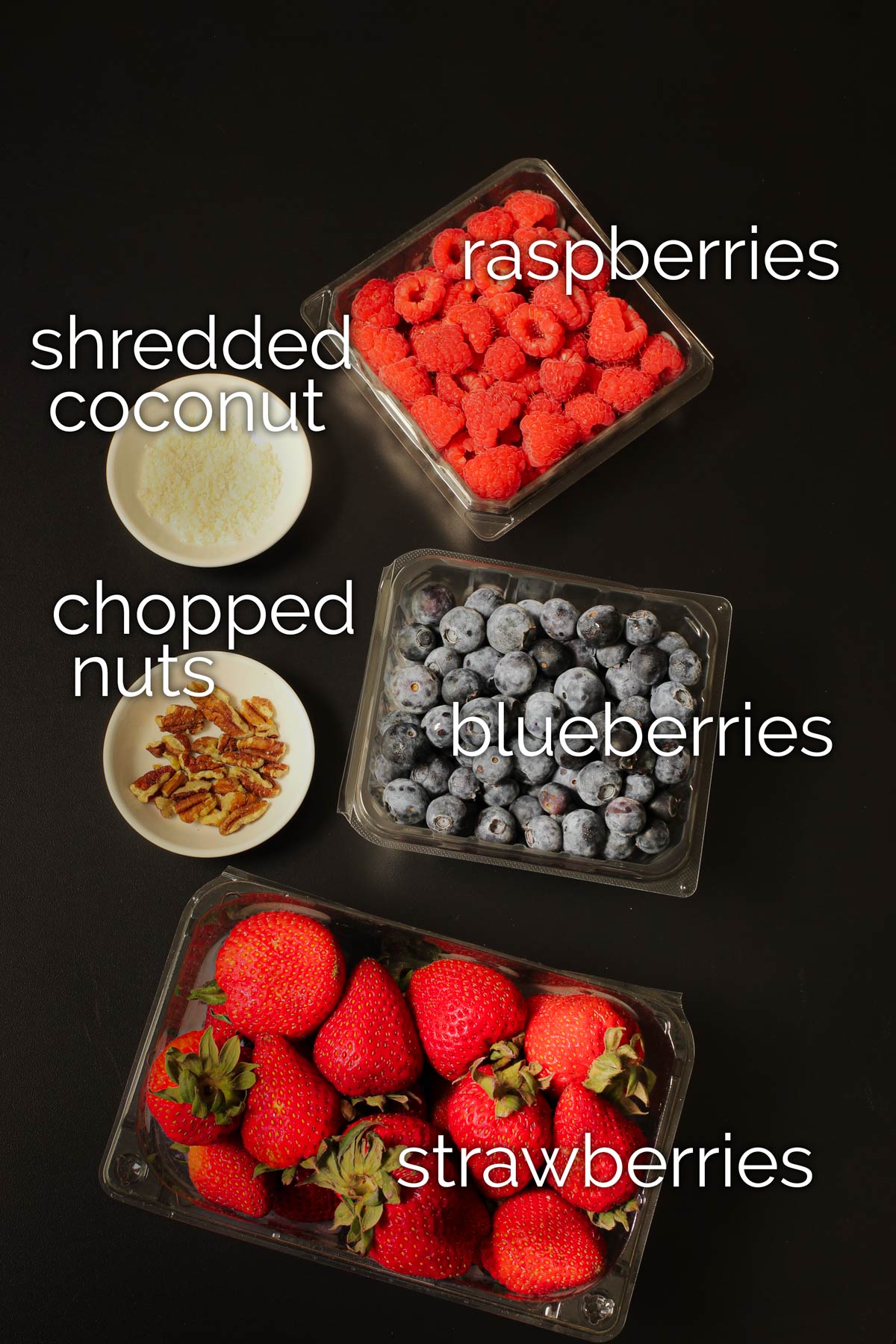 berries – raspberries, strawberries, and blueberries are pretty easy to find in season, but you can also include blackberries, boysenberries, or ollalieberries, other berry-like fruits such as cherries or grapes. Surprisingly, there are a lot of different kinds of berries.
The New Food Lover's Companion is a great resource to help you determine the best fruits to buy. If you're not sure, ask the produce clerk or the farmer at your farmer's market.
coconut flakes – I like to use unsweetened coconut flakes or chips, but you can use sweetened shredded coconut if you prefer. If you've got some time, toasting the coconut adds another layer of flavor.
chopped nuts – You can use whatever chopped nuts or even seeds you have on hand. If you want to take this over the top, add some Maple Spiced Pepitas for extra sweetness and crunch.
optional sweetener – Adding sugar, honey, or agave will sweeten the berries if they're not quite up to par, but the sweetener will also macerate the fruit, bringing out their juices and making them a bit mushy. Keep this in mind if you're making your
Other fun add-in's: chocolate shavings, whipped cream, plain or flavored yogurt, or crumbled brownies are all good toppings for this simple berry salad.
Step-by-Step Instructions
Making this berry fruit salad is just a matter of keeping the fruit dry and cold and layering it when you're ready to serve.
A lot of stirring will make your berry salad soggy, crushing the berries. For best texture and a longer-lasting salad, I recommend that you not do a lot of stirring. Instead layer your berries and toppings. You can do this in a serving platter or in individual serving dishes.
Place the strawberries. These are the wettest of the fruit so leaving them on the bottom will help keep the other berries drier. Be sure to wash and core the strawberries and pat them dry before cutting. You won't need to cut the other berries; they are already bite-sized.
Add a layer of blueberries. Blueberries are fairly hearty and are the next best layer.
Top with the raspberries. Raspberries are the most fragile (notice they even have a special lining in their cartons). Layer these atop the blueberries.
End with your toppings of nuts and coconut.
FAQs
What to pair with berries?
Berries are delicious served on their own, with whipped cream or yogurt, in a Yogurt Berry Parfait, or atop your favorite cake. Berries pair well with lemon as well as cinnamon.
Is honey good on berries?
Honey is a natural sweetener to liven up too-tart berries. You can also use sugar or agave nectar to sweeten the berries.
Can you freeze berry salad?
Personally, I prefer the flavor and texture of fresh berries, but you can absolutely freeze berries. Remember that when they thaw they will be very soft, almost mushy, so the texture of your salad will be very different. Some folks prefer to eat frozen berries before they completely thaw.
Recipe Costs
Knowing how much it costs you to prepare a recipe can help you decide if it's the type of recipe to make regularly or one you might want to save for special occasions. Let's crunch some numbers and see how this recipe pencils out.
strawberries – $2.00
blueberries – $2.00
raspberries – $2.00
coconut – $0.25
chopped nuts – $0.10
Shopping at a mid-range grocery store at non-sale prices, you can expect to pay $6.35 for the ingredients for this berry salad. That works out to be $1.06 per serving, not bad for a tasty, no-bake dessert that you can make in minutes!
How to save more
Here are some of the strategies I use to make this dish more economical:
Meal plan around what's on sale. Check the grocery ads to see what's on sale this week. Hone in on those sale berries and get creative as to how you can turn them into a great berry salad.
Do a price comparison. I know that ALDI is the best place for me to buy most produce when there isn't a great sale elsewhere, but Sprouts can be very competitive. I steer clear of Costco fruit because it tends to be very high priced. I keep track of prices so that I know who has the best deal where.
Check the clearance section. Sometimes you'll find manager specials that offer you great discounts on fresh produce. There may be a blemish or two that you can easily cut away.
Consider signing up with Imperfect Produce, a produce delivery service that partners with growers to get blemished and surplus fruits and vegetables onto your table.
Talk to your local farmers. Head to your farmers market and talk to the growers there. They can let you know when they'll have best pricing and availability on fruits you enjoy.
Check Freecycle or ask around your neighborhood. Believe it or not, folks often have fruit trees that they aren't harvesting, leaving fruit just to rot. Smart folks will offer it for free to whoever wants to come pick it. Keep your eyes and ears open for these opportunities.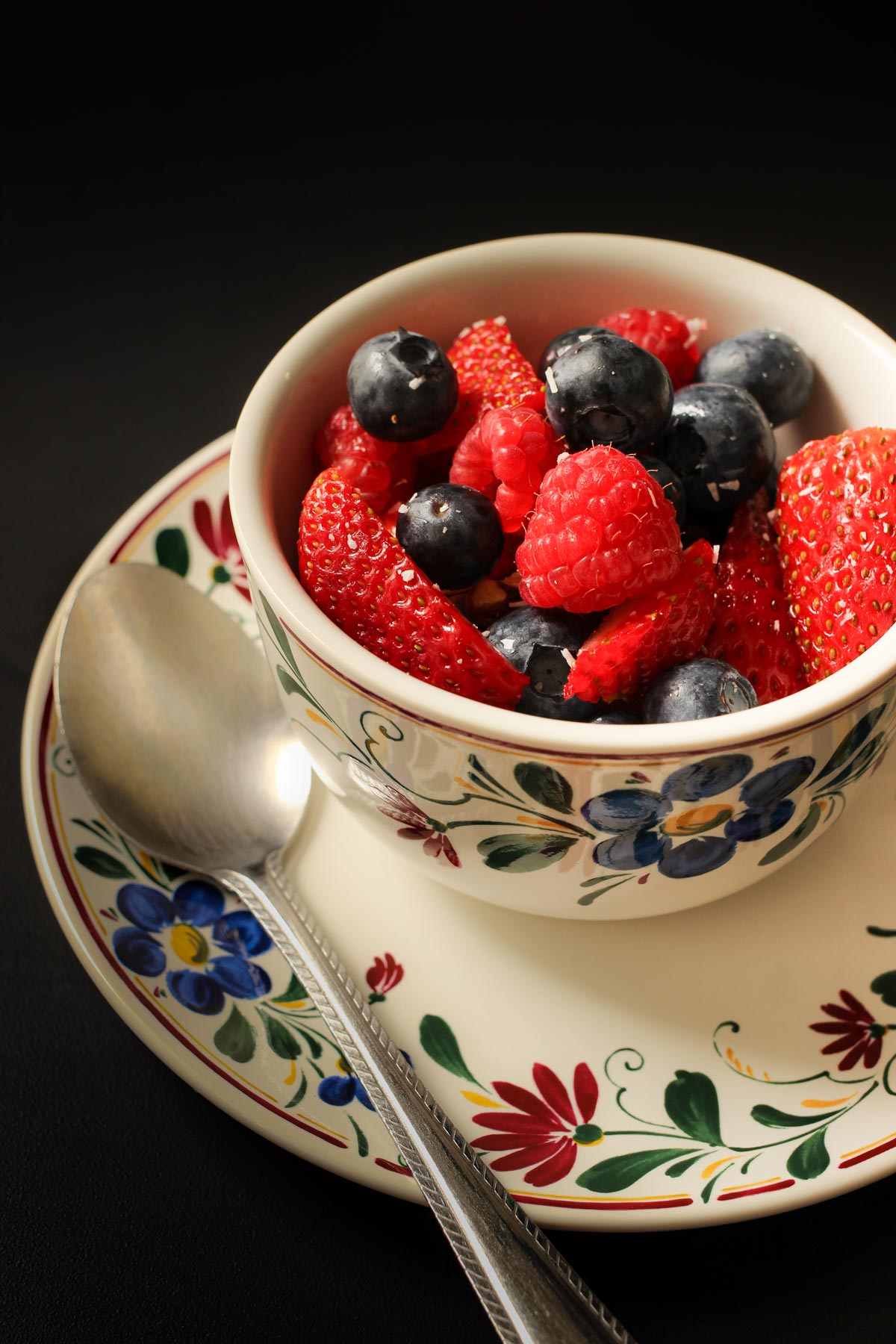 More Great Summer Recipes
Berry Salad Recipe
Enjoy in-season berries in this deliciously simple Berry Salad topped with nuts and coconut flakes. Made in just minutes, it's the perfect no-bake dessert to serve all spring and summer.
Ingredients
1

lb

strawberries (sliced)

4

oz

raspberries

4

oz

blueberries

1

tsp

shredded coconut

1

tbsp

chopped nuts
Instructions
Layer the ingredients in a serving bowl. Chill until ready to serve.
Notes
Buy fruit that is fresh and in-season. The New Food Lover's Companion is a great resource to help you determine the best fruits to buy. If you're not sure, ask the produce clerk or the farmer at your farmer's market.
Don't wash the berries until shortly before serving. Moisture causes decay. Wash the berries and pat them dry before assembling the salad.
Cut the fruit into bite-sized pieces. Folks are more likely to dig into your berry salad if the fruit is trimmed and cut for easy eating. 
Taste the berries.
If they aren't quite as sweet as you'd like, you can drizzle the berry salad with honey or agave nectar to add a bit of sweetness.
Nutrition
Calories:
60
kcal
|
Carbohydrates:
11
g
|
Protein:
1
g
|
Fat:
2
g
|
Saturated Fat:
1
g
|
Polyunsaturated Fat:
1
g
|
Monounsaturated Fat:
1
g
|
Sodium:
3
mg
|
Potassium:
169
mg
|
Fiber:
3
g
|
Sugar:
7
g
|
Vitamin A:
26
IU
|
Vitamin C:
51
mg
|
Calcium:
20
mg
|
Iron:
1
mg
This post was originally published on April 12, 2017. It has been updated for content and clarity.