This omelet dish makes for an easy dinner recipe and a great way to use leftovers.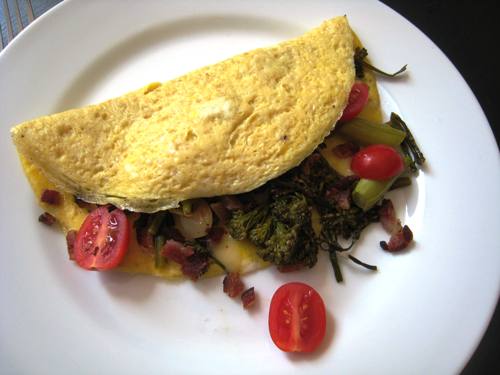 When I was a child, my mom frequently made omelets. I never really paid attention to what she did except that she served them with cold fillings: shredded cheese, chopped ham, diced bell pepper, onions and tomatoes. It wasn't until I was an adult and my husband-formerly-known-as-my-boyfriend took me out for breakfast
The omelet was served with hot fillings! Who knew?!
I questioned my mother on it. She didn't have a reason except that it was easy and that she preferred the contrast of tastes and textures.
Now that my daughter is cleared of her egg allergy, omelets are back on the table. I was reminded last week what a good cheap eat an omelet is when I made a few for breakfast. Eggs range in price: I've paid $3/dozen for sale organics and $0.99 for conventional. I often get FREE eggs coupons from my Ralphs store. However you buy them, eggs are pretty cheap, costing a quarter a piece or less, if bought on sale.
If you consider the price of eggs and that you'll use two to three per person, you can make a pretty cheap meal, easily less than a dollar per person, fillings included.
The other day I made omelets for me and hubs. (The kids had scrambled or fried.) He had his with bacon and cheese. I use leftover roasted broccoli and garlic, some cheese, half a strip of bacon, and tomatoes – cold in honor of my mom. When all was said and done, I made our both our breakfasts for about a buck.
Hello! Omelets rock.
Omelet Fillings
You can fill omelets with any number of yummy tidbits. The great thing is that you don't need to use a lot, so it's a great way to use up leftovers. Try one of these if you're stumped for ideas:
sauteed onions
grilled peppers
roasted broccoli
chopped tomato
creamed greens
shredded cheese
crumbled feta or goat cheese
chopped ham
crumbled bacon
cooked and crumbled sausage
chopped fresh herbs
Preparing an Omelet
Preparing an omelet is not rocket science. But as soon as folks talk about omelet pans, it sounds daunting. I've found that my 10-inch nonstick skillet works just fine.
I read once a quote from a French chef that said the texture of an omelet should be like dog slobber. Au contraire. I disagree. I like my omelets soft, but on the dry side. Once the egg mixture is in the pan, I cover it with a lid so the top will steam.
Basic Omelet
This omelet dish makes for an easy dinner recipe and a great way to use leftovers.
Ingredients
½

tablespoon

butter

2

egg

beaten

2

teaspoon

water

salt

black pepper

fillings for omelets

, such as sauteed mushrooms, shredded cheese, diced ham
Instructions
Heat a nonstick skillet. Melt butter in the bottom of the pan.

In a small dish combine the eggs and water.

Pour the egg mixture into the hot pan, tilting to cover the entire pan. As the eggs begin to set, cover the pan and allow the eggs to steam cooked on top, about 2 to 3 minutes.

Cover half the omelet with preferred filling. Fold the blank half over the filled half.
Notes
Nutritional values are approximate and are based on 1 plain omelet without additional fillings. Refrigerate leftovers promptly and use within 4 days.
Nutrition
Calories:
228
kcal
|
Carbohydrates:
1
g
|
Protein:
11
g
|
Fat:
20
g
|
Saturated Fat:
10
g
|
Cholesterol:
358
mg
|
Sodium:
226
mg
|
Potassium:
121
mg
|
Sugar:
1
g
|
Vitamin A:
830
IU
|
Calcium:
49
mg
|
Iron:
2
mg
What's YOUR favorite omelet filling?