Can't stand the heat? Get out of the kitchen! Cooking out doesn't have to be limited to meats and burgers. Try grilled pizza — the easy way!
You've heard that it's easy to make pizza at home.
You're wanting to try it. But…it's so dang hot. You sure don't want to heat up the kitchen when you could easily just go get a pizza to go.
True. True. But, did you know that you can cook your pizza on your outdoor grill?!
True again! And the result is a delicious, homemade pizza that won't make you hot under the collar.
And even better? It will cost just a few bucks and taste soooo much better than what the Little Dictator can dish out.
Yep, pizza is one of those things you can make to save yourself some money.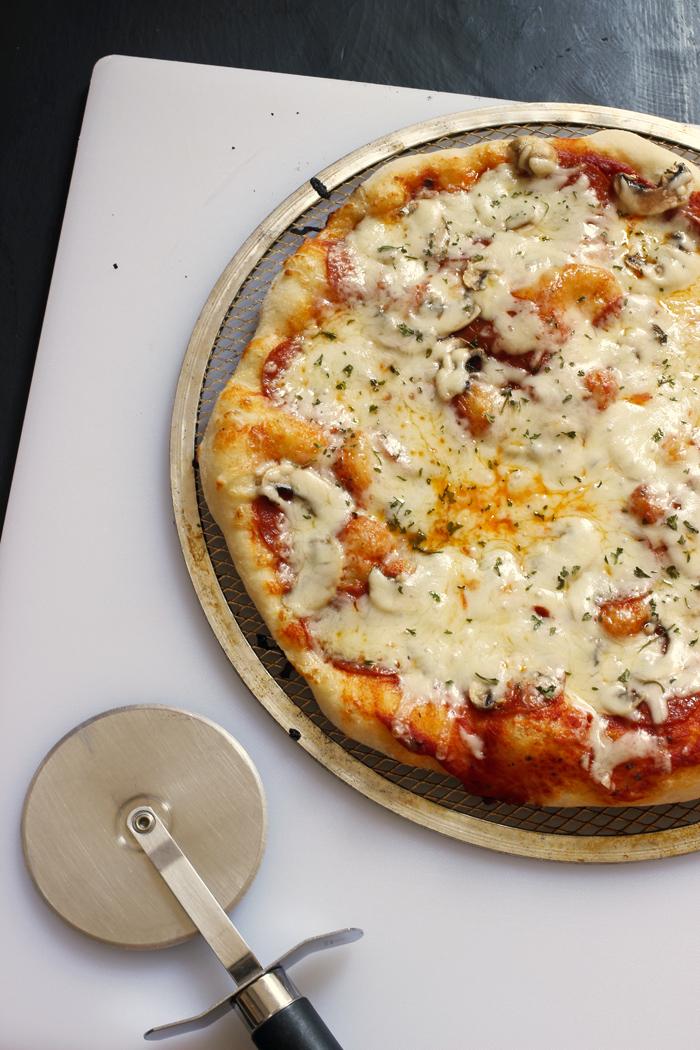 The first time we grilled pizza was about five kids and twelve years ago. It was amazing!
The smoky flavor you typically associate with grilled foods had permeated the crust, the result being an aromatic tomato and cheese combination that was absolutely delicious. Then we didn't do it again for quite some time….
One of the problems with the method was that it was super time-consuming. The internet said to bake the dough on the grill first, flip it over, add the toppings, and then bake again.
This method, while effective, is a pain in the rear. Especially when you've got six kids to feed. Scratch that, even if it's just a few. I don't like the fuss.
Making Easy Grilled Pizza
So, when my cousin told me that she didn't flip her grilled pizza, my ears perked up. Bryan, who loves to grill was happy to experiment and so a new pizza night tradition began.
My cousin forms her pizzas on parchment paper and uses that to transfer her uncooked pizza to the grill. She slips the paper out after a few minutes. This works, but we've found we like the ease and convenience of pizza screens.
I use pizza screens when I bake pizza in the oven, so I'm thrilled that I can use the same screens on the grill.
Here's how to take your pizza pie outside.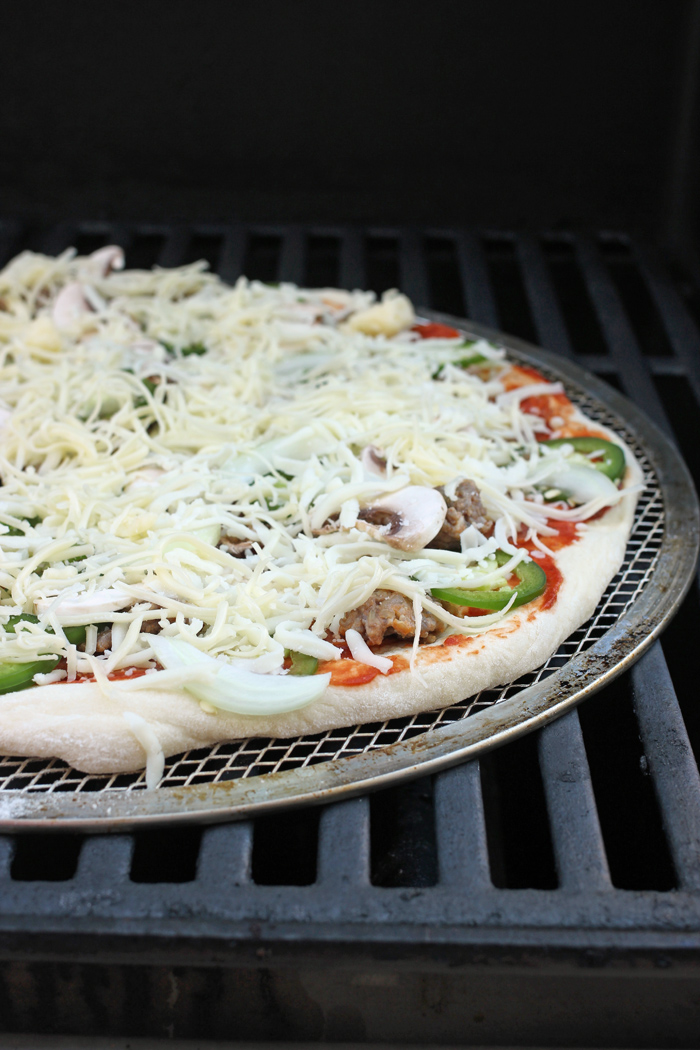 Do you need a pizza stone to grill pizza?
No. You don't even need a pizza stone to bake pizza. I find using a pizza stone to be very cumbersome and annoying. For years I baked pizza on sheet pans, and then later upgraded to pizza screens.
Pizza screens are a great option as they ensure a crisp crust but are also lightweight and easy to store. Spray the screen well with cooking spray and then assemble your pizza right on the screen, taking care not to press the dough into the screen's openings. Doing so makes it really tough to clean later.
Can I grill a frozen pizza?
You can grill a frozen pizza. However in our testing, we found that, contrary to the frozen pizza box directions, it is best to thaw the pizza before you grill it. Otherwise, you get a burnt pizza bottom before the toppings are heated well enough.
To grill a frozen pizza, remove it from its wrappings while it's still frozen. Transfer it to a greased pizza screen, and allow it to thaw. Then proceed to grill the pizza.
Can I grill a take-and-bake pizza?
Yes, you can grill a take-and-bake pizza, opening lots of opportunity for very quick, keep-the-heat-outside pizza nights.
Remove the pizza from its packaging and transfer it to a greased pizza screen. Cook the pizza on a hot grill until the crust is crisp and the toppings are hot and the cheese is melted.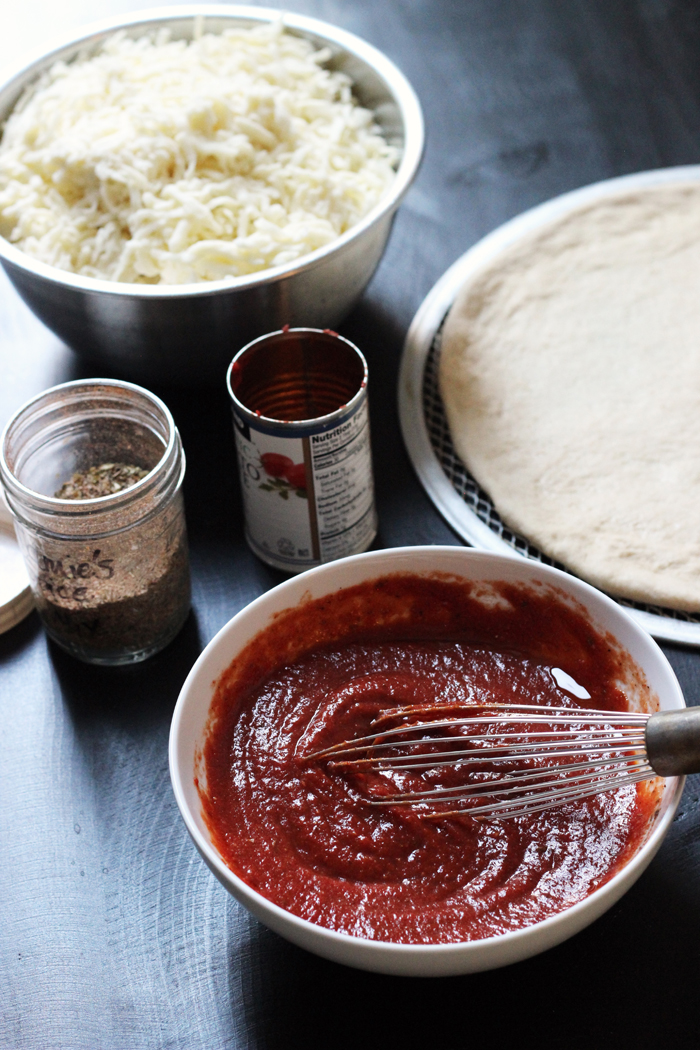 How do you grill pizza?
1. Get your pizza dough and toppings ready.
You'll need a basic pizza dough and your preferred toppings, including pizza sauce, cheese, and other pizza toppings. You can make your dough or buy it ready made at the grocery store. It's usually in the deli/cheese section.
2. Assemble your pizzas.
Form the pizza crust and place it on a greased pizza screen. Spread the sauce lightly, taking care not to press the dough into the openings of the screen. (Do that and the screen will be a nightmare to clean.)
Add your toppings and cheese.
3. Fire up the grill.
You need a big enough grill to hold one or two pizzas as well as one that gets hot enough. Optimally, you want an oven-like atmosphere in your covered grill, so make sure it can heat up to and stay in the 400 to 500 degree range.
We have a Weber Genesis II that works really well for grilling pizza, but my cousin uses a Big Green Egg.
4. Grill your pizzas.
Once you have the grill hot enough, place your pizzas on the grill. Close the lid and bake for 5 to 7 minutes or until the crust is crisp and the toppings are hot.
There ya go! That's all there is to it!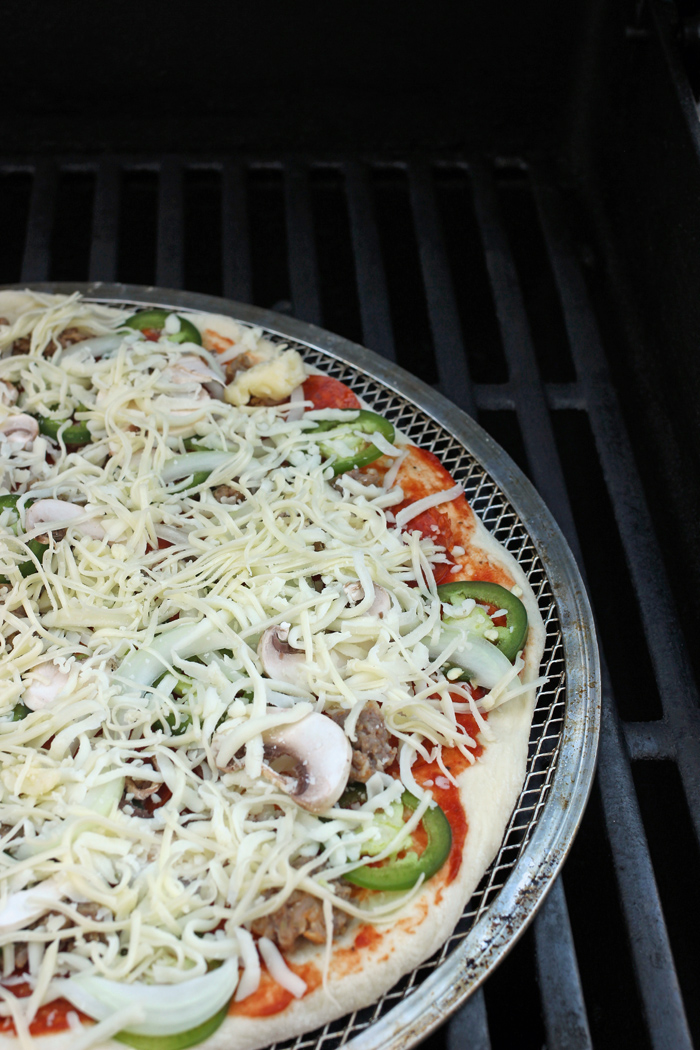 How to make homemade pizza inexpensively
All of my recipes are affordable to begin with but there are some things you can do to make sure you're spending well. Here are some of the strategies you can use to make this recipe more economical:
Tools I use to make grilled pizza easier: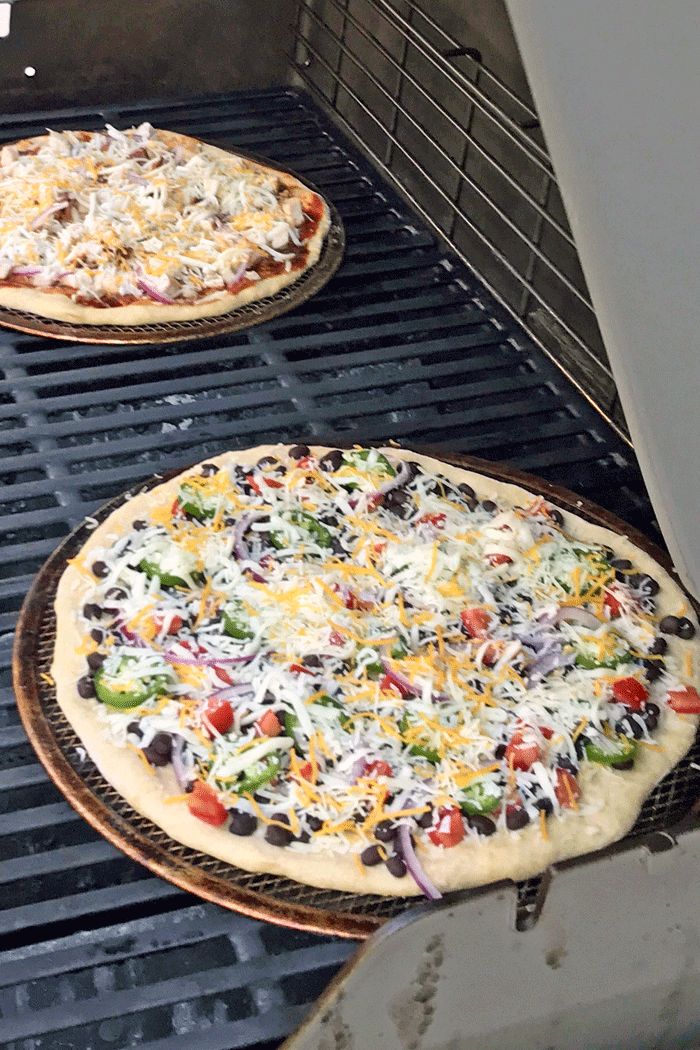 If you prepare this recipe, be sure to share a picture on social media and hashtag it
#GOODCHEAPEATS
. I can't wait to see what you cook up!
Grilled Pizza
Bake pizza on the grill for a low-mess, low-heat dinner. This method utilizes pizza screens to make the process quick and easy.
Ingredients
1

ball

pizza dough

for a 16-inch pizza

½

cup

pizza sauce

8

oz

mozzarella cheese (shredded)

(2 cups)

toppings for pizza
Instructions
Grease a pizza screen with nonstick cooking spray.

Form the dough into a 16-inch circle or a size to fit your pizza screen.

Gently spread the pizza sauce on the dough circle and add the toppings of your choice.

Heat the grill to at least 400 degrees. Open the grill and place the pizza on the grid. Close the lid and bake 5 to 7 minutes or until the crust is crisp and the toppings are hot.
Nutrition
Calories:
1526
kcal
|
Carbohydrates:
176
g
|
Protein:
79
g
|
Fat:
64
g
|
Saturated Fat:
29
g
|
Cholesterol:
177
mg
|
Sodium:
3692
mg
|
Potassium:
576
mg
|
Fiber:
16
g
|
Sugar:
8
g
|
Vitamin A:
2045
IU
|
Vitamin C:
9
mg
|
Calcium:
1147
mg
|
Iron:
2
mg
Tried this Recipe? Tell us what you think!
Your reviews help us develop better recipes and give newcomers the confidence to try your favorites. Scroll down to leave a starred comment.