Enjoy the flavors of summer with this juicy Tomato Salad on Toast. It's the perfect appetizer for summer get-togethers, making use of the produce of the season.
Tomatoes are probably one of my favorite fruits. And yes, they ARE fruits. What's a sandwich or a burger without a slice or two of tomato? What's pizza without a rich and luscious tomato sauce? How can you have a vegetable salad without a few sparkling balls of red tomato.
Clearly, tomatoes go so well in so many things. One of my new favorite tomato-y things? This tomato salad on toast.It's a little like a salsa. A little like a bruschetta. A little like a salad. It's a lot good. My kids and I couldn't stop eating it the other night. A single batch will work for a party of 4. You'll need to make a few batches for a party party.
I buy sliced baguette at my local Ralphs. It's better for toasting than fresh baguette and it often goes on clearance. I stock up and stash the bags in my freezer for whenever we want a fun little snack. Often we make bruschetta, like this Tomato Bruschetta with Herbes de Provence or this Olive Bruschetta.
This Tomato Salad is similar to a bruschetta, only the flavor profile is tweaked just a bit. Instead of basil, we've got cilantro. Instead of balsamic vinegar, we've got lime juice. Instead of an Italian cheese, there's just a little bit of feta cheese crumbles. It doesn't taste like feta, the cheese adds a nice salty tang.
Overall, it comes together in a vibrant, refreshing salad that is a great foil to the garlic toasts. I imagine that pita or pita chips or even tortilla chips would also work.
Should cherry tomatoes be cut for salad?
It may seem tedious to cut all those cherry or grape tomatoes, but I find that they have the best flavor until summer-ripe tomatoes are in season. They last longer and seem to burst with more sweetness and flavor. Feel free to sub other varieties of tomatoes if you prefer.
This salad is delicious as an appetizer, but you can also use it to accent a salad or sandwich bar. Add a can of tuna and turn it into an easy dinner. I'd even add it to Queso Fundido if I didn't want to use spicy salsa.
Just make a lot. It'll go fast.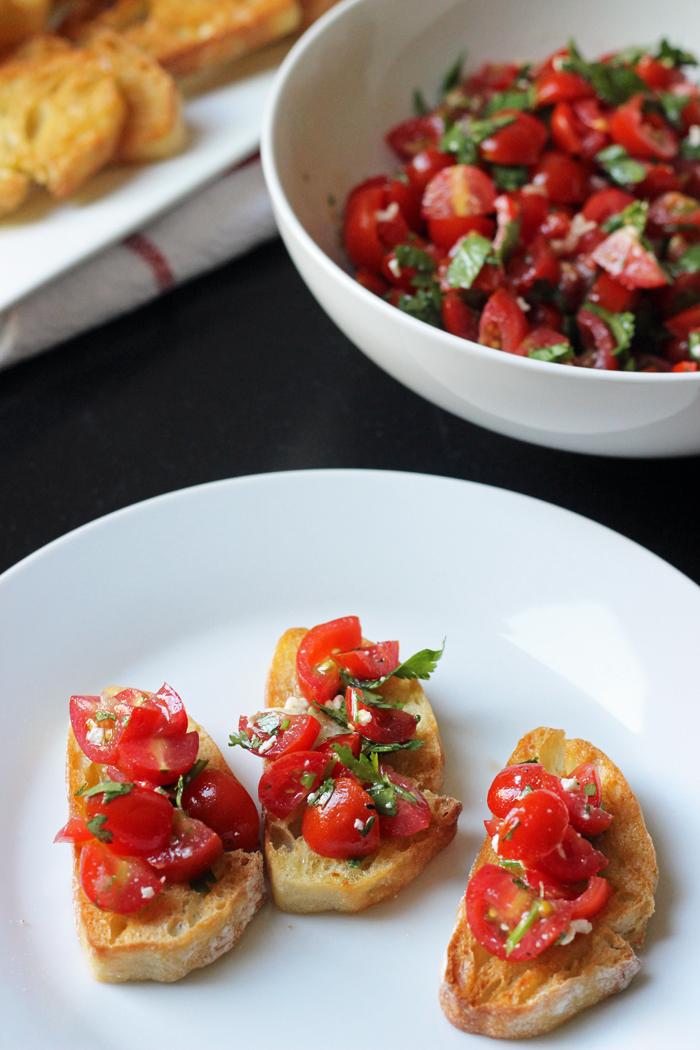 How can I make tomato salad inexpensively?
Tomato Salad on toast is pretty economical by virtue of its being a meatless pasta dish. Here are some of the strategies I use to make this recipe even more affordable:
Stock up on ingredients when they are on sale!

When I see a great price on grape tomatoes, I buy several boxes of them. The same goes for sliced baguette I find on clearance or feta cheese on sale.

Grow an herb garden. Recently my daughter planted cilantro in the back yard. When we buy cut herbs from the grocery store, I buy the biggest bunch I can find and store it in a glass of water in the fridge. This helps extend the freshness and flavor of both parsley and cilantro.
Take advantage of limes in season. When you find a great price or a neighbor has some to share, freeze the lime juice as well as the zest so that you can enjoy the delicious citrus all year long.
Tools I use to make this recipe easy:
This is a pretty straight-forward dish. You don't need any fancy equipment to cook pasta! However, having some good basic kitchen tools can really make your time in the kitchen more enjoyable. Over time, I've honed my collection so that they are perfect for my needs. Here are the tools that I like to use in this recipe.
Tomato Salad on Toast
Enjoy the flavors of summer with this juicy Tomato Salad on Toast. It's the perfect appetizer for summer get-togethers, making use of the produce of the season.
Ingredients
8

ounce

package sliced baguette

3

tablespoons

olive oil

3

cloves

garlic

minced

1

pint

grape tomatoes

chopped

1/3

cup

chopped cilantro

1

tablespoon

feta cheese crumbles

juice of 1/2 lime

1/4

teaspoon

sea salt

freshly ground black pepper
Instructions
Lay out the sliced baguette on a baking sheet.

In a small bowl combine 2 tablespoons olive oil and 1 clove garlic.

Brush this mixture over the bread slices and toast in the oven until golden brown.

I use my toaster oven on the toast setting, but you could also use the oven at 350 degrees for about 10 to 15 minutes. Cool on a rack.

In a medium mixing bowl, combine the tomatoes, cilantro, feta cheese, lime juice, salt, pepper, and the remaining tablespoon olive oil and the remaining 2 garlic cloves. Stir gently to combine

Serve the tomato salad at room temperature with the toasts. Refrigerate any leftover salad in a covered dish.
Nutrition Facts
Tomato Salad on Toast
Amount Per Serving
Calories 283
Calories from Fat 126
% Daily Value*
Fat 14g22%
Cholesterol 4mg1%
Sodium 547mg24%
Potassium 352mg10%
Carbohydrates 34g11%
Protein 7g14%
Vitamin A 1093IU22%
Vitamin C 17mg21%
Calcium 81mg8%
Iron 2mg11%
* Percent Daily Values are based on a 2000 calorie diet.