This meatless pizza is super tasty and nutritious with kale and mushrooms.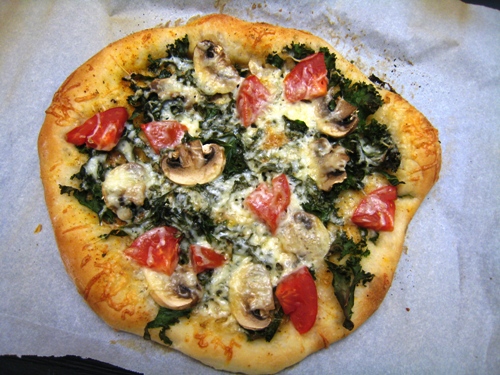 Friday is our family's pizza night. We're now up to a DOUBLE BATCH of dough. And I only have one teenager so far!
I see a lot more salads in our future.
The crowd typically chooses pepperoni, olive, and cheese, or a combination thereof, atop a bed of red sauce. Not I. I like something different, usually of the vegetable variety.
This Kale and Mushroom Pizza would be one of those different kind of pizzas that I love. This is easy to make, delicious to eat, and absolutely good for you.
It's kale, for Heaven's sake!
I think pizza is really a free-form thing, so I'm hesitant to give you real measurements. Homemade pizza is "to taste," and that is how it should be. But, for those who want direction, here's the lowdown.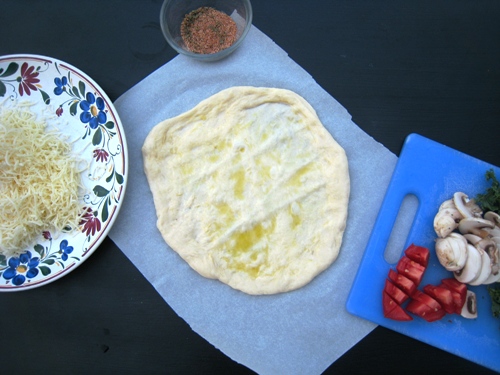 Recipe: Mushroom and Kale Pizza
Summary: makes one personal size pizza
Ingredients
1/8 batch Pizza Dough
olive oil for brushing
Jamie's Spice Mix for sprinkling
1 to 2 handfuls shredded kale, or to taste
1/2 cup sliced mushrooms, or to taste
1/2 roma tomato, chopped
1 cup shredded mozzarella cheese
Instructions
Preheat oven to 500 °. Prepare baking pan by lining with parchment paper. Alternatively, grease the pan and sprinkle with cornmeal.
Stretch the prepared pizza dough into a generous personal sized pizza. Watch this video if you need help. Lay the dough onto the prepared pan.
Brush the crust with olive oil and sprinkle with spice mix.
Sprinkle kale over the entire pizza. Add mushrooms and tomatoes. Top with cheese.
Bake for 9 to 10 minutes or until crust is crisp and cheese is bubbly.
Preparation time: 10 minute(s)
Cooking time: 10 minute(s)
Number of servings (yield): 1

Do you plan on enjoying this pizza with a glass of wine? Not sure what to pair with it? Head over to the Wine4.Me Blog to see some wine suggestions to pair with it.