Boules de Picolat are Catalan meatballs. These meatballs, dressed in a savory sauce, are easy to make and freezer-friendly.
This is the little town of Collioure, nestled in the Catalan region of south-western France. My French family, the Durieux, have roots in this little port village. When they took me, a young American college student, under their wing in 1992, trips to Collioure were often on the calendar. I spent Christmas, Easter, and part of my birthday weekend here on the Mediterranean.
Collioure ranks as one of my favorite places on earth. FishPapa and I spent a week of our honeymoon here and we returned last fall with our kids to spend ten days.
There is so much rich culture here in Collioure: the Catalan dances, the rich wine, the beautiful little bay, the church clock tower. Famous artists like Picasso and Matisse visited here, often paying their bar bills with works of art. It's a beautiful place.
My French mom, Michele, grew up in nearby Perpignan, but her grandparents lived in Collioure. She knows her family's traditions and past, and is great at sharing that heritage with others. My girls loved learning the sardane, a Catalan dance from her!
One of the things that she passed on to me was a love for Boules de Picolat.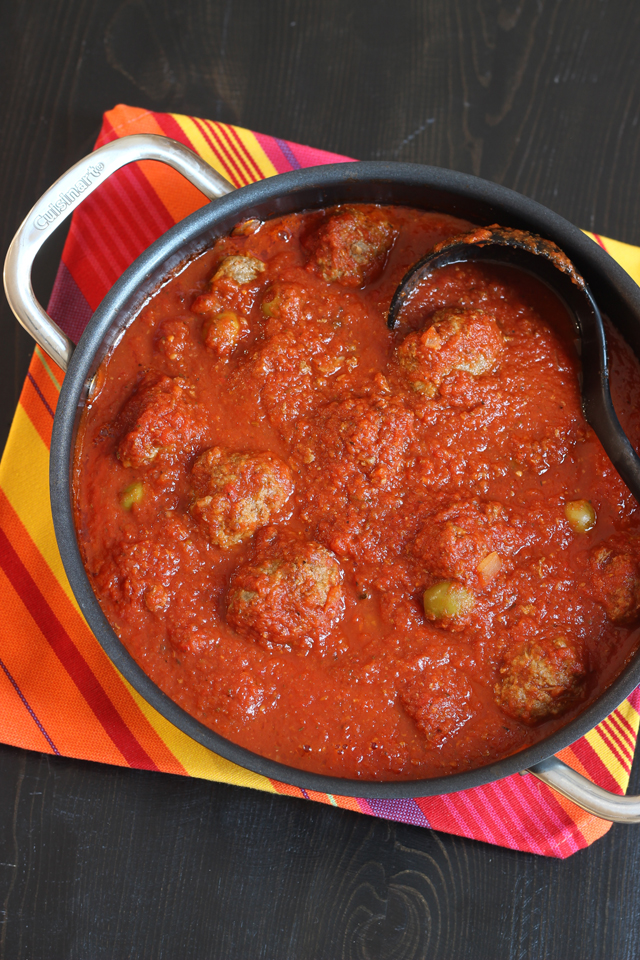 Boules de Picolat (Catalan Meatballs)
Boules de Picolat, otherwise known as Catalan Meatballs, are a rich meat and tomato dish, flecked with green olives and served over potatoes.
Okay, some folk argue it should be served over rice, but in "our family", mine and Michele's, we serve it over boiled potatoes. It's one of my favorite comfort foods.
Michele made it for my 21st birthday — and I made it for my first Christmas dinner once home from France. It holds a well-deserved place on our table.
This dish is easy to prepare, feeds a crowd, is well-received by pretty much everyone, and is very freezer-friendly. It's perfect for cooking up now and enjoying a few times over the holiday season.
Boules de Picolat, also known as Catalan Meatballs, are one of my favorite foods. They are easy to make and super freezer-friendly.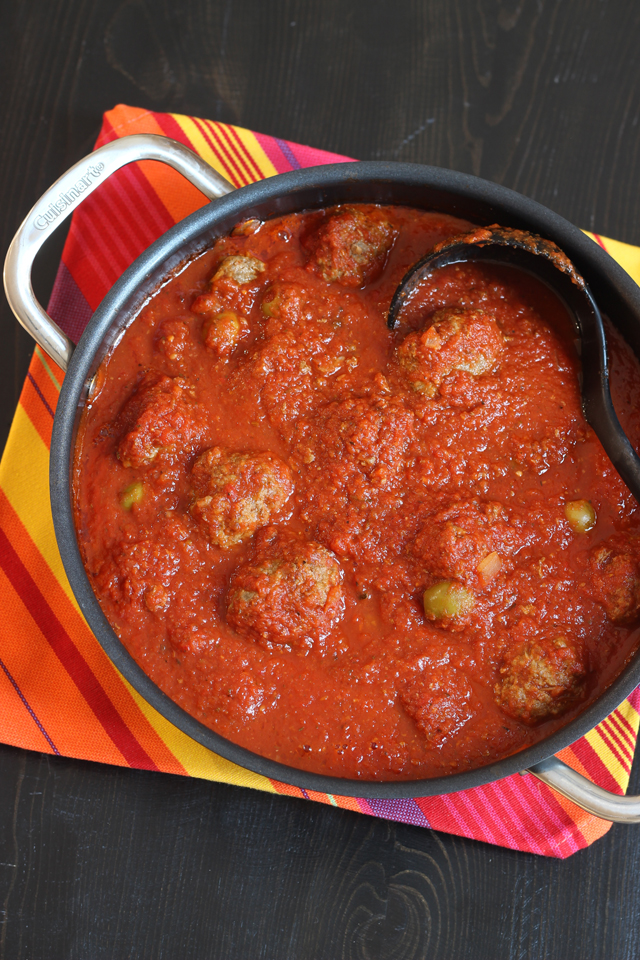 There's no question that not having to cook dinner is a good thing – any night of the week. And while take-out or eating out are certainly fun prospects, they're not always doable. And that's where pulling an entree out of the freezer – a homemade dinner – is just the ticket.
I've leaned on freezer-friendly recipes a lot over the years, even compiling some of my favorites into my cookbook, Not Your Mother's Make-Ahead and Freeze Cookbook. It's just the ticket to having home cooked dinners at the ready.
One of our favorite freezer-friendly recipes is a dish I first had when I lived in France. My "French mom," Michele, was Catalan. She made this traditional dish, Boules de Picolat, for me on my 21st birthday. She never gave me her recipe, so I had to approximate my own Boules de Picolat recipe from a Catalan cookbook I have.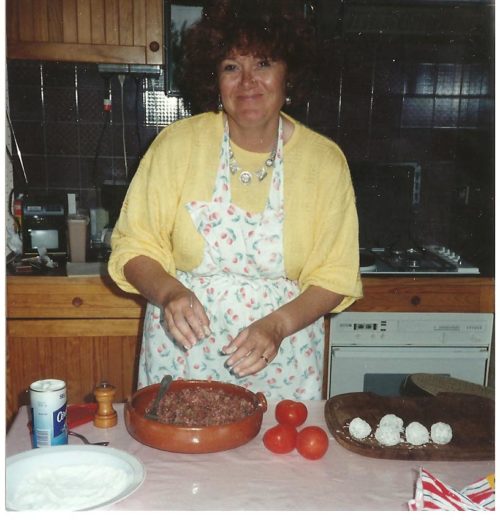 Michele, preparing Boules de Picolat for my birthday feast, 1993.
There is great debate amongst Catalan families whether to serve this with potatoes or rice. The Family Durieux serves Boules de Picolat with boiled potatoes, so we do, too.
I love the unique touch of dried porcini mushrooms (when I can find them) and green olives. Yum!
Boules de Picolat
Boules de Picolat, also known as Catalan Meatballs, are one of my favorite foods. They are easy to make and super freezer-friendly.
Ingredients
1

oz

dried porcini mushrooms

OR ½ cup sliced button mushrooms

1

lb

ground beef

½

lb

ground pork

2

onion

chopped

1

tablespoon

dry parsley flakes

3

clove

garlic

chopped

salt

black pepper

½

cup

unbleached, all-purpose flour

5

tablespoon

olive oil

1

28-ounce can

crushed tomatoes

1

14-ounce can

diced tomatoes

1

cup

green Spanish olives with pimiento

8

russet potatoes

peeled, boiled, and drained
Instructions
If using dried mushrooms, soak the mushrooms in warm water for about 30 minutes or according to package directions. Remove from liquid and strain liquid well. Set aside the liquid to use later. Drain and rinse the mushrooms.

In a medium sized bowl combine the ground beef, pork, half of the onions, parsley, garlic, and the salt and pepper to taste. Form the mixture into 1-inch balls and roll in the flour.

Heat the ¼ cup oil in a large heavy pot and brown the meatballs in batches. Remove from the pan and keep warm in the oven. Alternatively, you can bake the meatballs (not rolled in flour) at 375 for about 15 to 20 minutes.

When all the meatballs are cooked, prepare the sauce. Add the remaining tablespoon oil to the drippings in the pot. Add the remaining onions and the fresh mushrooms if using, and sauté until they become translucent. Add both cans of tomatoes and the reserved mushroom liquid and the porcinis if using those. Stir together over medium heat. Add the meatballs and cook over low heat for about 20 minutes. Stir in the olives and heat through.

Serve the meatballs and sauce over hot cooked potatoes.

To freeze: Divide the meatballs and sauce into meal-sized portions in plastic containers with lids. Chill completely before freezing. To serve from frozen: Defrost and heat completely.
Notes
Nutritional values are approximate and are based on ⅛ of the recipe. Refrigerate leftovers promptly and use within 4 days.
Nutrition
Calories:
432
kcal
|
Carbohydrates:
44
g
|
Protein:
25
g
|
Fat:
19
g
|
Saturated Fat:
10
g
|
Cholesterol:
56
mg
|
Sodium:
548
mg
|
Potassium:
1532
mg
|
Fiber:
9
g
|
Sugar:
7
g
|
Vitamin A:
349
IU
|
Vitamin C:
38
mg
|
Calcium:
134
mg
|
Iron:
10
mg
Tools I use for this recipe:
Got a great make-ahead recipe that freezes well? Share it with us!