Make the most of spring vegetables to toss into the soup pot. Potatoes, leeks, carrots, and asparagus join forces in this Spring Vegetable Soup for a delicious meatless meal.
Love instant pot soups? Be sure to try Instant Pot Tomato Soup or Instant Pot Potato Soup once you've tried this yummy veggie soup.
Jump to:
Spring is springing up, or starting to anyway, and what better time for a comforting bowl of soup. While spring signals warmer days to come, it still dishes out cold, chilly days that call for soup.
And what better things to put in soup than spring vegetables, the first harvests of the year with a promise of more to come.
What are spring vegetables?
There are a number of spring vegetables to look forward to. Some overwinter in the ground and are harvested in the spring, while others are planted in cool weather and grow quickly.
Spring vegetables include artichokes, arugula, asparagus, beets, bok choy, carrots, fava beans, garlic, herbs, leeks, potatoes, radishes, ramps, rhubarb, salad greens, scallions, and spinach.
I've rounded up asparagus, carrots, garlic, leeks, and potatoes in this smooth blended soup.
Serving suggestions
This Spring Vegetable Soup is delicious as a starter to something more substantial like Easy Chicken and Green Beans or even in advance of a Tartiflette Pizza.
It can also play the starring role in a vegetarian meal, accompanied by bread, cheese, and a salad. Consider a fun, but eclectic mix of Cinnamon Apple Oat Cakes alongside a bowl of soup and a plate of Spinach Salad with Oranges & Cranberries.
Ingredients
The ingredient list for this soup is pretty simple and straightforward, but if you've been around Good Cheap Eats long, you know that shopping your kitchen is an important part of our system for saving money on food costs. Use what you have and/or play with the proportions of vegetables based on what's on hand.
cooking oil – I usually use olive oil or avocado oil as those are the oils I prefer. Use what oil you like as well as ghee or butter, if you prefer.
leek – I love leeks, but they can get pricey. Alternatively, you can use chopped onion or shallots in this soup.
potatoes – The recipe calls for russets, but you can also use Yukon gold or red potatoes. If you have turnips or rutabagas, you can use those as well, just know there will be some flavor differences in the final soup.
carrots – Carrots are widely available and generally affordable. I use fresh, but you could also use canned or frozen.
asparagus spears – Asparagus puts the spring in this soup as spring is the season when those green shoots are most affordable. Out of season, feel free to use canned or frozen asparagus for better pricing.
garlic – I like to use fresh cloves, but you can also used jarred or dry garlic, depending on what you have. You don't need much.
vegetable broth – Homemade vegetable broth will likely be the most affordable, with vegetable bouillon coming in second. Canned or boxed broth work just as well. You can even use just water if you like, though you may need to simmer the soup to concentrate the flavors a bit more.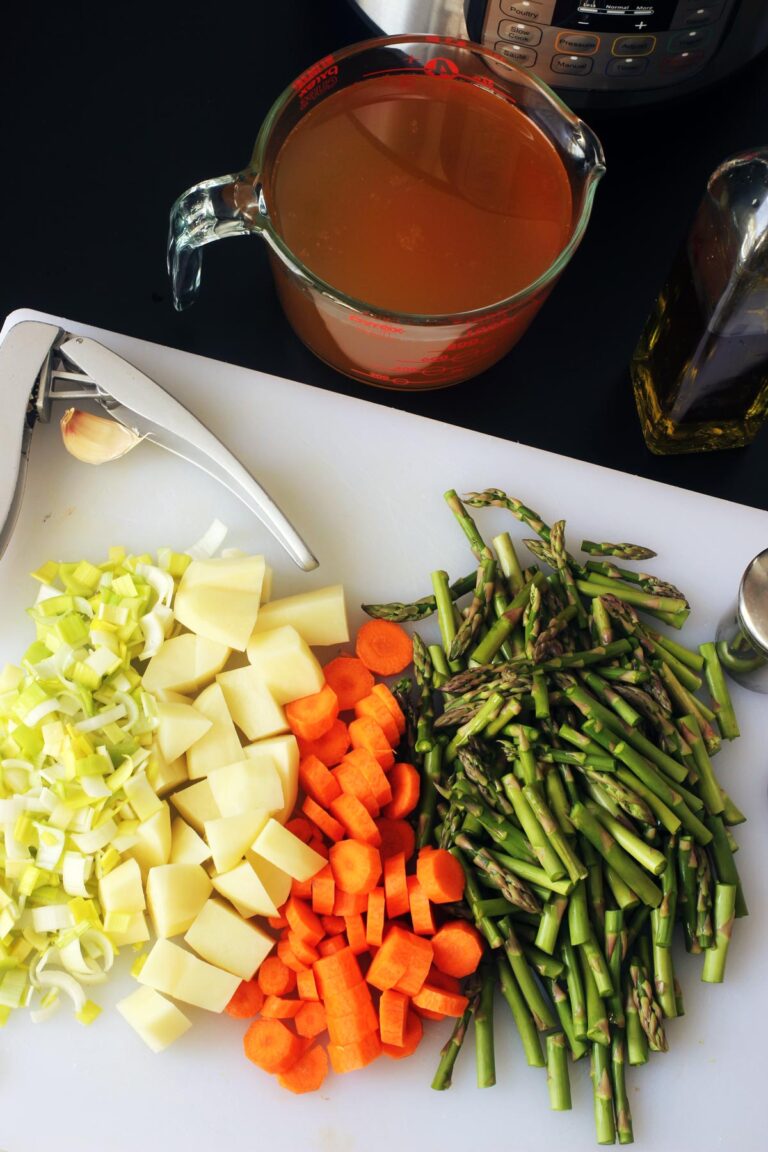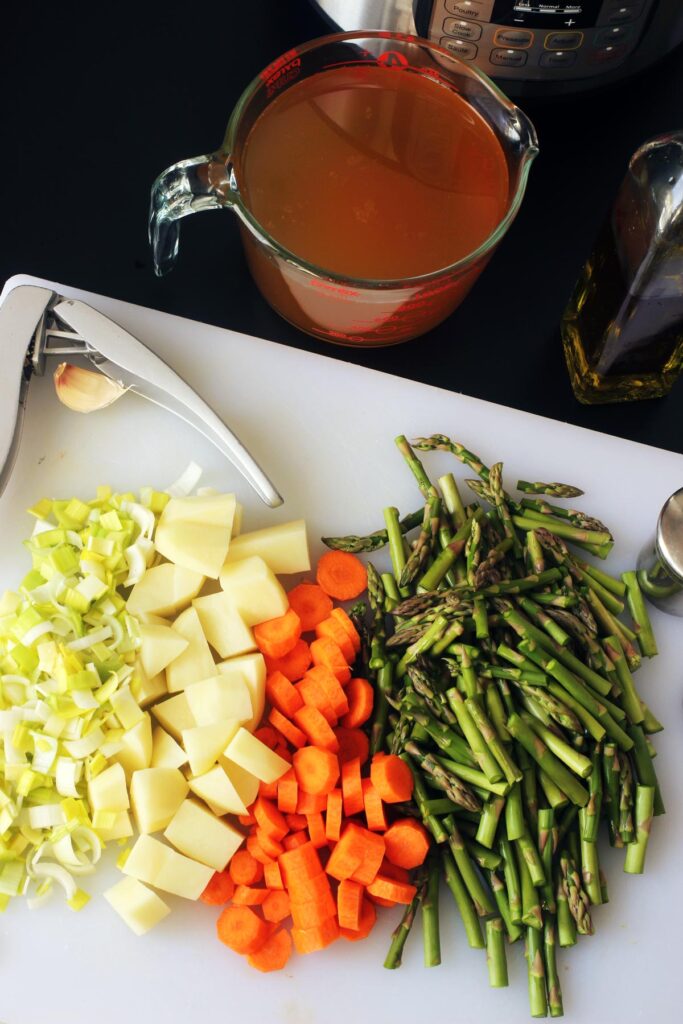 Instructions
The method of preparing this vegetable soup is pretty easy: Do some peeling and chopping. Give the veggies a warm bath in a pot of broth or a quick steam bath in the instant pot. Add some seasonings. Whiz them with the immersion blender.
Voila! You have a beautiful soup bursting with the flavors of spring.
Freezing instructions
Freezing soup is such a great habit to get into, especially if members of the household have differing preferences in soup. My daughter and I tend toward vegetable soups, while the others prefer meatier options. When I make soup to freeze, I'm allowing everyone to have his preference whenever he wants it.
To freeze the soup: Once you've prepared this soup, divide it into single-serve portions. If you're using containers with lids, be sure to leave ½-1-inch headspace to allow for expansion.
Chill it for several hours in the fridge so that it's completely cold before transferring it to the freezer. This will enable it to freeze quickly, reducing the risk of developing freezer burn or large ice crystals.
I like to use Soupercubes. With these silicone trays, I can freeze the soup in 1- or 2-cup portions, pop out the frozen bricks and stash them in a freezer bag in the freezer. This helps reduce the number of containers I need to own as well as saves space in the freezer.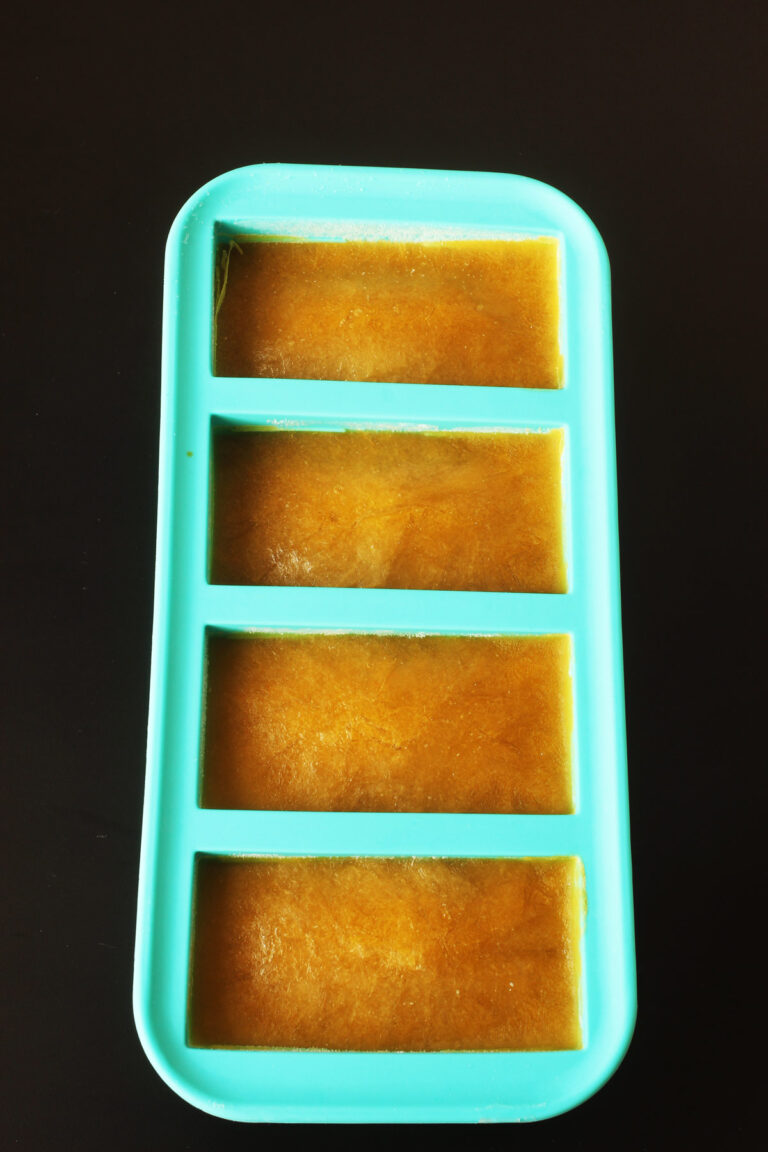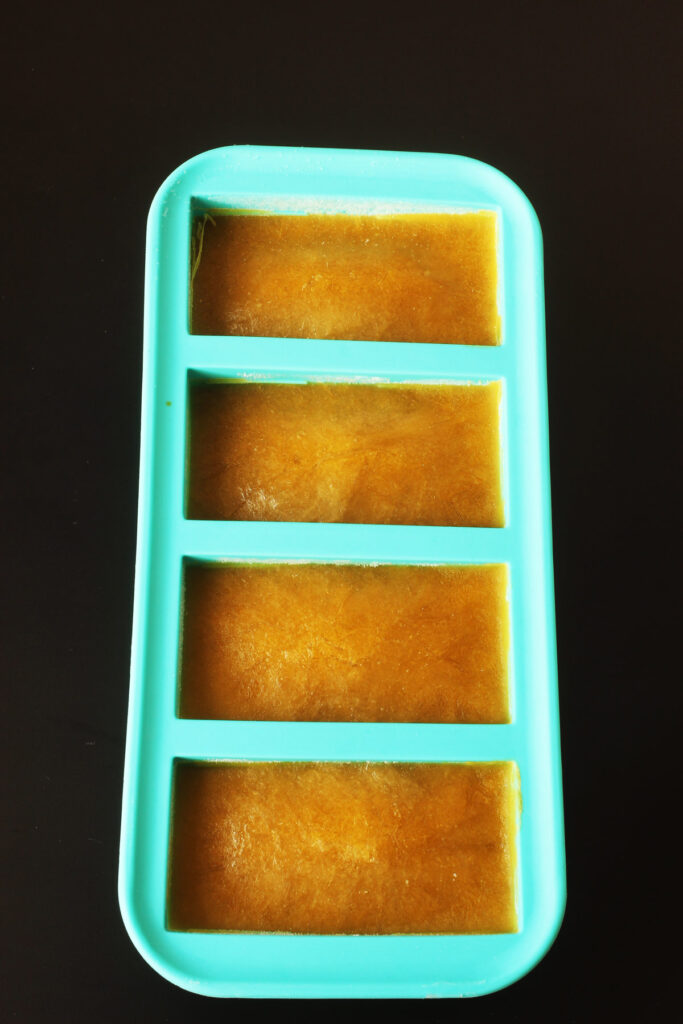 Recipe costs
Knowing how much it costs you to prepare a recipe can help you decide if it's the type of recipe to make regularly or one you might want to save for special occasions. Let's crunch some numbers and see how this recipe pencils out.
oil – $0.02
leeks – $1.99
potatoes – $1.00
carrots – $0.25
asparagus – $0.99
garlic – $0.05
vegetable broth – $0.50
Shopped at a mid-range grocery store, this recipe costs $4.30 /batch or $0.72/serving. By contrast, similar boxed soups cost about $0.80/cup and don't taste nearly as good.
Of course, your mileage may vary depending on where you live and where you shop.
How to save even more
Here are some of the strategies you can use to make this recipe more economical:
Stock up on ingredients when they are on sale. For instance, when I see a great price on vegetables or broth, I'll buy a lot and stash them for later.
Do a soup freezer cooking session. This recipe makes about 6 cups. That might be dinner for your household and just that. Consider making a double batch if you'd like to freeze some for later. In fact, cooking several soups at one time will help you save prep time and allow you to benefit from bulk pricing.
Use what you have. If you don't already have these vegetables on hand, what do you have? You may have to call it vegetable soup as opposed to spring vegetable soup, but that's okay. It will still be delicious.
Swap out a more expensive ingredient for a cheaper one. For example, I love leeks, but they are one of the pricier ingredients in this dish. Swap them for onions or shallots for a lower cost recipe.
Kitchen equipment
Having the right kitchen tools can really make your time in the kitchen more enjoyable. Over time, I've honed my collection so that they are perfect for my needs. Here are the tools that I use for this recipe:

If you prepare this recipe, be sure to share a picture on social media and hashtag it
#GOODCHEAPEATS
. I can't wait to see what you cook up!
Spring Vegetable Soup Recipe
Spring has arrived! With it comes a variety of spring vegetables to toss into the soup pot. Enjoy this Spring Vegetable Soup for a delicious meatless meal.
Ingredients
2

tablespoon

neutral oil

or butter

1

leek

thinly sliced (about 2 cups)

2

russet potatoes

chopped (about 2 cup)

3

carrots

chopped (about 2 cup)

1

lb

asparagus spears

cut into ½-inch pieces

2

clove

garlic

minced

8

cup

vegetable broth

or chicken stock

salt

black pepper
Instructions
To make the soup in a pot on the stove:
In a large heavy pot over medium-high heat, heat the oil or melt the butter. Reduce to low and cook the leeks until they are tender, about 5 minutes.

Add the potatoes, carrot, asparagus, garlic, and 4 cups of the broth. Bring to a boil. Reduce the heat and simmer, uncovered, for 20 minutes or until the vegetables are tender.
To make the soup in the electric pressure cooker:
Heat the oil in the pot on saute. Add the leeks and cook, stirring, until they are tender, about 5 minutes.

Add the potatoes, carrot, asparagus, garlic, and 4 cups of the broth. Secure the lid and close the pressure valve. Set the machine to 5 minutes manual pressure. At the end of the cooking time, release the pressure carefully and remove the lid.
To blend the soup:
Using an immersion blender, blend the soup until smooth. Alternatively, you can blend the soup in batches in a food processor.

Add more broth, if desired, to achieve your preferred consistency. Season to taste with salt and pepper.

Store the soup in airtight containers in the fridge for up to four days. To freeze, chill the soup thoroughly before transferring the containers to the freezer.
Notes
Promptly store leftovers in an airtight container in the refrigerator, for up to 4 days. For longer storage, place chilled containers in the freezer, for up to 2 months. Reheat prior to serving.
Nutritional values are approximate and based on 1

 cup soup.
Nutrition
Calories:
151
kcal
|
Carbohydrates:
25
g
|
Protein:
4
g
|
Fat:
5
g
|
Saturated Fat:
1
g
|
Sodium:
1283
mg
|
Potassium:
577
mg
|
Fiber:
4
g
|
Sugar:
7
g
|
Vitamin A:
6582
IU
|
Vitamin C:
12
mg
|
Calcium:
48
mg
|
Iron:
3
mg
Tried this Recipe? Tell us what you think!
Your reviews help us develop better recipes and give newcomers the confidence to try your favorites. Scroll down to leave a starred comment.
This post was originally published May 2, 2012. It has been updated for content and clarity.