Spring has arrived! With it comes a variety of spring vegetables to toss into the soup pot. Enjoy this Spring Vegetable Soup for a delicious meatless meal.
For several years we subscribed to an organic food co-op. In addition to saving some money on organic produce, getting a weekly produce box grew me as a cook. I was compelled to try vegetables and fruits that I might never have purchased at the store. The culinary world became bigger than I once thought it was.
Now don't get me wrong. I knew that things like parsnips and leeks existed, but I'd never been motivated to buy them. When they land in your possession through no active decision of your own, you're forced to learn.
In my newlywed years I read Bon Appetit magazine faithfully each month and tried all kinds of great recipes. But, it wasn't until I got that weekly vegetable delivery that I started busting out of my comfort zone. Having a box of strange vegetables thrust on me each week prompted me to learn and grow. Pea tendrils and leeks became some of my very dear friends.
This Spring Vegetable Soup is a result of that learning season. The soup itself isn't all that unusual as vegetable soups go. Leeks, potatoes, carrots, and asparagus each play a role. However, for me, the girl who never had a blended soup until she was in college, they are still something new for me.
The method of preparing this vegetable soup is pretty easy: Do some peeling and chopping. Give the veggies a warm bath in a pot of broth. Add some seasonings. Whiz them with the immersion blender.
Voila! You have a beautiful soup bursting with the flavors of spring. This Spring Vegetable Soup delicious on its own as a starter, or to accompany bread, cheese, and a salad as a main meal. Bon appetit!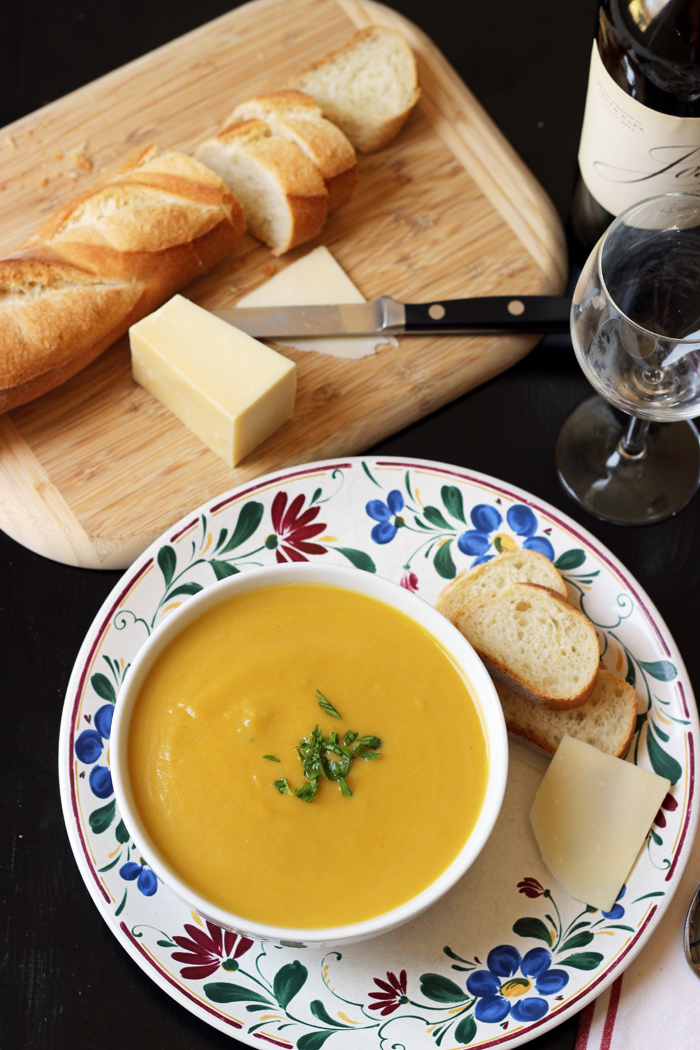 How to make this good and cheap:
Here are some of the strategies you can use to make this recipe more economical:
Stock up on ingredients when they are on sale. For instance, when I see a great price on vegetables or broth, I'll buy a lot and stash them for later.
Make a bulk batch. This recipe makes about 8 cups. That might be dinner for your household and just that. Consider making a double batch if you'd like to freeze some for later. If yours is a smaller table, you're set with a single batch.
How I make this recipe easy:
Having the right kitchen tools can really make your time in the kitchen more enjoyable. Over time, I've honed my collection so that they are perfect for my needs. Here are the tools that I use for this recipe:
Spring Vegetable Soup
Spring has arrived! With it comes a variety of spring vegetables to toss into the soup pot. Enjoy this Spring Vegetable Soup for a delicious meatless meal.
Ingredients
1/4

cup

olive oil

or butter

1

leek

thinly sliced (about 2 cups)

2

clove

garlic

minced

2

russet potatoes

chopped (about 2 cup)

2

carrots

chopped (about 2 cup)

1/2

lb

asparagus spears

cut into 1/2-inch pieces

8

cup

vegetable broth

or chicken stock

salt

black pepper
Instructions
In a large heavy pot over medium-high heat, heat the oil or melt the butter. Reduce to low and cook the leeks and garlic until the leeks are tender, about 5 minutes.

Add the potatoes, carrot, asparagus and 6 cups of the broth. Bring to a boil. Reduce the heat and simmer, uncovered, for 20 minutes or until the vegetables are tender.

Using an immersion blender, blend the soup until smooth. Alternatively, you can blend the soup in batches in a food processor.

Add more broth, if desired, to achieve your preferred consistency. Season to taste with salt and pepper.
Notes
Promptly store leftovers in an airtight container in the refrigerator, for up to 4 days.
Nutritional values are approximate and based on 1

 cup soup.
Nutrition
Calories:
129
kcal
|
Carbohydrates:
16
g
|
Protein:
3
g
|
Fat:
7
g
|
Saturated Fat:
1
g
|
Sodium:
961
mg
|
Potassium:
366
mg
|
Fiber:
3
g
|
Sugar:
4
g
|
Vitamin A:
3633
IU
|
Vitamin C:
11
mg
|
Calcium:
42
mg
|
Iron:
3
mg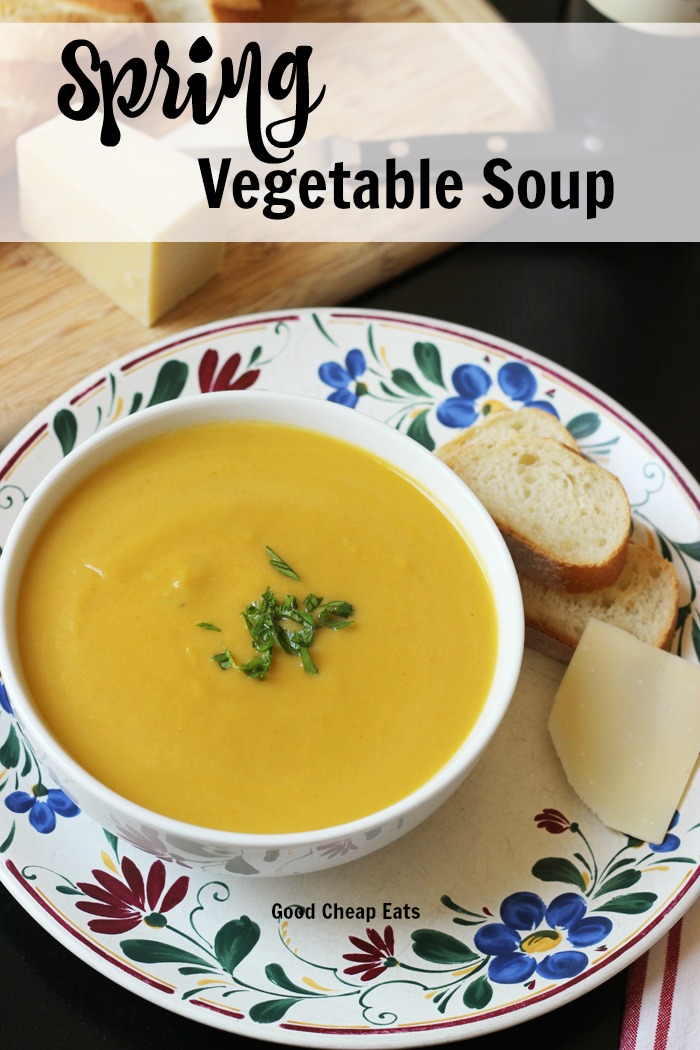 Updated April 1, 2017.