When I first became a stay-at-home mom, I read the wonderful beginner budget book, Miserly Moms. In fact, I read it cover to cover every year for quite a while in order to keep myself sharp when it came to household spending.
Author Jonni McCoy points out that one of the most flexible line items in a household budget is food costs. Rent and utilities pretty much stay the same, but food? You can spend a little; or you can spend a lot.
Take it from the girl who spend $5000 in one year to feed herself and her  husband. Yes, if you do your math right, you'll see that that averages a little over $400 a month; I spend a little over $600 now to feed a family of eight.
My how things have changed.
It's not that food costs have gone down since then. In fact, grocery prices have dramatically increased since 1995. (You can take a peek at how food costs have changed by reading the USDA Food Costs Reports , compiled since 1994.)
Your Habits Effect Your Costs
No, the reason for our high food expenses were mainly because I cooked what I wanted when I wanted, regardless of season or sale.
I had my first baby in 1997. That first year living on one income was an eye-opener, to say the least. And I did my best to reduce our spending.
Food is our family hobby, so it was hard to cut things out. And honestly, it's still hard sometimes. But, one thing has changed since I was a young newlywed buying hot house tomatoes out of season: my grocery spending habits.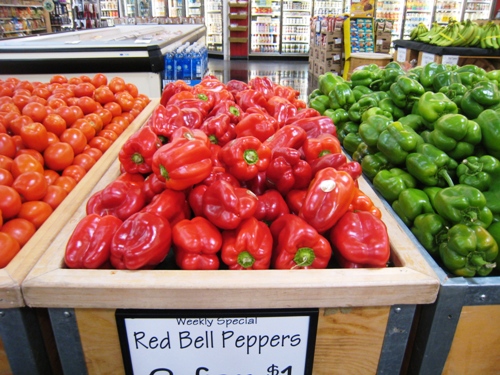 Here are some of the means I've used to mend my ways:
If it's not on sale, don't buy it.
This is probably my most important rule of thumb. Unless it's a special occasion, like a birthday, I rarely buy an ingredient at its regular price. If chicken breast is not on sale, we eat something else. If sugar is at an outrageous price, I put off baking or wait until I find a better price. I try only to buy items that are on sale.
However, when I see a great price, I buy a ton, so that when I need it, I have it — at a price I want to pay.
This has taken some getting used to over the years. But, now it's almost painful to buy something not on sale.
Have a target price for most items.
Though the Miserly Mom recommends otherwise, I have never been great at keeping a price book. But I do keep a mental list in my head of what price is a stock-up price.
I have heart palpitations if I pay more than $2 a pound for meat or chicken. Cheese has to be under the $3/lb mark. And fruit and boxed cereal need to be under $1 per pound or box or they usually don't see the depths of my cart.
These numbers have stayed fairly constant for the last couple years, except for the cereal. I've been avoiding the higher price and the excess sugar. Cereal deals haven't been plentiful until this last week, so we eat other things for breakfast. "Other things" include items that I cook from scratch where I control the sugar content and the quality of the ingredients.
My 8-year old son is my grocery minion. He comes shopping with me each week and asks about 10 times, "Is this a good price, Mama?" To a third grader, an individual bottle of juice for a buck doesn't seem expensive. So, together we're learning about target prices and what is a good thing to stock up on. Individual bottles of juice would not be one of them.

Make most of your food from scratch.
Fourteen years ago it was not uncommon for me to buy jarred sauces, baking mixes, sandwich bread, or special canned ingredients like olives and chiles. But as I learned to watch prices I saw the prices rise, I started making things from scratch.
I found that we liked the homemade so much better than the box or the can. In fact, my sister and brother shake their heads since my kids do not eat the blue box of mac and cheese that we did as children, nor are they very familiar with red labelled canned soups. My oldest son was about four when he started rejecting bottled salad dressing.
As Aimee pointed out yesterday, "Not only is it cheaper to make your own real food staples, you know exactly what is going into your food. You can customize each item- be it a condiment, salad dressing or spread –  to suit your family's needs, avoid allergens and cater to taste preferences."
Making food from scratch helps us to lower our food costs dramatically and improve our diets at the same time.
Avoid expensive items.
And it goes without saying that there are some foods I just don't buy. Unless it's a special occasion or on sale, I don't buy filet mignon. Steak is rarely on the menu, unless it's top sirloin or tri-tip, which go on sale frequently in Southern California.
I don't buy boxed mixes, canned soups, spice mixes, or bottled salad dressings. Instead, I make my own. I substitute fresh jalapenos for canned green chiles. I buy sandwich bread and prepared baked goods only when I see a great sale or when they're on clearance.

Allow yourself a splurge.
That said, I do have my splurges. Good coffee and good baguette would rank at the top. We have a true French bakery a few miles from our home, so we usually treat ourselves to the "real deal." And as I said, earlier in the week, bad coffee just isn't worth drinking.
But, good taste aside, the reason for the occasional splurge is to help you stick to your guns. If you feel "deprived," it will be all that much harder not to buy the thing that isn't the best for your family.
On the other hand, if you know that you can indulge in one or two little luxuries, you won't "feel" poor. And it makes being wise so much easier.
Avoiding expensive ingredients is one major way that we have changed how we eat and how we spend. Do we miss the "good old days?" Not really. Are we eating worse? Hardly. Are satisfied? Absolutely.
Enough is as good as a feast.
This is part of the Eat Well, Spend Less series.
What ingredients do YOU avoid to save money?