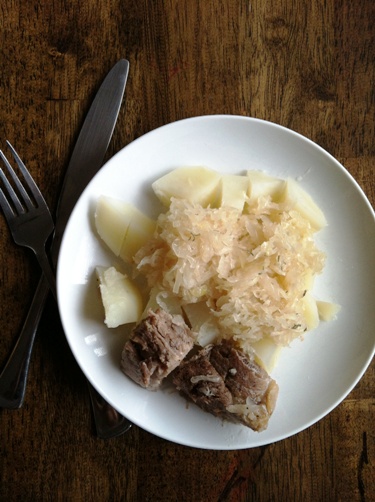 One thing that's true about the approach of fall is that the days get busy. And dinner is the last thing you want to think about in between carpools, homework, and soccer practice. That is where one of my best friends can save the day.
Remember the handy dandy crockpot?
Well, bust it out, ladies, 'cause busy days are here again. And your slow cooker could save you from one more Big Mac.
Here is an oft-requested recipe at our house. Yes, I know it's a little wierd. But, you knew that about us already. For the record, FishPapa does not care for it. He would never claim it as a family favorite.
We still laugh over the first time my brother-in-law was treated to this dish. Janel and Brett were very newly engaged, and my sister was teaching him the "right way" to eat it (potatoes chopped, lots of juice, etc.) At the end, she lifted her plate and slurped the juices!
Yes, we're also amazed that he still married her. But, this dish is good enough to lick the plate clean, and I must confess, I've done just that. We did that all the time growing up!
The FishKids are now the third generation to fall in love with this dish. It's plain, hearty peasant food. My granny probably made it in a dutch oven. Nanna uses a pressure cooker.
For years I only got to taste this home treat when Mom visited because I am too timid to try using the pressure cooker without her. No way do I want to scrape sauerkraut off my cottage-cheese ceiling! But, last winter I tried it in the crockpot with great success.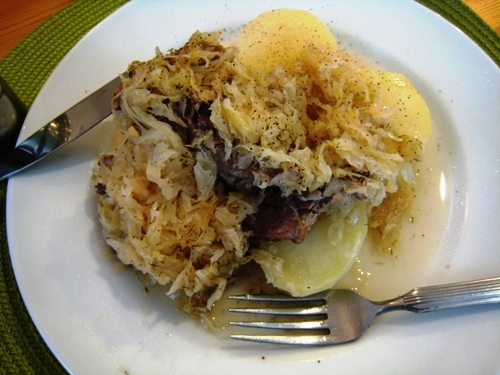 Recipe: Sauerkraut and Spareribs
Ingredients
olive oil
2-3 pounds country style pork strips
salt
fresh ground pepper
1 large can sauerkraut (I buy Frank's at my local store)
dried dill weed
hot, boiled, peeled potatoes, drained
Instructions
Heat a small amount of oil in a skillet. Heat until hot. Season pork strips with Lawry's salt and pepper. Brown in skillet quickly, until all sides have a nice crust.
Place in crockpot. Pour sauerkraut and its juices over pork strips. Sprinkle with dill weed. Cook on high for four hours, or until meat falls apart.
If using the pressure cooker, set the machine 35 minutes on manual. Use 10-minute natural pressure release.
Meanwhile, prepare potatoes. Serve meat and kraut over potatoes. Adjust seasonings.