Homemade soft pretzels are delicious on their own. But, mix up several toppings and offer some creative dips, and you've got the makings of a fabulous pretzel bar.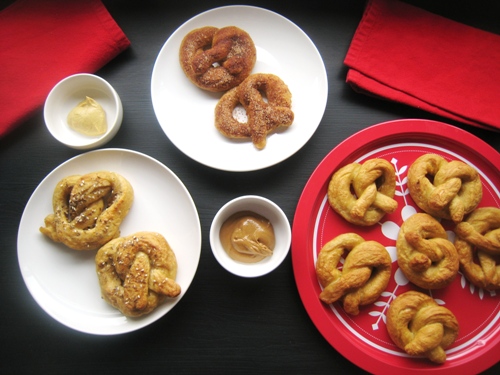 April 26 is National Pretzel Day. Who knew? But, since we love pretzels around here, I'm not complaining! Love pretzels? Nay, we adore them. In fact, a batch of my whole wheat pretzels barely satisfies our family. They are all grabbing for more.
Recently, I put together a veritable Pretzel Bar with lots of fun toppings and dips. The kids were amazed.
And while I love my whole wheat pretzel dough, I cheated this time and used the Master Recipe (using bread flour) from Artisan Bread in 5 Minutes a Day. This month I've been revisiting that method and finding ways to make it work for our family. I've also explored more dough recipes since I first reviewed the book. Love it even more now.
I regularly mix up a double batch of this dough so that it's ready when we are for quick pizzas, baguettes, or boules. It worked wonderfully for pretzels. (The book also has a dough specifically for pretzels, but this worked just fine.)
The trick to making it more fun, though, was preparing the pretzels with several different seasonings and dips: from sweet to savory, I've got you covered!
Here's how to enjoy homemade pretzels in lots of fun ways:
1. Make a batch of Whole Wheat Pretzels or grab a pound or two of Artisan Bread in 5 Bread Dough.
2. Form the pretzels according to recipe instructions. (Head here for a full history on pretzels as well as how to form them.) At this point feel free to cheat and use frozen soft pretzels from the grocery store.
3. Get creative!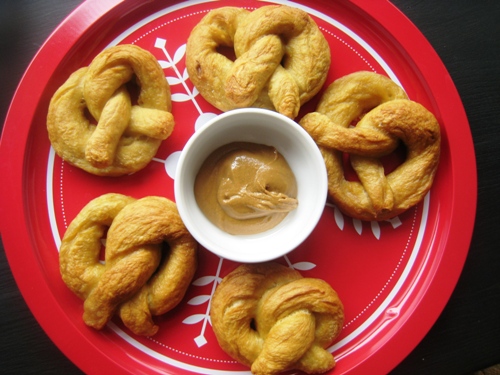 Peanut Butter or Sunbutter Pretzels
Make standard issue pretzels, with or without salt, and offer peanut butter or sunbutter on the side for dipping.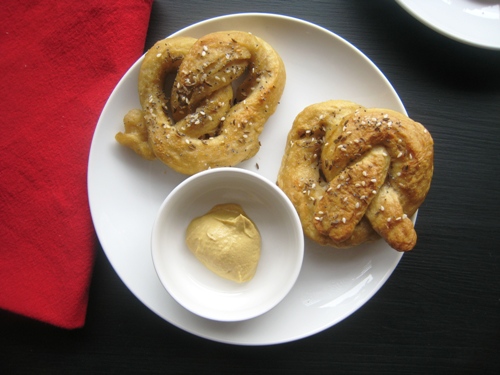 Everything Pretzels with Mustard
Before baking, sprinkle the pretzels with a mixture of sesame seeds, poppy seeds, caraway seeds, kosher salt, and garlic powder. Bake according to directions. Offer your favorite mustard on the side.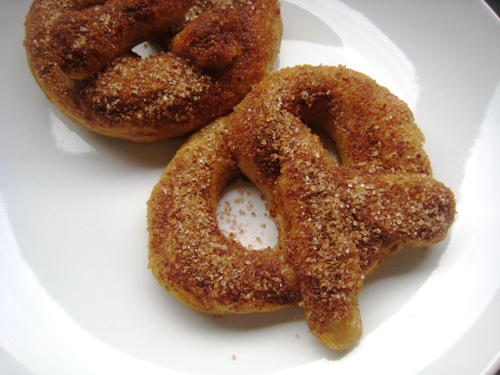 Cinnamon Sugar Pretzels
Brush baked pretzels with melted butter and sprinkle generously with cinnamon sugar.
Voila! True homage to pretzels. Now, what are you waiting for? Get baking.
What's your favorite topping for soft pretzels?