A classic Irish Stew is simple and flavorful. It comes together easily with hearty chunks of meat, potatoes, and carrots. And it brings ultimate comfort.
Jump to:
If you're like me and you (a) don't like corned beef and cabbage and/or (b) don't want to celebrate St. Patrick's Day with a dish that isn't even Irish, then let me introduce you to one that is.
Irish Stew is one of my yearly kitchen traditions. It's super easy to stir up, the slow cooker does most of the work, and it tastes amazing. Seriously.
I made it a few weeks ago and I just could. not. stop. eating. it.
Believe it or not, it's got only a handful of ingredients. Just goes to show, you don't need a lot to make something amazing for dinner.
And amazing, this Irish Stew is.
So why do we have this for St. Patrick's Day? Well, I'll tell ya.
One of my favorite parts about teaching my kids at home is the great reading we get to do together. A book that we read early on in my homeschooling career was St Patrick: Pioneer Missionary to Ireland. For years it was an annual reread.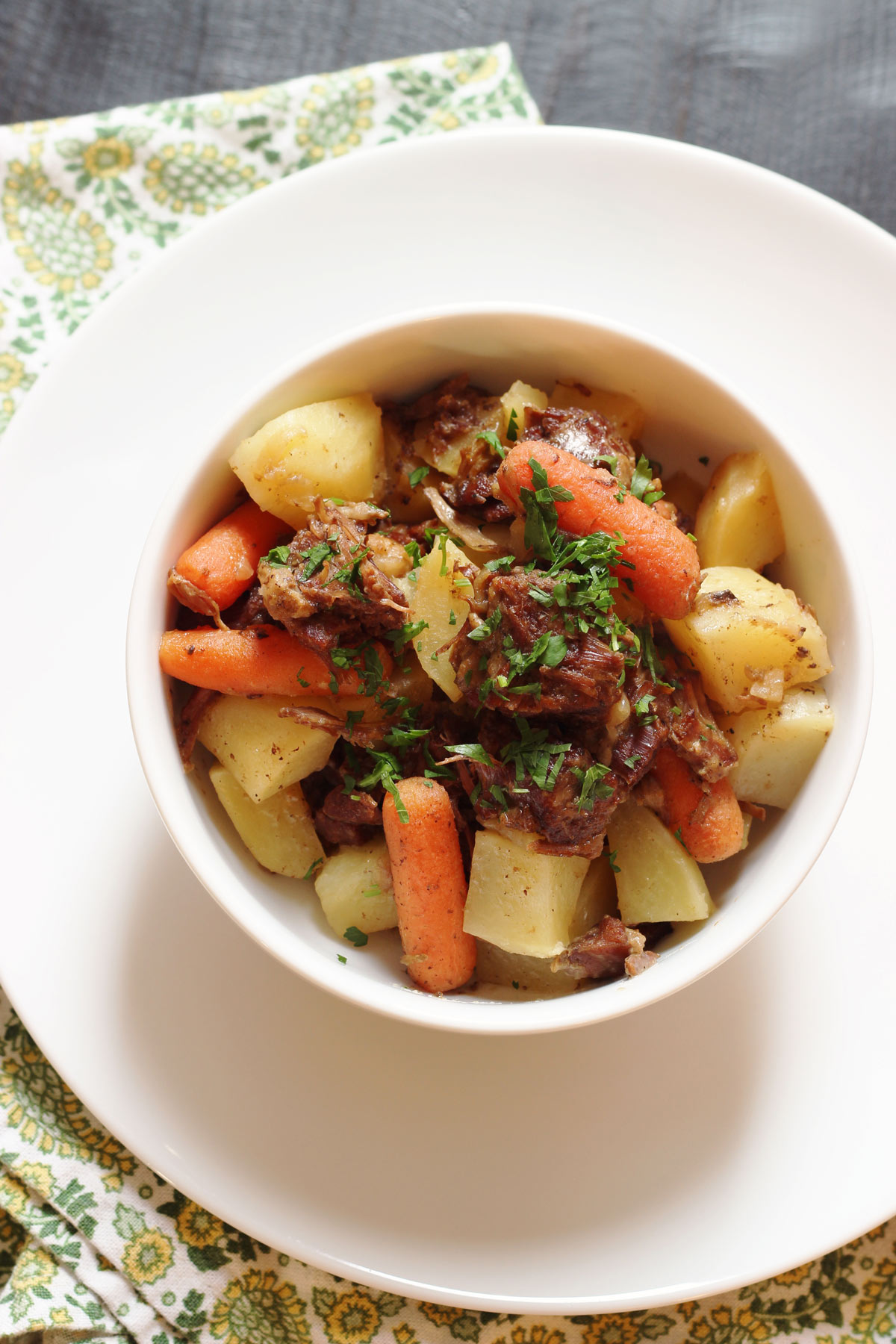 The biography tells the story of Patrick, how he was kidnapped by Celts, how God saved him, how he escaped from Ireland, and how he later returned to Ireland to preach the good news of Christ. It's a great read aloud. (Though it's really heavy on Christianese which annoys me, so I edit heavily as I read.)
While I think that leprechauns and rainbows are fun, and I have been known to buy a box of Lucky Charms for St. Paddy's Day, I prefer to focus on the real story or spiritual significance behind a holiday or special occasion. It makes any celebration we do a little more interesting and genuine.
By now my kids all know that Patrick lived very simply; for many years he was enslaved by a Celtic chief, working as a shepherd. Later he lived a humble life of a clergyman, shepherding a different kind of flock.
I imagine that this stew might be something like what he might have eaten.
So, for our St. Patrick's Day celebrations, we enjoy Irish Stew and Soda Bread. But we also love our Whole Wheat Beer Bread. If I'm feeling extra "splurgy," I might buy Irish butter or Dubliner cheese to go with. (Costco sells both of these made by Kerrygold. ALDI has their own brand.) For dessert, I go apple with an easy Apple Crisp or a Slab Apple Pie.
And sometimes, when I want a variation, I make this Guinness Beef Stew that is also amazingly good. It's got mushrooms and stout to give it a twist of flavor.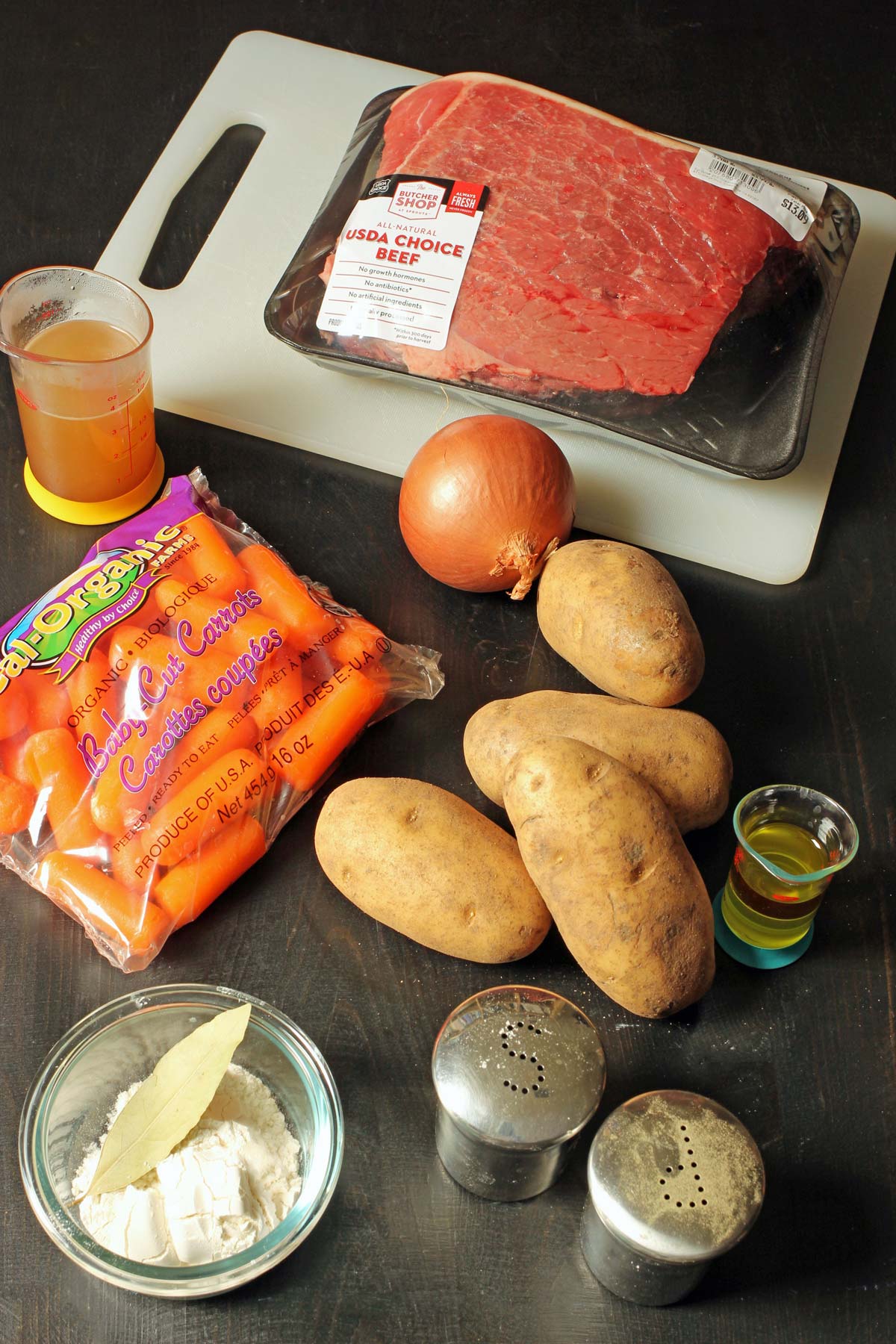 What is Irish Stew?
This stew is simple to make and it's more or less authentic to the occasion. Tradition would say to use lamb in Irish Stew, but that's not super cheap or readily available in the States, so I use a chuck roast instead. Truly authentic Irish Stew consists of mutton, potatoes, onions, and parsley. Sometimes it has carrots, like here.
Ironically, I'm using what I have (beef), just like Irish-American immigrants did so many years ago when they adopted Jewish corned beef to replace the pricier bacon to go with cabbage.
You do what you can, right?
Since beef is more readily available here in the States, I'm only going to address beef for this recipe.
What are some traditional Irish meals?
Traditional Irish meals and recipes include Irish Stew, colcannon, Dublin coddle, champ, brack, farls, and boxty.
My friend, Gale, born and bred in Northern Ireland, and I have discussed this at length. Here are some of her favorite recipes: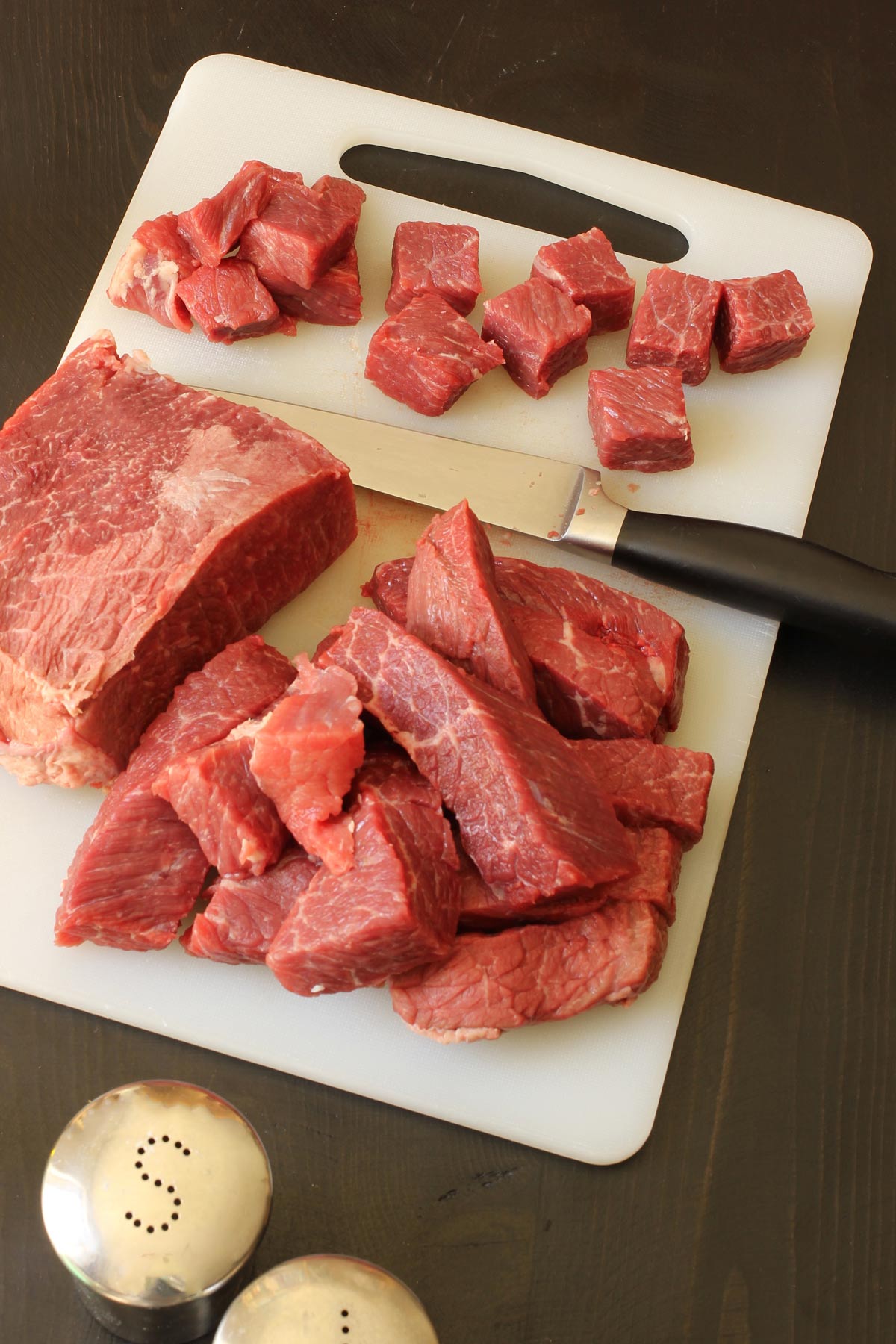 What meat do you use in stew?
The best beef cuts for stew are not those marked "stew meat" at the grocery store. That's typically rubbish. I've never had a good experience with those.
Instead, use beef chuck or beef cross rib roast. These cook up super tender in stews.
How do you make Irish Stew?
Irish Stew is pretty simple, containing few ingredients and cooking in the slow cooker. I cube the beef and toss it in flour, salt, and pepper. You can omit the flour if you are cooking gluten-free, but it does a great job thickening up the gravy.
Saute the beef cubes in a bit of oil in a skillet until well browned. Then transfer the meat to the crock of a slow cooker.
Saute chopped onion in the drippings left in the pan and add those to the slow cooker. Add some beef broth and a bay leaf and cook for several hours until tender.
Add the vegetables in the last two hours of cooking so that they don't get super mushy. You can add them earlier; just know that they will have a much softer texture come serving time.
I leave the baby carrots whole and chop the potatoes rather large, but you can chop them how you like them. You can also use whole carrots and chop those. Stir the veggies into the pot and cook until tender.
Is Irish Stew easy to make?
This stew is super easy to make! Watch this video to follow the process:
Here are some tools I use to make things super easy:
Is Irish Stew expensive to make?
Stew has been considered "peasant food" for ages as it usually features cheaper cuts of meat that benefit from long, slow cooking. The big ticket item here is the meat, especially if you're going to use lamb. However, even beef prices have been pretty high these past few year.
Consider these strategies to reduce your costs for making Irish Stew:
I buy the meat when it's on sale. In fact I stock up and buy several packages at a time so I always have some in my freezer. Hint: watch your grocery sales as beef chuck roasts and steaks often go on sale this time of year.
Likewise, watch the sales for good prices on potatoes and beef broth. While not "expensive", they can get pricey in certain seasons.
Use up your leftovers! This stew stretches beautifully with more broth and veggies. So, if you've got just a portion or two left, know that you can stretch it to feed more.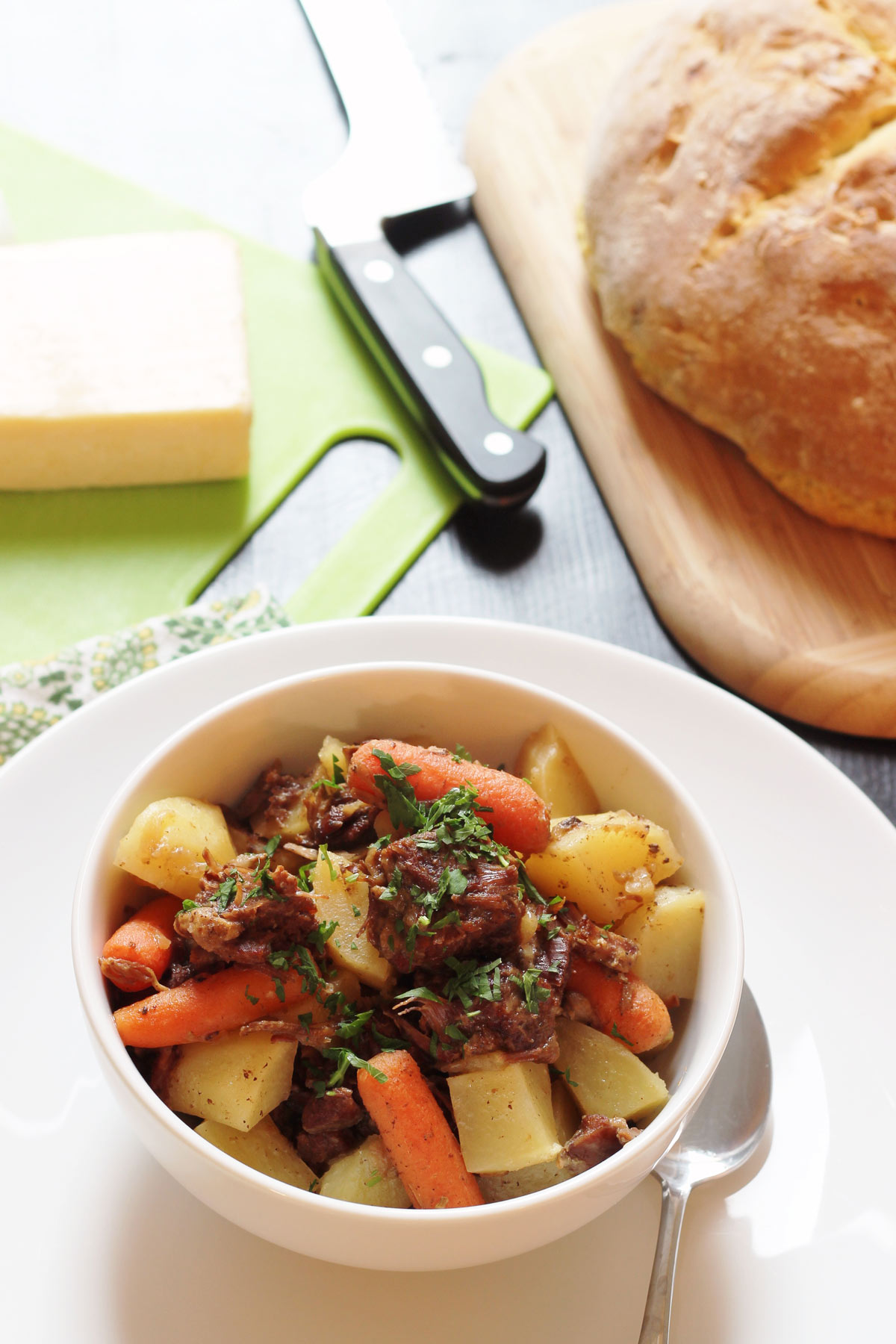 If you prepare this recipe, be sure to share a picture on social media and hashtag it
#GOODCHEAPEATS
. I can't wait to see what you cook up!
Irish Stew Recipe
A classic Irish Stew is simple and flavorful. It comes together easily with hearty chunks of meat, potatoes, and carrots. And it brings ultimate comfort.
Ingredients
2

lb

boneless, beef chuck roast

cut into 1-inch cubes

¼

cup

unbleached, all-purpose flour

1

teaspoon

salt

½

teaspoon

black pepper

2

tablespoon

olive oil

1

onion

finely chopped

½

cup

beef broth

1

bay leaf

2

cup

baby carrots

4

russet potatoes

peeled, and cut into 1-inch chunks
Instructions
Place the beef cubes, flour, and salt and pepper in a large ziptop bag or bowl. Seal and shake to coat all cubes with flour or stir gently.

In a large skillet, heat oil until shimmering. Add the beef cubes and brown on all sides. Do not crowd meat in pan. Do this in batches if your pan is not large enough to accommodate all the meat at one time. As the meat browns, remove it to crockpot.

Add the onions to the drippings in skillet and sauté until tender. Add the onions to the crockpot.

Stir in the beef broth and bay leaf. Cover and cook on LOW for four hours.

Add the carrots and potatoes and stir gently to combine. Cook on LOW for another two to four hours or until meat and vegetables are tender.

Adjust the seasonings with salt and pepper to taste.
Notes
To freeze: cool the stew completely. Wrap, label, and freeze in an airtight container. Reheat on the stovetop or in the microwave before serving.
Note: the stew can also be cooked on the stovetop. Simmer on low for 2 to 3 hours until the meat is tender, adding the vegetables in the last 30 minutes of cooking.
Promptly store leftovers in an airtight container in the refrigerator, for up to 3 days.
Nutritional values are approximate and based on ⅛ the 

recipe.
Nutrition
Calories:
329
kcal
|
Carbohydrates:
20
g
|
Protein:
25
g
|
Fat:
17
g
|
Saturated Fat:
6
g
|
Cholesterol:
78
mg
|
Sodium:
475
mg
|
Potassium:
920
mg
|
Fiber:
4
g
|
Sugar:
2
g
|
Vitamin A:
4428
IU
|
Vitamin C:
14
mg
|
Calcium:
65
mg
|
Iron:
6
mg
Tried this Recipe? Tell us what you think!
Your reviews help us develop better recipes and give newcomers the confidence to try your favorites. Scroll down to leave a starred comment.
This post was originally published on January 8, 2015. It has been updated for content and clarity.