Enjoy a delicious and easy morning meal with these Breakfast Burrito Ideas. With so many different filling options, you'll be set for some great breakfast recipes and meal prep combos.
This is a great recipe that uses a lot of eggs. Consider making a big batch of Homemade Turkey Breakfast Sausage and Roasted Peppers and Potatoes to take your breakfast burritos to the next level.
Jump to:
Looking for a make ahead breakfast that everyone can enjoy? You've got it right here.
Not only will these Breakfast Burrito Ideas soothe the rumbling tummy, but there's also something for everyone's tastes.
Those with simpler palates can enjoy eggs and cheddar cheese while the more adventurous ones in the bunch can roll salsa, hash brown potatoes, bacon, and all kinds of sautéed vegetables along with the eggs in a large burrito-sized tortilla.
There are so many great Breakfast Burrito Ideas, you'll never be bored.
Why Make This
It's so good! Everybody loves breakfast burritos for a hearty and tasty first meal of the day. Mix and match these breakfast burrito ideas for a fun weekend breakfast burrito bar or pre-made breakfast burritos to enjoy throughout the week.
Yes, make ahead! Many of our favorite Breakfast Burrito Ideas can be made ahead, so that you can mix and match them every morning or even meal prep a few burritos to refrigerate or freeze:
Ingredients
Here's the basics of what you'll need. Be sure to scroll down for fillings and great breakfast burrito recipes: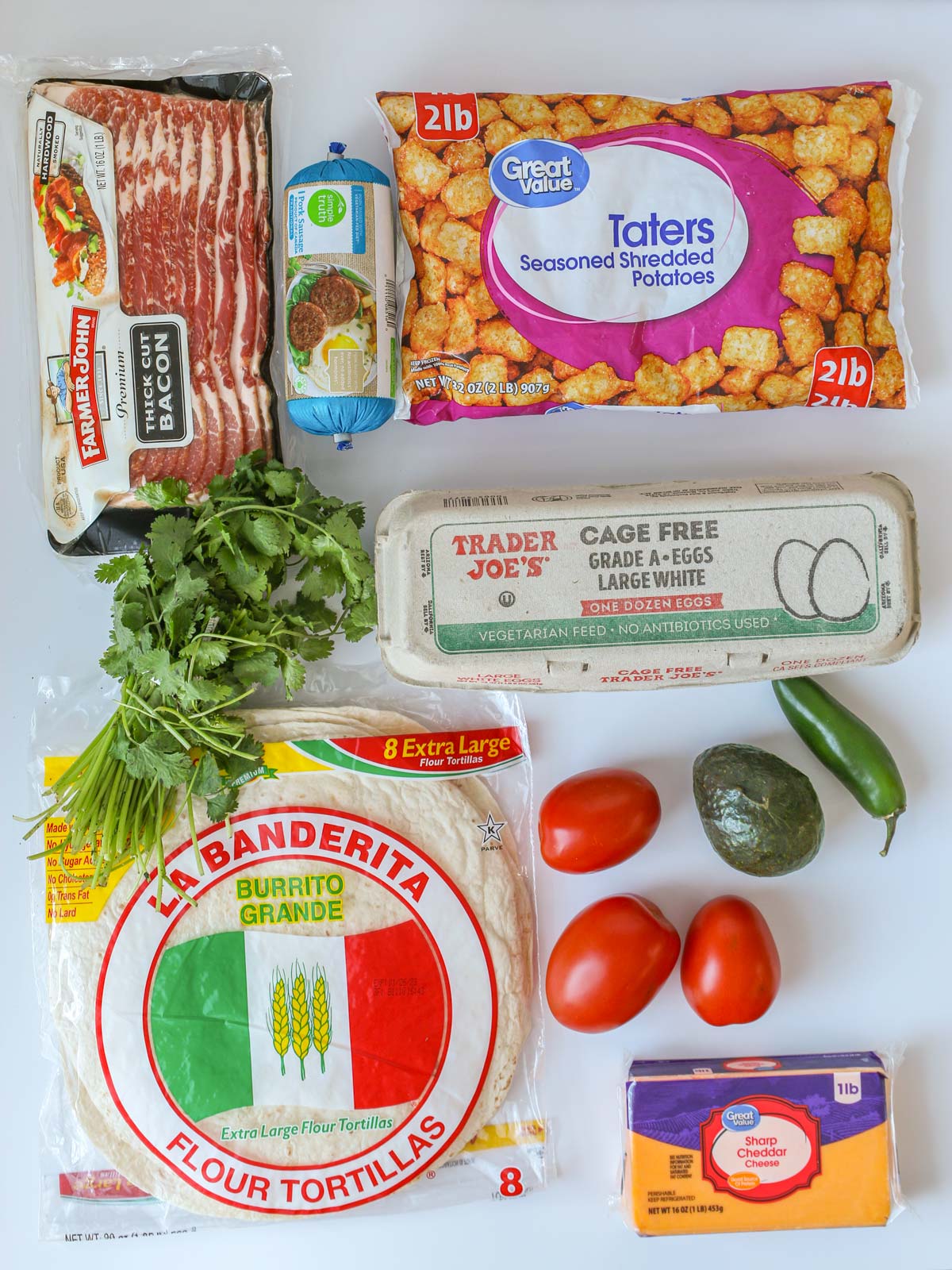 flour tortillas – For the best breakfast burritos, get the really large burrito-size tortillas. If you have a Costco Business Center near you, you may even find jumbo, local tortillas that the nearby taco shops use.
egg – You can serve scrambled eggs, squares of egg bake, or even fried eggs in your breakfast burritos recipes. Know that you can also omit eggs and meat altogether and still have a great vegetarian or vegan breakfast burrito. Got extra eggs? Be sure to check out our recipes for what to make with eggs.
potatoes – Cooked potatoes are a cheap and easy filling. You can choose hash browns, Skillet Home Fries, French fries, and even leftover boiled potatoes chopped up. Surprisingly tater tots are really good in breakfast burritos and cook up quickly!
cheese – Whatever cheese you like on tacos will be great: monterey jack cheese, cheddar, pepper jack. If you have leftover Jalapeno Cheese Dip, that's super yummy as well.
beans – Beans are an easy, affordable protein. You can use pinto, refried, or black beans. Be sure to scroll down for our foolproof recipes.

breakfast proteins – This could include cooked bacon, breakfast sausage, or chopped ham. If you have leftover taco meat, carne asada, pulled pork, or carnitas, those Breakfast Burrito Ideas are all delicious as well as a great way to avoid food waste. Level up with shrimp or fish. For a meatless option, try sautéed tofu with Taco Seasoning Mix. Remember you can freeze ham leftover from a roast ham; package it chopped and ready to add to breakfast burritos.
veggies – Sautéed or steamed vegetables are delicious in breakfast burritos. You can use Fajita Vegetables as well as Sauteed Mushrooms, roasted poblano peppers, roasted red peppers, and sauteed spinach. Corn and hominy are also good additions.
salsa – Use your favorite red or green salsa, pico de gallo, or hot sauce. A drizzle of Enchilada Sauce would not go amiss.

sour cream – Sour cream or Greek yogurt are great for adding a little creamy goodness to your breakfast burritos. You can also use this tasty Yogurt Dill Dressing that's delicious on fish tacos.
guacamole or avocado – You can make this easy 4-Ingredient Guacamole or simply chop fresh avocado.
Step-by-Step Instructions
Here's how to make Breakfast Burritos: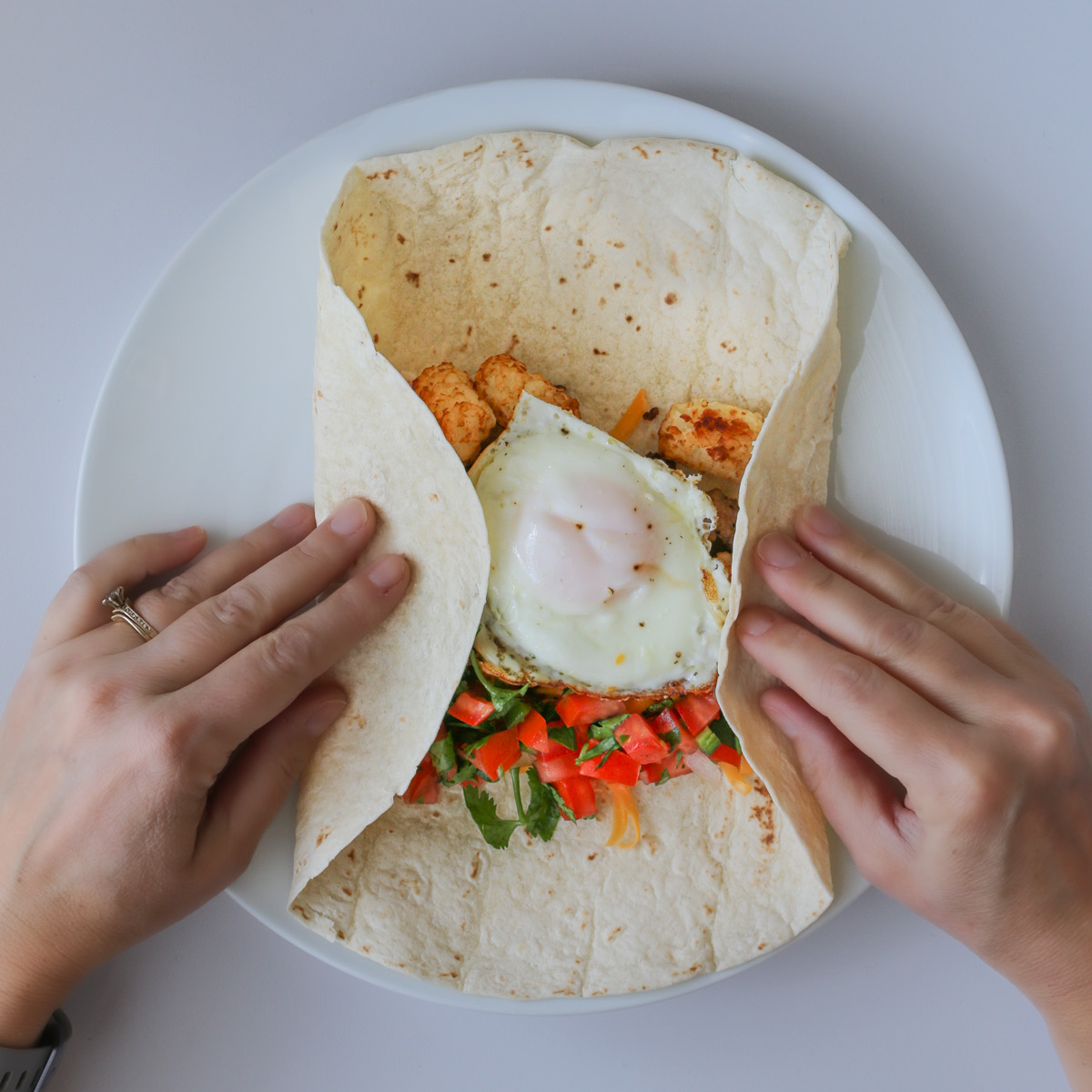 Lay out the tortillas on a worksurface.
Place the fillings of choice in a line down the middle of each tortilla.
Fold over one side of the tortilla, tucking it under the filling slightly. Fold up the sides and continue rolling until a tight burrito is formed.
If desired, crisp the burrito on a hot, dry skillet until browned and crispy.
Serve immediately.
To freeze:
To convert any of these breakfast burrito ideas into frozen burritos, be sure that all ingredients are cold! This prevents the tortilla from getting soggy prior to freezing.
Assemble the burritos as directed with cold ingredients. Avoid ingredients you might not want to reheat, like guacamole.
Wrap the burritos in square deli papers and store in a freezer bag in the freezer.
To reheat: place one wrapped burrito in the microwave and cook for 2 to 3 minutes until hot. Be careful of hot spots. Crisp on a hot skillet, if desired.
Note about freezing eggs: Eggs will change texture under freezing. Test with one egg burrito to see if you like this texture change. Otherwise, make breakfast burritos without eggs.
FAQs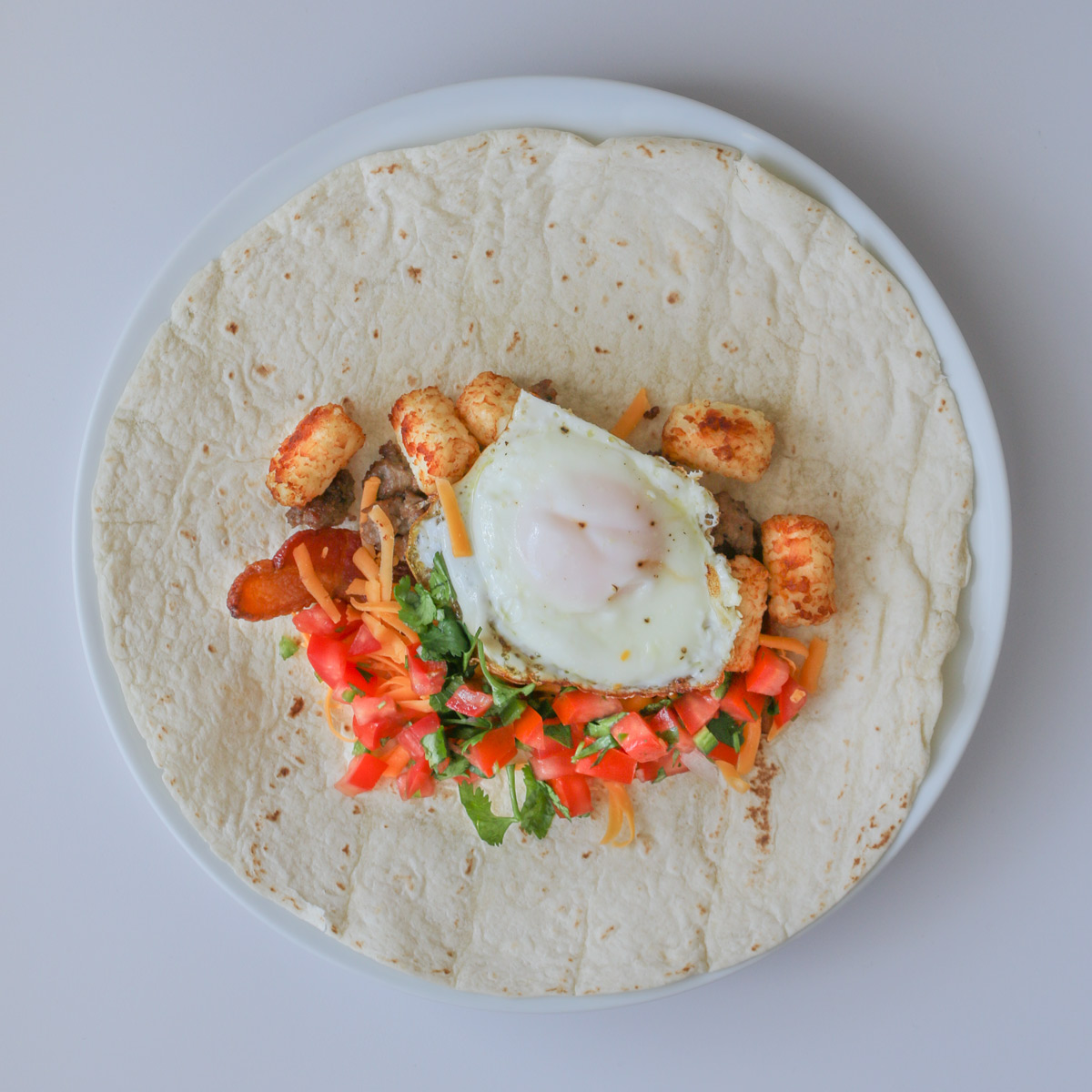 Filling Ideas
The following are all great breakfast burrito ideas that you can make in advance and reheat to fill tortillas with.
Eggs
While the price of eggs has increased, they are still a fairly affordable protein. In some cases, cartons of egg whites are cheaper and can help you stretch your egg purchase.
Potatoes
Potatoes are one of the heartier Breakfast Burrito Ideas. The best method is to make double at dinner one night and use the leftovers the next day. Easy-peasy.
Beans
While you might not normally enjoy beans for breakfast, they are delicious tucked into breakfast burritos. Consider these homemade bean recipes:
Meats
Any meat, not just breakfast meat, can go in your burritos!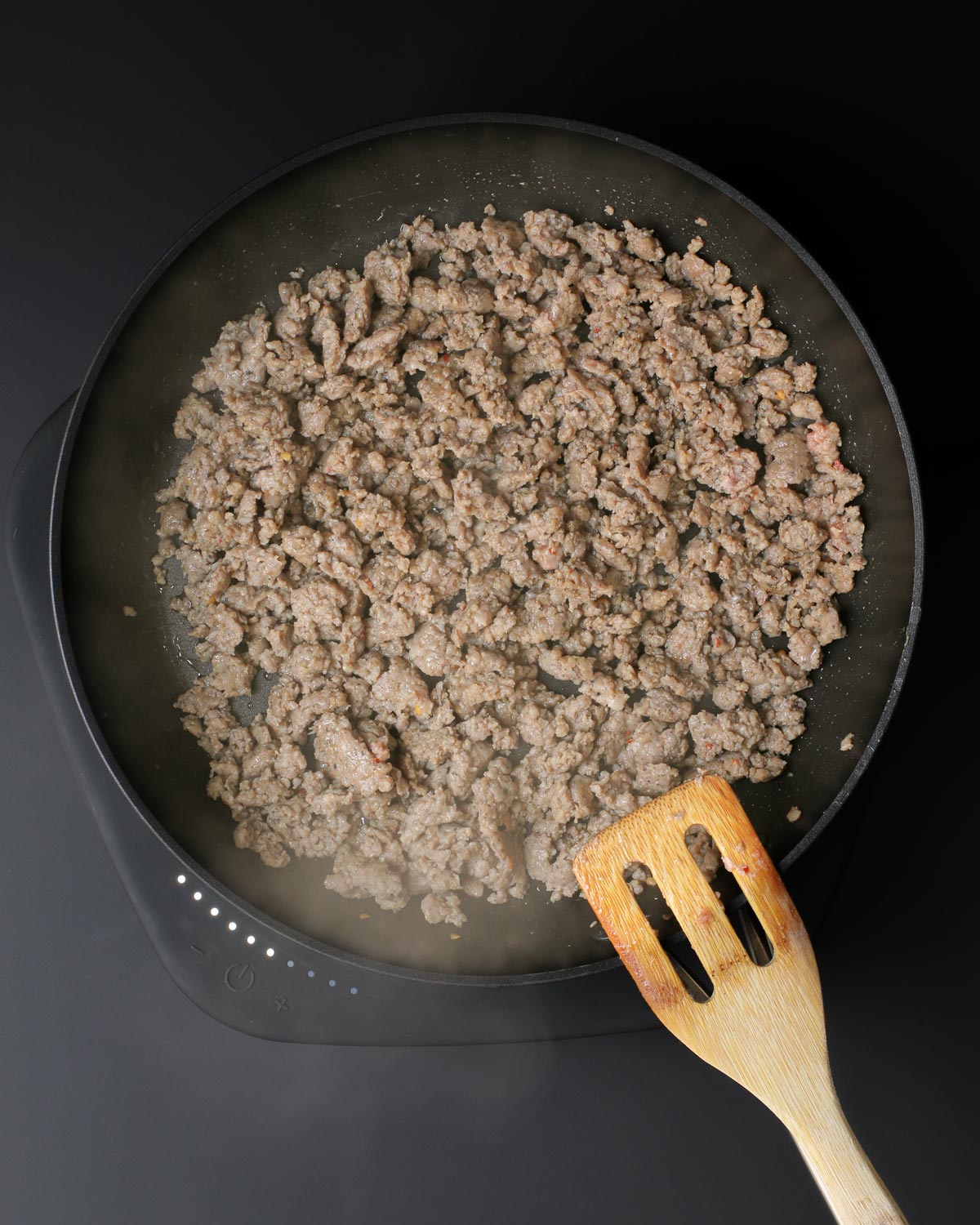 Veggies
Vegetables add freshness and fiber to your breakfast burritos. Again, breakfast burritos are a great catch-all recipe for leftovers to help you avoid food waste.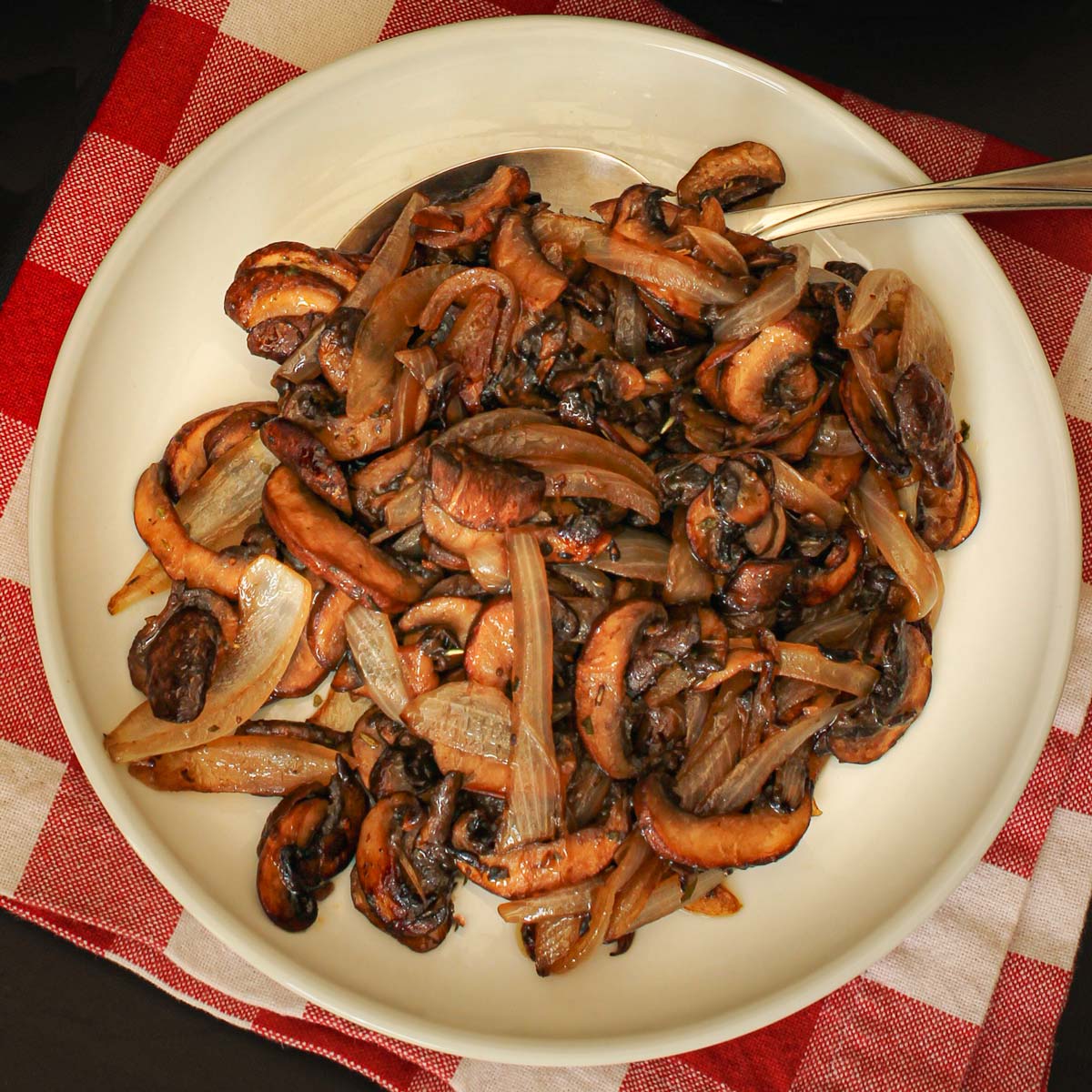 Sauces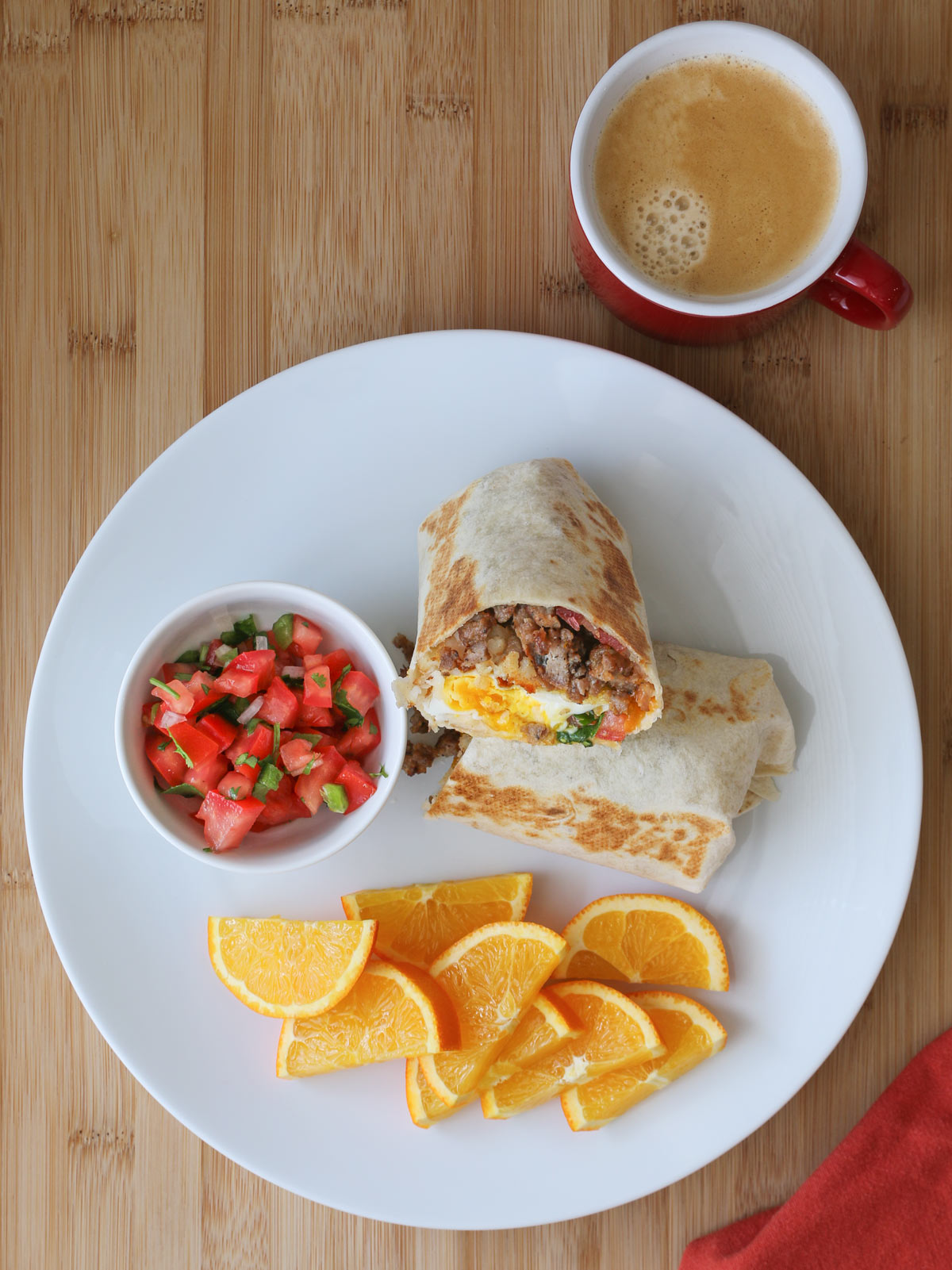 This post was originally published on December 9, 2012. It has been updated for content and clarity.