Everybody loves breakfast burritos for a hearty and tasty first meal of the day.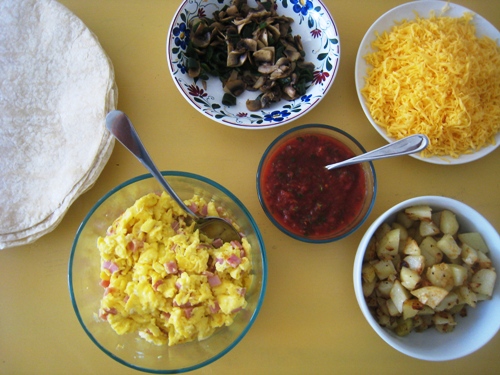 The chances are good that you'll have occasion to feed people breakfast over the next month. It might be extended family visiting for the holidays, friends passing through on their way to their family, or simply the peeps who live under your own roof who want to eat a morning meal.
Serve up a hearty breakfast burrito bar.
Not only does this meal soothe the rumbling tummy, but it also has something for everyone. Your simple diners can enjoy eggs while the more adventurous ones in the bunch can roll cheese, salsa, home fries, and all kinds of sauteed vegetables along with the eggs in a large burrito-sized tortilla.
Many of the items can be made ahead like the salsa and sauteed vegetables. Have one person man the eggs while another fries up the potatoes. Breakfast will come together in no time flat.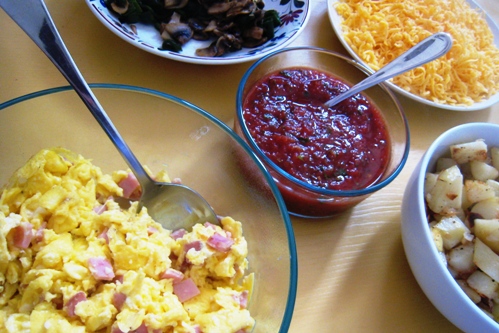 Breakfast Burrito Bar
Ingredients
8

egg

scrambled and cooked

1

batch

Seasoned Home Fries

8

oz

cheddar cheese (shredded)

1

cup

salsa

1

batch

sauteed mushrooms

onions and chopped chiles

4

burrito-size flour tortillas

fillings for burritos

, such as: sour cream, avocado, chopped green onion
Instructions
Lay out all the items on a counter or bar area and allow diners to assemble themselves.

Alternatively, you can prepare them all and wrap them in waxed paper or aluminum foil to stay warm. Watch this video if you're not sure how to roll a burrito.
Notes
Nutritional values are approximate and are based on 1/4 of the recipe. Refrigerate leftovers promptly and use within 4 days.
What else would you add?