If you don't love to cook, I'll help you troubleshoot why. A daily necessity doesn't need to be drudgery.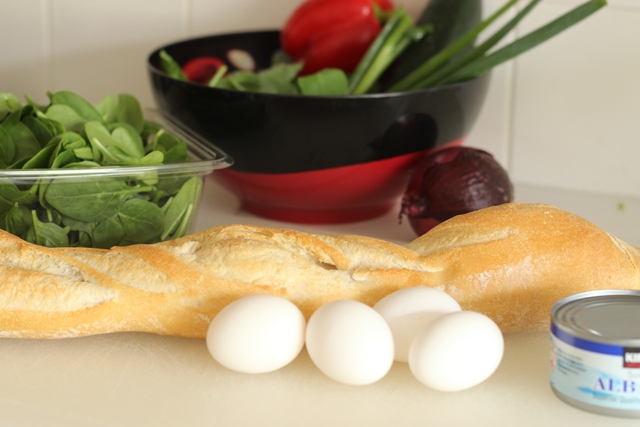 I'm always a little taken aback when someone says they don't like to cook. Certainly, they like to eat. Most people I know like to eat. Why don't they like cooking?
As I think about it, though, I get it. I liken it to my dislike for sports. What? Hockey mom doesn't like sports?! No, not really. The lady who goes to the gym doesn't like sports? Um, no.
Here's why:
I typically don't know what it's all about.
I'm no good at it.
I'm too embarrassed to try and fail.
I'm guessing that those same feelings might fuel someone's dislike of cooking.
Let's return to the sports analogy. Over time, or the last four years, I've attended my sons' hockey games, I've watched the Kings on TV, and I've asked questions about the sport. I still don't know all the ins and outs of the game, but at least I have a clue.
Having a clue helps you like something more.
Last June after my chiropractor said my back and hip would probably never get better if I didn't start working out and strengthening my core, I went to the Y and asked for a tour of the fitness center. (Again, getting a clue.) Cesareo, the gym guy, set me up on the machines and showed me how to use them. And then I went, every day for three months. I didn't lose any weight, but I gained stamina and comfort in an athletic setting. I wouldn't say I'm good, but I'm not bad when it comes to exercise.
Developing a skill helps you like something more.
I want to encourage my children in their hobbies and pursuits. I want to feel better about the only body I have. Those two things were important enough to overcome my pride and embarrassment in order to learn and get better at something quite foreign or distasteful to me.
Seeing the value in something helps you like it more.
Did I feel like an idiot walking in the first few days and weeks? Yes. I assumed everyone knew what a green horn I was. But, I realized people don't really care.
Do I feel dumb at hockey games when I don't see if it was my kid or another who made the goal? Yes, but it happens to every parent, even the hockey experts. It doesn't really matter. I'm there.
I don't hate sports like I did as a child, partly because I've learned something, I've practiced a bit, and I've swallowed a bit of my pride.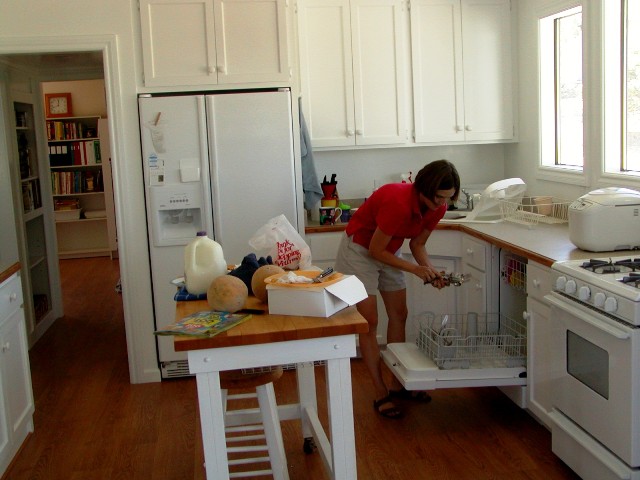 The same holds true for cooking. You want to eat, I would guess. And you want to save money. Cooking at home will save you a ton of money. Cooking from scratch will save you even further. These are reason enough to try harder, learn more, and inevitably get better at it.
Liking the process? Well, that's icing on the cake. Since I love to cook so much, I want you to love it, too. Or at least like it. It doesn't have to be a duty or a necessary evil.
Learn, practice, and fear not the mistakes, my young padawan.
That said there are some things that you can do to help you enjoy the cooking process more. They aren't typically time consuming or expensive, but they pack a powerful punch in your experience in the kitchen. I asked the Good Cheap Eaters on Facebook what helps them. You can read their answers here.
Here's my list of things that make cooking more enjoyable: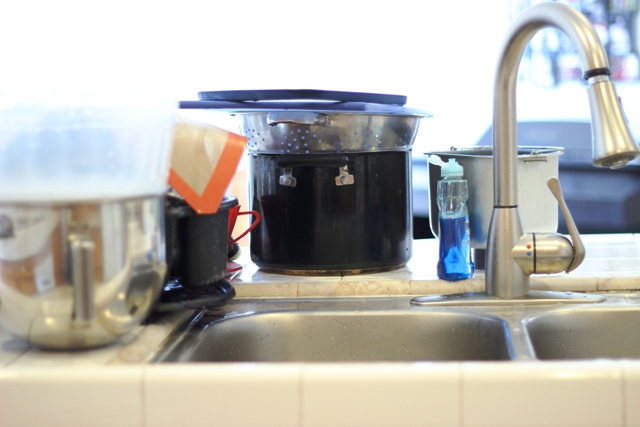 Start with a clean kitchen.
Cooking in a messy kitchen is no fun. It's cluttered, not to mention there's some germ potential going on. You'll be more efficient and have more fun if you cook in a clean kitchen.
If I have to clean the kitchen before I even start, it really takes the wind out of my sails. That's just no fun. Ideally, the kitchen is cleaned and spotless when I shut it down after the last meal. If your housemates are continually making more messes, time to establish some kitchen rules.
Beautifying your clean kitchen with good lighting, some fresh flowers, and relaxing music is a bonus. Make the room pleasant to be in and you'll be there more often. That is a good thing because it means more good cheap eats!
Sharpen your knives.
Sharp knives make meal prep go quickly, safely, and without a lot of fuss. A few years ago we bought a knife sharpener. Every so often, my husband takes care of all the knives for me. This weekend I was able to chop through a bowl full of vegetables in about six minutes. I had a tidy work space, sharp knives, and a trash bowl. It was a total breeze!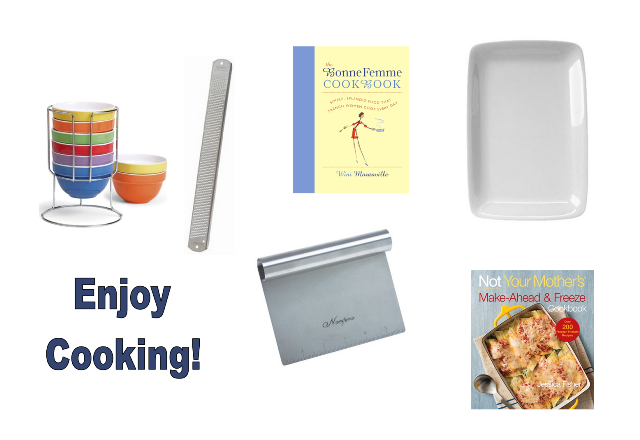 Get a new gadget, cookbook, or dishes.
Sometimes you just need a little boost of something fun. A gadget, cookbook, or a new dish might cost about ten bucks, but if it gets you back in there and cooking more at home, then I say it's worth it.
My husband, a construction guy, insists that you must have the right tools. It does make all the difference. Is your potato peeler the pits? Then get one that works super well, like this one. It makes the job so much easier, and even fun.
Some favorites of mine?
Make something difficult easier.
Chances are that when something is hard, it's less fun to do. If you can make it easier, well, you increase the fun in the thing.
What cooking task is hard for you? Google it and you will find a myriad of solutions and tricks. C'mon, you'd be surfing the net anyway. Put that time to good use and figure out how to make things easier on yourself.
If you don't really know how, there are lots of ways to learn to cook without taking a class. Even something as simple as cutting apples in a new way can make the task easier and more likely to happen.
Know what you have.
If you don't know what you have in your kitchen in terms of ingredients, it can make meal prep difficult and complicated. If you take inventory, however, and are aware of what you have on hand, you've equipped yourself with knowledge that helps you steward your resources economically as well as be more on your game when it comes time to prepare a meal.
Experiment.
Any good cook will tell you that he or she has had lots of bad experiments. I've burned things, forgotten ingredients, and made many an icky mess in the kitchen. That comes with learning. It's all about the process.
My wise husband tells his carpenters, "If you're not making mistakes, you're not trying hard enough." It's okay to fail in the kitchen. Just learn from those failures. Use them to teach you kitchen skills and what not to do next time.
We learn through experimentation. So experiment.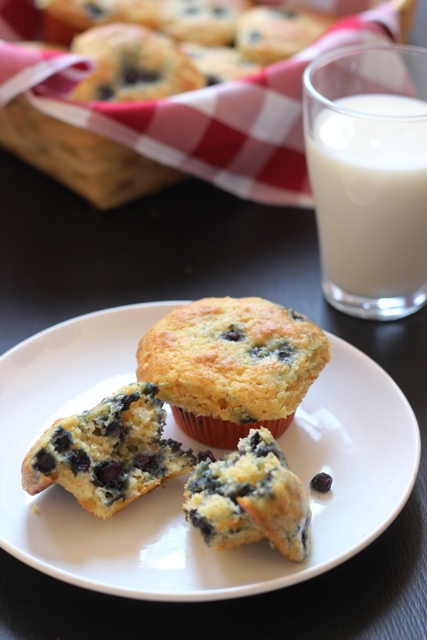 Give yourself more time.
Are you rushed all the time in the kitchen? Do you find yourself grumpy and fumbling because you're in a hurry? Lots of people who dislike cooking, put it off, but then they feel rushed, make mistakes, and hate the experience.
Do your cooking in a low-stress time slot. If you know that your family needs to eat by 6, then start the process at 4. You'll have ample time to read directions, assemble your ingredients, and take the relaxed approach to cooking. You'll probably enjoy it more.
Take a class.
I've never taken a formal cooking class, but I worked in commercial kitchens in college and grad school. My supervisors had taken plenty of cooking classes. Their job was to train me how to do the task efficiently and safely. Who knew that this would serve me so well so many years later? I wonder what grumpy old Norbert would say now!
If you can't get "on the job" training, then consider taking a cooking class. See what's available from your rec center, community college, or other local institution.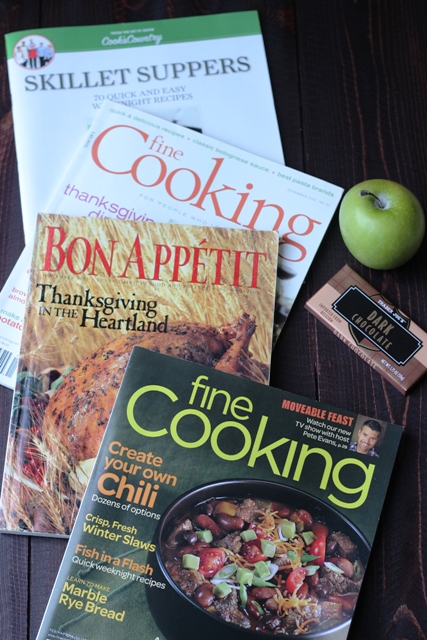 Subscribe to a good magazine.
I'm a good reader. I remember a lot of things that I read. I was still in college, over 2o years ago when I started reading magazines like Bon Appetit. I learned a lot about food from reading the magazine and then trying out the recipes. If you prepare enough recipes, you start to see common themes and techniques among them.
About 15 years ago, my mother-in-law gifted me Fine Cooking. I had found my happy place! I love, Love, LOVE that magazine. I recently restarted my subscription and am thrilled to expand my repertoire.
Another good one that I've enjoyed over the years is Cook's Country. They really explain to you why an ingredient or technique works or why it fails. It's definitely an educational resource.
Read a good cookbook.
Cookbooks are not just collections of recipes. At least not good ones. They are compendiums of knowledge about their particular subject within the realm of food.
Think about something you love to eat, like bread or pie. Look to see what kinds of cookbooks there are on bread or pie. Chances are good that you will receive a veritable cooking class worth of information about how to bake a great loaf or pie.
Read the book, especially the early chapters. They are generally packed with info, tips, and tricks you could benefit from.
How do you feel about cooking?
Love it or leave it? If you fell in love with cooking, how did that happen? If you're not sold on it, tell us why?