Cinnamon Toast is a comfort, isn't it? Make snacking croutons with dry bread for a good cheap eat.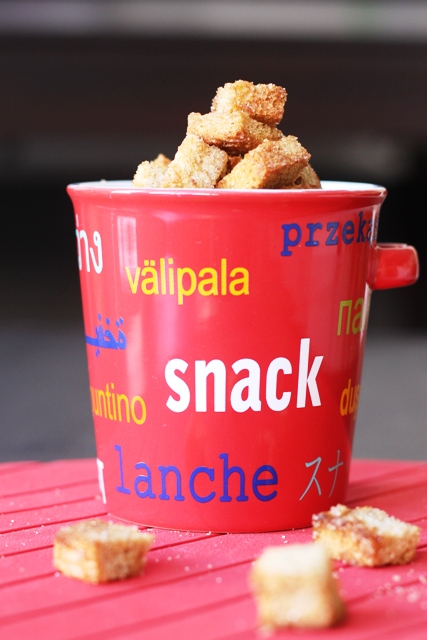 At the beginning of the Pantry Challenge, I cleaned out the freezers and inventoried what we had. That amounted to quite a few heels from sandwich bread. Those are generally the last pieces to be eaten around here. I typically make them into bread crumbs or regular croutons or even Garlic Cheese Croutons.
This time, however, I decided to make Cinnamon Toast Croutons. They were just as easy to make as standard croutons, but they provided us with a crunchy, sweet treat. My husband thought they were weird, but that didn't stop him from coming back into the kitchen every few minutes or so for another handful.
He thought I should use fresh white bread. Then they'd be "over the top", said he.
They also wouldn't have as much nutrition as whole wheat bread or as much of a frugal aspect as using up dry bread. Save the fresh bread for a yummy sandwich. You can tell who's the good cop around here, can't you?
This recipe is a great way to use up bread that is too dry for a sandwich or the heels if your family is lukewarm to eating them. FishBoy13 probably ate what his father didn't get to first. He suggested eating them with milk, like cereal. We haven't tried that yet. If you do, let us know.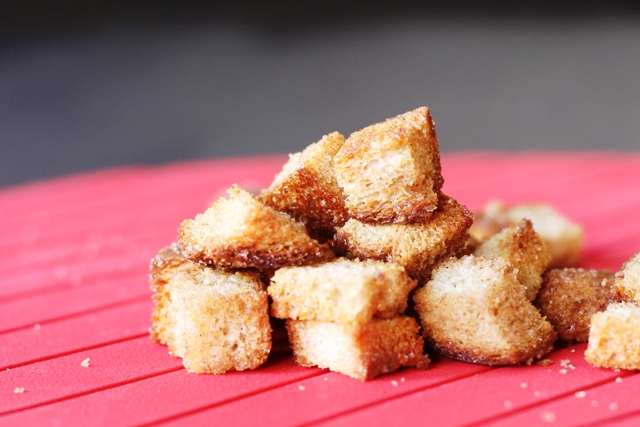 Recipe: Cinnamon Toast Croutons
Ingredients
8 cups cubed bread
1/4 cup vegetable oil (I prefer sunflower)
1/3 cup sugar
1 1/2 teaspoons ground cinnamon
1/2 teaspoon ground ginger
Instructions
Preheat the oven to 375°. Line a sheet pan with parchment paper or a silicone baking mat.
In a large bowl, combine the bread cubes and oil. Toss to coat.
In a smaller bowl, combine the sugar, cinnamon, and ginger.
Sprinkle 2 to 3 tablespoons (or more, if desired) of the sugar mixture over the bread cubes. Toss to distribute evenly.
Toast the bread cubes in the oven for 10 to 15 minutes, stirring occasionally. Cook until crisp. Sprinkle with more cinnamon sugar if desired.
Cool completely and store in an airtight container.
Preparation time: 5 minute(s)
Cooking time: 15 minute(s)
Number of servings (yield): 8
You might also like: