These no-bake cereal bars make for an easy snack. They are a tasty one, too, with millet and coconut to give substance and flavor.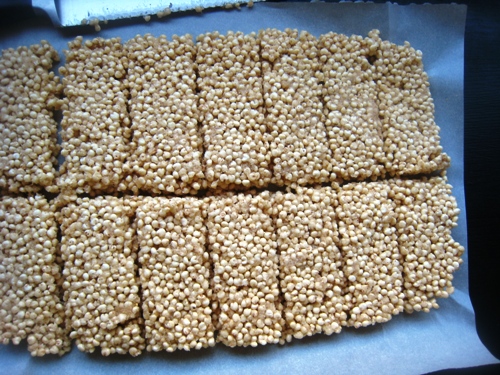 For the last few months I've been playing with variations of no-bake cereal bars. The kids have eaten untold numbers of bars as I try different combinations of brown sugar and honey, different puffed grains, different flavor combinations.
This most recent mixture of coconut and puffed millet was a big hit. The bars were gone within a day.
I think we have a winner.
I find puffed millet at my local health food store, sold in bags in the cereal aisle. I can usually get the bags on sale for about a dollar, making this a fairly reasonably priced snack.
Once the bars have cooled, I wrapped them in plastic wrap to keep them moist and help them hold together a little better. I stored them in the fridge, but I don't think you need to if you'll eat them up in a few days.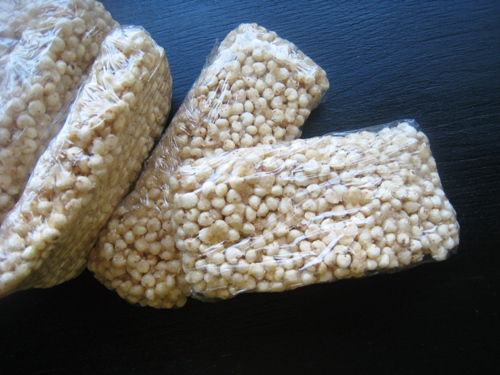 Recipe: Coconut-Millet Snack Bars
Ingredients
1/2 cup unsalted butter
1/2 cup brown sugar
1/2 cup honey
4 cups puffed millet
1 cup unsweetened shredded coconut
Instructions
Line a 9×13-inch baking pan with parchment paper.
In a large heavy pot, melt the butter. Add the sugar and honey and cook, stirring, until the sugar is dissolved. Remove from heat.
Stir in the millet and coconut. Mix well to distribute the sugar mixture throughout the cereal and coconut.
Press the mixture into the prepared pan. Allow to cool completely.
Remove the bars from the pan by grasping the edges of the parchment and lifting the entire piece out of the pan.
Slice into bars and wrap in plastic wrap.
Preparation time: 10 minute(s)
Cooking time: 2 minute(s)
Number of servings (yield): 14