Sunbutter acts as a great replacement for peanut in this quick noodle stirfry. Quick, easy, and oh-so good!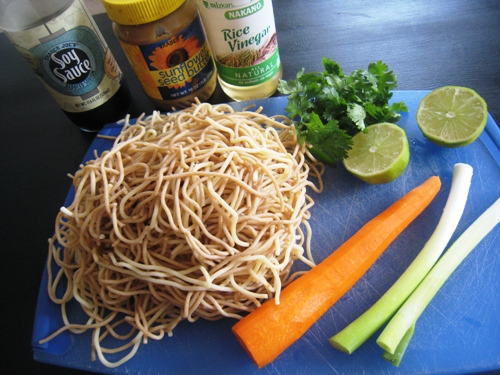 This recipe is by far one of the quickest to pull together. Not only does it use up little bits of leftovers in your fridge, but it's quick to prepare and it tastes great.
As part of our Pantry Challenge, I'm spending more time in the kitchen than I normally do, trying to make sense of the random bits we have about. Yesterday's lunch was just that.
I had a few large handfuls of leftover spaghetti. It was half and half whole wheat and white pasta. The fam didn't really go for the half and half. But, I realized that night that it needed stronger flavors to combat that wheatiness. It reminded me of buckwheat noodles I'd bought in the past for an Asian dish. So that was the direction we went.
And it was lovely, very much like the Peanut Butter Chicken that inspired it.
Peanut butter, or even almond, would be a lovely, more economical substitute for the sunbutter. This one, however, is for those with nut allergies, like my daughter, so I used sunflower seed butter. A little soy sauce, a splash of Nakano natural rice vinegar, and the juice of one lime add plenty of flavor and moisture to make this a delightfully light lunch or summer supper.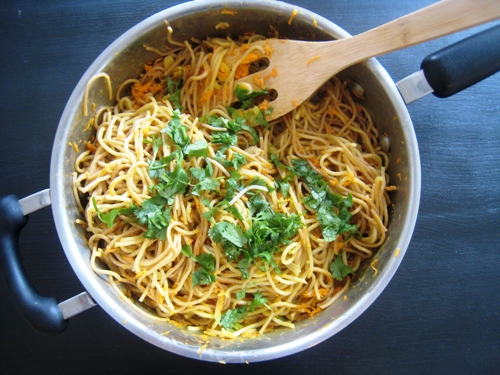 Recipe: Quick Sunbutter Noodle Stirfry
Ingredients
1 tablespoon sunbutter
1 tablespoon soy sauce
1 tablespoon rice vinegar, like Nakano natural
juice of 1 lime
1 tablespoon oil
1 carrot, shredded
2 scallions, chopped
4 cups spaghetti, cooked and drained
1/4 cup chopped cilantro
Instructions
In a small bowl, whisk together the sunbutter, soy sauce, rice vinegar, and lime juice. Set aside.
In a large skillet heat the oil. Add the carrot and scallions, and cook, stirring, about 1 minute.
Add the noodles and sunbutter sauce. Stir, cooking, until sauce is well distributed and noodles are hot through.
Toss with cilantro.
Serve hot or cold.
Preparation time: 5 minute(s)
Cooking time: 5 minute(s)
Number of servings (yield): 4
Disclosure: Nakano has provided me with sample product as well as compensation for my time spent writing this post. All opinions are my own. You can read more about Nakano and other simple ways to dress up everyday foods on their Facebook page and on twitter. And don't forget to check out their pins on pinterest.