Take an inventory of the ingredients you already have to help you make a meal plan that makes good uses of your resources.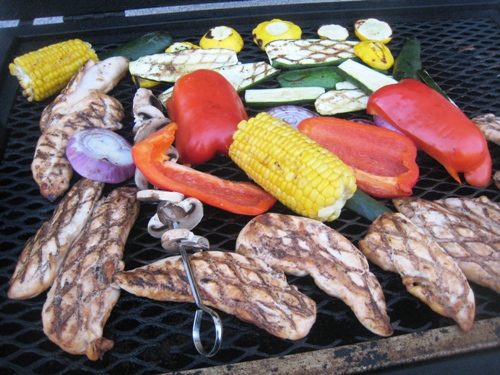 There are many ways to approach meal planning. When I was a young newlywed, I just wrote a list of things that sounded good to me. When I shopped, I added to this list, by throwing into the cart whatever looked good as I strolled the grocery aisles.
After all, we had two incomes, no kids, and lots of disposable cash.
This method resulted in a lot of waste. I paid more than I needed to by buying ingredients at full price instead of stocking up on them when they were on sale. Since I overbought, I ended up throwing a lot away. I would forget the vegetables in the crisper until they were unrecognizable goo. I would find baking mixes well past their date because I'd stashed them in the pantry and then neglected to use them.
I had a plan back then. But, it didn't work well. It didn't make the best use of our resources and it was wasteful.
I think some of the best meal plans are the ones that use up what you have. I love seeing an empty fridge when it means we've been eating things up and not tossing them in the garbage because we neglected to use them in a timely manner.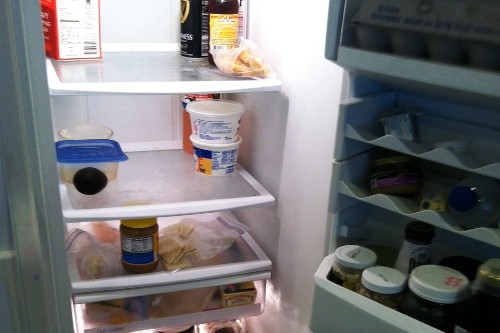 Take Inventory
So, this week's assignment in meal planning is to examine the contents of your fridge. You can simply make a list or use this pantry inventory sheet to help you. Write everything down so that you know what you have at your disposal. Do the same thing for the pantry  and the freezer.
By keeping track of what you have you can make a more workable plan for the week's meals.
Here's a snapshot of what I've got on hand:
In the fridge
2 pounds sharp cheddar
2 pounds medium cheddar
sunbutter
4 eggs
2.5 pounds butter
1 head broccoli
2 heads lettuce (romaine, green leaf)
5 canteloupe
3 avocado
half a bunch of celery
2 limes
1 jalapeno
1.5 gallons of milk
1 quart of whipping cream
yogurt
Asiago cheese
pepperoni
5 tortillas
cream cheese
pickles

In the pantry
3 cans black beans
4 cans chick peas
1 can tuna
1 can chicken
rice (Arborio and brown)
quinoa
couscous (Israeli and whole wheat)
pasta
taco shells
5 onions
chili peppers
1 rice cakes
popcorn
2 sauerkraut
rice papers
8 cans tomato sauce
8 cans diced toms
lots of canned pumpkin (still!)
baking mixes (2 waffles, 1 scone, 1 muffin)
cereal
oats
Saltines
dried fruit (cranberries, raisins)
nuts and seeds
chocolate chips and other baking candy
lots of jam!
oil
spices, herbs, vinegars
regular baking staples

In the freezer
ice cream
maseca
butternut squash puree
lemon juice
pork chops
chicken breast
pork loin roast
pork tenderloin
frozen fruit (apples, plums, nectarines)
frozen yogurt lumps
herbs (lemongrass, thyme, dill, oregano)
gravy
chicken broth
vegetables (spinach, corn, zucchini)
beans
a few lunch items for work
crushed tomatoes
marinara sauce
mozzarella cheese
a few bread halves
frozen apples for Oven-Baked Apple Compote
Mahi Mahi fish pieces (yes, that's how Trader Joe's labeled it)
Now that I have a basic inventory of what I have, I can make the week's meal plans using what's already here.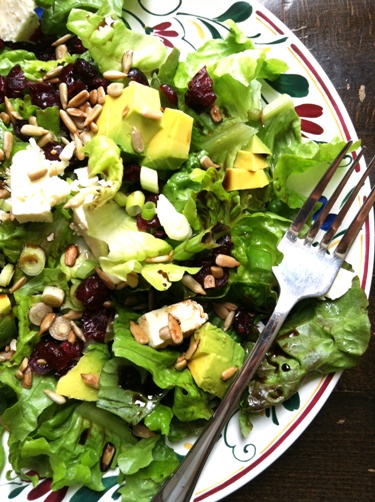 Create meals from what you have.
We pretty much have a lot of proteins on hand, so I shouldn't have to buy much more except to add variety to our meals. The produce box comes on Wednesday, but I'll need a few supplies before then. I do plan to shop because the Mother Hubbard feeling makes me feel unprepared. We've got some wiggle room in the budget, so it'll be okay.
Since this is a real live week with real live groceries, here's my plan:
Breakfasts
Lunches
For the kids:
For the parents:

Dinners
Grilled Pork Tacos on Homemade Corn Tortillas, Green Salad
Chili (with Pork, Beans, and Vegetables)
Fish Kababs with Rice and Veg, Mango Salsa, Salad
Greek Chicken Salad on Homemade Pita Breads
So, that's my meal plan for the week, mostly using what we have. But, I do have a list of groceries to pick up as well:
milk
eggs
fruit (bananas, pluots, mangoes)
sandwich bread (or bake my own)
veg (carrots, cukes, peppers, mushrooms, zucchini)
potatoes
ground beef
But, it's a relatively short list, and if it weren't for wanting some variety in our meals, I could probably go with a shorter list.
The overall point here is that if you work from what you have, you'll have a better workable plan and you'll make good use of the resources you have.
How do you typically plan meals?