Welcome guests with some goodies! These snacks are quick, easy, and just a little bit elegant.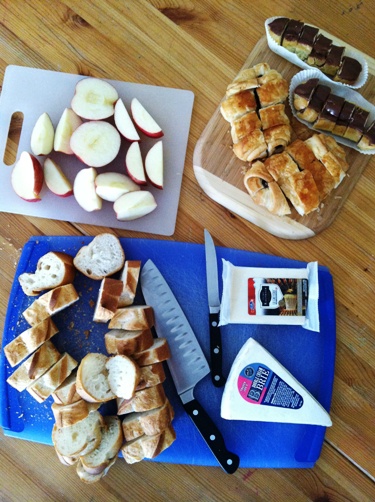 Last week I had the opportunity of welcoming two very favorite people into my home. My littles and I headed down to the airport to pick up Stephanie and Amy. On the way home we stopped at the French bakery for some baguettes. I threw in a few chocolate croissants and eclairs for good measure. I knew I had cheese, apples, and drinks at home.
Instant feast!
My husband and the other boys joined us for a little afternoon noshing. It was so easy, so elegant, and so tasty. If I do say so myself. The Kaltbach Gruyère that Emmi sent me was amazing. Amazing. The double-creme brie I bought at Trader Joe's wasn't too shabby, either.
You don't have to be tricky to make some delicious snacks to welcome your guests. Consider these options:
fresh baguette
chocolate croissants
eclairs
a variety of cheeses
apple slices or other seasonal fruit
sparkling water, wine, beer, or juice
olives, pickles, and other pickled vegetables
Pull out a bunch of cutting boards to slice it all up and serve from. Place salad plates on the table. Pour out the glasses.
That's all there is to it!
What are your favorite snacks to serve to guests?
Disclosure: Emmi sent me a package of cheese to try. It was amazing. Really.