Warmer weather means that soups give way to salads. Enjoy this hearty pasta salad and celebrate the retreat of winter.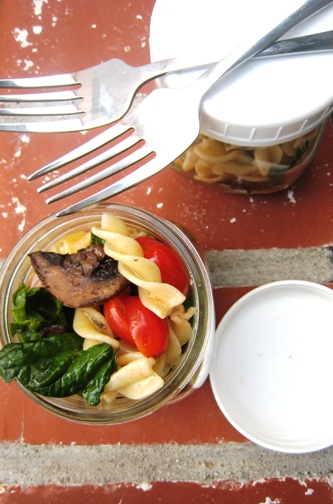 I am a salad girl at heart. From the salad bar to the epic Caesar, I love filling up on chilled, fresh greens, savory dressings, and whatever goodies I can find while rummaging in the fridge or pantry.
My people, mostly males aged 8 to 50, have a little harder time wrapping their heads around salad as a meal. But, I've convinced the elder Mr. Fisher that salad, if liberally dosed with pasta and/or protein, does count.
This salad brings together dark leafy greens, umami-touched mushrooms, juicy tomatoes, and hearty pasta. It's perfect for packing or simply enjoying out on the patio.
This particular version is meatless as well as dairy-free. You can easily add grilled steak, chicken, or shrimp to make it heartier. A sprinkle of parmesan would not be amiss. If you want to ditch the gluten, sub in some rice pasta. It's all good.
And it's perfect for the upcoming hot summer days.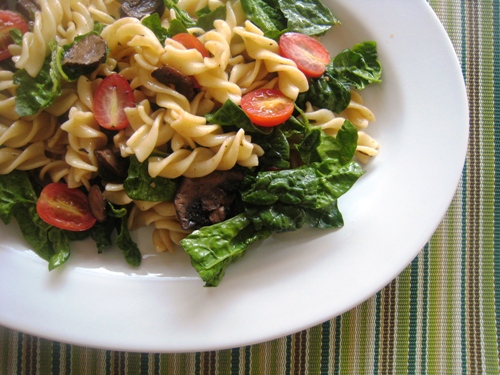 The mushrooms in this recipe are roasted in the oven, allowing you free hands to stir the pasta and whisk the dressing. If you'd rather not heat the oven, feel free to saute the mushrooms quickly on the stove top.
Take advantage of summer tomato sales to reduce the cost of this dish. And keep an eye open in the produce section; spinach and mushrooms are often marked down in order to move them quickly.
Recipe: Spinach Pasta Salad with Roasted Mushrooms
Ingredients
8 ounces thickly sliced baby bella mushrooms
2 tablespoons olive oil
1 teaspoon chopped garlic
kosher salt and pepper to taste
1 pound fusilli
1/4 cup white wine vinegar
1 teaspoon fresh thyme
1/2 teaspoon kosher salt
1/2 teaspoon smoked paprika
1/8 teaspoon freshly ground black pepper
1/4 cup olive oil
4 cups spinach, washed and torn into bite sized pieces
10 ounces grape tomatoes, cut in half
Instructions
Preheat the oven to 400 ° . Line a rimmed baking sheet with parchment paper.
In a large mixing bowl, combine the mushrooms, olive oil, and garlic. Season to taste with salt and pepper. Spread the mushrooms on the baking sheet and roast for 15 minutes. Remove from oven and allow to cool.
Cook the fusilli in a large pot of salted water, according to package directions. Drain and rinse.
In a small dish or jar combine the vinegar, thyme, salt, paprika, and black pepper. Whisk in the olive oil or add the oil, cap the jar, and shake vigorously.
In a large salad bowl, combine the pasta, mushrooms, spinach, and tomatoes. Drizzle with the dressing and toss to coat.
Serve chilled or at room temperature.
Preparation time: 15 minute(s)
Cooking time: 15 minute(s)
Number of servings (yield): 8