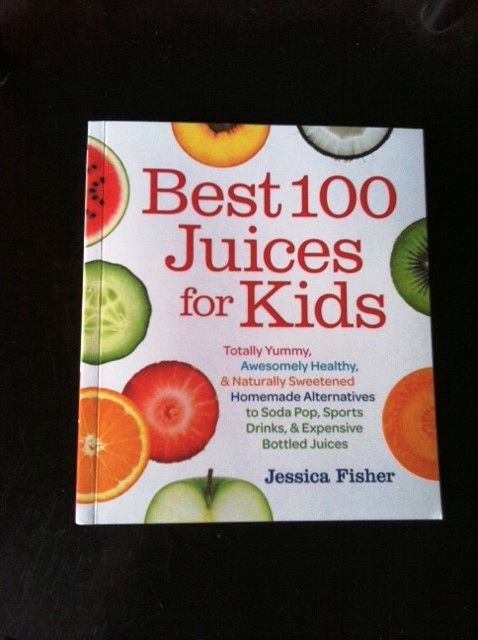 I've been contemplating for weeks how to do this whole book launch thing. You know when my first book (Not Your Mother's Make-Ahead and Freeze Cookbook) came out it was kinda anti-climactic. I didn't go on any book tours. Leno and Letterman didn't call. And my local bookstore didn't even have the book in stock the first few times I went to admire it on the shelf.
Over the last couple years I've observed other authors launch their books and create a lot of buzz for their new baby. Sometimes it's super effective and inspiring. And other times it's overkill. Quite honestly, sometimes I find the latter to be a little annoying.
I didn't want to be one of those authors. I never want anyone to feel like I shoved my book down their throat or tried too hard to get people to buy the book. As a blogger who produces free content and an author who produces content for sale, it's a hard line to dance. So, I've been thinking about how to celebrate this book's release.
Best 100 Juices for Kids
Here we are. Best 100 Juices for Kids: Totally Yummy, Awesomely Healthy, & Naturally Sweetened Homemade Alternatives to Soda Pop, Sports Drinks, and Expensive Bottled Juices is released today.
Newsflash: I'm not going on any book tour. Leno and Letterman both retired, didn't they? And my local bookstore? You guessed it. When I checked on Monday night, there was nary a copy in sight.
There may be a big bruhaha on the internets, or there may not. Regardless, this is still a "new baby" that we are celebrating at the FishHouse. When my advance copy arrived from the publisher a month or two ago, FishBoy11 read it from cover to cover that first day. That was so sweet!
He said he was flattered at how I had presented him to you. It's all true. My kids are fabulous; it's me who needs some improvement. Either way, a lot of my personality as well as the kids comes out in this book. It was a lot of fun to write because of that.
photo source: Sharon Leppellere
I suppose I haven't mentioned it, but I dedicated this book to the FishKids. They are my reason for many things in my life, juicing and sugar-free eating not withstanding. It was a family project in many ways. I couldn't have done it without them.
#juicesforkids
So, without doing that whole-overkill-blogger-wrote-a-book thing, here are a few other things you should know.
I started a series over on Life as MOM about Juices for Kids. If you're on the fence about making homemade juices or investing in a juicer, that series may help you figure some things out. You can read the first post on Life as MOM tomorrow morning.
You can get a FREE sample of the book here. The lovely folks at the Harvard Common Press created a sampler of recipes for you to try out.
I'd love for you to buy the book if you have a juicer. Sure, it's a book directed at kids, but hubs and I both agree that it's a book for kids of all ages. We enjoy the juices, sports ades, sparklies, slushies, smoothies, and ice pops as much as the kids.
If you don't own a juicer, you can still benefit from the book. Up to 25% of the recipes are made without a juicer. There's no added sugar other than a bit of honey or maple syrup in the sodas and ades.
You are an important part of this adventure. Thanks for being a faithful reader of Good Cheap Eats (and Life as MOM). There aren't books or blogs without readers. So thanks!
If you'd like to help out with this book launch thingy, I'd love it if you'd tell your friends about the book, request that your library purchase it, or share it on social media. (We're using the hashtag #juices for kids.)
Thanks so much for your support. I love my job. And you are big part of the why.