Create a formula for the week's meal plan to make meal planning simple and easy. You'll have a template to fill in each week for a quick menu plan.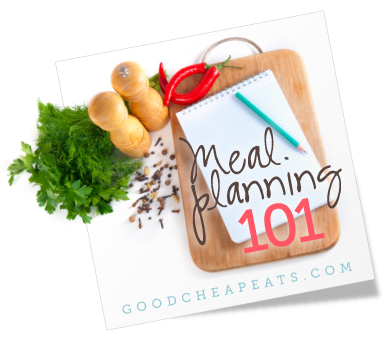 Meal planning is a proven means to help you improve your nutrition, increase quality family time, and save money. If you've got a meal on the table in a timely manner you eat well, have something to enjoy with friends and family, and avoid costly restaurant meals or excessive trips to the store.
Meal planning makes for good eats.
This past weekend I spent some time reorganizing the refrigerator, freezer, and pantry. An inventory helps me know what we have, what we need, and how to spend my kitchen time in the coming weeks.
Since the months are changing right now, I have fresh in my mind the status of our grocery budget and an inkling of the changes I want to make in our spending in the coming month. Meal planning plays a huge part in all that.
So far in the Meal Planning 101 series we've covered the following topics

Consider these Rules of Meal Planning:
Some folks don't meal plan. I haven't figured out what they do do, but readers have said that they don't. Others are pros. And the rest of us fall in the middle.
I've been planning my meals on a weekly or monthly basis for the last 18 years. And some nights I still go to the fridge and say "What are we going to have for dinner?" Some days I give in to the last-minute call to take-out instead of being more intentional about our dining experiences.
Clearly I've got room to improve. And maybe you do, too. If so consider these ground rules for meal planning:
1. The meal plan is there to serve YOU. If a certain meal turns out not to work on a given day, ditch it and go to Plan B.
2. If you don't like committing to Meal A on Monday, Meal B on Tuesday, then don't. Just create a list of 7-8 meals, make sure you have the groceries, and slap the list on the fridge. Cross off meals as you serve them.
3. Leftovers can make a meal. These items should be cooled and frozen right away or refrigerated and consumed within three days. Leftovers make easy lunches or the basis of a new meal altogether. Or just reheat and eat.
Create a dinner plan formula for the week.
One of my favorite strategies for meal planning is to use a formula of theme nights to determine what we eat on a weekly basis. This means that I choose a variety of meal types, decide in advance how often we'll have a certain type of dish, and just plug them into the different days of the week.
A meal plan for the week comes together quite quickly because I'm not putting a lot of thought into the whys and wherefores. I already have a formula. And it's so easy!
You can create a formula for meal planning based on ethnic flavor profile, protein type, or length of preparation/style of dish. Here's a sample plan for each one: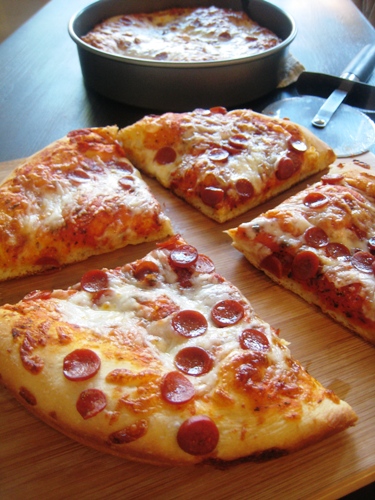 Ethnic Foods Formula
I like to mix up the flavor profiles of the foods we eat. We tend toward certain favorites, like Mexican and Italian, but I like to mix them up for variety. Here's how different ethnic foods can be dished up throughout the week.

Protein Type
Meal planning by protein type allows me to keep the price of our groceries in check. If we go meatless several times per week, we'll keep our costs low.

Length or Style of Preparation
Maybe your weekly meals are determined by the time you have to cook. I get that. We've got hockey two nights a week, date night one night, and one night where I'm away from the house. This makes for four nights when I don't want to or can't be in the kitchen. And that schedule determines what we eat.
Seasonal Themes
There have been other times when my formula or theme changed with the seasons of the year. Hot weather calls for sandwiches and salads, while colder temps and winter grocery sales call for more stick-to-yer ribs fare. Here are a couple examples.
My October Eclectic Plan
This month I want to be more organized in my shopping, cooking, and supper serving. So I created a new formula for October, that I'm calling the Eclectic Plan. 😉 I took into consideration all the different styles of themes, stirred in a good portion of freezer cooking, and am hopeful that this will help us eat well and stay on budget.
Mexican – Taco Bar
Rice bowls – Beans and taco night leftovers
Pasta/Polenta – with Vegetable Bolognese, Green Salad, Bread
Meat and Potatoes (feast night) – Roast Chicken, Couscous, Vegetables
Fish – Grilled Shrimp, Rice, Veg
Fish – Grilled Salmon with Almond-Lime Butter, Roast Potatoes, Veg
Sandwich/Soup/Salad Night – Grilled Cheese Sandwiches, Chicken and Barley Soup
Pizza Night
I planned a hypothetical eighth meal for back up. Because, really? Who are we kidding?
In addition to making a creative and varied "formula" for each week, I also put together a freezer cooking plan that will take me through the month, better able to stick to these themes as the month progresses. More on that later this week!
Do YOU have a formula for meal planning that works for you?