Enjoy a special, elegant dinner with this easy Creamy Garlic Shrimp Pasta with Sun-dried Tomatoes. It comes together quickly in 30 minutes, and the entire batch costs less than a restaurant meal for one!
Precede this delicious shrimp pasta dish with a Quick and Easy Caesar Salad and a basket of Homemade Baguettes. Top off the meal with Chocolate Coconut Bars or slices of Spiced Pear Cake for a complete meal that will rival your favorite restaurant.
Jump to:
Dinners out at a restaurant can be fun and delicious, but they can also be pricey. In fact, the cost of eating out is continuing to rise at a steady clip.
One of the hallmarks of Good Cheap Eats is to learn how to stretch your dollar and still enjoy fantastic meals. Making your own restaurant favorites at home is a great way to do this!
If Creamy Garlic Shrimp Pasta is one of your favorites, then you're in luck!
This pasta dish of tender angel hair noodles and garlic cream sauce is studded with succulent shrimp and sweet, sun-dried tomatoes. Topped with a shower of parmesan cheese, it's an elegant and decadent dinner, easy enough for every day, but special enough for holidays and celebrations.
Once you try this dish, be sure to try our other Easy Fish Recipes.
Why Make This
It's super quick. This make-at-home dish is easy and quick to pull together. In fact, you can easily whip up this Creamy Garlic Shrimp Pasta in less than 30 minutes! Definitely quicker than the drive to the restaurant and the wait to be seated.
Creamy Garlic Shrimp Pasta is so delicious. The last time I made this, most of the family was out. My teen son and I couldn't stop eating. This stuff is soooo good!
It's easy on the wallet to make Creamy Garlic Shrimp Pasta. Best yet, you can feed four to six people for the price of a meal for one out on the town! By my calculations, you should be able to prep this main dish shrimp pasta for less than $2 a person. Pair it with a salad, bread, and dessert, and you can easily serve a full course meal for about five dollars each!
Ingredients
Here's what you need to make Creamy Garlic Shrimp Pasta at home: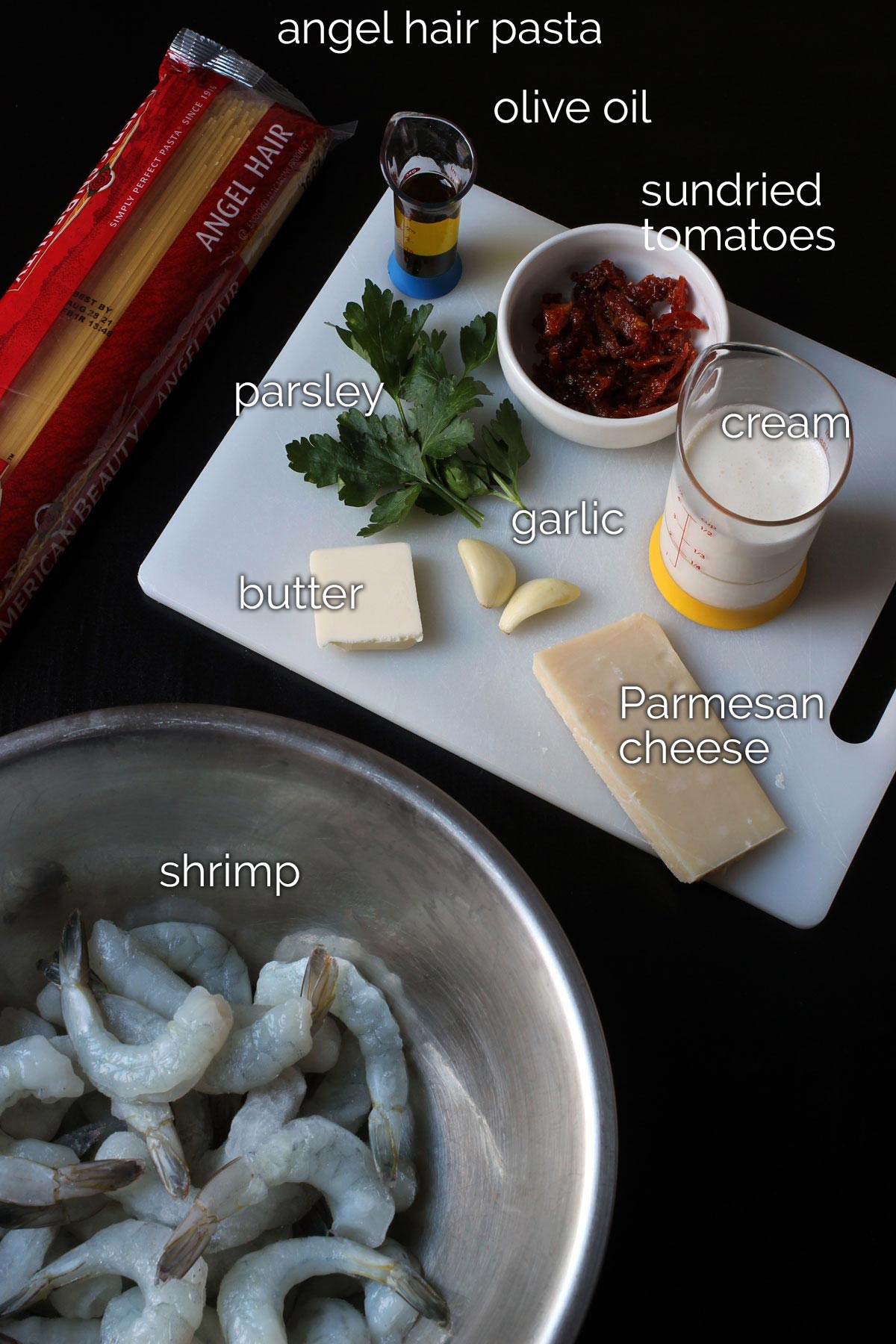 olive oil and butter – You can use all one or all the other. I like both for the flavor that they bring to this shrimp pasta dish.
garlic – Fresh cloves that you slice yourself are optimum here for maximum flavor.
cream – I use full fat whipping cream for best texture and flavor, but you can use half and half as a lighter and cheaper option. The texture of the cream sauce won't be quite the same, but it will still be tasty.
Parmesan cheese – For best results use freshly grated parmesan, asiago, or romano cheese. You can use preshredded or canned, but the flavor and texture will be slightly different.
shrimp – Shrimp will vary in size, price, and whether they come peeled or not peeled. Ideally, grab the easy-peel raw shrimp. This is typically sold frozen. Even the stuff in the fish counter was likely frozen before they put it on display, so buy the cheaper bag from the freezer section and thaw it in the fridge in a dish to catch the drips.
angel hair pasta – You can use any long strand pasta, but fine angel hair gives lots of room to absorb the garlicky sauce.
sun-dried tomatoes – These bring a tangy sweetness to offset the shrimp. You can use fresh tomatoes if that's what you have.
Variations
Feel free to toss in a variety of vegetables at the end while the shrimp is cooking. Good add-ins include frozen peas, finely chopped broccoli, chopped spinach, or drained artichoke hearts. You can also add diced ham or crisp bacon if you like.
Step-by-Step Instructions
Creamy Garlic Shrimp Pasta comes together in minutes! Here's how to do it: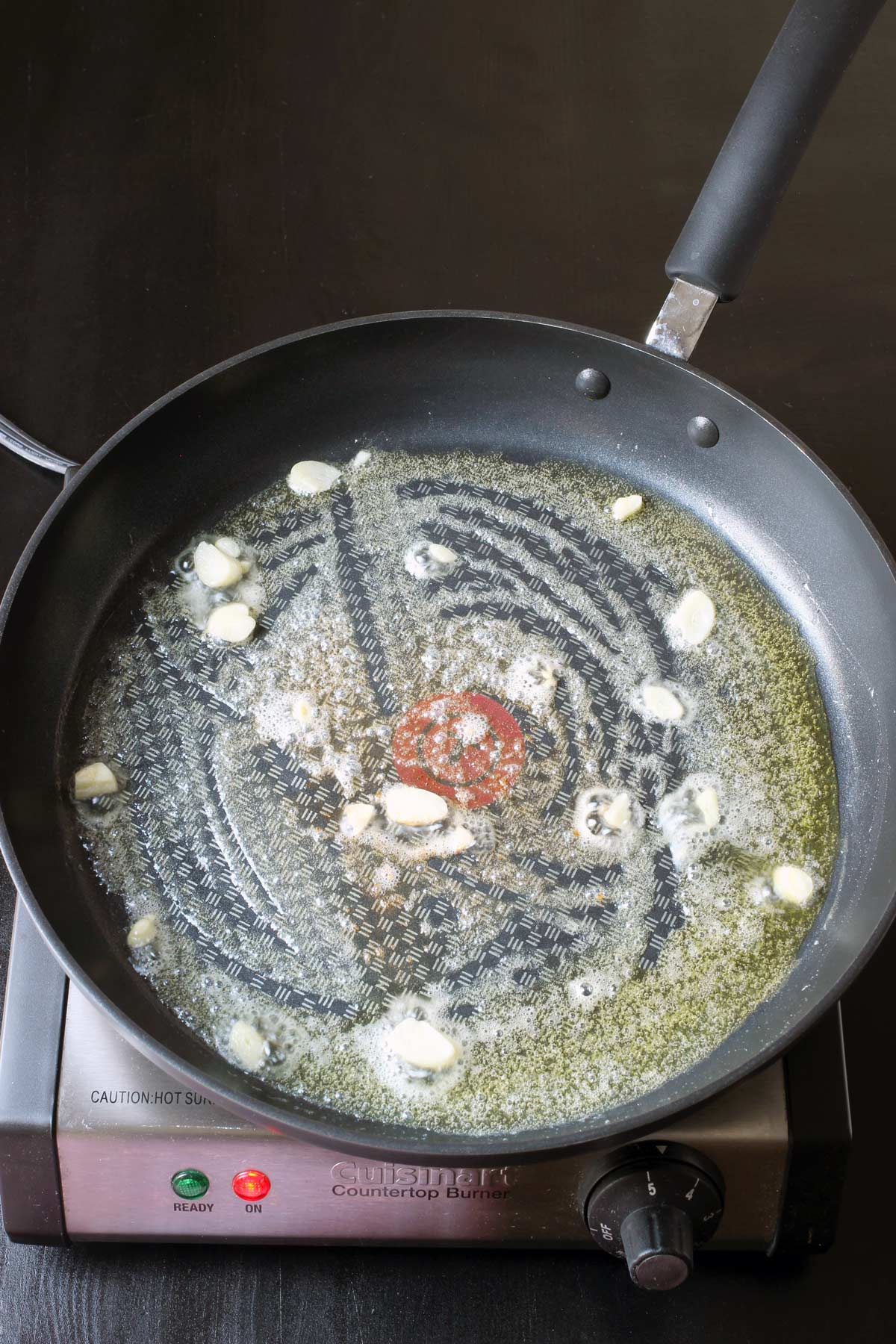 Lay out all your ingredients. Start the pasta cooking in a large pot of salted, boiling water. Angel hair cooks in about five minutes. Drain and set aside.
Melt the butter with the olive oil in a skillet. Add the sliced garlic and cook until fragrant.
Stir in the cream and sun-dried tomatoes. Add half the parmesan. Simmer for a few minutes to allow the flavors to meld.
Add the shrimp and cook, stirring, until the shrimp turns pink.
Add the cooked pasta to the sauce and toss until the sauce is well distributed in the noodles.
Sprinkle additional parmesan atop as well as the parsley. Serve immediately.
FAQs & Recipe Costs
What kind of cream is used for pasta?
Cream is an almost instant-sauce for pasta. Heavy cream is the best to use for pasta, though sometimes you can get away with simmering half and half or evaporated milk if you're looking for a little less richness and fewer calories.
How long does shrimp take to cook?
Shrimp is a very quick cooking protein. Add it to the hot skillet and watch it turn from translucent silver to opaque pink in about five minutes. You'll need to cook a little longer if you're starting out with frozen or very cold shrimp.
Can you make Creamy Garlic Shrimp Pasta with milk?
This is tricky. Cream does work best in a pasta sauce, but you can use milk. To thicken it's best to make a roux first of melted butter and flour (can be gluten-free baking mix) and then whisk in the milk. This will give you a basic white sauce that you can use as a substitute for cream in pasta dishes.
Recipe Costs
Knowing how much it costs you to prepare a recipe can help you decide if it's the type of recipe to make regularly or one you might want to save for special occasions. Let's crunch some numbers and see how this recipe pencils out.
Here's the cost breakdown for Creamy Garlic Shrimp Pasta
butter – $0.09
olive oil – $0.05
garlic – $0.10
cream $0.76
sun-dried tomatoes $0.40
Parmesan cheese $.75
shrimp $5.99
angel hair pasta $0.75
While your costs may vary depending on where and how you shop, you can expect to pay about $9.00 for a big batch of Creamy Garlic Shrimp Pasta, about $1.50/serving.
How to save even more:
Here are some of the strategies you can use to make this shrimp pasta recipe even more economical:
Stock up on ingredients when they are on sale. For instance, when I see a great price on shrimp, I snatch them up and plan my meals around them. Or fill the freezer so that I have it when I want it.
Compare prices. Keeping a price book can help you know a good deal when you see it as well as help you see patterns of which stores are best for you to shop at.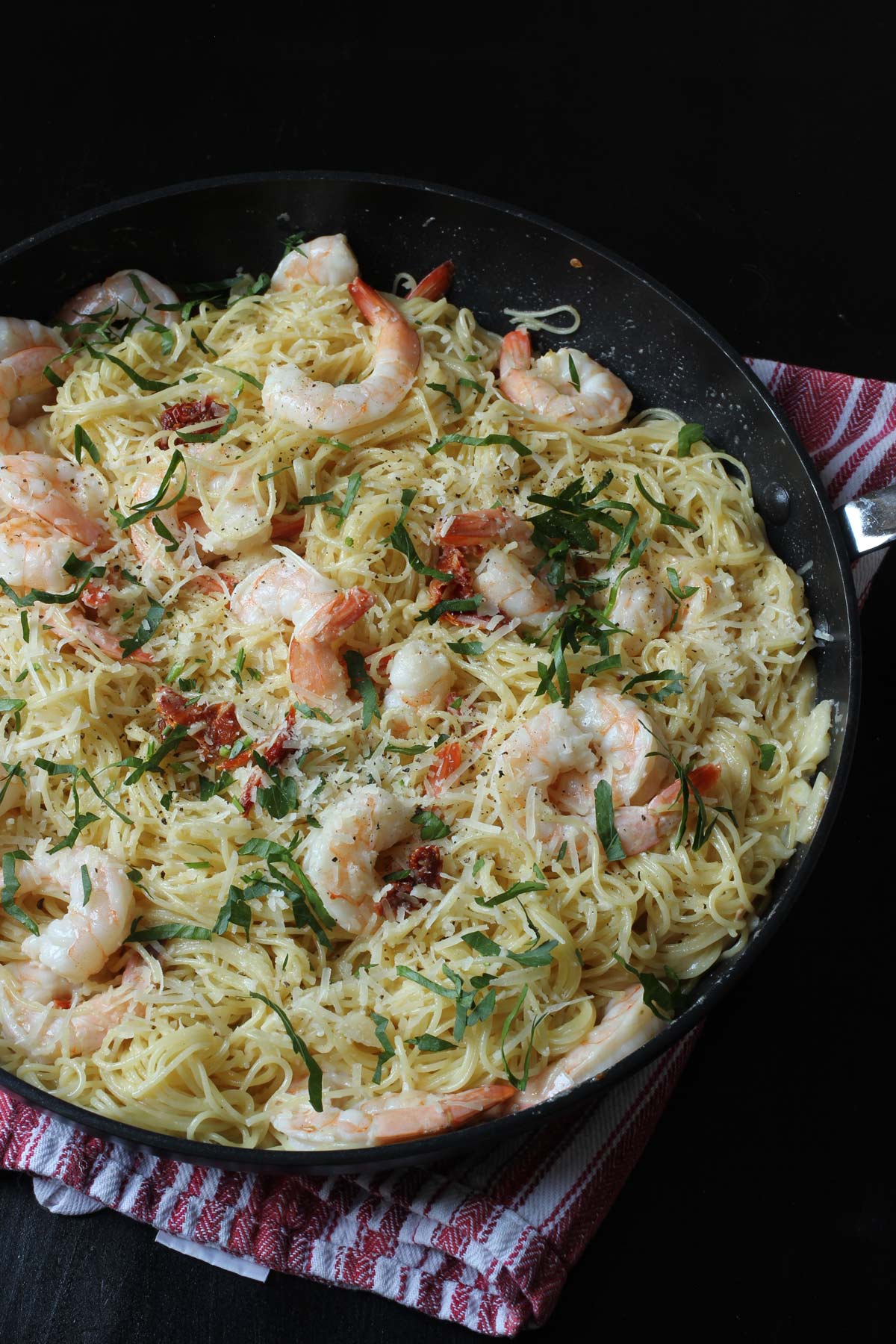 More Shrimp & Seafood Recipes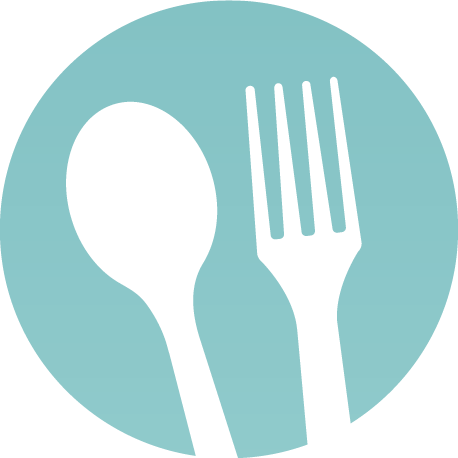 Tell us what you think!
We love to hear your experiences with Good Cheap Eats. Click the STARS on the recipe card or leave a STARRED comment to let us know what you think of the recipe.
Creamy Garlic Shrimp Pasta
Enjoy a restaurant quality meal in just minutes. Enjoy shrimp in a luscious cream sauce over linguini tonight.
Ingredients
1

tablespoon

olive oil

1

tablespoon

butter

2

clove

garlic

peeled and thinly sliced

½

cup

whipping cream

2

tablespoon

sundried tomatoes (julienned)

1

lb

angel hair pasta

(can also use linguini or spaghetti)

4

oz

Parmesan cheese (shredded)

(1 cup)

1

lb

medium shrimp

rinsed, peeled, and deveined

chopped fresh parsley for garnish
Instructions
Bring a large pot of salted water to a boil.

In a large skillet heat the olive oil and butter until the butter is melted. Add the garlic and saute until soft, about 2 minutes. Stir in the cream and sundried tomatoes. Allow to simmer gently for tomatoes to soften.

Meanwhile cook the linguini in the hot, boilling water, according to package directions.

Add ½ cup shredded cheese to the cream mixture. Stir until it's melted. Add the shrimp to the skillet and stir gently until shrimp is pink and cooked through, about 5 to 7 minutes.

Drain the pasta and toss with the shrimp and cream sauce. Sprinkle with the parsley and remaining cheese. Serve immediately.
Notes
Nutritional values are based on ⅙ the recipe.
Store leftovers promptly in a covered container in the fridge, for up to 1 day. Reheat before serving.
Nutrition
Calories:
532
kcal
|
Carbohydrates:
59
g
|
Protein:
31
g
|
Fat:
18
g
|
Saturated Fat:
9
g
|
Cholesterol:
240
mg
|
Sodium:
820
mg
|
Potassium:
315
mg
|
Fiber:
3
g
|
Sugar:
3
g
|
Vitamin A:
434
IU
|
Vitamin C:
4
mg
|
Calcium:
319
mg
|
Iron:
3
mg
Tried this Recipe? Tell us what you think!
Your reviews help us develop better recipes and give newcomers the confidence to try your favorites. Scroll down to leave a starred comment.
This post was originally published on March 18, 2013. It has been updated for content and clarity.