Feed a crowd and your hunger for loaded nachos all in one fell swoop. This One-Pan Chicken Nachos recipe will have you set for success.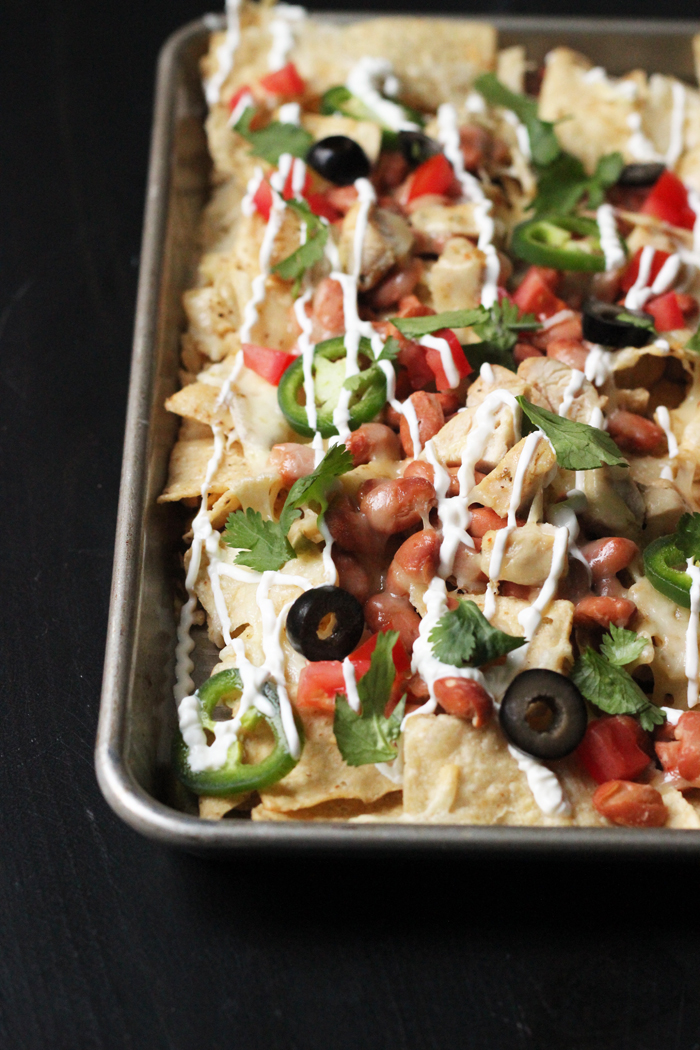 Nachos have been a favorite dinner or snack of mine since high school. Trust me, that's a long time. Back in the day, my best friend Stephanie and I would make a goopy cheese sauce from a dry packet mix. We loaded on the toppings and had a feast.
Since then I've simplified my nacho making process to include real shredded cheese and to make it in a big pan. I've shared my DIY Nacho Bar before. Nachos make a quick and easy dinner or appetizer with very little work.
But, if you really want to wow your guests, bring out this One-Pan Chicken Nachos dish all dolled up and ready to go.
Granted, you may have some picky eaters who prefer not to have all the toppings, but I mean, seriously, which side would you choose?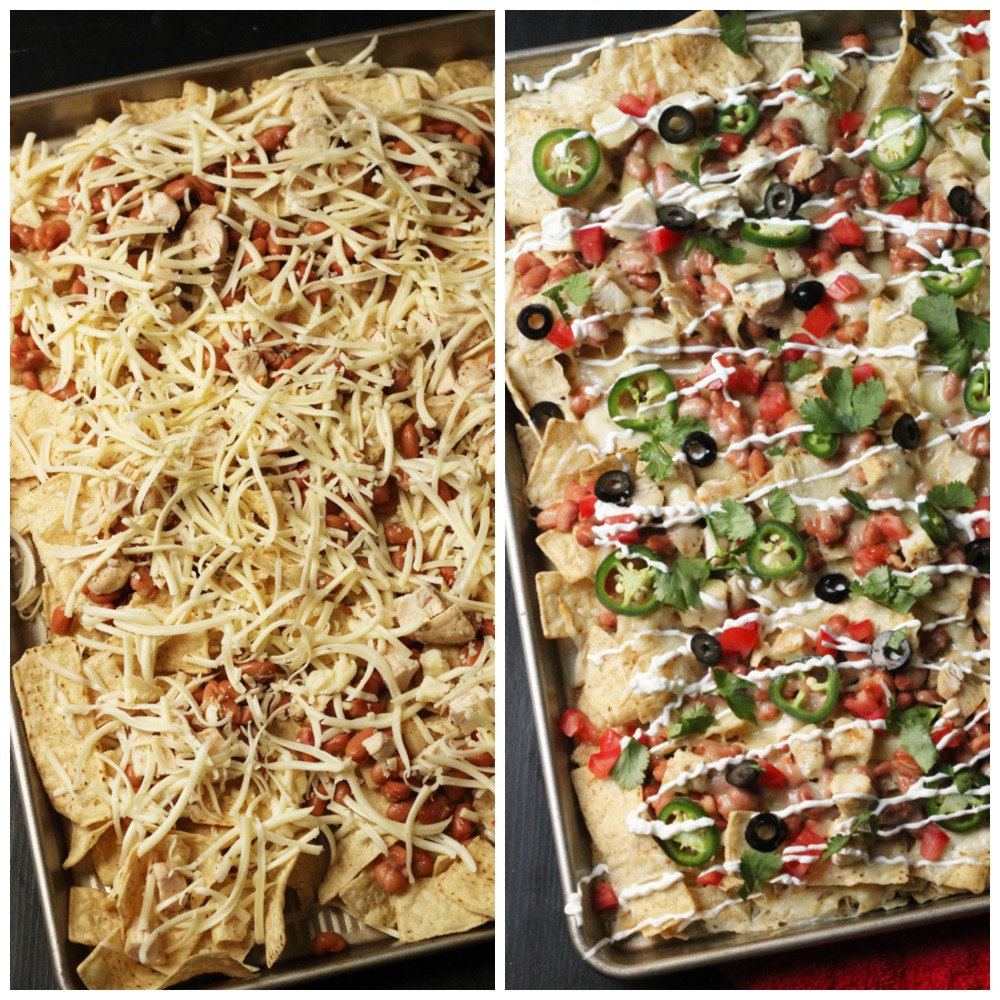 The colorful toppings really do make a difference when it comes to presentation. And be sure that the fresh veggies and aromatics add a great pop of flavor. You can leave a smaller, plain pan back in the kitchen for the picky people. 😉
How to make this good and cheap:
Here are some of the strategies you can use to make this recipe more economical:
Stock up on ingredients when they are on sale. When I find regular kitchen staples on sale, I buy a lot. I'm currently using a price book to track prices and that's saving me money. For this recipe, keeping an eye on the prices of chips, cheese, chicken, and beans can help keep the price down.
Cooking beans from scratch. Cooking dry pinto beans can save you a significant amount of money in comparison to buying canned. Recently, I discovered that beans cook really quickly in a pressure cooker, making that a game changer for me since the soaking and slow cooking process have been deterrents for me in the past.
How I make this recipe easy:
This recipe really couldn't be easier than it is, but having the right kitchen tools can really make your time in the kitchen more enjoyable. Over time, I've honed my collection so that they are perfect for my needs.
Here are the tools that I use for this recipe:
One-Pan Chicken Nachos
Feed a crowd and your hunger for loaded nachos all in one fell swoop. This One-Pan Chicken Nachos recipe will have you set for success.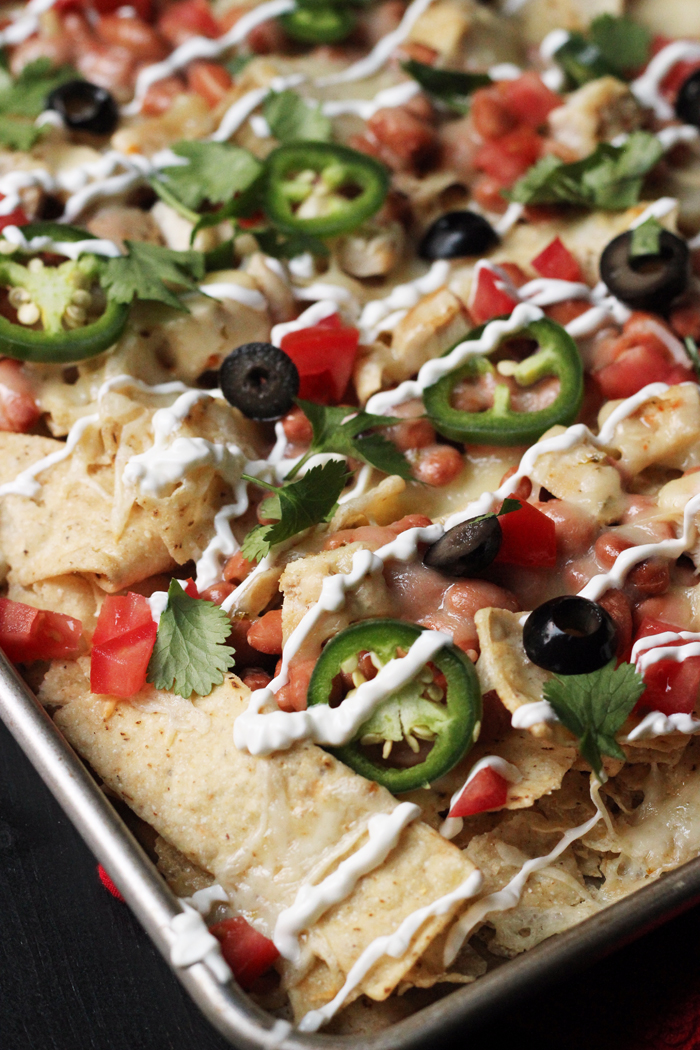 Preparation Time:10 minutes
Cook time:15 minutes
Total time:25 minutes
6 to 8 servings
Ingredients:
13 ounce bag tortilla chips

2 cups cooked and drained pinto beans

1 cup cooked and chopped chicken

2 to 3 cups shredded pepper jack cheese

1/4 cup sliced black olives

1 to 2 roma tomatoes, chopped

1/4 cup chopped cilantro

1/4 cup sour cream
Instructions:

Preheat the oven to 350 degrees.
Spread the chips on a large sheet pan. Layer on the beans, chicken, and cheese. Bake the nachos until the cheese is melted and the toppings are warm, about 15 minutes.
Layer on the olives, chopped tomatoes, and cilantro. Place the sour cream in a small ziptop bag. Trim off a corner and drizzle the sour cream over the nachos. Serve immediately.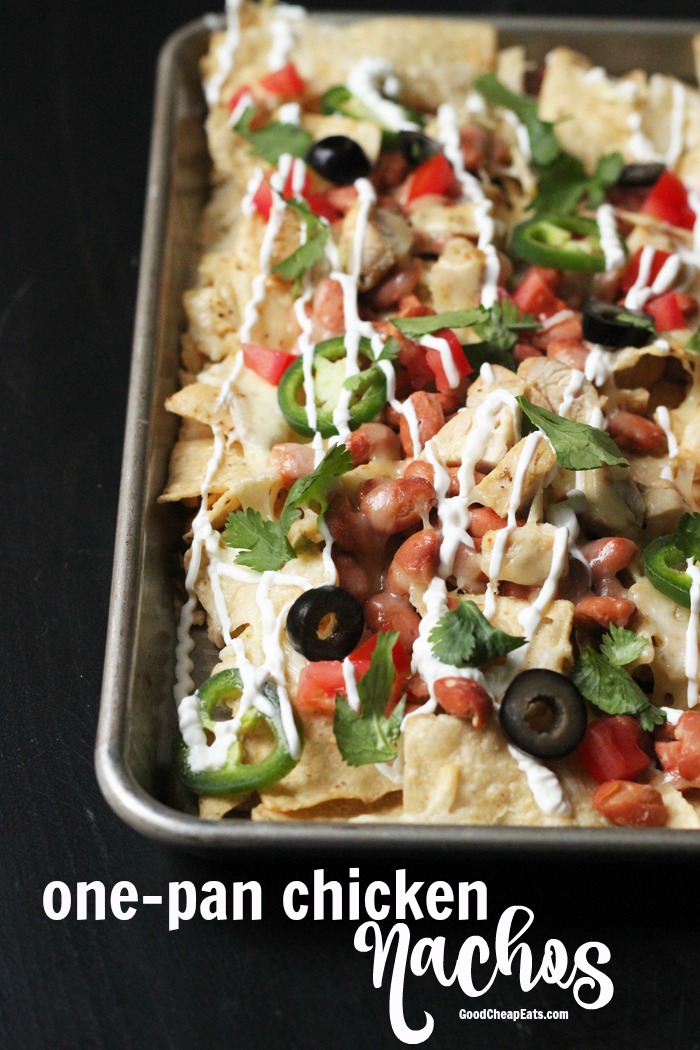 Are you looking for more good cheap eats?