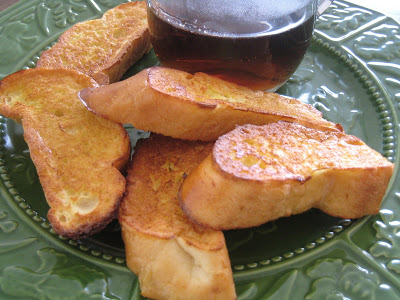 Old cookbooks are some of my favorites. Not only are they full of tried and true recipes, but they also hearken back to the days of do-it-yourself-ness, a sure fire money-saving method.
I adapted this recipe for French Toast in Betty Crocker's Do Ahead Cookbook: From the Freezer and the Refrigerator, © 1972. It is a practically perfect way to make french toast. You can prepare a large batch of crispy, crunchy, battered bread at one time. A great way for a crowd (or my family) to eat at one time. I used a package of large French rolls, sliced on the diagonal, which created ideal-sized dippers for the kiddos. An added plus is that you can wrap them well for freezing and store them for later eating.

Recipe: Oven French Toast
Ingredients
5 eggs
1 1/4 cups milk
1 1/2 Tablespoons sugar
1/2 teaspoon salt
16 slices bread (OR slice four 8-inch French rolls on the diagonal)
Instructions
Heat oven to 500°. Grease several baking sheets.
In shallow dish, mix eggs, milk, sugar, and salt. Dip bread pieces in egg mixture and arrange on prepared baking sheets. Bake until underside is golden, about five minutes. Turn slices; bake until golden brown, about 2-5 minutes more.
Watch them carefully to prevent burning. Serve with pancake syrup.
If preparing for the freezer, cool completely on wire rack. Place in a single layer on baking sheet and place in the freezer until firm, about 2 hours.
Wrap, label, and return to freezer.
When ready to serve, place in a 375&deg oven on ungreased baking sheet. Heat until hot, 8 to 10 minutes. You can simply pop smaller quantities into the toaster or toaster oven.
Preparation time: 5 minute(s)
Cooking time: 10 minute(s)
Number of servings (yield): 8
This method definitely works for me.