The next challenge starts January 4, 2016! I'll be blogging it here as well as scoping it. I hope you'll join me!
The Pantry Challenge is something I practice twice a year (in January and July) as a kitchen discipline.
I use up what we have.
I save money on groceries that month.
I learn what ingredients our family really loves. Or hates.
I save time because I'm not spending hours grocery shopping during the month.
I've been doing this type of challenge every year since 2009. It's become super successful for my family to offset our grocery spending and to refine our shopping habits to better suit our lifestyle.
Each time I set specific goals for the Pantry Challenge, like in December of 2013 when I spent 2-weeks cleaning out our cupboards to make room for healthier ingredients.
Go to this post for how to have a pantry challenge.
Past Pantry Challenges
I typically keep a daily diary of how I feed my family of 8 during the challenge as a way of keeping record for myself as well as sharing with others some of the discoveries we make and lessons we learn. You can read through the pantry challenge archives to get a taste of what a it can be like.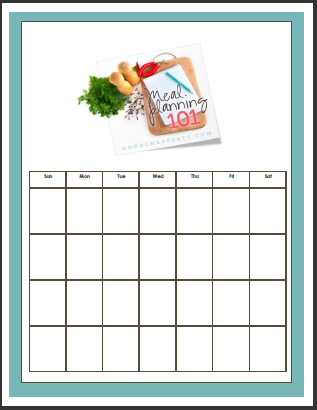 Helpful printable resources
Inventory Checklist – Take an inventory of the ingredients you have on hand so that you can plan your meals based on what's in the house already.
Meal Planning Calendar – Use this printable calendar to plan your meals for a month or to plan three meals plus a snack for each day of the week.
Further reading
If you'd like to do a little more reading about eating down the pantry, check out these past posts: