Enjoy homemade crepes, save money, and enjoy la belle vie. This easy recipe will get you hooked on making crepes yourself at home.
Crepes are a huge part of my memories of France. Whether they were the simple (read: cheap) butter and sugar affairs that I purchased from a street vendor or the savory dinner crepes that I indulged in at Le Roy d'Ys in Poitiers, crepes have always held a special place in my heart.
Stateside, it's hard to find a great crepe. Those that are sold at farmer's markets or fairs are okay, but at $4 each? Homemade crepes are the best option.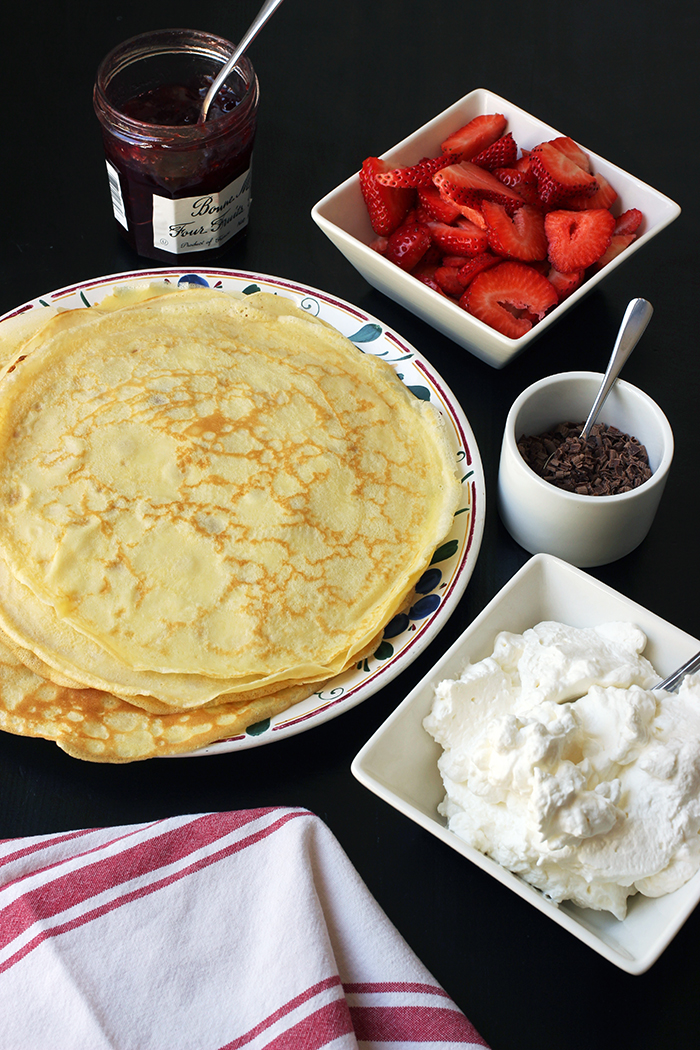 Homemade Crepes
Flat, delicate, egg-like pancakes, crepes are the French equivalent of a pancake or tortillas. Sort of. They come together fairly quickly and just call for a little fancy handling when it comes to cooking and flipping.
Homemade crepes can make an easy dinner if you omit the vanilla extract and fill them with savory things like cheese, cooked meats, ham, or sauteed vegetables.
They make an easy dessert if you sweeten them up. They make an easy snack that's just plain delicious.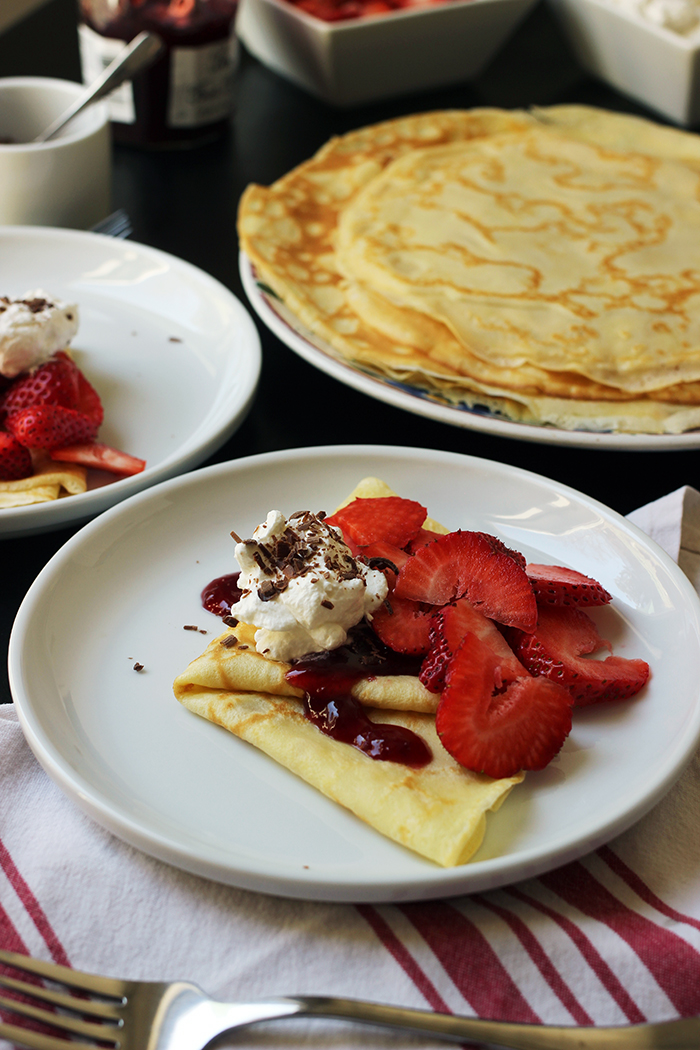 What are crepes made of?
Crepes are basically made from eggs, milk, and flour. It's a very eggy batter with much more egg and milk than flour.
What is the difference between a pancake and a crepe?
A pancake is a thin, American, flat cake baked in a pan. It is made of eggs, milk, flour, and leavening. A crepe is a thinner, French pancake baked in a pan and filled with sweet things, like jam or sugar.
Crepes can be quite large, especially crepes sold by street vendors which may be up to 16 inches in diameter. One crepe is more filling than one pancake.
What is the difference between a crepe and a galette?
A crepe is a thin, sweet French pancake, usually filled or topped with sweet fillings, such as sugar, jam, Nutella, or fruit. A galette (also galette de sarrasin) is a thin, savory French pancake, made with buckwheat and usually filled with ingredients such as cheese, ham, eggs, and vegetables.
Both are delicious and both should go on your must-make list.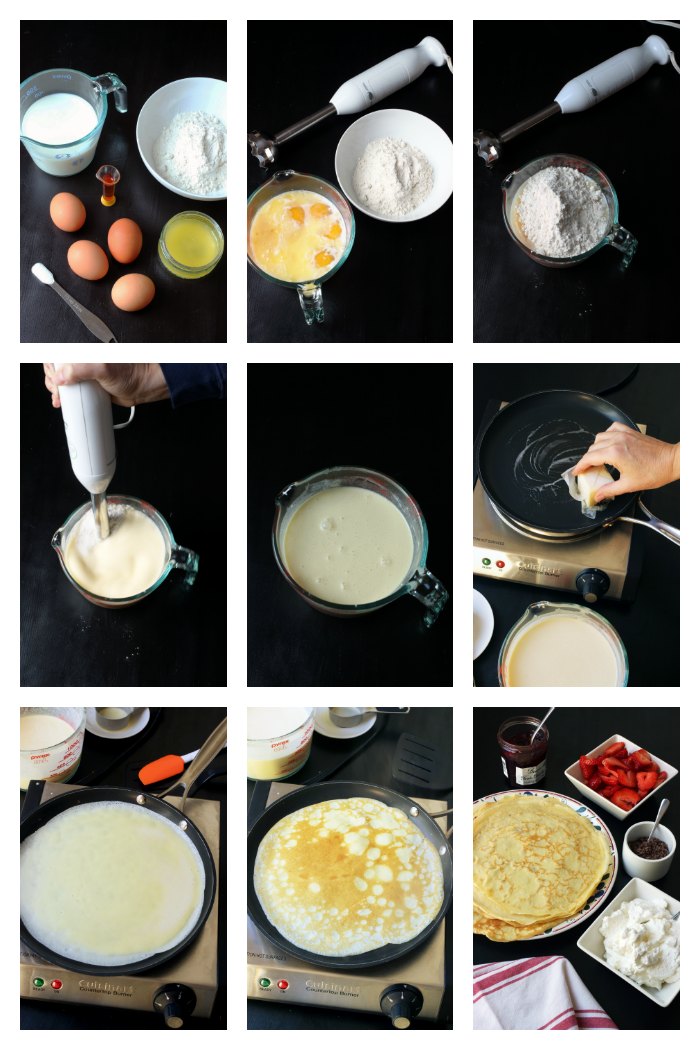 How do you make homemade crepes?
Crepes are super easy to make from scratch.
Assemble your ingredients.
Place the eggs, milk, butter, flour, salt, and vanilla in a bowl. Blend into a smooth batter using an immersion blender or whisk. You can also prep the batter in a blender or food processor.
Refrigerate the batter for at least 30 minutes. This allows the flour to absorb the liquid better and produces a better texture crepe.
Heat a nonstick skillet or crepe pan over medium heat. Brush it with melted butter.
Pour a scant 1/4 cup batter into the pan, tilting the pan so that the batter covers the bottom completely.
Once the crepe is set and starting to brown lightly around the edges, flip it over to brown the other side. Place the crepe on a plate while you cook the rest of the batter.
Continue until all the crepes are cooked and you've got a stack ready to be served?
It's hard to make folks wait while you fry up all the crepes, but it's more fulfilling to serve a stack of hot fresh homemade crepes at one time instead of watching them disappear as soon as they're out of the pan.
Do you have to let crepe batter rest?
It's important to let the batter rest for at least 30 minutes. To save time when you've got hungry morning people, blend the batter the night before and store it in the fridge overnight.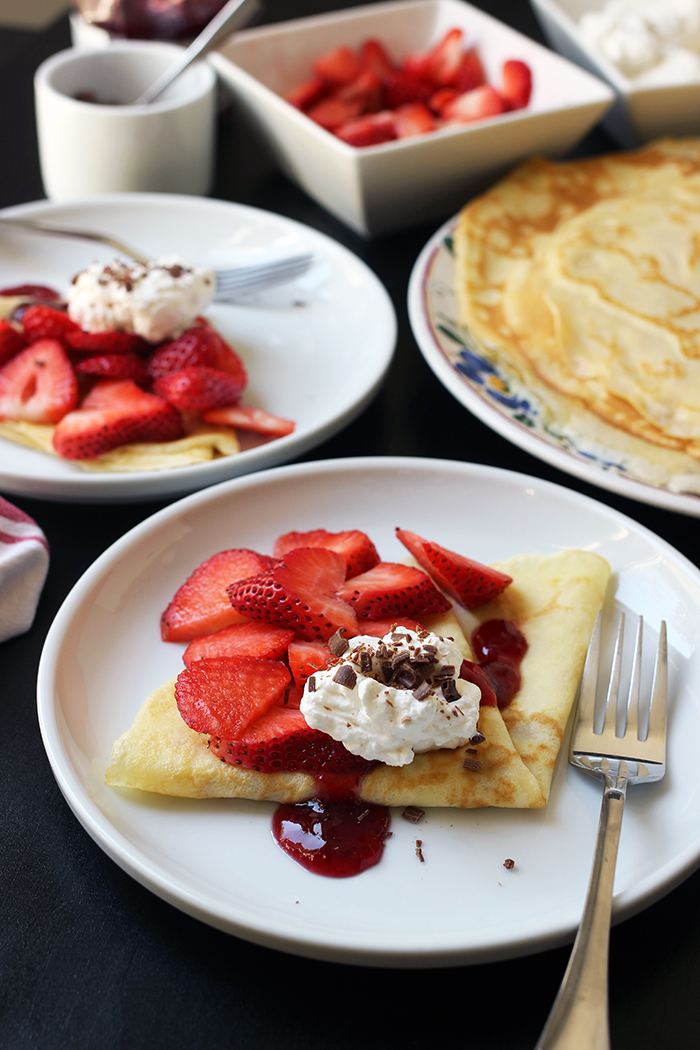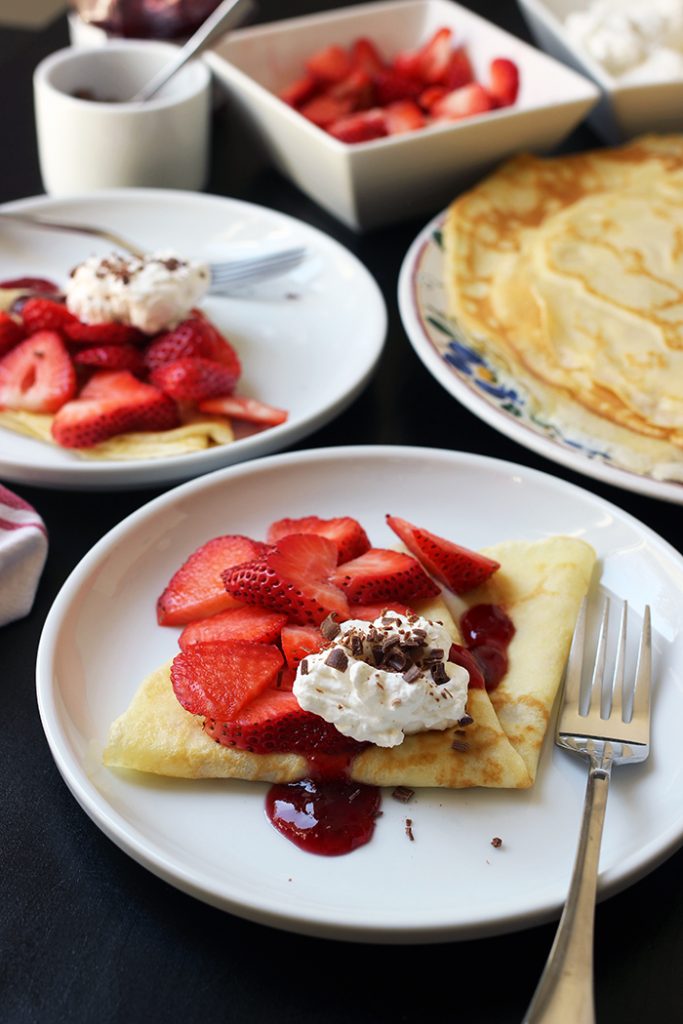 Do you fold or roll crepes?
While you may have seen crepes rolled around a filling in American cookbooks, this isn't typically how they're served in France.
Rather they are folded into quarters, sometimes with the jam or Nutella spread inside or the toppings piled on after folding.
How do you fill crepes?
Homemade crepes can be filled or topped with any number of ingredients. Consider these options:
fresh fruit, such as sliced strawberries, chopped stone fruit, sliced bananas, or other berries
whipped cream
jam
Nutella, chocolate sauce, caramel sauce
nut butter
honey
butter and sugar (drizzle on some lemon juice!)
If you want to get real fancy, you can make Crepes Suzette.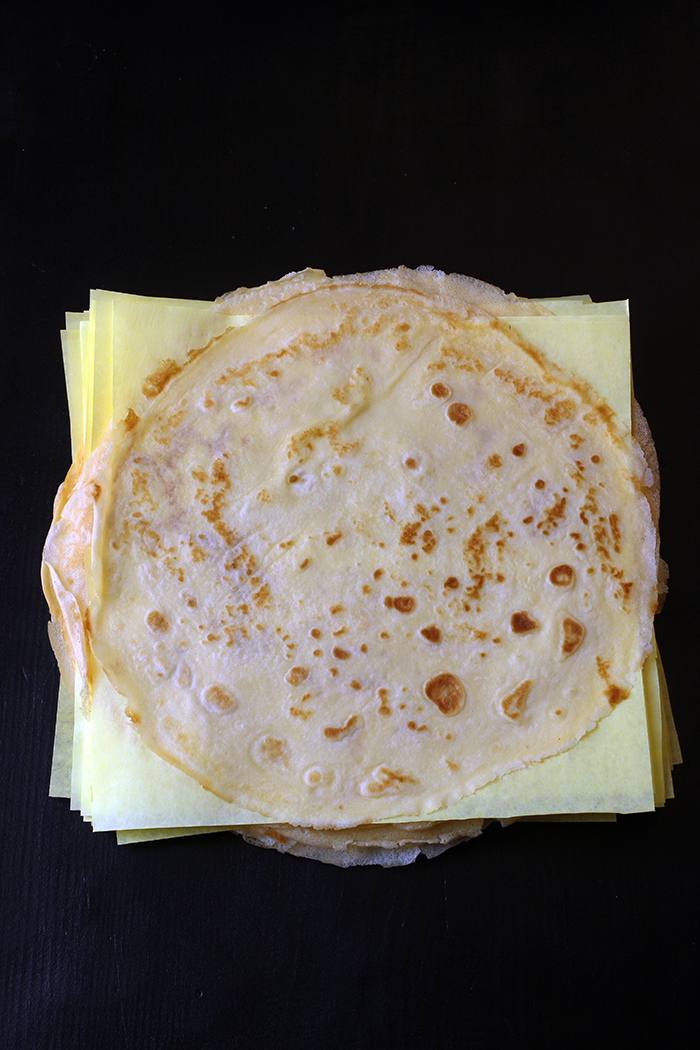 Can you make crepes in advance?
It is great to make crepes in advance because the process of cooking them one at a time can become rather time consuming.
One time in college in France, one of the coordinators of EAP invited all 50 of us exchange students to her party for a crepe party. She had made over 100 crepes. The only way you pull that off is by making them in advance.
Once you crepes are baked and cooled, layer them between parchment or deli papers and store them in a ziptop gallon-size bag in the refrigerator. They are good in the fridge for up to 4 days.
How do you freeze crepes?
Layer cooked and cooled crepes between sheets of parchment or deli wrap and place in a ziptop freezer bag in the freezer for up to 2 months. Thaw before serving.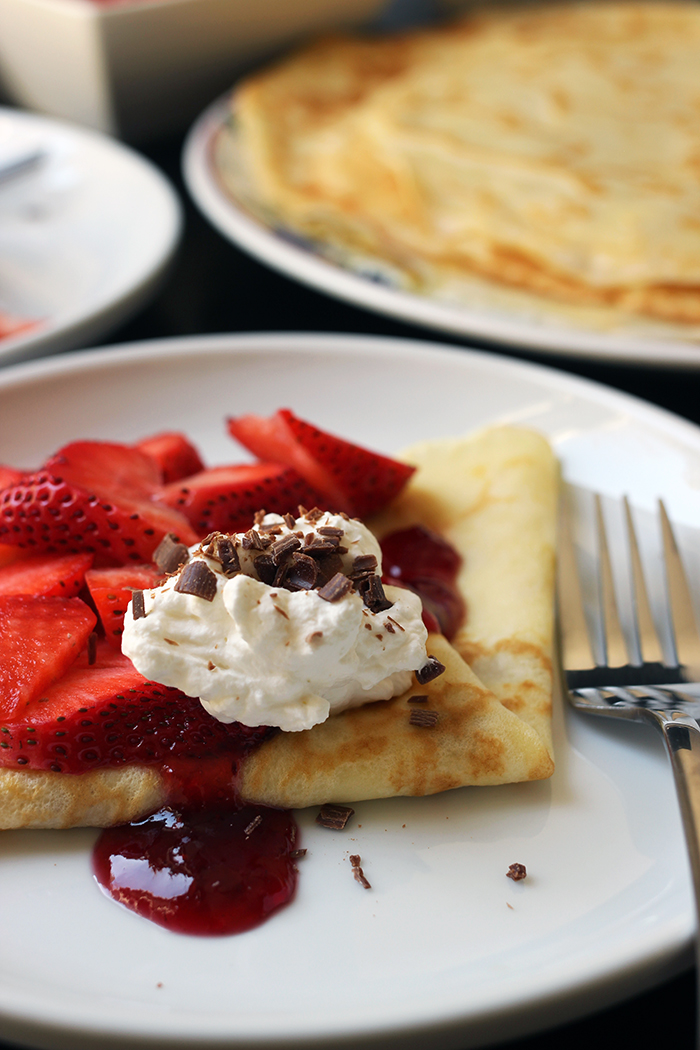 Do you need special equipment to make crepes?
You don't need special equipment but there are some kitchen tools that make the crepe-making process easier.
Can crepes be affordable?
Heck to the yes!
Now, a farmer's market crepe costs $4. A package of 10 premade crepes at the grocery store runs about $4. This works out to be 39 cents per crepe. (You can find them in the produce section for some reason.)
Since crepes are basically eggs, milk, and a bit of flour, they are a very affordable treat to make yourself. Let's see how this recipe breaks down, if shopping at the same store and not buying things on sale.
eggs: $3.99/18 ct, 22 cents each = $0.88
milk: $2.79/gallon = $0.28
flour: $2.69/5-pound bag, 54 cents per cup = $0.68
butter: $3.69/pound, 93 cents per stick = $0.47
Total to make 14 crepes: $2.31 0r 17 cents per crepe!
Considering that you could purchase those ingredients for much less buying them on sale or at ALDI, that's a pretty good cheap eat, my friend!
Not only will you impress the folks at your table, but you'll do it quite affordably.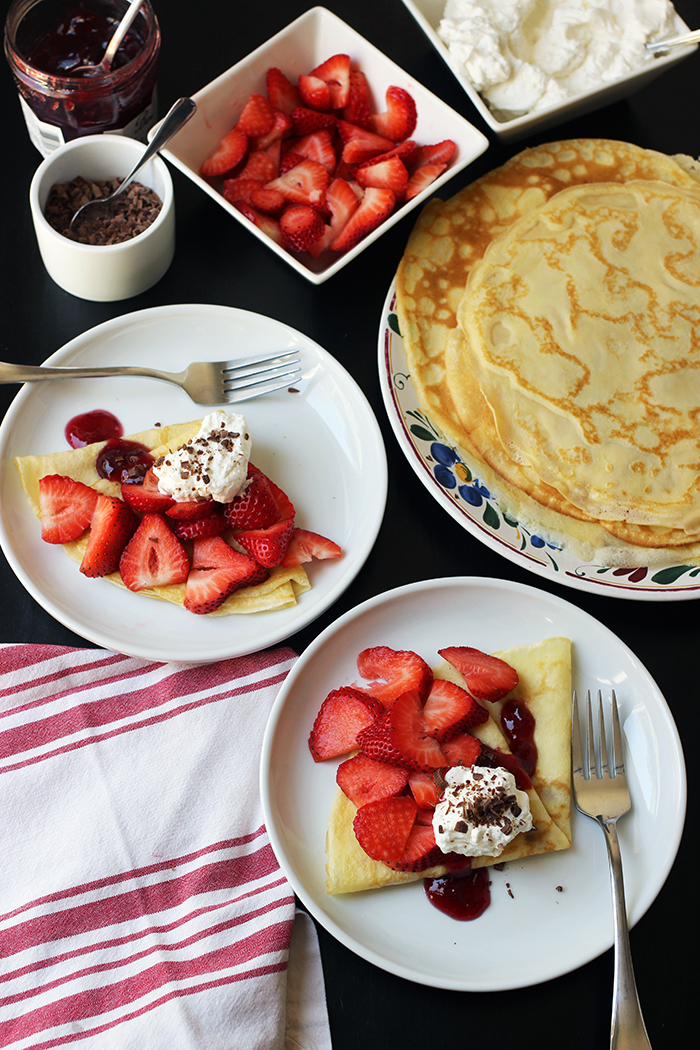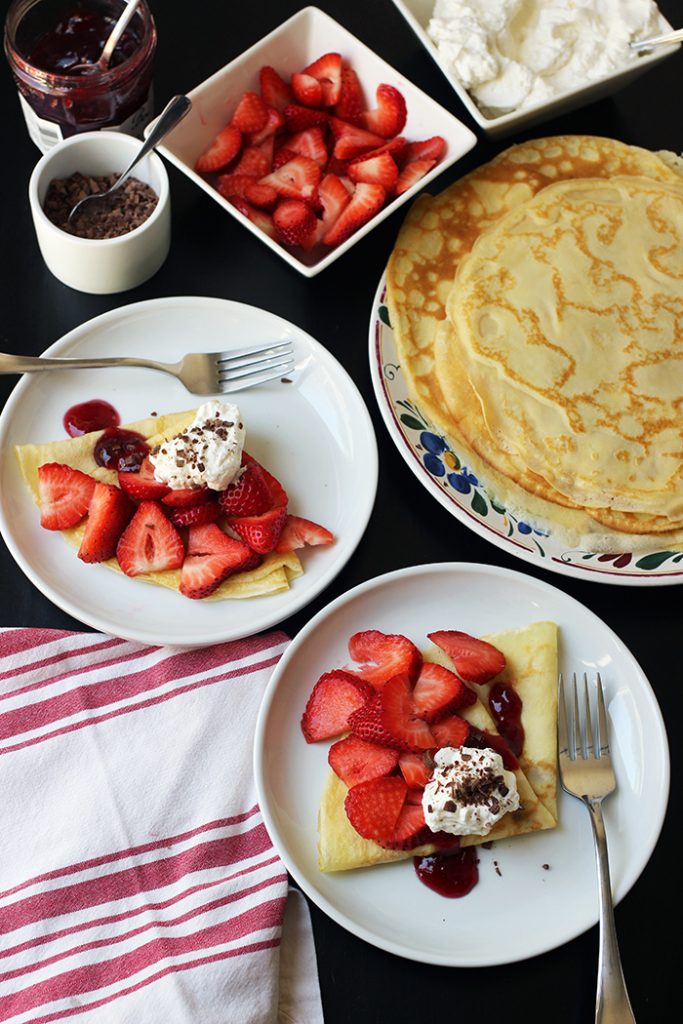 If you prepare this recipe, be sure to share a picture on social media and hashtag it
#GOODCHEAPEATS
. I can't wait to see what you cook up!
Easy Homemade Crepes
Enjoy homemade crepes, save money, and enjoy la belle vie. This easy recipe will get you hooked on making crepes yourself at home.
Ingredients
4

egg

1 2/3

cup

milk

3

tbsp

butter

melted, plus extra for frying

1 1/4

cup

unbleached, all-purpose flour

1/2

tsp

salt

1

tsp

vanilla extract

optional

fillings for crepes

: butter, jam, sugar, nutella
Instructions
Mix all ingredients in a blender. Refrigerate for 30 minutes or overnight.

Heat 10-inch nonstick skillet over medium heat. Brush with melted butter.

Pour a scant 1/4 cup batter into pan, tilting pan so that batter cover the bottom completely.

Once the crepe is set and starting to brown lightly around the edges, flip it over to brown the other side.
Notes
Promptly store leftovers in an airtight container in the refrigerator, for up to 3 days. Freeze for up to 2 months.
Nutritional values are approximate, do not include toppings, and are based on 1 crepe. 
Nutrition
Calories:
99
kcal
|
Carbohydrates:
10
g
|
Protein:
4
g
|
Fat:
5
g
|
Saturated Fat:
2
g
|
Cholesterol:
56
mg
|
Sodium:
135
mg
|
Potassium:
68
mg
|
Fiber:
1
g
|
Sugar:
2
g
|
Vitamin A:
190
IU
|
Calcium:
42
mg
|
Iron:
1
mg