Enjoy homemade crepes, save money, and enjoy la belle vie.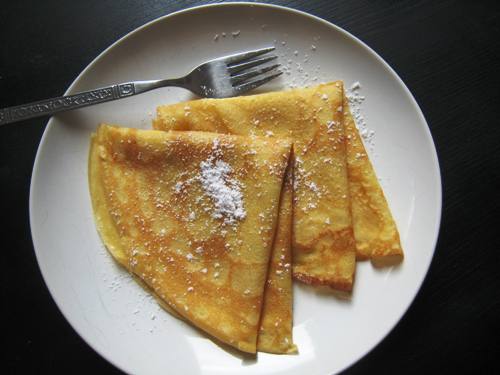 Crepes are a huge part of my memories of France. Whether they were the simple (read: cheap) butter and sugar affairs that I purchased from a street vendor or the savory dinner crepes that I indulged in at Le Roy d'Ys in Poitiers, crepes have always held a special place in my heart.
Stateside, we've only sampled those that are sold at farmer's markets or fairs. Or at home. At $4 each for a farmer's market crepe, home is the best place for a crepe.
While I haven't yet experimented in all the savory fillings that I knew in France, we've cornered the market when it comes to sweet crepes. My children have an unnatural affinity for Nutella. It's like they're French or something.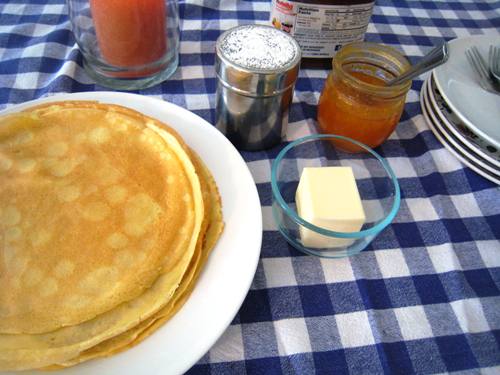 Saturday morning I whipped up a batch of crepes while the kids set the table. They were channeling their inner francais: tablecloth, candles, confiture d'abricot (apricot jam), sugar, butter, and of course, the aforementioned Nutella.
Two of the kids were out of town which left four children to scarf down a stack of crepes. I think I ate one.
Flat, delicate, egg-like pancakes, crepes are the French equivalent of a pancake or tortillas. Sort of. They come together fairly quickly and just call for a little fancy handling when it comes to cooking and flipping. In France I knew how to flip it.
Crepes make an easy dinner if you fill them with savory things like cheese, cooked meats, ham, or sauteed vegetables. They make an easy dessert if you sweeten them up. They make an easy snack that's just plain delicious.
Yes, the skinny blond is me. 1993
One of these days I'll just have to forget about keeping the floors clean and just flip out in my crepe making.
If you'd like to make crepes at home, it's not too difficult. It's great if you have a crepe pan, but I use a regular 10″ nonstick skillet and it works out fine.
It's important to let the batter rest for at least 30 minutes. To save time when you've got hungry morning people, blend the batter the night before and store it in the fridge overnight. It's hard to make folks wait while you fry them all up, but it's more fulfilling to serve a stack of hot fresh crepes at one time instead of watching them disappear as soon as they're out of the pan.
And trust me, they will disappear.
Recipe: Easy Homemade Crepes
Ingredients
4 eggs
1 2/3 cup milk
3 Tablespoons melted butter plus extra for frying
1 1/4 cup flour
1/2 teaspoon salt
1 teaspoon vanilla, optional
Toppings: butter, jam, sugar, nutella
Instructions
Mix all ingredients in a blender. Refrigerate for 30 minutes or overnight.
Heat 10-inch nonstick skillet over medium heat. Brush with melted butter.
Pour a scant 1/4 cup batter into pan, tilting pan so that batter cover the bottom completely.
Once the crepe is set and starting to brown lightly around the edges, flip it over to brown the other side.
Preparation time: 30 minute(s)
Cooking time: 30 minute(s)
Number of servings (yield): 12 to 14 crepes