Dark brown sugar and pecans add flavor, sweetness, and crunch to this Banana Pecan Coffeecake. It's like all that's delicious about banana and toffee rolled into one.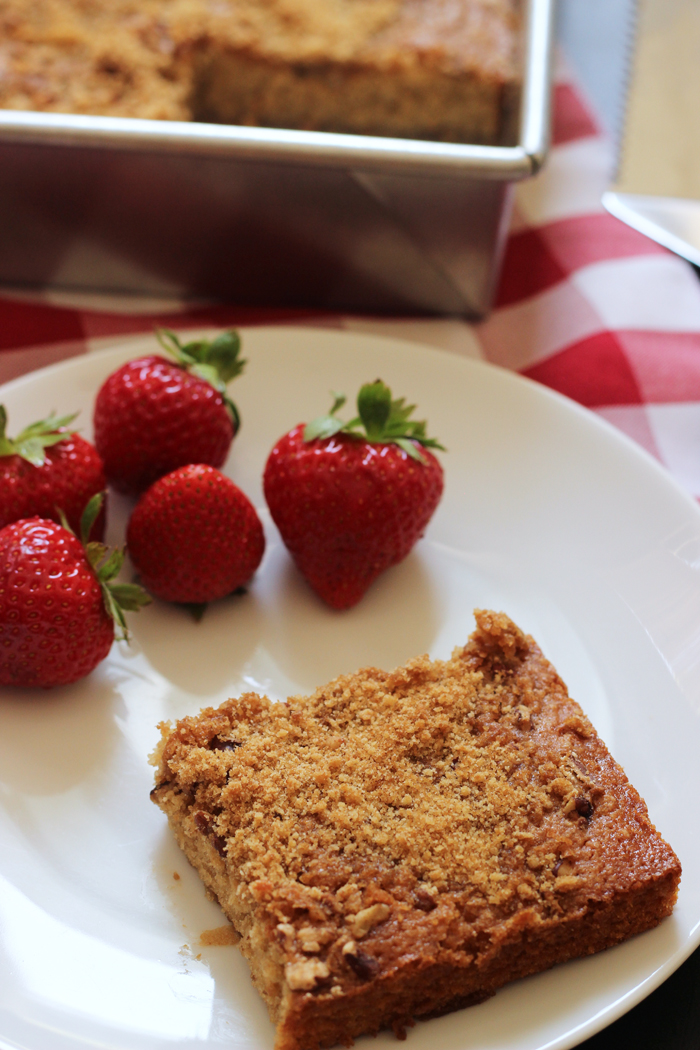 Do you go through a lot of bananas at house? It seems like you can never keep them on hand long enough. Between Monkey Salad and Magic Monkey Bananas, who could ever let bananas go to waste?!
That said, inevitably one can overbuy. Or just forget that there was a beautiful bunch of bananas on the counter just a few days ago.
Never fear! There are plenty of ways to make good use of the bananas that might have browned a bit too much for just munching. Try using the very ripe bananas in smoothies, like this Coconut Mango Banana version or just freeze them sliced to stock your Smoothie Station.
Bananas are also the perfect baking ingredient, making a lovely appearance in Chocolate Banana Marble Cake, Banana Cupcakes with Chocolate Cream Cheese Frosting or Coconut Banana Bread with Chocolate Chips.
And of course this amazing, crumb- and nut-topped confection that tastes like banana and toffee all rolled into one.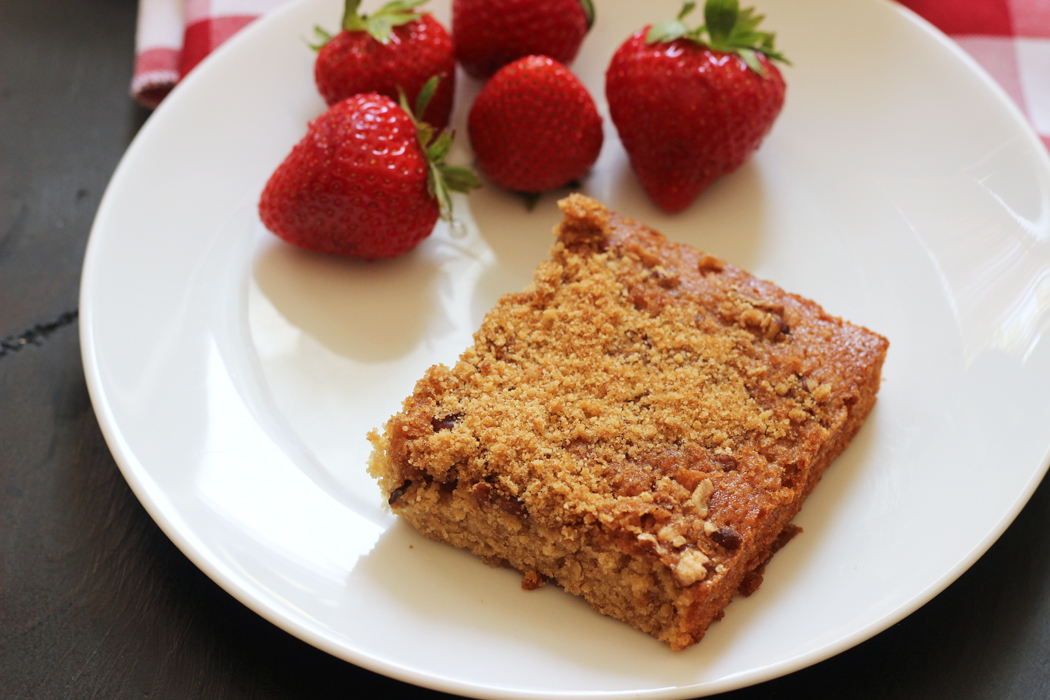 How to make this good and cheap:
Here are some of the strategies you can use to make this recipe more economical:
Stock up on ingredients when they are on sale. When I find regular kitchen staples on sale, I buy a lot. I'm currently using a price book to track prices and that's saving me money. For this recipe, keeping an eye on the price of flour and butter can help keep the price down.
Buying in bulk – It's rare that I would buy just one bag of flour. Instead I stock up when I see a sale. I also have gotten into the habit of buying cases of flour from Bob's Red Mill or buying them in bulk from VitaCost. I practice the same bulk buying for spices and other baking ingredients.
Check the produce clearance. Often times the grocery store finds itself with a surplus of overripe bananas. They are happy to unload them for cheap. Be sure that you snatch them up for a good price. (In my neck of the woods this would be about 50 cents a pound or less. Preferably less.)
How I make this recipe easy:
This Banana Pecan Coffeecake recipe really couldn't be easier than it is, but having the right kitchen tools can really make your time in the kitchen more enjoyable. Over time, I've honed my collection so that they are perfect for my needs.
Here are the tools that I use for this recipe:
food processor
Silicone spatula/spoon – I have two or three of these – so convenient!
9×13-inch pan – I love the ones that come with plastic lids for easy storage and stacking in the freezer.
food processor – I have had a food processor for 23 years and use it several times a week. I currently use this Cuisinart model and am coming to appreciate the three separate bowls. Good news for this recipe, it's a one-bowl deal.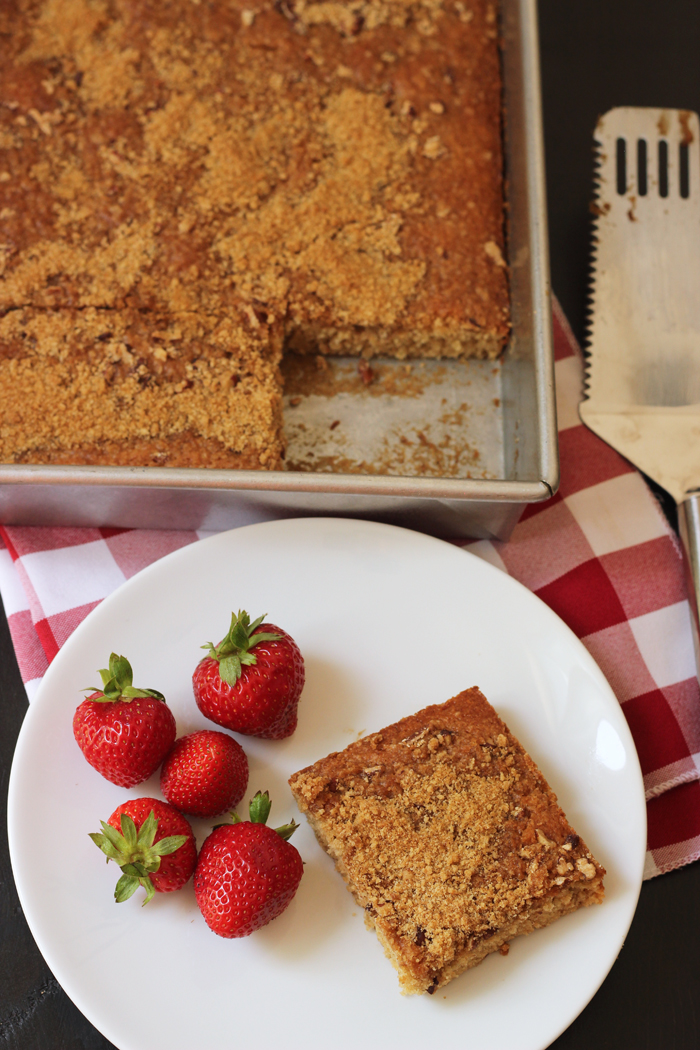 Banana Pecan Coffeecake
Dark brown sugar and pecans add flavor, sweetness, and crunch to this Banana Pecan Coffeecake. It's like all that's delicious about banana and toffee rolled into one.
Ingredients
1

cup

unbleached, all-purpose flour

1

cup

white whole wheat flour

2

cup

dark brown sugar

can also use granulated sugar

1/2

cup

butter

2

ripe bananas

mashed

1/3

cup

milk

1

egg

1

tsp

vanilla extract

1

tsp

baking powder

1/2

tsp

salt

1/2

cup

pecans (chopped)
Instructions
Preheat the oven to 350°. Grease a 9×13-inch baking dish.

In the bowl of a food processor, combine the flours, brown sugar, and butter. Pulse until coarse crumbs form.

Remove 1 cup mixture and set it aside.

In a mixing bowl, combine the banana, milk, egg, and vanilla.

Add the baking powder and salt to the remaining flour mixture. Stir in the wet mixture. Blend until smooth.

Pour the batter into the prepared pan. Sprinkle the pecans over the batter. Sprinkle the reserved crumb mixture over the nuts. Bake the coffeecake for 35 to 40 minutes or until a tester comes out clean.

Store the coffeecake, covered, at room temperature for up to 3 days.
Notes
Note: The dark brown sugar lends a toffee flavor to this recipe. You can use other sweeteners, but the flavor nuances will change.
Nutrition
Calories:
335
kcal
|
Carbohydrates:
57
g
|
Protein:
4
g
|
Fat:
12
g
|
Saturated Fat:
5
g
|
Cholesterol:
35
mg
|
Sodium:
184
mg
|
Potassium:
206
mg
|
Fiber:
2
g
|
Sugar:
39
g
|
Vitamin A:
280
IU
|
Vitamin C:
2
mg
|
Calcium:
69
mg
|
Iron:
1
mg