A simple fruit salad of cashews, bananas, and coconut chips packs a sweet, yet filling punch. This Monkey Salad is perfect for breakfast next to an egg or two.
First up. No, this salad does not contain monkeys. That would be gross. It contains ingredients that I imagine a monkey would like to eat. If it makes you feel better, you may call it Salad for Monkeys. Either way, make it.
Second, this is a simple, simple recipe. It's basically a non-recipe. But, it's super good and a daily part of my breakfast. Yes, really.
As you know already, I'm eating a weird diet that has me abstaining from sugar, grain, dairy, soy, and alcohol. With all the hidden fillers and additives in foods, it's actually harder than the simple obvious reasons. Did you know most canned tuna contained soy?
I say weird with my tongue in cheek. I feel so good and not exhausted like I've been for the last three months. It's not weird at all. It's amazing.
Anyway, once I find something I like that has foods I can eat, I'm going with it, people. Like skillet eggs? Yep, having them every day. (Except when we've run out of greens.)
Monkey salad? Totally. Black coffee with coconut milk? Works for me.
In my former life, I drank my coffee with TWO teaspoons of sugar and about TWO tablespoons of cream. You can imagine the change, can't you? Since I like sweet with my coffee, I eat this salad alongside. The bananas and cashews both have a little sweet to them that offsets the bitterness of the coffee quite nicely.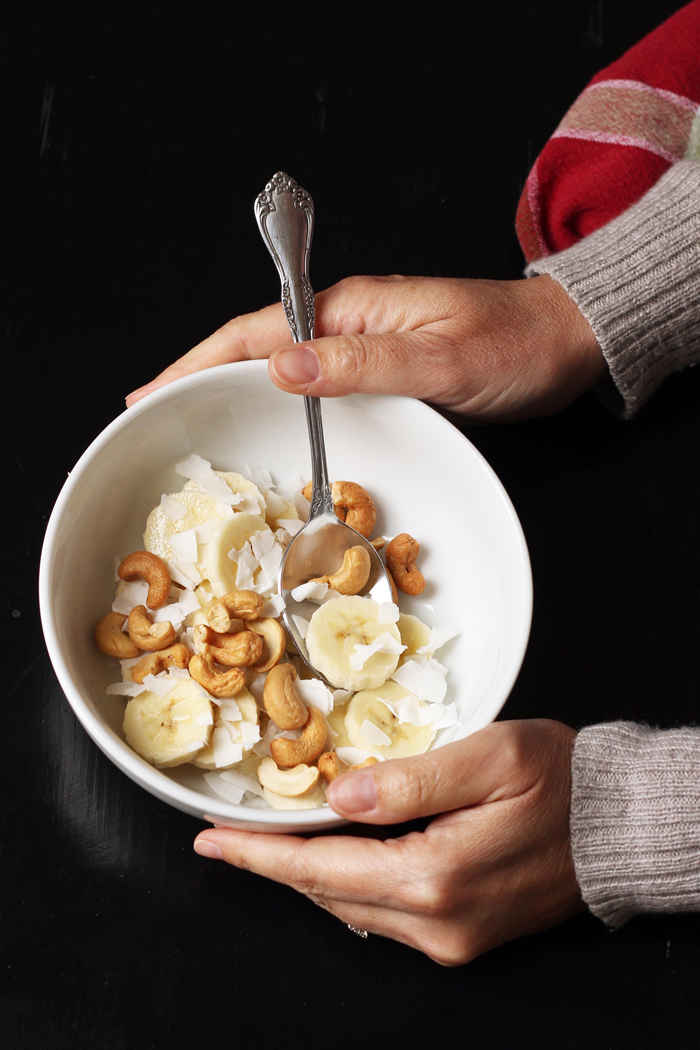 Now, a word about bananas. I am very picky about bananas. I do not like banana-flavored anything. That's as gross as a salad made of monkey meat.
I like banana bread. I like fresh bananas. I like bananas in smoothies. I like fresh bananas whole, not sliced. I like things the way I like them.
And I most definitely do not like sliced bananas in things, especially not fruit salad. It gets all slimy. Have you noticed that?
But, when I started this diet I realized that I was going to need to get creative, bust out of the old, and find some new favorites. I decided that I could not add other fruit to this. That would increase the slime factor.
I also committed to eating it rather quickly before it could brown, or you know, slimy.
The end result? This fabulous and filling and altogether EASY salad to make. Prepare individual bowls to keep things nice and dry. Promise?
PS I find the coconut chips, or unsweetened flaked coconut at my local Sprouts, a health-foodish kind of store. If you store doesn't have them, you can order them from Amazon. I've done that also.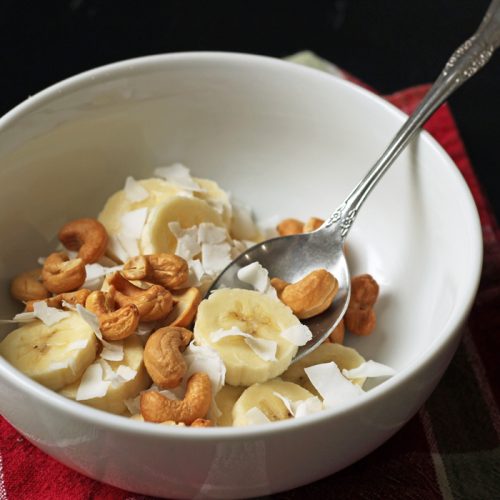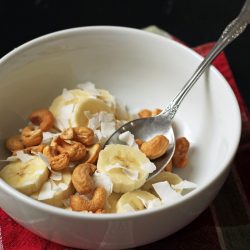 Monkey Salad
A simple fruit salad of cashews, bananas, and coconut chips packs a sweet, yet filling punch. Monkey Salad is perfect for breakfast alonside to an egg or two.
Print
Pin
Rate
Ingredients
1

ripe bananas

peeled and sliced

1

handful

roasted and unsalted cashews

1

handful

coconut chips
Instructions
Layer ingredients in a bowl. Do not stir. Enjoy immediately.
Notes
Nutritional values are approximate. 
Nutrition
Calories:
369
kcal
|
Carbohydrates:
41
g
|
Protein:
7
g
|
Fat:
23
g
|
Saturated Fat:
9
g
|
Sodium:
10
mg
|
Potassium:
671
mg
|
Fiber:
6
g
|
Sugar:
17
g
|
Vitamin A:
76
IU
|
Vitamin C:
10
mg
|
Calcium:
15
mg
|
Iron:
3
mg
Tried this recipe?
Tell us what you think! Your reviews help us develop better recipes and give newcomers the confidence to try your favorites. Scroll down to leave a starred comment.
How do YOU like bananas?
Updated April 22, 2017.