A special diet in the family can make meal planning a challenge. Here are some techniques to help you simplify.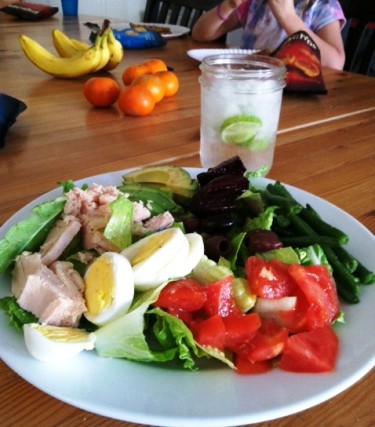 Chances are you know someone (or are someone) with a special diet. It may be a peanut allergy or a desire to curb calories or something altogether different, but special diets are becoming more and more prevalent.
It can be a challenge for families to alter their diets to accommodate a food sensitivity or allergy. A few years ago our daughter was diagnosed with peanut, tree nut, and egg allergies. I have walked the walk of altering our foods and despaired over the proliferation of candy containing nuts and peanuts. (In December she was cleared of all but peanuts. Yay!)
Meal planning for a special diet can be tricky for the home cook. Some families choose to change everyone's diet in order to make it easier on everyone. Others make adaptations as needed.
Currently, I'm eating a different diet than my family as I spend the next 30 days omitting soy, sugar, dairy, grain, and alcohol from my diet. So far, so good on the eating front. (In fact, I feel pretty good doing a Whole 30!)
But, on the cooking front? It's wearing me out to make two meals, even if one of them is a freezer meal. I'm leaning on some different strategies for the coming weeks to blend my special diet in with the rest of the family's and make this transition to a different way of eating just a little easier.
Here are some of the things I'm learning about meal planning for a special diet: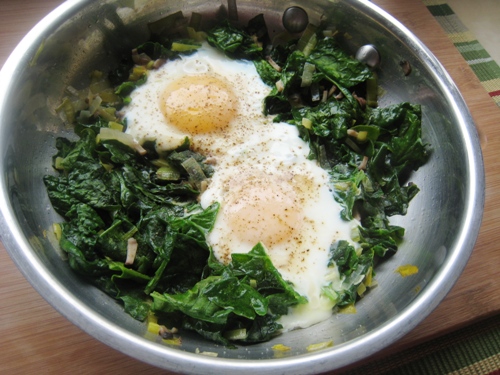 1. Focus on what you can have.
It can be really hard to all of a sudden omit certain foods from your diet. I've had friends who've had to completely eliminate gluten or sugar from their diets. Even when my husband and I were simply cutting our calorie intake last summer, it was necessary to avoid certain foods simply due to their utter lack of nutrition or our temptation to overindulge.
It can be quite depressing if you focus on what you can't eat. But, if you turn your attention to the favorite foods that are still permissible, the experience can take on a different complexion. While not "easy", it can be pleasant.
Skillet-Poached Eggs with Greens are one of my very favorite breakfasts. While they are over the top good with hashbrowns and a slice of buttered toast, they are just fine on their own. More than fine. They are downright awesome. Sure, I might get sick of them by the end of the month, but for now, I'm thrilled to enjoy them to my heart's content.
2. Find foods in common.
I'm the only one in our family eating a Paleo-type diet; I don't know enough about it or its benefits to make wide-spread changes for our family. But, there are plenty of overlapping foods in my diet and my family's.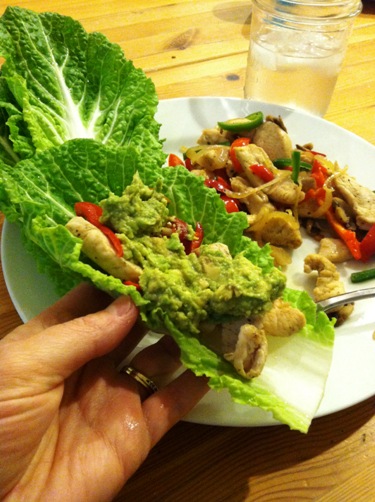 This week I'm focusing on lean meats and fresh produce for our family meals. My family can have the addition of breads, grains, and cheese. I will make up the difference with healthy fats like avocado and nuts. I can still make fajitas or tacos, I will just have mine in lettuce or cabbage leaves instead.
Don't knock it, it's super tasty.
Last week on Life as MOM I shared a free printable meal plan and grocery list that suits a gluten- or dairy-free diet as well as those that eat everything. Download the meal plan here. Yes, there are some recipes included that wouldn't be appropriate for gf or df (like the dessert), but that is noted on the plan.
Some regular old recipes from our family's repertoire should work just fine for the rest of the month. These would include:
Head here to see a full list of paleo-friendly (ie gluten and dairy free) recipes from Life as MOM, Good Cheap Eats, and Not Your Mother's Make-Ahead and Freeze Cookbook. Some may need slight adaptations, but those adaptations would be obvious.
3. Allow for a special treat.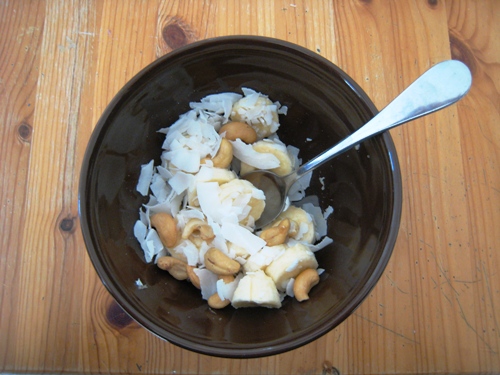 Whether it's a child with a peanut allergy or a mom trying to watch what she eats, I think it's important to allow for a special treat for everyone. My kids have enjoyed ice cream while I abstained. But, they understand why my Larabars are off limits. Until I make my own, there just isn't the funds to buy $1 fruit bars for the masses.
Whenever possible though, I'm happy to share a bowl of Monkey Salad, my new favorite treat. Recipe coming tomorrow.
When the kids get candy gifts that contain peanuts, after they've been instructed to wash their hands really well, we make sure that we have something special to offer my daughter who can't have peanuts. I know several moms who bake and freeze gluten-free cupcakes so that their children can enjoy a sweet treat when they go to birthday parties or other festive events.
There are plenty of ways to provide for "treats" on any diet.
4. Make changes that suit everyone.
We don't allow peanuts in the house if we can help it. I have not purchased a peanut product in over two years. It's just not worth the risk. So, we buy sunbutter instead. All my children prefer it now to peanut or almond butters. The change suits everyone and protects my daughter's health.
In some cases it's not economically feasible to switch everyone to a certain diet. However, if there are simple changes that can be made globally, it's easier on everyone concerned.
5. Practice freezer cooking.
Unless yours is a raw diet, I don't see how freezer cooking can't fit into any diet. There is always a way to pre-prep and freeze any number of items.
Even currently when I'm eating lots and lots of fresh veg, I'm digging into my freezer for the sliced and frozen bell peppers that I "put up" a few months ago. This has been such a game changer! Pulling pre-cut vegetables from the freezer has made stir-fries so much easier and quicker to pull together.
There is a wealth of freezer cooking options available for any diet. I'll be talking about that in next month's Freezer Cooking Days.
5. Give yourself a break.
Adjusting to a new diet, whether your own or a family member's, is hard work. There's a new learning curve, new price points to consider, and a whole new way of viewing the kitchen. Be willing to cut yourself some slack in one area until you get into a groove.
When hubby and I started counting calories, we realized how bad some of our favorite restaurants were. While they were cheaper than others, we still crossed them off the list since they weren't good for us. We chose a more expensive option if it easily fit into our new diet goals.
This month I'll go over our grocery budget a bit in order to accommodate this diet. I realize it's a great blessing to have extra cash to be able to do this, to even choose what I'll have at my next meal. However, I am choosing not to stress about the extra cost because this a pretty complicated undertaking.
Plus, I want some sugar!
Let down your bargain-shopper guard, buy pre-cut, frozen vegetables, or otherwise ease up on yourself in some area. You'll feel better, and your new eating plan will have a better chance to succeed.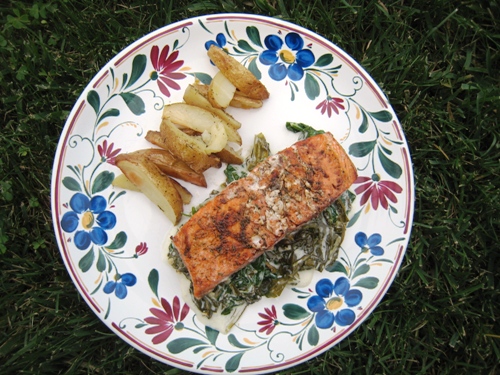 That said, here's our dinner plan for the week:
What's on YOUR meal plan this week?
Check out Menu Plan Monday for even more meal planning ideas.