Want to do a Whole 30 or other paleo-style diet? Here are the recipes to make it easy!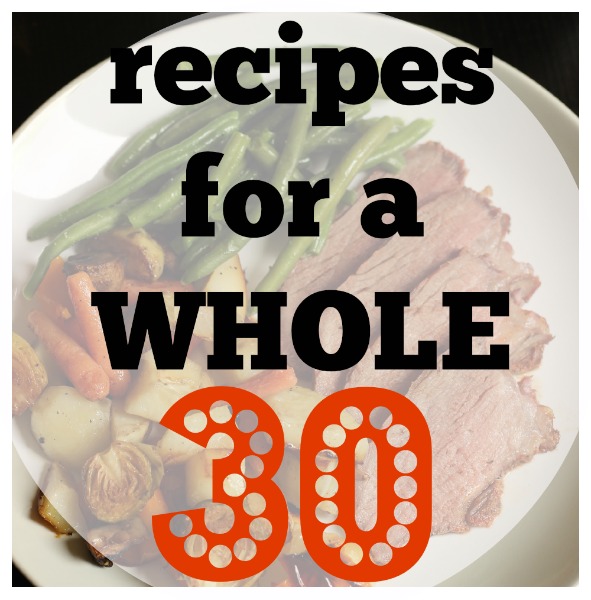 I had a pretty successful Whole 30 back in 2013. I didn't switch to paleo, but I enjoyed the challenge. My parents have both lost 20 pounds in doing a Whole 30 recently in 2015.
The recipes below are very Whole 30 friendly. If you're a visual person, check out my photo Whole 30 main dishes database. It contains newer recipes as well as the ones listed below.
Want to cut to the chase? Grab the weekly Whole 30 meal plan and the Whole 30 freezer cooking plan.
This post, How to Prepare for a Whole 30 can be super helpful in your preparation and this one, How to Make Healthy Eating Easier, can help you keep at it.
Please be sure to read each recipe carefully as there are Whole 30 adaptations added.
from Good Cheap Eats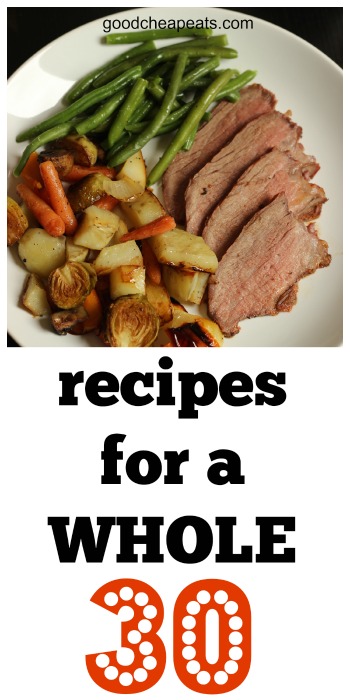 from Life as MOM
Buy the book here. Thanks for supporting this site!
Shredded Beef Filling, any variation, serve on salad or with steamed vegetables, squash, or sweet potatoes, p. 66
Salsa Verde Beef – read label on your green salsa, p. 68
Mexican Tortas, serve on a salad or with vegetables, p. 71
Mediterranean Style Steak, p. 76
Seasoned Steak without the Gorgonzola butter, p. 78
Vegetable Bolognese, p. 83
Sweet and Spicy Joe's – no sugar, p.91
Boules de Picolat, serve with Sweet Potatoes instead of white potatoes, p. 101
Any of the cooked chicken variations, pp. 104-107
Chicken stock – better than a can!, p. 108
Spicy Southwest Chicken – omit the soy sauce, p. 111
Spicy Dijon Chicken, p. 114
Garlicky Italian Chicken Breasts, p. 117
Chicken Caesar Salad, no cheese or croutons, p. 116
Roast Turkey, be sure to have sweet potatoes, p. 136
Tarragon Turkey Burgers, no cheese, no bun, use homemade mayo, p. 139
Tarragon-Lemon Rubbed Fish, p. 146
Grilled Tilapia and Shrimp Taco Salad, serve with guac instead of yogurt sauce, p.147
Carnitas, serve as salad, p. 152
Southwest pork chops, p. 153
Pork chile verde (no hominy, read the green salsa label), p. 154
Cranberry pork chops – use oil for the butter, omit sugar, p. 155
Pulled Pork with Cumin-Scented Cabbage Salad instead of Asian slaw, p. 160
Caribbean pork tenderloin with mango salsa, p. 163
Herb crusted pork roast, p. 165
Homemade pork sausage patties, use coconut oil for butter, p. 173
Red sauce with sausage, p. 174
Wild boar sausage with spicy tomato sauce, p. 177
Easy stovetop ratatouille, p. 188
Tomato sauce with Oregano and Kalamata Olives, p. 201
Quick and Spicy Marinara, p. 202
Easy Slow Cooker Red Sauce, p. 205
Chicken Cacciatore Stew, p. 224
Irish Stew, no potatoes, use Rutabagas instead, no flour, p. 225
Beef Stew with Eggplant and Carrots, p. 226
Hearty Beef stew with Olives, sub chili powder for enchilada sauce, p. 227
Quick and Easy Texas Chili, p. 229
Slow cooker Applesauce, p. 279
Chile and Sausage Frittata, no cheese, p. 278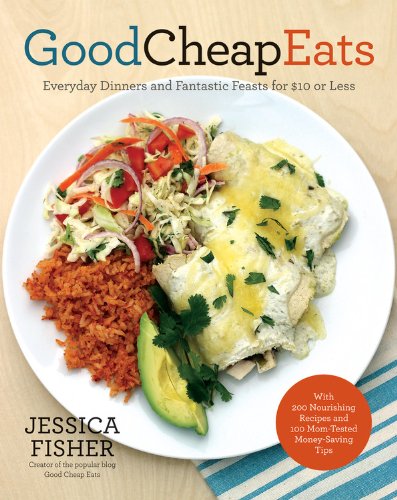 My second cookbook, Good Cheap Eats, was written while I was doing the Whole 30. Many of the recipes are very adaptable to the diet.
Other meal-planning ideas
Homemade juices and smoothies
Sautéed vegetables
Baked sweet potato with salt and pepper, drizzle olive oil, fresh herbs, green onions
Dairy free mashed sweet potatoes
Grilled Sausage and squash
Salad instead of pizza with similar toppings? Antipasto? Meat and veg, no cheese or beans
Roasted Sweet potatoes
Roasted butternut squash
Omelettes
Hard cooked eggs, deviled with homemade mayo
Scrambled eggs with vegetables, ham or sausage
Chicken vegetable soup ( no noodles)
Fruit salad
Vegetable soup with meat (no grains)
Chili with no beans
Butternut squash soup
Mashed cauliflower
Smooth Cauliflower soup
Artichokes
Asparagus