Custom-mixed spices are an economical and tasty way to add flavor and texture to grilled meats. Try this grilled pork tenderloin.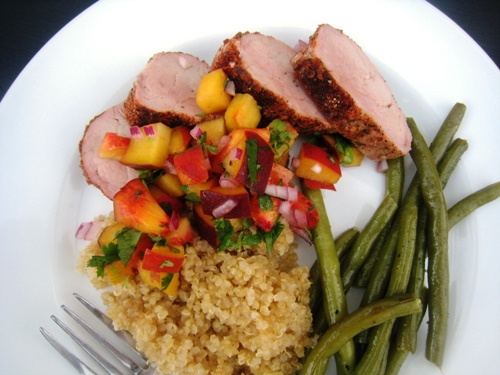 Over the last few weeks since hubby and I have been "watching what we eat," our meals have become simpler. With a hearty protein at the center and lots of fruits and veg all around, meals have been easier to prepare and increasingly tasty.
Hubs thinks that since we're cutting out excess fats and sugars, the flavors of our food are becoming more distinct to our taste buds. I don't know what it is, but I like it.
One of the meals that we've enjoyed has been grilled pork tenderloin. This had never been something I served my family until I was doing recipe testing for The Cookbook. One of my family's favorite meals in the book is the Caribbean Pork Tenderloin with Mango Salsa.
Pork tenderloin is now a surefire favorite. And there are rarely any leftovers. Rubbing it with a custom seasoning blend and grilling it over the fire is a super-simple, healthy way to serve it. And now that the USDA has lowered the safe cooking temp on pork, you can enjoy tenderloin that really is tender and juicy.
Buying spices in bulk and mixing them yourself is a great way to save money and add flavor. This seasoning blend which evokes a little Cajun flair goes great on any of grilled meats. The spice-rubbed tenderloin is delicious with Peach Salsa on top.
Recipe: Spice-Rubbed Grilled Pork Tenderloin
Ingredients
1 tablespoon onion powder
1 teaspoon chili powder
1 teaspoon kosher salt
1/2 teaspoon black pepper
1/2 teaspoon thyme
1/2 teaspoon paprika
1/8 teaspoon cayenne pepper
1 pork tenderloin, about 1 pound
Instructions
In a small bowl, combine the onion powder, chili powder, kosher salt, black pepper, thyme, paprika, and cayenne pepper. Sprinkle the seasonings generously on the tenderloin.
Cook the tenderloin over a hot grill until it reaches an internal temperature of 145 ° for medium and 160 ° for well done, about 20 to 30 minutes. Rest the meat for 10 minutes before slicing.
To make this as a freezer meal, combine the spices in a small bag and package alongside the tenderloin package in a larger freezer bag. Freeze these together.
Preparation time: 10 minute(s)
Cooking time: 30 minute(s)
Number of servings (yield): 4
This post was originally posted on August 13, 2012.

Do you plan on enjoying this pork tenderloin with a glass of wine? Not sure what to pair with it? Head over to the Wine4.Me Blog to see some wine suggestions to pair with this delicious tenderloin.
Disclosure: I received products and product coupons from Hormel Foods as part of my participation in the Hormel Foods Extended Family Preferred Blogger Program. All opinions about the products are my own.