Homemade spice blends are a cheap and easy way to add flavor and texture to your favorite grilled meats. Try this grilled pork tenderloin with its warm, spicy rub.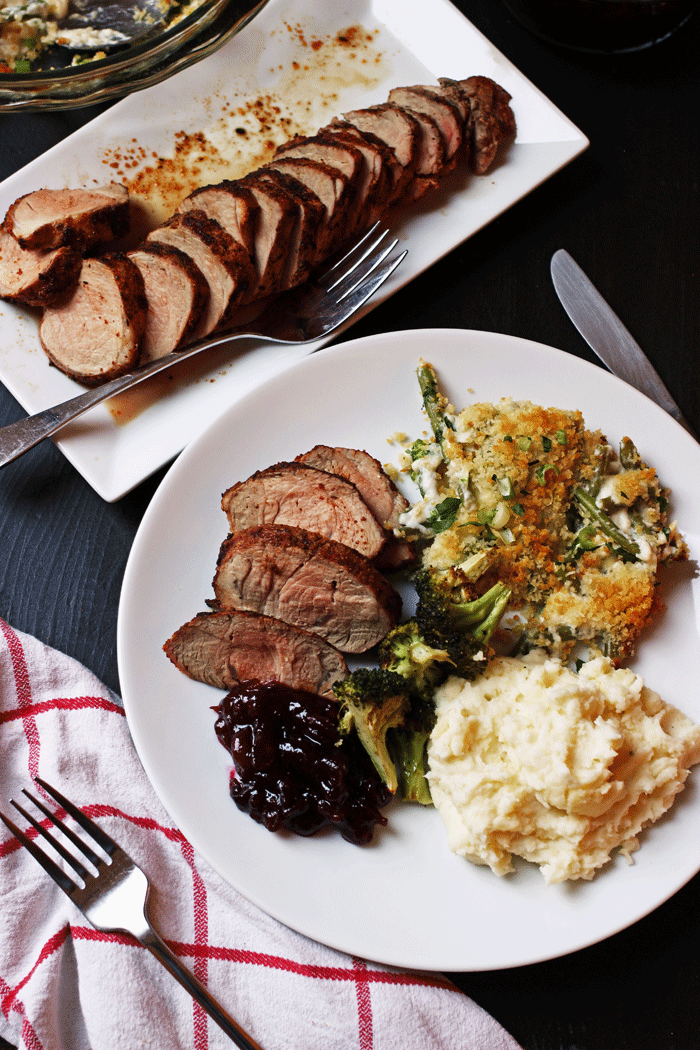 Grilled meats are so fun and easy to prepare, they top my list of quick and simple meals. I particularly love grilling larger cuts of meat that you slice up to serve. These would include Carne Asada, Grilled Tri tip, and pork tenderloin.
I mean, seriously. Marinate or coat the meat in a rub, throw it on the grill until desired doneness, transfer to a cutting board, slice and serve.
No need to count how many people you're serving. It's easy to stretch for additions to your party. And it's always fun to have leftovers.
Over recent years as I clean up our nutrition, our meals have become simpler. With a hearty protein at the center and lots of fruits and veg all around, meals have been easier to prepare and increasingly tasty.
Hubs thinks that since we're cutting out excess fats and sugars, the flavors of our food are becoming more distinct to our taste buds. I don't know what it is, but I like it.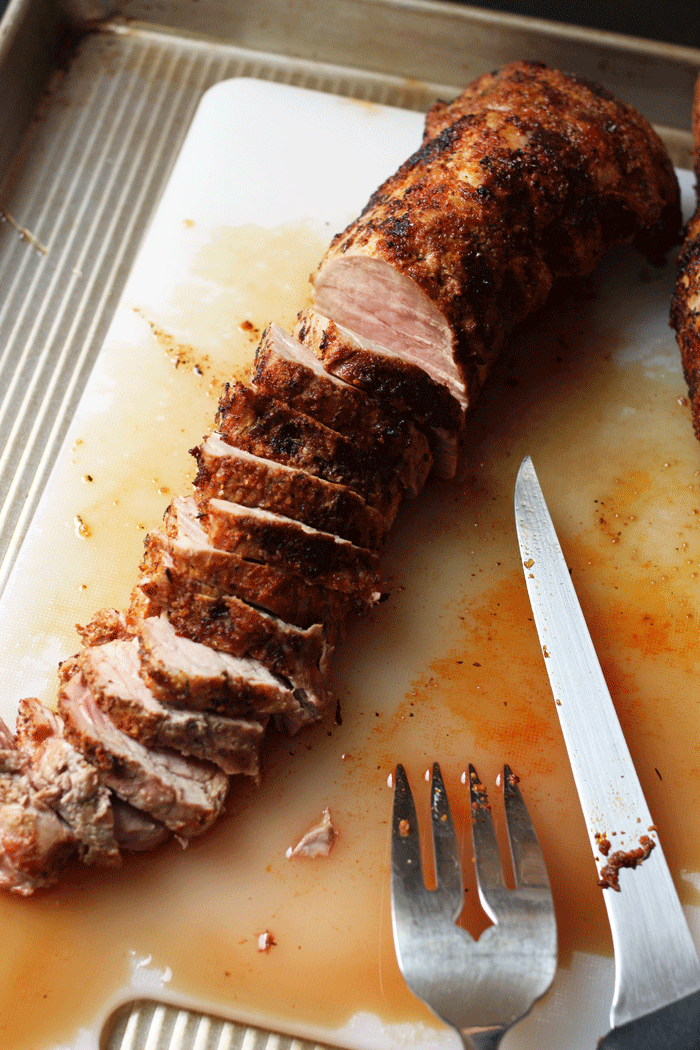 One of the meals that we've enjoyed has been grilled pork tenderloin. This had never been something I served my family until I was doing recipe testing for my first cookbook. We tried pork tenderloin cooked in lots of different ways and have found that it is one of our favorite cuts of pork.
It features in Dijon Pork Tenderloin, Pork Medallions with Sherried Shallot Sauce, and even in stir-fry.
Pork tenderloin is a surefire favorite at our table, and I'm gonna bet it will be at yours, too. There are rarely any leftovers, so enjoy it while you can!
Rubbing pork tenderloin with a custom seasoning blend and grilling it over the fire is a super-simple, healthy way to serve it. And now that the USDA has lowered the safe cooking temp on pork, you can enjoy tenderloin that really is tender and juicy.
Buying spices in bulk and mixing up spice mixes yourself is a great way to save money and add flavor. This seasoning blend which evokes a little Cajun flair goes great on any of grilled meats.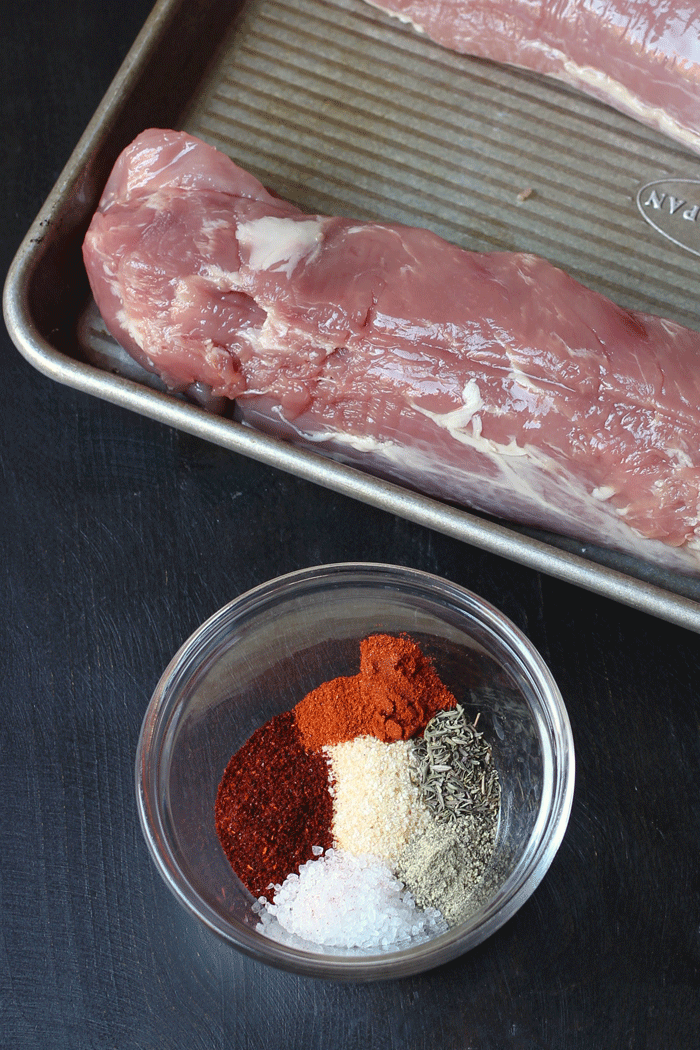 What temperature should pork tenderloin be?
In recent years, the USDA has adjusted their recommendations for cooking pork. Use a meat thermometer so that your final product has an internal temperature between 145 and 160°. See this chart for recommended cooking temps for pork.
What is the difference between pork loin and pork tenderloin?
Pork loin and pork tenderloin are two different cuts of meat that should be prepared differently. The loin is from the back of the pig, from shoulder to leg and cut into chops and roasts. The tenderloin is from the loin area, tucked under the backbone. It's more tender. T-bone pork chops include the tenderloin in a similar way to T-bone beef steaks.
I prefer to braise pork loin over a long period of time like this Slow Cooker Pork Loin with Sherried Mushroom Gravy, but to grill or stir fry tenderloin quickly.
Is pork tenderloin expensive?
In comparison to other cuts of meat, pork tenderloin is incredibly affordable. I call it the poor man's steak because it has that tender delicious flavor of a steak but at a fraction of the price.
My tri-tip-loving husband would happily swap tri-tip for tenderloin, especially considering the price difference.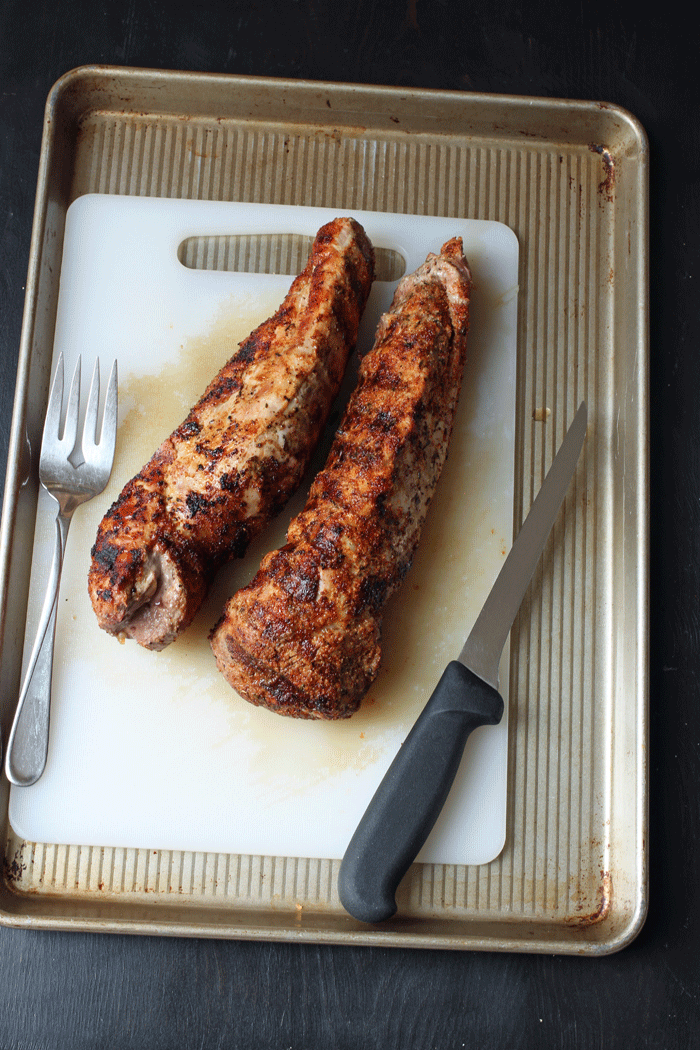 How I make this cheap:
While pork tenderloin is already pretty economical, here are some of the strategies I use to make this recipe even moreso:
Meal plan around what's on sale. Stock up on pork tenderloin when you see a sale. You can easily find it for $2-3/pound. It freezes beautifully, so don't be afraid to stash a few in the freezer.
Buy spices in bulk. I purchase large containers of spices at Costco, Smart & Final and Amazon. I make loads of my own spice blends, refill my little spice jars in the cupboard, and then stash the reserve in the freezer where it retains its freshness.
Tools I use to make this recipe easy:
This is a pretty straight-forward dish. You don't need any fancy equipment. However, having some good basic kitchen tools can really make your time in the kitchen more enjoyable. Over time, I've honed my collection so that they are perfect for my needs. Here are the tools that I like to use in this recipe.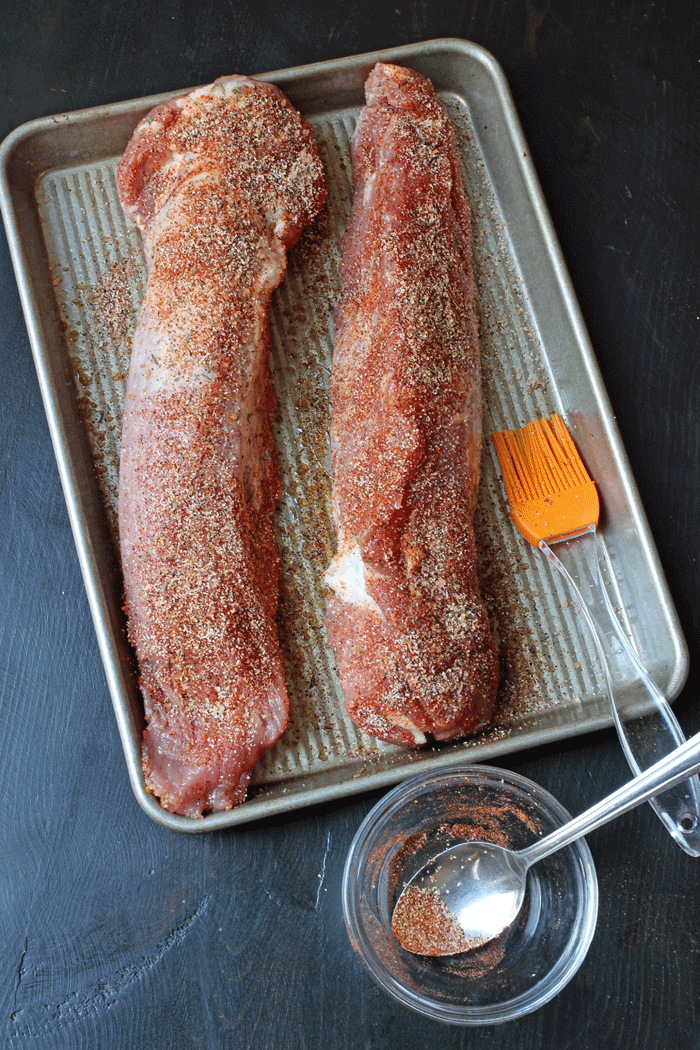 Spice-Rubbed Grilled Pork Tenderloin
Homemade spice blends are a cheap and easy way to add flavor and texture to your favorite grilled meats. Try this grilled pork tenderloin with its warm, spicy rub.
Ingredients
1

tbsp

onion powder

1

tsp

chile powder or ground chile

1

tsp

coarse salt

1/2

tsp

black pepper

1/2

tsp

dried thyme

1/2

tsp

paprika

1/8

tsp

ground cayenne pepper

2

pork tenderloin

about 1 pound each
Instructions
In a small bowl, combine the onion powder, chili powder, kosher salt, black pepper, thyme, paprika, and cayenne pepper. Sprinkle the seasonings generously on the tenderloins.

Cook the tenderloins over a hot grill until it reaches an internal temperature of 145 ° for medium and 160 ° for well done, about 20 to 30 minutes. Rest the meat for 10 minutes before slicing.
Notes
To make this as a freezer meal, combine the spices in a small bag and package alongside the tenderloin package in a larger freezer bag. Store these together in the freezer.
Nutrition
Calories:
140
kcal
|
Carbohydrates:
1
g
|
Protein:
23
g
|
Fat:
4
g
|
Saturated Fat:
1
g
|
Cholesterol:
73
mg
|
Sodium:
354
mg
|
Potassium:
459
mg
|
Vitamin A:
150
IU
|
Vitamin C:
0.4
mg
|
Calcium:
10
mg
|
Iron:
1.2
mg