This Raspberry Cream Cheese Coffeecake will be a hit with your holiday guests this year just as much as it will please the regulars around your coffee table. With flavors of raspberries, orange, and luscious cream cheese, it's a delicious way to start the day!
This coffeecake is the work of much love and affection. Love and affection for a good morning breakfast, that is. I admit, it was driven by selfish motives. I really love cheese danishes, so I wanted to see if I could recreate those flavors in a easy-to-bake coffeecake.
I think we succeeded, folks!
At let me tell you, we had a fun time testing. I teased you all with instagram images of it in its original form and in its final form, so today, I'm breaking with the full story and recipe. I tested this recipe over the course of six weeks, making it six times in different configurations.
I'd dreamt of a coffeecake with patches of cheesecake interspersed with cake and berries. The first few batches I baked in a round springform pan. I loved the look of it; a springform pan is so much prettier than a 9×13. But, getting the baking time correct was a little trickier. The cheesecake filling would be perfect, but the cake pretty crispy. The cake could be light and delicate, but the cheesecake underbaked.
Baking it in a 9×13? Instant perfection. So, we all just need to invest in really pretty 9×13 pans so that this looks as pretty as it is delicious.
The cake is a basic coffeecake flavored with citrus zest. It's prepped in a way that you make a streusel topping at the same time as the cake mixture. Then you'll drizzle on a cheesecake type layer. It doesn't need to cover it perfectly. You're going for peaks and valleys. Toss on some berries. Then sprinkle on the crumb topping. Bake and be happy!
We tested frozen blueberries, chocolate chips, and fresh raspberries. All were delicious raspberries were the clear winner.
I found that you need to adjust the baking time if you use frozen berries. Currently fresh raspberries are a great deal around here ($1.88 at Sprouts this week), so I'm going that route. Seriously, after all the experimenting the kids were WOWED when I used raspberries. Let me know which toppings you experiment with!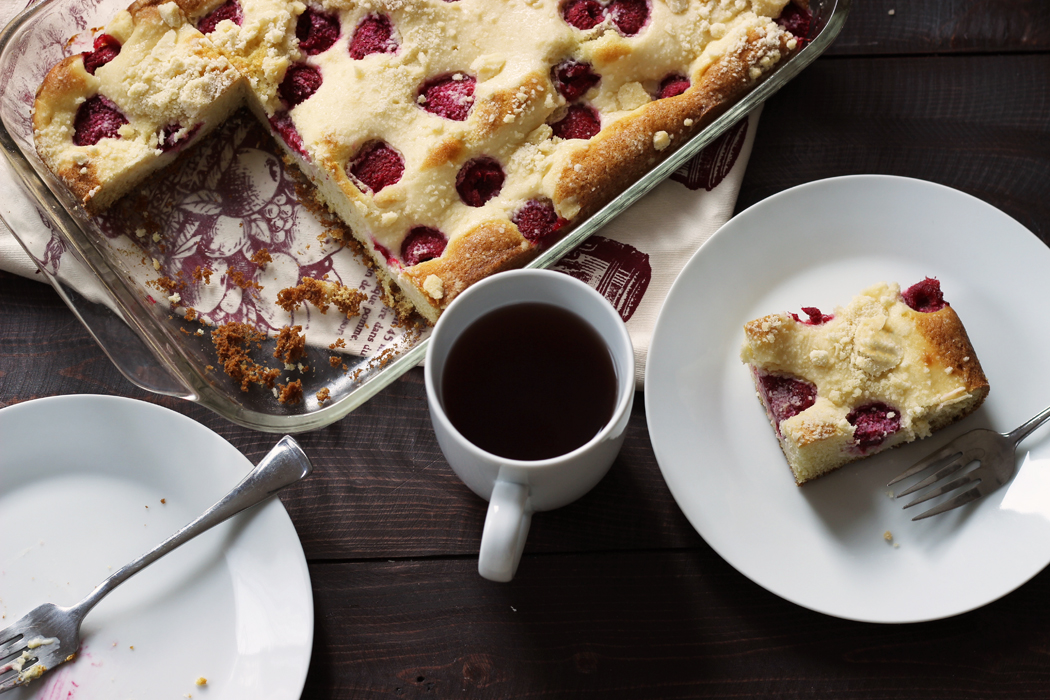 I played around with the citrus zest. I think you've got leeway here, so feel free to play around with different combinations. Chocolate and orange; blueberry and lemon; raspberry goes great with either but I landed on orange. I have a feeling that this recipe will lend itself to much experimentation among you, so I can't wait to hear about your adaptations.
I also messed around with different means of mixing the cake and cheesecake batters. I wanted this to be simple without a lot of clean-up. Since there are technically four layers, that presents a challenge. You can mix it by hand with a whisk, but I found that the electric mixer or food processor got better texture than mixed by hand.
Since I don't like to mess with a pastry blender, but use a food processor for all my cutting in, I think that's the easiest, most straightforward way to mix this up. No need to wash the bowl in between batters. Just move from one step to the next. (You can use a mixer as well. Just read my notes in the recipe below.)
dry mix
remove streusel
add leavening and liquids
pour into cake pan/scrape bowl
mix cheesecake filling
pour in strips over cake batter
sprinkle on berries
sprinkle on streusel
bake
This sounds like it's complex, but really it's not. I'll have to see if I can get the hubs to video the process for me so you can see how easy it really is. Trust me, I've made this six times. 😉
This is a must-make for holiday brunches, lazy weekends, and after school pick-me-ups. Seriously, my kids inhale a full pan in about fifteen minutes. So easy, and so good! You'll love serving this coffeecake this holiday season. I promise!
Tools I use for this recipe:
Raspberry Cream Cheese Coffeecake
This Raspberry Cream Cheese Coffeecake will be a hit with your holiday guests this year just as much as it will please the regulars around your coffee table. With flavors of raspberries, orange, and luscious cream cheese, it's a delicious way to start the day!
Ingredients
2

cup

unbleached, all-purpose flour

1 1/4

cup

granulated sugar

divided usage

1/2

cup

butter

1

tsp

baking powder

1

tsp

baking soda

1/2

tsp

salt

3/4

cup

milk

2

egg

divided usage

1

tsp

orange zest

1

8-ounce package

cream cheese

softened, neufchatel cheese is fine, too.

1

tsp

vanilla extract

1

6-ounce package

raspberries
Instructions
Preheat the oven to 350. Grease a 9x13-inch pan with nonstick cooking spray.

In the bowl of a food processor fitted with a metal blade, combine the flour, 3/4 cup sugar, and the butter. Pulse until coarse crumbs are formed. Remove 1/2 cup of the crumb mixture from the bowl and set aside. Alternatively, you can do this without a food processor. Add the ingredients to a mixing bowl and cut the butter into the flour and sugar with a pastry blender.

Add to the mixture in the food processor: the baking powder, baking soda, salt, milk, 1 egg, and the orange zest. Pulse until a smooth batter is formed. If you're not using a food processor, use a hand mixer to combine the wet and dry ingredients until well combined.

Spread this batter along the bottom of the prepared pan.

Add the cream cheese and remaining 1/2 cup sugar to the empty processor bowl. No need to wash it. Blend until smooth. Add the remaining egg and the vanilla extract. Scrape down the sides and blend until smooth. Pour this mixture over the cake batter in ribbons, allowing spaces for cake batter to show.

Sprinkle the berries over the batter. Sprinkle the streusel over the berries.

Bake the coffeecake for 25 to 30 minutes, until the cheesecake areas are set and a tester inserted into a cake area has a few crumbs attached. Cool on a rack. Can be refrigerated for more cheesecake-like texture.
Notes
Nutritional values are approximate and are based on 1/16 of the recipe. Refrigerate leftovers promptly and use within 4 days.
Nutrition
Calories:
226
kcal
|
Carbohydrates:
30
g
|
Protein:
4
g
|
Fat:
10
g
|
Saturated Fat:
6
g
|
Cholesterol:
47
mg
|
Sodium:
253
mg
|
Potassium:
102
mg
|
Fiber:
1
g
|
Sugar:
17
g
|
Vitamin A:
348
IU
|
Vitamin C:
3
mg
|
Calcium:
50
mg
|
Iron:
1
mg