Homemade pasta sauce can be a weekly treat if you make a big batch at one time and freeze it in dinner-size portions.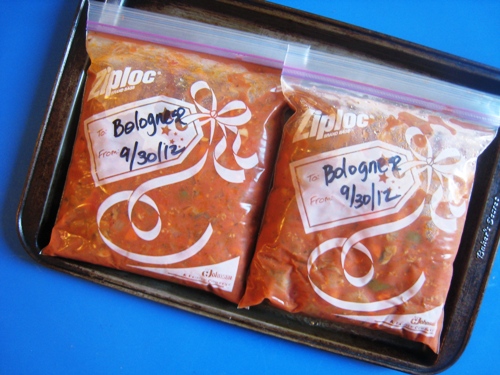 When my husband and I prepared for a one income lifestyle fifteen years ago, my grocery habits had to change. We spent more as DINKS than we do now to feed a family of 8!
No longer could I buy the convenience items that I thought I couldn't live without. I learned to make my own salsa as well as my own pasta sauces. I've never looked back.
Pasta sauce is one of the easiest things to make as well as a great starter recipe for freezer cooking. Prepare a large batch of sauce, divide it into one or two cup freezer-safe containers. Chill and freeze. (Be sure to label the containers so you know what you have.)
You can use freezer bags, just be sure to label them first, seal them well, and freeze them on a tray so that they will hold their shape. Once the bags are frozen, you can remove the tray and stack the bags or line them up like books on a shelf.
Some favorite sauces:
Frozen sauce thaws and reheats quickly in a pot on the stove. Just add a bag of pasta and some vegetables on the side, and you're good to go.
One of the benefits of homecooked sauce — besides its great taste and affordability — is that you can customize the size of packaging. We never used up those large jars of pasta sauce before they grew fuzz on the inside. You'll waste less if you make your own!
31 Days of Freezer Cooking
For more ideas about how to make freezer cooking work for you, follow along with us here in October as I post 31 Days of Freezer Cooking. You can see past posts here.
For even more Freezer Cooking how-to's you can also buy my book,Not Your Mother's Make-Ahead and Freeze Cookbook.
Don't want to miss a post in this series? Subscribe to 31 Days of Freezer Cooking by RSS oremail.