Want to enjoy great meals but don't think you have the time? Think again! With A Month of 30-Minute Meals, you can shop, prep, and serve great meals in a flash — all month long.
From Super Easy Chicken Chili to Popeye Burgers to Stir-Fry with Veggies, we've got you covered with easy meals that fit the budget as well as your busy schedule.
You care about eating a home cooked meal, but most days you're just getting home when other people are ready to sit down to eat.
You struggle with the time it takes to plan and make a decent meal. And actually having the stuff to make a meal that everyone will eat — IF you have the energy.
You fall back on commercial convenience foods far more often than you'd like, because you're just too busy — and too tired.
BUT, WHAT IF?
What if you had a plan for dinner tonight? And every night of the month.
What if you had all the ingredients you needed on hand, just waiting for you to work your magic?
What if dinner took only 30 minutes to prepare, from the minute you started cooking to the moment you sat down to enjoy a home cooked meal?
THIS IS NO DAY-DREAM. THIS IS REAL.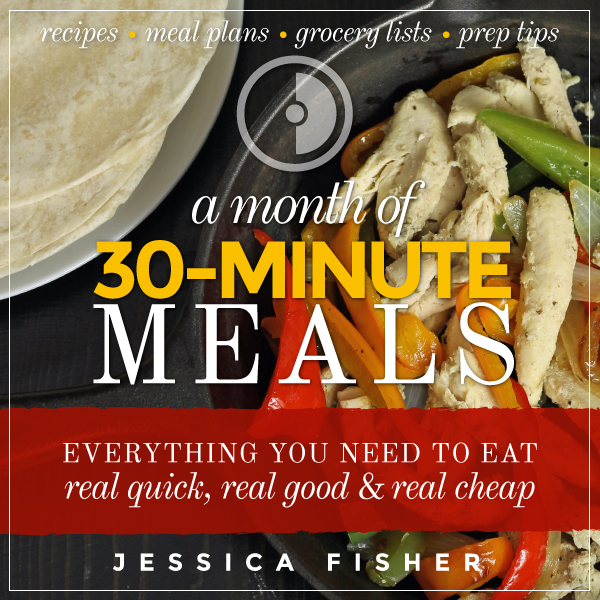 With A Month of 30-Minute Meals you can get a hot, cooked meal on the table
without breaking a sweat,
without having to run to the store for something you forgot,
without relying on expensive convenience foods.
Quick, easy meals ready to go, sooner than you can find your car keys.
Included in the 4-week meal plan:
30 recipes selected around a theme. All are budget- and family-friendly. The recipe is included in the ebook so you won't have to be clicking around to find it. It's all in the document.
4 weeks of meal plans – organized so that recipes build on one another wherever possible.
5 grocery lists – 1 for each of the four weeks as well as one for the entire month so you can shop in advance, taking advantage of sale pricing and knowing that you really will use up that whole jar of sundries tomatoes.
side-dish suggestions – five bonus recipes and links to others to help you make dinners quick and easy.
homemade alternative ideas – substitutions for commercially made items
weekly prep tips – list of things that can be made in advance and guidance to stretch your dollar as well as your kitchen time.
leftover alerts – "catch all meals" plus ideas for what to make with little bits of leftovers so you don't waste anything.
This was our flagship, downloadable meal plan – back at the original price of only $7 for a limited time.