Take beans and rice to a whole new level with this savory chicken topping touched with the awesome sauce that is sour cream and salsa verde.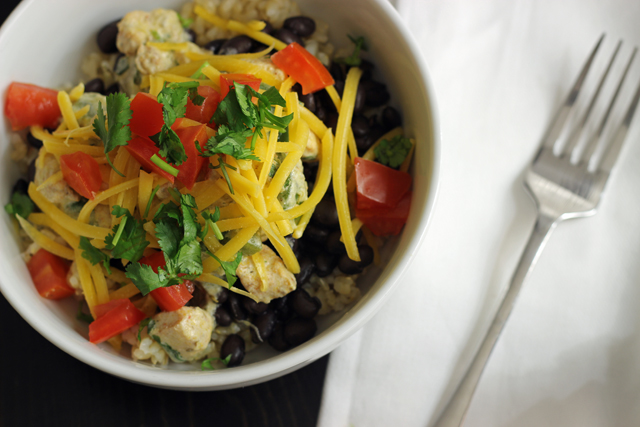 The fabulous magic of mixing sour cream and green salsa together is not to be underestimated. I use it as the topping for my famous Poblano Chile Enchiladas as well as the sauce in my Chile Cheese Bake. It really is a force to be reckoned with, especially if you use Trader Joe's Hatch Valley Salsa. Oooh my!
This sauce also makes the base of one of our family's favorite recipes, Cilantro Chicken. It is featured in the Friends for Life Cookbook, a community fundraising cookbook that I helped put together years ago. That book is out of print, of course, but it's full of all kinds of deliciousness. Cilantro Chicken being one of them.
The simple dish is basically sautéed chicken topped with the aforementioned awesomesauce and a generous handful of cilantro. Serve it over rice and your people will be humming with pleasure.
These Cilantro Chicken Rice Bowls are a mashup of that dish and all my favorite things. Well, all my rice and bean, Mexican-style favorite things. Things like: rice, beans, chicken, awesomesauce, fajita veggies, cheddar cheese, diced tomatoes, and cilantro.
This, my friends, takes Rice and Beans to a whole new level! My sister Janel gets the credit for the  idea. Use brown rice if you've got time and/or want to be a little bit healthier. If not, use white. I like to use the rice cooker for a quick, hands-free way to prepare rice.
If you don't dawdle, you can get this meal prepped and ready to serve in 30 minute or less!
Cilantro Chicken Rice Bowls
Take beans and rice to a whole new level with this savory chicken topping touched with the awesome sauce that is sour cream and salsa verde.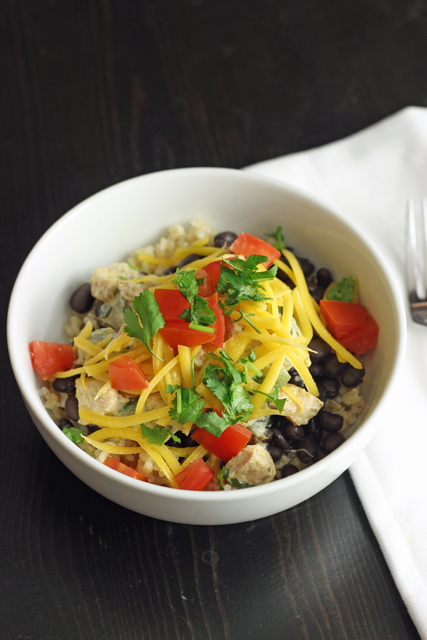 Preparation Time:10 minutes
Cook time:20 minutes
Total time:30 minutes
serves 4
Ingredients:
2 cups uncooked brown or white rice

two 15-ounce cans black beans, rinsed and drained

1 pound boneless, skinless chicken breast, chopped

1 tablespoon taco seasoning mix

2 tablespoons olive oil

1 bell pepper, cored and chopped

1 onion, chopped

1 cup sour cream

1 cup salsa verde

1 generous handful chopped cilantro plus additional for garnish

1 cup shredded cheddar cheese

2 tomatoes, chopped
Instructions:

Start the rice cooking in the rice cooker or in a pan on the stove.
Rinse and drain the beans and get them ready to heat in the microwave or in a pan on the stove.
Season the chicken with the taco seasoning mix. Stir to coat.
In a large nonstick skillet, heat the olive oil. Add the pepper and onion, and cook for 5 to 7 minutes. The onions will start to go clear. Add the chicken and continue cooking until it is cooked through and the vegetables are tender, about 5 minutes more.
In a mixing bowl, whisk together the sour cream and salsa verde. Add this mixture to the skillet and heat through. Stir in a handful of chopped cilantro.
Assemble bowls by dividing the rice, beans, and chicken mixture among four bowls. Top with shredded cheese, tomato, and additional cilantro.
Tools I Use for This Recipe: