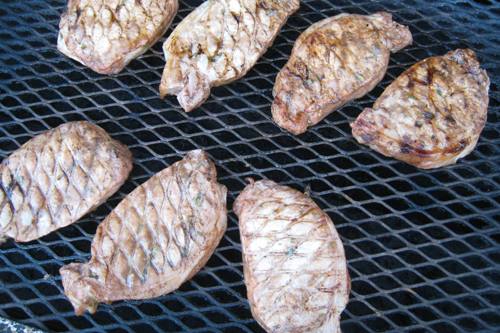 August is here. That means it's time to cook outside, eat ice cream, and try to stay cool. Am I right?
That's why it's so important to have a meal plan, preferably one that is grill-worthy. That's where these balsamic pork chops come in.
This is a super easy recipe that you can pull off in a matter of minutes. The marinade mixes up quickly, so you can set those chops in an herb and vinegar bath right away. About fifteen minutes before serving time, you'll place the chops on a hot grill. In no time, you'll be sitting down to quite the tasty meal.
My family thought I was serving them steak when they came to the table this weekend. Au contraire. It was "the other white meat", but chops look a little like steak, so if they want to feel fancy, alrighty then.
I served the grilled chops with Simple Couscous and steamed and buttered cauliflower. I didn't have to heat up the oven; I went straight to GO, and collected my $200. Sort of.
Dinner for less than $10?
The meal itself was amazingly good and cheap. With pork loin chops on sale for a buck ninety-nine per pound, I got seven chops for about $4. The couscous was on markdown, making it only a dollar for the amount I prepared. The cauliflower was 99 cents a pound. I figure that with the spices, vinegar, and Dijon that I used, our dinner cost about $7 to feed the 8 of us!
Talk about Good Cheap Eats! That's better than winning at Monopoly, I should say.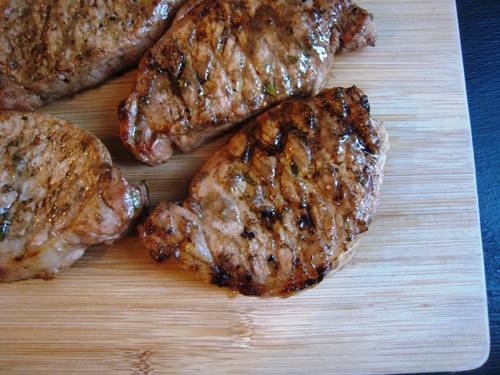 Want to make some easy Grilled Balsamic Pork Chops?
Recipe: Grilled Balsamic Pork Chops
Ingredients
1/3 cup balsamic vinegar
1 tablespoon Dijon mustard
1 tablespoon finely chopped fresh basil
1/4 teaspoon pepper
1/3 cup olive oil
6 boneless pork loin chops (about 3/4 to 1-inch thick)
Instructions
In a shallow glass dish, whisk together the vinegar, Dijon, basil, and pepper. Add the oil in a thin stream.
Place the pork chops in the marinade, turning to coat. Cover and refrigerate for 1 hour, up to 4 hours.
Heat the grill about 30 minutes before serving time.
About 15 to 20 minutes before serving, cook the chops on the hot grill, turning once, until the internal temperature reads 145°, about 10 to 15 minutes.
Remove the meat from the grill and tent with foil. Allow to rest for three minutes before serving.
Preparation time: 10 minute(s)
Cooking time: 15 minute(s)
Number of servings (yield): 6
Other pork chop recipes: